---

1947 Hurricane "George"
September 19, 1947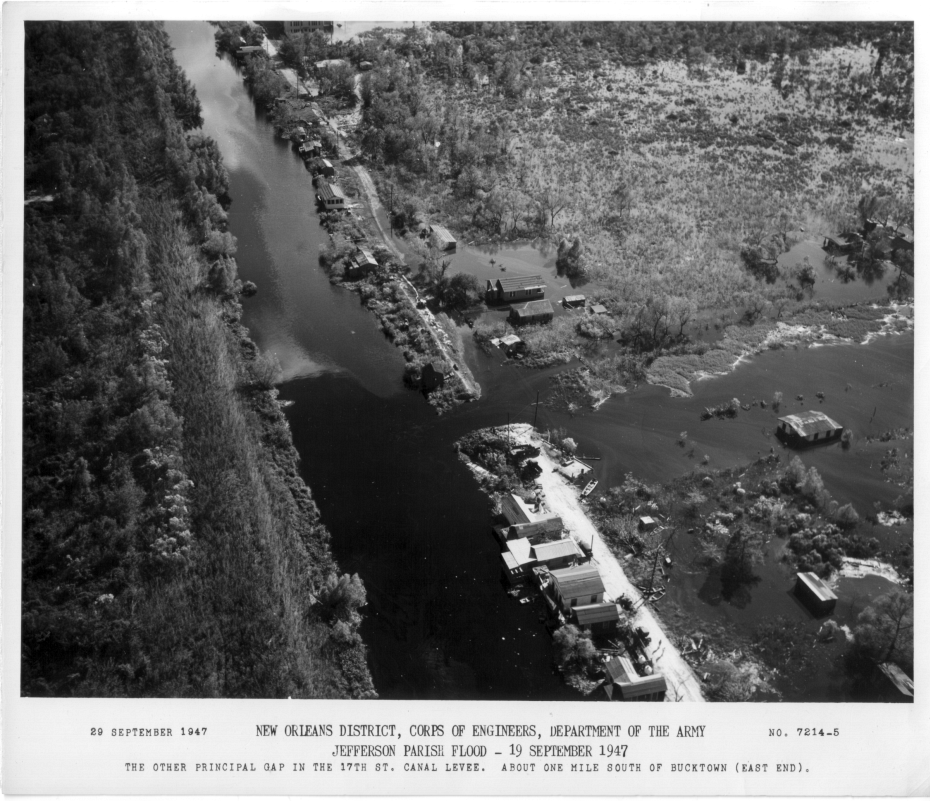 Katrina was not the first storm to breach the infamous 17th Street Canal. This image shows one of several breaks in the canal's levee caused by the hurricane of 1947
when the levees broke on the Jefferson Parish side, flooding wide areas of Metairie. Portions of the Orleans Parish lakefront and Gentilly also flooded in this storm.
(Text and photo from the New Oleans Public Library)
The Weather Bureau forecast office in Miami, while operating with the military, named this hurricane "George". Naming began in the Pacific Fleet during World War II as a method of discerning one storm from another. This system of naming was unofficially continued by the Weather Bureau until 1953, without being highly publicized, This hurricane was also known as the "Fort Lauderdale Hurricane" and the "1947 Hurricane".
On September 18, the hurricane entered the Gulf of Mexico and threatened the Florida Panhandle, but later its track moved farther west than expected, ultimately leading to a landfall southeast of New Orleans, Louisiana. Upon making landfall, the storm killed 34 people on the Gulf Coast of the United States and produced a storm tide as high as 15.2 ft, flooding millions of square miles and destroying thousands of homes. The storm was the first major hurricane to test Greater New Orleans since 1915, and the widespread flooding that resulted spurred flood-protection legislature and an enlarged levee system to safeguard the flood-prone area. In all, the powerful storm killed 51 people and caused $110 million (1947 US$) in damage.
On September 19, the hurricane moved ashore over Saint Bernard Parish as a high-end Category 2 hurricane with sustained winds of 110 mph. The hurricane quickly weakened as it moved over the New Orleans metropolitan area, although its strong winds gusted to 125 mph in New Orleans.
The center of the storm, estimated at the time to have been 25 mi wide, passed directly over the business district of New Orleans between 1530 and 1700 UTC. No other storm would pass so close to downtown New Orleans until Hurricane Katrina in 2005. Before the eye arrived, wind instruments at Moisant Airport were disabled after just having registered sustained winds of 90 mph.. Due to the increasing northerly winds, water over-topped sections of the levees on Lake Pontchartrain, leaving some lakefront streets submerged "waist deep," above the 3-ft delimiter. As communications failed during the calm eye, the Weather Bureau office in Fort Worth, Texas, assumed the duties of the New Orleans office by broadcasting advisories to the public. During the eye, atmospheric pressure in New Orleans dropped as low as 968.9 mb by 1649 UTC.
A large part of Greater New Orleans was flooded, with 2 ft of water shutting down Moisant Field and 6 ft of water in parts of Jefferson Parish. The storm surge in Louisiana peaked at 9.8–11.2 ft (3.0–3.4 m) at Shell Beach on Lake Borgne and at 11.5 ft in Ostrica. The surge over-topped the 9-ft-tall Orleans Parish seawall, built by the Orleans Levee Board in the 1920s to prevent a repeat of the 1915 hurricane there, and spread water over 9 sq mi of the parish, as far from Lake Pontchartrain as Gentilly Ridge. Parts of Jefferson Parish were flooded for as long as two weeks. Subsidence settled behind the levees, leaving "topographic bowls" containing up to 6 ft of water, to be excavated by dredging and pumping the water back into Lake Pontchartrain. Saint Bernard and Plaquemines parishes were also inundated by an 11-ft storm surge, though mainly sparsely populated areas were affected.
A storm tide of up to 15.2 ft was reported along the western half of the Mississippi coastline, causing heavy damage in Bay St. Louis, Gulfport, and Biloxi. The recorded tides in these communities were the highest ever recorded until Hurricane Camille, a Category 5 hurricane in 1969 and the strongest hurricane to strike the United States with sustained winds of 190 mph, produced tides of up to 21.7 ft (6.6 m). Although the storm had weakened by its second landfall, the hydrology of the region makes it particularly vulnerable to hurricanes. 12 people were killed in Louisiana and 22 in Mississippi. In both states combined, the Red Cross reported that the storm destroyed 1,647 homes and damaged 25,000 others, with the majority, up to 90%, of the destroyed having been due to water. In New Orleans, the storm produced an estimated 1947 USD$100,000,000 worth of damage to the city. Barometric pressures as low as 971.6 mb (28.69 inHg) and sustained winds as high as 96 mph (154 km/h), equivalent to Category 2 intensity, were reported as far inland as Baton Rouge.
After this storm, the United States Congress approved the Lake Pontchartrain and Vicinity Project to assist ongoing efforts to increase the height of the existing levee along the lakeshore; to bolster the existing seawall in Orleans Parish, an 8-ft-high levee was erected along lakeside Jefferson Parish. (WIKI)
---



---
Musician Earl Palmer Dies
September 19, 2008
Earl Cyril Palmer born in New Orleans and raised in the Tremé (October 25, 1924 – September 19, 2008) was an American rock & roll and rhythm and blues drummer, and member of the Rock and Roll Hall of Fame. Palmer played on many recording sessions, including Little Richard's first several albums and Tom Waits' 1978 album Blue Valentine. playing on New Orleans recording sessions, including Fats Domino's "The Fat Man", "I'm Walkin" (and all the rest of Domino's hits), "Tipitina" by Professor Longhair, "Tutti Frutti" by Little Richard (and most of Richard's hits), "Lawdy Miss Clawdy" by Lloyd Price, and "I Hear You Knockin'" by Smiley Lewis.
Hurricane Rita Evacuation
Monday, September 19, 2005
After starting to allow residents back into the city after Hurricane Katrina, Mayor Nagin ordered yet another evacuation due to Hurricane Rita. With the levees and pumping systems in a weakened state, even a near-miss could bring flooding back to areas that have begun to dry out.
Jazzman Andrew Morgan Dies
September 19, 1972
Born on March 13, 1901 in Plaquemines Parish,Andrew Morgan played clarinet with the Imperial Band in the mid-1920s and then joined his brother Isaiah Morgan's band in 1925. Sam Morgan led this ensemble for its 1927 recordings. Andrew recorded in the late 1920s and 1930s with Kid Howard, Kid Rena, and Kid Thomas Valentine. He and Isaiah played together again in Biloxi, Mississippi in the 1940s, then Andrew moved back to New Orleans to play with Alphonse Picou, Kid Rena again, Herb Morand (1946–52), and Kid Clayton (from 1952). He played with the Young Tuxedo Brass Band from 1958 and led the group after 1964. Morgan played with Percy Humphrey in 1953, Sweet Emma Barrett in 1960, Kid Howard again in 1962, Alvin Alcorn in 1964, Onward Brass Band in 1965, Eureka Brass Band in 1969, and with Captain John Handy in 1970. He recorded as a leader in 1969 for the album Down By the Riverside.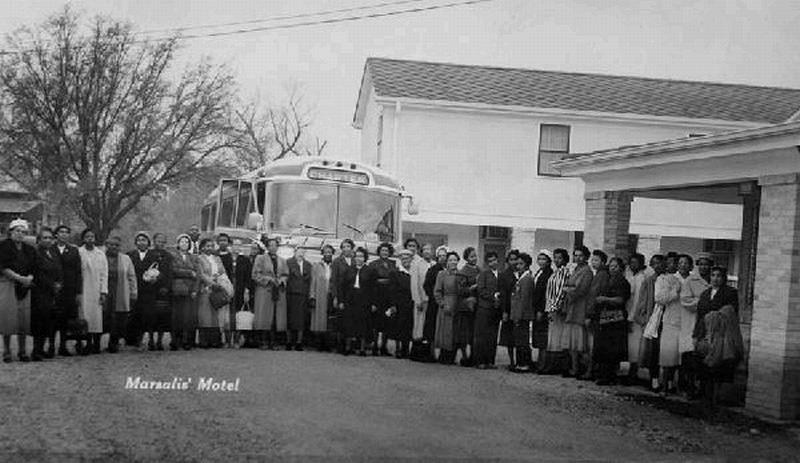 Ellis Louis Marsalis Sr. Dies
September 19, 2004

In 1943 Ellis Louis Marsalis Sr. converted a chicken barn at 110 Shrewsbury Road at the river (across the street from what is now The Rivershack) into the 40-room Marsalis' Motel complete with a swimming pool, restaurant, and lounge. Also known as Marsalis Mansion, and Marsalis Tourist Home, from 1943 to 1986 it was one of the only motels open to African Americans traveling to New Orleans. Reverend Martin Luther King Jr., Congressman Adam Clayton Powell Jr., future Supreme Court Justice Thurgood Marshall, Ray Charles, and other prominent civil rights activists, politicians, and musicians stayed there along with thousands of lesser known Black travelers. Marsalis was, himself, active in promoting equal rights in his community and served as president of the Nationwide Hotel Association.

In 1933, he married Florence Robertson, whom he had met while enrolled in night school. They had two children, .Yvette Washington and Ellis Jr. In 1936, Ellis Sr. and William Wicker's Esso gas station at Eighth Street and Howard Avenue was the first African American-owned station in the area. While managing the hotel he promoted positive change in the community by organizing the Boosters Club, which registered African American voters throughout New Orleans. He was an active member of the local Republican Party who was elected in 1967 (the year he also expanded the motel and added The Broaster House restaurant to it) to serve on the Republican Executive Committee and served as its treasurer. He was a delegate to The Republican Presidential Convention of 1964. .In 1969 he was a a member of the Advisory Committee of the Social Welfare Planning Council. He assisted David Treen's successful 1982 campaign for Louisiana Governor. . He helped finance the education of Ernest Nathan Morial ("Dutch"), the first Black student to attend the Louisiana State University Law School, and who became the first Black mayor of New Orleans. Marsalis also played a role in the election of Judge Lionel Collins, the first Black Judge of the 24th Judicial District Court, in Gretna, Louisiana.

His daughter Yvette Marsalis Washington helped him run the motel after her mother's death in 1973. Ellis Jr. become an excellent jazz pianist and music professor who mentored gifted young New Orleans musicians including Harry Connick Jr.. His grandsons trumpeter Wynton, saxophonist Branford, trombonist Delfeayo, and drummer Jason are renowned musicians.

The achievements earned by Ellis Marsalis and like-minded civil rights activists led to the demise of the hotel -- which was no longer needed as a haven for black travellers. Marsalis's Mansion Motel closed on September 25, 1986, demolished in July 1993, and its property sold in July 2006. It remains an empty lot across the street from The Rivershack.

Active in St. James A.M.E. Church, the Dryades Street Y.M.C.A., a 32nd-degree member of the Ancient and Accepted Scottish Rite of Freemasonry, and patriarch to one of New Orleans' most celebrated musical families Mr. Marsalis passed away at the Ochsner Foundation Hospital on September 19, 2004 at the age of 96.

Jimmy Anselmo is Born
September 19, 1944


New Orleans born James Anselmo spent his lifetime in the music business. After serving on U.S.S. Saratoga Navy aircraft carrier and earning an honorable discharge from the Navy in 1965, his first job back in New Orleans was as a bartender working the 3 a.m. graveyard shift at Papa Joe's on Bourbon Street and consequently became friends numerous with local musicians. Among that number were Mac Rebennack before he became the famous Dr. John and an unknown Freddy Fender.

With the help of family, he opened Co-Ed's Uptown at 800 South Carrollton Avenue in 1966 in the building which later became Madigan's.

In 1972 he created Quasimodo's out of Al Pellegrini's pool hall on Willow Street. In late 1976 he bought the building from Pellegrin for $13,000. After wrangling through the process of applying for a Small Business Administration loan and six months of renovations, Jimmy's Music Club opened on April 9, 1978. The first two shows starred Little Queenie and the Percolators and the Neville Brothers.

At Jimmy's he presented many of the New Orleans greats such as Earl King, Professor Longhair, the Nevilles, James Booker, the Radiators. and The Cold. In 1986 he moved the stage from the Willow Street side and enlarged the room which made it available to national acts including The Gregg Allman Band on New Year's Eve, and Muddy Waters who fell in love with New Orleans food provided to him by Anselmo. MTV filmed a Flock of Seagulls and other videos at Jimmy's. Anslemo operated Jimmy's Music Club at 8200 Willow Street in the Rivebend neighborhood from 1978 to 2000.

After closing Jimmy's, Anselmo leased the building to the Frat House which alienated neighbors due to litter, noise and underage drinking. Anslemo's attempt to reopoen Jimmys (along with partners) in 2012 was met with year-long legal squables regarding a live music moratorium that had been in effect as a result of the Frat House infractions. As of September 2013 the reopening seemed emminent.

Anselmo was honored with the 2012 Best of Beat Lifetime Achievement Award in the Music Business by Offbeat Magazine.


By Jay Mazza -- Offbeat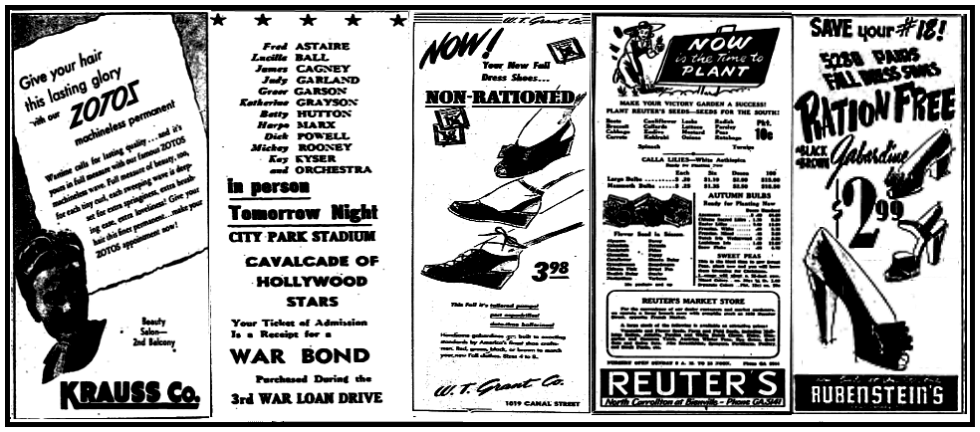 September 19, 1943 -- Times-Picayune
Krauss Company, War Bond Calvalcade of Stars at City Park Stadium, W.T Grant Company, Reuter's Seed Company, & Rubenstein's.
Stars Entertain to Support the War Effort
September 19, 1943

On September 19, 1943 at 8 P.M. City Park Stadium glistened with stars above and onstage. Judy Garland, Fred Astaire, Dick Powell, and 1943 Academay of Motion Picture Arts and Sciences award winner Greer Garson performed to the tunes of Kay Kyer and his Orhestra. New Orleans was one of 15 American cities included in this third War Loan Campaign to sell War Bonds. In addition to the stars' variety show ticket holders also enjoyed band music, military maneuvers, and Civil Defense demonstrations. Under the auspices of the War Activities Committee headed by Chairman E. V. Richards the event was open to any and all who wished to fill one of the stadium's 40,000 seats by buying a $25 dollar bond. Special sections of the field were reserved for those who purchased $1000, $10,000, or $100,000 bonds. New Orleans' quota was set at $30,000. Those contributing to the successful event included E. Kirby Newburger, campaign Director; Moise Block, Chairman of Special Events, and local women Block Leaders of the Civil Defense who canvassed homes -- Mrs Furman Pierce chaired the block leaders.
New Orleans Jazz Club's annual Jazz Festival
September 19, 1954
The New Orleans Jazz Club's annual Jazz Festival on September 19, 1954 at the Municipal Auditorium included Bourbon Street performers pianist Walter "Fats" Pinchon, Sharkey Bonano and his Band, and Papa Celestin and his band as well as the Middlewest Dixieland Band for the show which benefited Crippled Children's Hospital.
Canned Beer in N.O.
September 19, 1935

The first canned beer, a Keglined brand Pabst, was on the shelves in New Orleans on September 19, 1935. It was produced by The American Can Company at 3700 Orleans Avenur. The new can was touted as taking less space in the refrigerator and in stores and better able to protect the beer from spoilage.