---

Fire at Aunt Sally's Praline Shop
August 6, 1974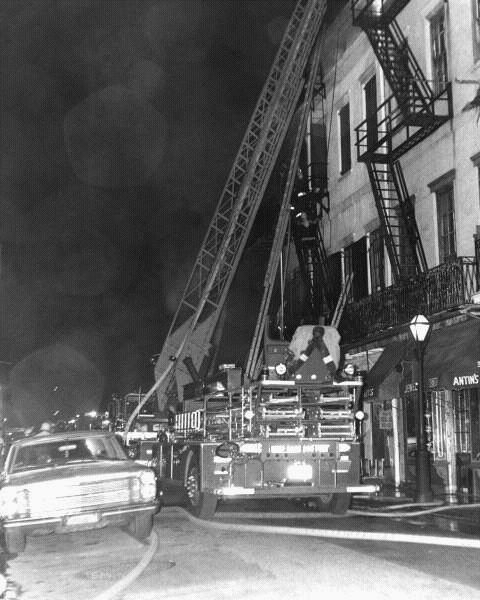 This New Orleans Pubic Library photograph shows firefighters battling a 4-alarm blaze at 314 Royal Street on August 6, 1974 which destroyed Aunt Sally's Praline Shop. An estimated 23 pieces of fire equipment and 100 firemen responded to the general alarm. One fireman, Lieutenant Gary Shaw, was injured after falling through the second floor of the three-story building and 18 others were treated for smoke inhalation. The fire started at approximately 11:15 p.m. on the 5th of August in the rear of the first floor and spread to the upper two floors which were undergoing renovation. It was declared under control at 12:44 a.m. and completely extinguised by 2 a.m. on the 6th. Fire Superintendent William J. McCrossen said that the firefighters "saved the entire area from potential disaster.
Beginning in 1935, noted photographer C. Bennette Moore set up his studio in this location. In 1963, the Moore family sold the building to Roy L. Aciatore (of Antoine's fame). On November 5, 1973, the Langford Land Company purchased the building for $275,000. Shortly thereafter, John A. Langford attempted break the lease with Aunt Sally's Creole Praline, Inc.to create a pedestrian passageway to his Exchange Alley holdings. Aunt Sally's manager Walter J. McDonald reported that Langford did not offer enough to buy out the lease which would have run through 1980. Nine months after Langford acquired the building, the fire occurred.
Langford also owned 511 Barracks Street, which was purchased on March 15, 1971. Fifteen months later that building which housed La Phire restaurant burned. The building was sold on February 13, 1973 -- eight months after the fire. In March 1976 the New Orleans Fire Department was still investigating the two French Quarter fires while federal officials investigated their ties to Langford and Gordon Novel, a company employee who had been booked on February 21, 1972 with possession of a destructive device, plotting to fire bomb several downtown buildings, and attempting to hire a federal undercover agent to firebomb five Central Business District buildings during Mardi Gras of that year. Novel testified that he was paid $2,000 a month by Langford as a financial consultant, denied all charges, and was released from jail 11 days later on a $50,000 bond posted by Metairie car dealer Richard Schmitt.
The 1976 trial accused Novel and John Langford with conspiracy to commit aggravated arson. Novel's wife claimed he was on a ten-day hunger strike. The government contended that the five CBD buildings Novel planned to burn included the Federation of Churches at 330 St. Charles Avenue and that the fire-bombings were planned during Mardi Gras so that firefighters would have problems reaching the scenes. The government argued that Novel was developing plans for Langford to construct a high-rise in the same block where targets were located -- across Poydras Street from the Hale Boggs Federal Building and Courthouse and that Langford had tried to purchase properties and already owned property bounded by Poydras, Camp, Natchez, and Magazine streets. The development would be named Concord Place. Federa; agents claimed that Novel possessed a can of alcohol, a can of gun powder, several large balloons, a time fuse, and matches in a suitcase on Novel's 40th floor office in the Plaza Tower. The case ended in a mistrial as did a second trial
In 1977, Novel sued D.A. Harry Connick, developers Joseph Canizaro and Lester Kabacoff, and others for $1 billion in damages for conspiracy to prosecute him in order to descredit his plans to locate a 1980 world's s fair in New Orleans East while they planned a fair along the river-front where they owned property. In 1978 he said he was framed on the arson charges by enemies
During a third trial in 1978, Novel's ex-wife Abby, a former New Orleans Playboy Club Bunny, said that she was "tired of pretending and tired of lying to keep Gordon out of trouble". She testified that he was involved in the fire-bombing plot and that because the law did not allow for the demolition of the church building, Novel conspired with Larry Blanscet to destroy it to make way for a hotel/office complex. She said that Novel discussed these plans during several meetings at their home on Lakeshore Drive with Larry Blancet. After Blancet and Novel had a bitter disagreement, Lloyd Griffen (actualy federal agent Lloyd Grafton was in on the deal. Abbey also testified that a case of Pic mosquito repellent coils (to be used as wicks) were hidden in a shed on the property and that a box of black powder and a baloon were hidden in a cubbyhole in the kitchen cabinets. The government contended that Novel and Langford had lost $112,000 on an option-to-buy the church building after they couldn't come up with the remaining $600.000 to purchase it (it later became the Old Spaghetti Factory next to One Shell Square)). In December 1978, Novel was convicted after two hours of jury deliberation and a jury vote of 10-2. Langford was acquitted.
Many bizarre claims were made by Novel during the final trial, in which Novle defended himself with co-council Hugh Exnicios. Novel's wife and John Sanderfer/Sanford testified that he was "working with an agency or agencies of the National Government" including the CIA -- a claim Novel also stated. He described himself as "an international figure involved in CIA dealings and international arms trade. He said he was a consultant to several presidents on defense matters and that he had been hired by the White House to erase some of Nixon's Watergate tapes. Novel proclaimed that he "was to meet Governor Edwin Edwards and other businessmen to discuss plans for a world's fair in New Orleans east". Novel and Exnicios subpoenaed Governor Edwards, Lieutenant Governor James Fizmorris, Canizaro, Kabacoff, CIA regional director Peter Houck, former D.A. Jim Garrison, crime boss Carlos Marcello and others for a total of 40 subpoenas.
Novel's checkered past included a charge by District Attorney Jim Garrison during the 1967 JFK assasination case with conspiracy to burglarize a Houma munitions bunker with Sergio Archach Smith and David W. Ferrie on or about August 21, 1961. At the time he was a 29 year-old former night club owner. Also in 1967, Novel claimed to have sold "bugging" ecquipment and devices to detect such equipment to the State of Louisiana, a claim which was confirmed by State Police Superintendent Thomas Burbank and Governor John McKeithen. A jurist of the trial said later, "I think he's an ego maniac".
Gordon Michael Dwayne Novel, born in New Orleans on February 7, 1938 died on October 3,2012 in Los Angeles. He had graduated from East Jefferson High School in 1956 and met his former wife, Marlene Mancuso, Miss New Orleans 1958, at LSU. He had served as Director of Operations for the 'Bourbon Street Pavilion' at the 1964 New York World's Fair, served as a private investigator to the DeLorean Motor Company chairman John DeLorean in 1982 and became a business partner, and originated allegations that U.S. Federal agents were guilty of murdering David Koresh's followers during the Waco siege.
---



---
On August 6, 2009, Congressman William Jefferson went back to court (after his conviction the day before on 11 corruption chargres) for forfeiture proceedings. His defense argued that much of the money the government wished to seize was from legitimate business enterprise and his "passion for Africa". Jefferson and family was held liable to forfeit more than $470,000 of this bribe money paid to sham companies under the family's control. The jury also found ANJ Group could be required to surrender millions of shares of stock in a Kentucky technology company and a Nigerian telecommunications venture. The $470,000 included $21,353 which the former congressman's brother, Mose, received in bribe payments and which was ultimately used to help pay off Andrea Jefferson's credit-card debt, and helped pay for Jelani Jefferson's Harvard Law School tuition. (Wiki)
Willy DeVille (August 25, 1950 – August 6, 2009) was an American singer and songwriter. During his thirty-five-year career, first with his band Mink DeVille (1974–1986) and later on his own, Deville created original songs rooted in traditional American musical styles. He worked with collaborators from across the spectrum of contemporary music, including Jack Nitzsche, Doc Pomus, Dr. John, Mark Knopfler, Allen Toussaint, and Eddie Bo. Latin rhythms, blues riffs, doo-wop, Cajun music, strains of French cabaret, and echoes of early-1960s uptown soul can be heard in DeVille's work. (Wiki)
Former United States federal judge Robert Frederick Collins. born in New Orleans in 1931 received a B.A. from Dillard University in 1951 and an LL.B. from Louisiana State University Law School in 1954. He was in the United States Army from 1954 to 1956, thereafter entering private practice in New Orleans from 1956 to 1972. He was also an instructor at Southern University Law School in Baton Rouge from 1959 to 1961. He was a magistrate judge for the Criminal District Court of New Orleans from 1972 to 1978. On January 26, 1978, Collins was nominated by President Jimmy Carter to a seat on the United States District Court for the Eastern District of Louisiana vacated by Alvin B. Rubin. Collins was confirmed by the United States Senate on May 17, 1978, and received his commission on May 19, 1978. In 1991, Collins was convicted of accepting money to influence his sentencing of a marijuana smuggler. He served five years in the Federal Prison Camp in Montgomery, Alabama, Alabama and in other federal prisons. He was released November 21, 1997. After his conviction, Collins did not resign from his judgeship. Consequently, on May 19, 1993, U.S. Representative James Sensenbrenner of Wisconsin introduced H. RES. 176, impeaching Collins. It was referred to the House Judiciary Committee and died there. Later, in June, Jack Brooks tried again with H. RES. 207. Collins resigned on August 6, 1993, his impending impeachment hearings scheduled to begin the next day. (Wiki)
On Aug. 6, 1969, kicker Tom Dempsey was signed by the Saints.
Braniff Airways Flight 250, which perated between New Orleans and Minneapolis, crashed near Falls City, Nebraska, on August 6, 1966, en route to Omaha from Kansas City, Missouri. Thirty-eight passengers and four crew members were killed in the crash, which occurred in a farm field late on a Saturday night.[2][3] In-flight structural failure due to extreme turbulence in an avoidable weather hazard was cited as the cause.
NORD Haynes S. Ragas photo -- Baseball trophy; Firmin Simms and Adolph Strada, August 6, 1955.
On August 6, 1945, the Atomic Bomb was dropped on Hiroshima, Japan.
NORMAN, Peter Roussel, business and civic leader, patron of the arts. Born, Morgan City, La., August 6, 1903; son of Maurice E. Norman (q.v.) and Hilda Loeb. Education: Morgan City High School; Louisiana State University; Cornell University. President, Norman-Breaux Lumber Co., 1932-1950s. President of Atchafalaya Ship Channel Association; advisory member, Morgan City Public Library; active in Rotary, Scouting, Chamber of Commerce and Temple Shaare Zedek. An organizer of Morgan City Golf Club and the St. Mary Country Club; reigned as king of Morgan City Mardi Gras; director and senior vice president, First National Bank in St. Mary Parish. Married Mildred "Sunny" Gould (b. 1912) of Houston, Tex., November 17, 1937. Children: Frank (b. 1940), and Linda Friedman (b. 1945). Removed to New Orleans, 1960, trustee of New Orleans Museum of Art and patron of New Orleans Philharmonic Symphony Orchestra, New Orleans Repertory Theatre and Public Television WYES. With family large donor of land and gifts for schools, hospital, municipal auditorium, library, and parks in Morgan City. Died, New Orleans, September 29, 1975; interred Hebrew Rest Mausoleum. L.K.L. Source: Norman Family Papers, Morgan City Archives. From http://lahistory.org/site.php?pageID=31
During the Union occupation of New Orleans during the Civil War, Jonas H. French was appointed Mayor of the city on August 6, 1862 and served until August 20 of that year.
On August 8, 1773, The city Commissioners resolved to tax the owners of slaves in order to pay the appraised value of a slave whenever one is taken to be executed for a crime.