---

George Adrian Paoletti is Born
January 2, 1867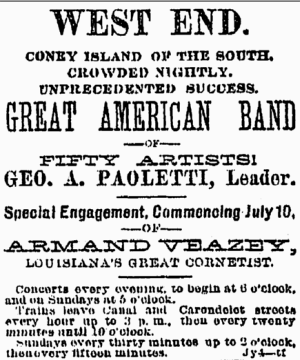 The day after George Adrian Paoletti passed away on November 14, 1924 the Times-Picayune posted a notice of his death on the front page of its newspaper. It ran an article proclaiming "We dare assert that no one man during his lifetime has occupied a fuller place in our city's music, or in the sum total has been of more service to the cause of music, or has given more enjoyment to a greater number of citizens". The article went on the note that Paoletti had dedicated 25 years of winters to the French Opera House (where he also led ballets) and 30 summers travelling with Liberiti's Band and that he was "prominently connected with important musical movements in the city for more than 35 years".
Paoletti's musical career began after his father Joseph (a musician) taught him and he subsequently studied under Professor Sontag in New Orleans. In 1888 he was a solo coronetist in Sontag's band at old Spanish Fort. A professor of music at Tulane University, he was also the leader of the West End Band, leader and instructor for the Shrine Band and the Indivisible Friends Commandary Band. He instructed the Mexican Petroleum Company Band and was instructor of band and music at Boy's High School.
Paoletti organized the fraternal home of the Musician's Union of New Orleans and served at director and board member. He was president of the Musician's Protective Union, 174 A.F.M. A native New Orleanian, born January 2, 1867, he died at his home at 1326 St. Andrew Street where he was also waked. Survivors included his widow, Izabel Chaery, daughter Mrs. Gilbert Duroc, and son Joseph Victor Paoletti. He is buried in St. Louis No. 2 cemetery.
---

You Can Support this Site by Clicking on & Shopping from this Amazon Link: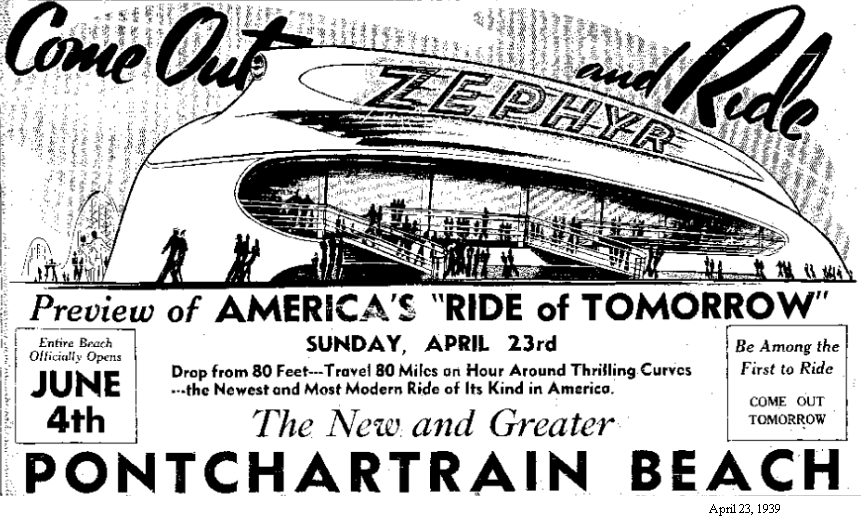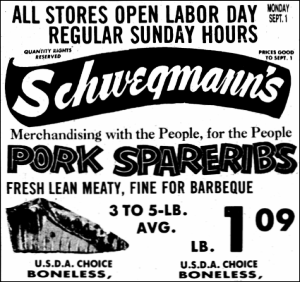 And You won't pay a penny more!
---
The Allstate Sugar Bowl Classic (the 80th annual Sugar Bowl game) was played on January 2, 2014. It was the 38th in Superdome.
The Allstate Sugar Bowl Classic (the 79th annual Sugar Bowl game) was played on January 2, 2013. It was the 37th in Superdome.
On January 2, 2012 the Allstate Sugar Bowl Football Classic (the 78th Sugar Bowl game was played. It was the 36th ito be hosted in the Superdome.
Troy Andrews (born January 2, 1986), also known by the stage name Trombone Shorty has worked in jazz, funk and rap music. Andrews is the younger brother of trumpeter and bandleader James Andrews as well as the grandson of singer and songwriter Jessie Hill. Andrews began playing trombone at age six, and since 2009 has toured with his own band, Trombone Shorty & Orleans Avenue.
On January 2, 1975 Lafreniere Park adopted its Master Plan.
On August 21, 1939, Abe Shusan (and five others) were indicted for mail fraud. Shushan had allegedly been aware of a bribe which led a levee board member to pursue fellow members not to submit the job for public bid, resulting in Orleans Dredging Company netting the deal. In 1931 he also allegedly received $130,500 for his part in extorting exorbitant fees from the government, far in excess of services rendered, in a bond refunding deal and for using the U.S. mail to do so (mail fraud). But all that seemingly escaped notice for several years until until the indictment.. He was convicted on December 22, 1939 and sentenced to 30 months in federal prison on
January 2, 1940
. The U.S. Supreme Court refused to review the case on May 12, 1941 and declined to reconsider its decision on October 3, 1941. See also
February 10
.
Beautiful Rayne Memorial United Methodist Church located on the corner of St. Charles Avenue and General Taylor Street was was erected in 1875, with the first services celebrated January 2, 1876. The original name, St. Charles Avenue Methodist Church, was changed to its present name in 1887 in honor of Robert W. Rayne, a New Orleans merchant who paid for more than half the cost of construction. He did so in honor of his son, who was killed in the Civil War.
Andrew James McShane (January 2, 1865 – April 17, 1936) was mayor of New Orleans from December 6, 1920 to May 4, 1925. McShane was born in New Orleans, the son of two Irish-American Catholics, Bernard McShane and Rose (Fitzpatrick) McShane. After his father died, he entered the hide business at the age of nine, working his way through the ranks as a travelling salesman before becoming sole owner of his firm at the age of twenty-one. His business was very successful. He married Agnes Bruns of New Orleans in 1918; they had one daughter, Rosemary. McShane was involved in New Orleans politics throughout his adult life. He was associated with the reform-oriented groups that were opposed to the machine politics of the Regular Democratic Organization, or Old Regulars. He held posts in the administrations of reform mayors Walter Flower and Paul Capdevielle. McShane ran for a city council seat in 1912 under a 'good government' platform, but lost. In the election of 1920, McShane was the mayoral nominee of the reform-oriented Orleans Democratic Organization. The endorsement of reform governor John M. Parker helped him narrowly defeat the incumbent Old Regular mayor, Martin Behrman. Despite the reform promises of the new administration, McShane was able to achieve very little. He and his administration were hampered by inexperience at city government and by dissension between various factions of his supporters. He was able to improve garbage collection, reform the Department of Public Works and the city's finances, and create a system of one-way streets to improve traffic flow. McShane ran for re-election in 1925, but was soundly defeated by former mayor Martin Behrman. After his defeat, the Old Regulars would continue to control the city until 1946. McShane Place, a block-long street connecting Rampart Street and St. Claude Avenue, is named after him. http://upload.wikimedia.org/wikipedia/commons/8/8d/Andrew_J_McShane.jpg
BARES, Basile, pianist, composer. Born, New Orleans, January 2, 1846. A Creole of Color, his studies in piano were under Eugene Prévost (q.v.), director of the Orleans Theater. Employed by Perrier's music store, New Orleans, he represented the firm on business trips to Paris. In 1867, he peformed at the Paris Exposition. His works for piano are primarily salon pieces representative of the music styles in vogue during the period. Died, ca. 1908. A.E.L. Sources: Charles Edwards O'Neill, "Fine Arts and Literature: Nineteenth-Century Louisiana Black Artists and Authors," in Louisiana's Black Heritage (1979); Rodolph Lucien Desdunes, Our People and Our History . . . (1973); James M. Trotter, Music and Some Highly Musical People (1879). From http://lahistory.org/site19.php
January 2, 1955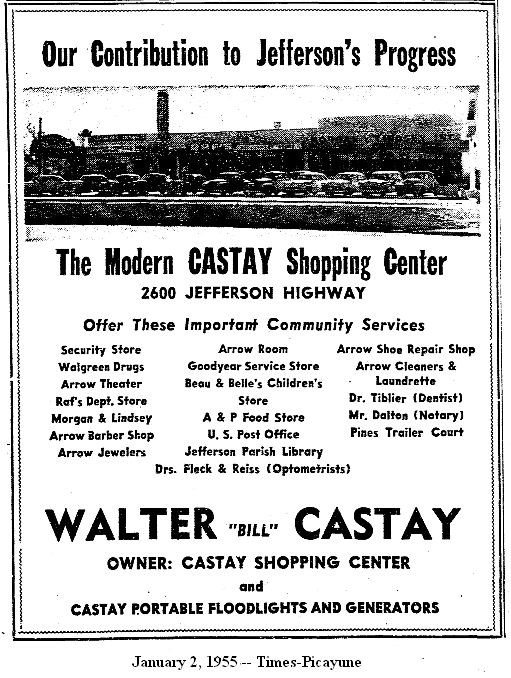 On
January 2, 1955
the "Modern Castay Shopping Center at 2600 Jefferson Highway advertised "Our Contribution to Jefferson's Progress" before most of the Jefferson Parish subdivisions sprung up near the Veterans Highway corridor. Walter "Bill" Castay opened the center in 1948, which included an A&P grocery store, a post office, and a theater, barber shop,and reception hall -- all named "Arrow".
Through the years this shopping center near Labarre Road included a Western Auto store, Holsum Cafeteria, Frostop Drive-in, the Champagne Room, the Hawaiian Room, Walgreen's, Raf's Department Store, Morgan and Lindsey, Goodyear Service Store, optomistrists Fleck and Reiss, dentist Dr. Tiblier, a Jefferson Parish library branch, Beau's and Belle's children's clothing store, Arrow Jewelers, Arrow Cleaners, and Arrow Shoe Repair, and much more.
There was once here a Kaufman's Department Store, Charlene's Shop, Covert Shoes, Auto-Lec, Muntz TV, Gordon's Jewelers, Lee Madere and Father Hobby Shop. The shopping center also carried the names "Arrow Shopping Center" and Jefferson Plaza Shopping Center". For many years, the Pine's Trailer Court was next door. In 1959 and 1960, deLesseps S. Morrison conducted political rallys here.
Now mostly vacant, this piece of land was slated for an ill-fated develpment which would have included a high-rise residential tower. Neighborhood associations balked at the plans. The developer then failed to secure financing and the whole deal feel through.