---

Madame Begue Passes Away
October 19, 1906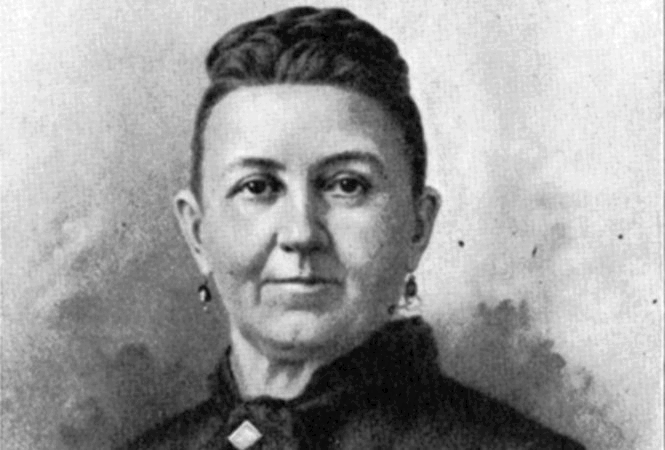 When Elizabeth Kettenring Dutrey Begue died in New Orleans on October 19, 1906,
her obituary was posted in the New York Times. It stated, "MME. BEGUE DEAD: New Orleans's Famous Cordon Bleu Ruled Her Kitchen for 43 Years." Born in Bavaria, Germany in 1831, she arrived in New Orleans in 1853 at age 22 to join her brother, a butcher in the French Market. Her first husband, Louis Dutry, operated Dutrey's Coffee House at 207 Old Levee (now 823 Decatur -- the current location of what was its main rival, Tujagues Restaurant), catering mainly to market vendors and butchers in the French Market (across the street) who ate a light breakfast at dawn and came to the restaurant for a leisurely second breakfast after their work was done. Elizabeth managed the restaurant after Dutrey's death in 1875,
She married Hypolyte Begue, a bartender, and changed the restaurant's name to Begue's Exchange. Her "second breakfast" was served promptly at 11 a.m. (until 3 p.m.) to 30 people in a second-floor dining room, without a menu. It included a variety of red wines, French bread, soup, meats, fish, cheeses and café noir into which brandy was poured and burned. In 1885 "the French Market breakfast" gained national attention when tourists visiting the World's Industrial and Cotton Centennial Exposition (held at what would become Audubon Park) dined at Bégué's and returned home praising its notable cuisine. Sunday at Bégué's became a meeting place for intellectuals, poets, statesmen, scientists and businessmen from New Orleans as well as from other American cities and abroad. Tourists wrote months in advance for reservations and Begue's was one of the first restaurants in New Orleans to install a telephone to accommodate diners. In later years, rheumatism forced her to use crutches but she continued to supervise all food preparation. Her meals became known across America as "brunch". After Hypolyte's death in 1917, the property was sold to Tujaque's.
In 1900 Madame Begue hand-wrote her recipes in French for publication in a cook book published by Southern Pacific Railroad as a souvenir and travel incentive. One of the first cookbooks published for the New Orleans market, it became a sought-after souvenir and guide for tourists. It included Madame Begue's Turtle Soup, Chicken a la Creole, and Creole Gumbo as well as recipes from other well-known cooks, including Victor Bero from Victor's Restaurant (now Galatoire's). The recipes measurements, temperatures, and cooking times were left to the best judgment of the cook because much of the cooking done over an open fire.
---

During Hurricane Katrina, the Hyatt Regency New Orleans received significant damage as almost all of its windows were blown out and the bottom floor was torn apart by flood damage. It reopened on October 19, 2011.
Oakwood Shopping Center completely reopened after Hurricane Katrina on October 19, 2007, with the exception of the Mervyns wing. Forever 21 and Shoe Department Encore replaced the Marshalls store. In 2013, it was confirmed that the Mervyns wing would be demolished and replaced with Dick's Sporting Goods.
Café du Monde repened for the first time after Hurricane Katrina on October 19, 2005.
On October 19, 2005, Defense Secretary Donald Rumsfeld announced that an independent panel of experts, under the direction of the National Academy of Sciences, would convene to evaluate the performance of the New Orleans levee system, and issue a final report in eight months. The panel would study the results provided by the two existing teams of experts that had already examined the levee failures.
The New Orleans Arena was completed in 1999 at a cost of $114 million and officially opened on October 19, 1999. The New Orleans Brass hockey team was the main tenant for its first three years until the team was forced to fold after Hornets management demanded priority upon moving. The arena seats 19,000 for concerts, over 18,500 for Pelicans games and 16,500 for arena football and has 2,800 club seats and 56 luxury suites. The Arena is also used as a venue for concerts where it can seat from 7,500 for a half-stage setup to 17,221 for end-stage shows and at the most 17,805 for a center-stage show. For trade shows and conventions the Arena features 17,000 square feet of space. The ceiling is 65 feet to beam and roof, 70 feet to the top of the arena.
Mitchell Joseph "Mitch" Landrieu was elected State Representative for the 89th Representative District on October 19, 1991.
LSU's tiger mascot Mike V was born on October 19, 1989. The 7-pound baby tiger was introduced to LSU fans at a basketball game in February 1990. In his 17-year reign, Mike V saw an LSU football team win another National Championship (in 2003) and received both a new trailer and a massive renovation of his enclosure. In March 2007, Mike V officially began a three-stage retirement. His personal veterinarian, David Baker, cited his age and health as reasons. Mike V retained his mascot status and lived in his on-campus habitat until his death by renal failure on May 18, 2007 at 2:23 AM, which coincided with the undergraduate commencement ceremonies. He was considered to have had the best personality of all the tigers that have served as LSU's mascot. Originally named Stevie, he was donated by Dr. Thomas and Caroline Atchison of the Animal House Zoological Park in Moulton, Alabama. (From http://en.wikipedia.org/wiki/Mike_the_Tiger)

Marjorie Lee Browne, born on September 9, 1914, was a notable mathematics educator and the second African-American woman to receive a doctoral degree in the U.S., and one of the first black women to receive a doctorate in mathematics in the U.S. She attended Howard University, majoring in mathematics and graduating cum laude in 1935. After receiving her Bachelor's degree, she taught high school and college for a short term, including at Gilbert Academy in New Orleans. She died on October 19, 1979.
Res. 109 of the 89th U.S. Congress is Signed by President Johnson
(Or How Politics Got Us the Saints)
October 19, 1966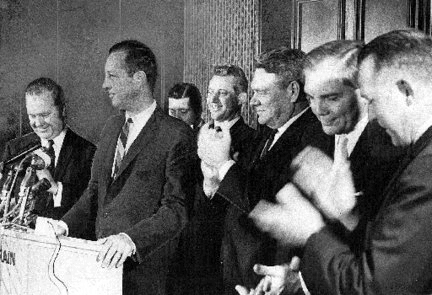 On November 1, 1966 the National Football League awarded its 16th franchise to New Orleans. NFL Commissioner Pete Rozelle made the announcement at the now defunct Pontchartrain Hotel on St. Charles Avenue. The New Orleans States-Item afternoon newspaper produced a "RED FLASH" issue with the headline "N.O. GOES PRO!" stretched across its first page. The Times-Picayune simply included a small one column article titled "N.O. To Be Given NFL Franchise". This article was small compared with larger titles "Viet Cong Shell Heart of Saigon" and "City Levy on Income [Tax] Unlikely, Says [City Council President] Petrie" -- both articles were alloted vastly more homepage area. But most New Orleanians and many Louisianians were thrilled on that All-Saints Day to see (and hear) the news.
At the press conference, which was held shortly after 12 noon, Commissioner Rozelle briefly told the story of events leading to the decision to award the franchise to New Orleans. He said that during the preceding month of May, Governor John McKeithen, Mayor Victor Schiro, U.S. Senator Russell B. Long (Democratic Senate Majority Whip), and U.S. Congressman Hale Boggs (Democratic Congressional Majority Whip) had gone to Washington and "That peaked our interest and got all our people thinking a little more about New Orleans". What he did not say (but implied to those informed) was that their intent was to support and encourage the passage of a law proposed in the 89th United States Congress, which would exempt a proposed merger of the NFL with the AFL from antitrust law sanctions.
That law, titled the Senate; Hearings of Subcommittee on Antitrust and Monopoly (S.Con.Res. 109 of the 89th U.S. Congress) was signed by President Johnson on October 19, 1966 (just 13 days before the awarding of the New Orleans franchise). Boggs and Long were instrumental in its passage which allowed the two leagues to combine to form an expanded league with additional teams. The first of those new teams was the Saints. "There is no question", said Rozelle at the press conference on November 1, "that their leadership [Boggs and Long] in Washington was tremendously significant".
The photo was taken at the press conference on November 1, 1966. Photographer: J. W. Guillot / The Times-Picayune. Russell Long is on the left. Pete Rozelle is at the podium. From right to left are Dave Dixon, John McKeithen, and Hale Boggs.
Dave Dixon was praised by Rozelle for his contributions..."I guess it started five years ago when David Dixon started hounding our league meetings. He's been pushing it for five years and I think that the great civic interest he has shown should certainly be recognized here today". The following day (November 2, 1966), Times-Picayune Sports Editor Bob Roesler wrote that Dixon had contacted NFL Commissioner Bert Beli and AFL team owners, as early as 1957, regarding a professional team in New Orleans and had worked since then to see this happen. Dixon was quoted as saying, "I could write 10 books" about experiences along the way. He did, in fact write one, with the publication of
The Saints, the Superdome, and the Scandal
which was published on February 15, 2008.
Rozelle also credited John F. Tims, president and publisher of the the Times-Picayune Publishing Company whose support "was another factor in encouraging us to come here". He praised the support of Tulane officials in regard to the use of the 82,000 seat Sugar Bowl Stadium -- another significant factor in the league's decision to choose New Orleans over six other cities (Seattle, Cincinnati, Boston, Houston, Phoenix and Portland) vying for the franchise. Of those, he said, Seattle, Cincinnati, and New Orleans were still in contention as of the week before when NFL and AFL officials visited all three. When the vote was taken by the 24 team owners, New Orleans was unanimously chosen.
Commissioner Rozelle added that New Orleans had the population, the sports interest, the weather, and the geological location which would ensure the success of a professional team and added that New Orleans was under consideration for the upcoming January Superbowl. Regarding the team playing at Tulane, Rozelle said it had "an excellent stadium" but that "a new stadium is a necessity". Councilman Maurice "Moon" Landrieu represented Mayor Schiro at the press conference, who had other commitments that day. Schiro issued a press release stating "This will not be just New Orleans' or Jefferson Parish's team. I predict that the Louisiana fans will be the most fervant in the National League".

No owner for the new team had yet been chosen but three had publicly expressed interest; Louis S. Rousell, Jack Sanders, and John Mecom Jr. New Orleans businessman and civic activist Edgar Stern had reportedly gathered a group of local businessmen who were interested in ownership which was unofficially estimated to be $8.5 million payable over five years. Rozelle said that the team would spit television revenue with the NFL. Finally, Rozelle said that another team franchise would be added next year in the AFL.
In Times-Picayune Sports Editor Bob Roesler's November 2, 1962 column, he quoted Dave Dixon as saying, "I stumped the state the past two months for Constitutional Amendment No. 10" which, if passed by the voters, would fund an all-purpose domed facility in the Greater New Orleans area. Dixen felt that most Louisianians were in favor of it. Also in his column that day, Roesler wrote, "The New Orleans Saints, or whatever they'll be called, would participate in the mid-January draft". This was likely the first time the team had ever been referred to as "The Saints" in the print media.

On November 8, 1966 (one week after the franchise was granted), voters approved the Amendment 10. On December 15, John W. Mecom, Jr. became the majority stockholder-president of franchise. On December 22, Victor E. Schwenk was appointed director of player personnel, on December 27, Tom Fears was named the head coach. It wasn't until January 9, 1967 that the team was officially named "Saints".
---
The New Orleans Jazz Club presented "Pete Fountain Day" on October 19, 1959, with celebrations honoring the pride of their city, concluding with a packed concert that evening.
Abe Shushan Indicted on for Tax Evasion
October 19, 1934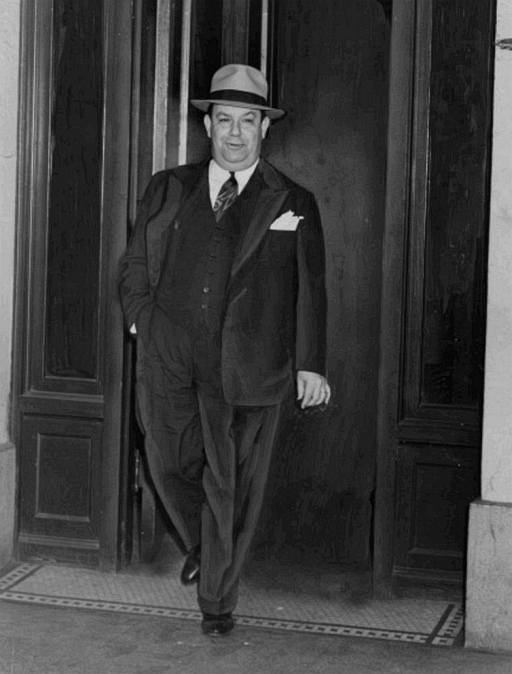 The man behind the construction of the lakefront airport and the massive lakefront "land reclamation" along the New Orleans lake shore (see October 29) is pictured here walking out of his office alone on October 23, 1941, after learning of his impending arrest for defrauding his fellow citizens. He had no comments for the the news reporters gathered there but with a forced smile, said the the photographers, "TAKE A GOOD ONE, BOYS". The mandate for his arrest had been filed at 11:20 a.m. He was in federal jail by 4:00 that afternoon.
Eight years earlier, on February 10, 1934, the airport opened with great fanfare. More than 10,000 visitors from around the world attended the dedication of what was coined "the Air Hub of the Americas". Built at a cost of $4.5 million, the airport's 3,000 foot-long field qualified it for the U.S. Department of Commerce's highest rating of AA-I. The architecture was considered a modern marvel. Everything about the airport was state-of-the-art and first class. It was the first major airport in the region and the first combined land and seaplane air terminal in the world. And it was named Shushan Airport.
Architect Leon C. Weiss designed it (as well as the state capital, the governor's mansion, the Louisiana State University buildings, and the LSU Medical School. Inside the terminal building were/are beautiful Art Deco appointments as well as murals by artist Xavier Gonzalez, friezes by Enrique R. Alferez who also carved the Fountain of the Four Winds which stands out front.
Shushan Airport, which had been under construction since 1929, sits adjacent to the Industrial Canal on a man-made peninsula jutting into the lake. To make land available for this elaborate project, the Orleans Levee Board drove a 10,000 foot retaining wall into the lake and pumped six million cubic yards of hydraulic fill to raise the field above the water. It was this project (and others) that landed Shushan, the levee board president, in hot water.
On March 27, 1934 he submitted his resignation, citing health reasons. In the letter of resignation to Governor O.K. Allen he noted accomplishments during his tenure which included a five-and-one-half long "levee" (along what is now Lakeshore Drive) with an average width of 3500 feet (over one-half mile) for eventual use as residential and recreational development (this became a part of the Lakeview post-WWII subdivisions of Lake Vista, Lake Terrace, etc.). Shushan was indicted on October 19, 1934 for eight counts of personal income tax evasion, was tried on October 8, 1935, and acquitted later that month of those charges. He remained the levee board president, however, because at at subsequent meetings of the board there were no quorums, therefore, no means of accepting his resignation. He was a slick operator, to say the least. He said, regarding the tax evasion charges, that he was being persecuted politically.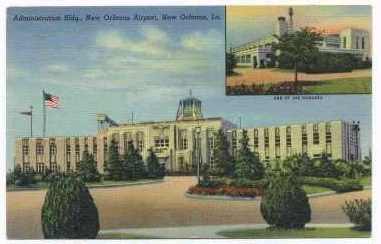 On August 21, 1939, Shusan (and five others) were indicted for mail fraud. He had allegedly been aware of a bribe which led a levee board member to pursue fellow members not to submit the job for public bid, resulting in Orleans Dredging Company netting the deal. In 1931 he also allegedly received $130,500 for his part in extorting exorbitant fees from the government, far in excess of services rendered, in a bond refunding deal and for using the U.S. mail to do so (mail fraud). But all that seemingly escaped notice for several years until until the indictment.. He was convicted on December 22, 1939 and sentenced to 30 months in federal prison on January 2, 1940. The U.S. Supreme Court refused to review the case on May 12, 1941 and declined to reconsider its decision on October 3, 1941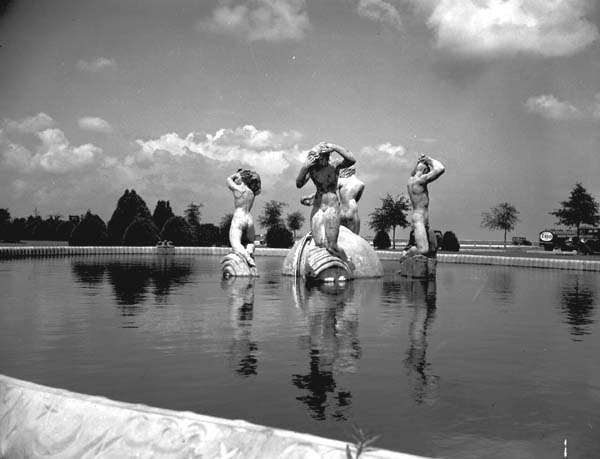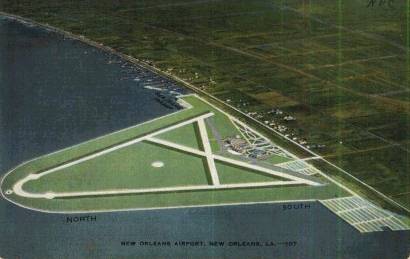 In October 1941, the Orleans Airport Commission discussed removing the cornerstone of the Shushan Airport which included not only his name but the names of other former levee board members convicted of misdeeds during what became known as the "Louisiana Scandals". The cornerstone was reported to be "the only place where the name Shushan remains at the airport (which doesn't lend credence to the oft-told urban legend that his name was on all doorknobs, flooring, etc., including plumbing). The commission decided to keep the stone in place for "historical significance" and a matter of record which should be preserved.
Shushan was released from prison on parole in September of 1942. On February 28, 1947, President Harry S. Truman granted him a full and unconditional pardon.
Born on January 12, 1894 in Reserve, Abraham Lazar Shushan on died on November 3, 1966 at Touro Infirmary and is buried in Chevra Thilim Cemetery. He was educated in New Orleans and began his career at Shushan Brothers, a whole-sale dry-goods firm owned by his father and uncle, and later became its president and principal owner. He had served as levee board president during the terms of four governors (Parker, Fuqua, Long, Allen) who had all appointed him to the position beginning in 1920. He was a close personal friend of Huey P. Long. Shushan's political clout enabled constitutional amendments calling for the development of the lakefront to be enacted.
Related reading:
Louisiana Aviation: An Extraordinary History in Photographs
by Vincent P. Caire.
Sculptor Edward Virginius Valentine. born on November 12, 1838, completed the John James Audubon statue which was unveiled in Audubon Park on November 26, 1910. The statue is placed in front of the zoo. Valentine died on October 19, 1930.
William Lindsay Challoner, ship captain, artist, marine painter. Born, Bedminster, England, 1852; son of Thomas Skillern Challoner and Melina H. Banks. Education: York Naval Academy; second mate, awarded by the Lords of Common Privy Council for Trade, London, England, 1879. Married, 1880, Mary Cadigan, of Queenstown (Cobh), Ireland. Children: Mary, Thomas, Neville Butler, Helen, Mildred, William Lindsay, Jr. Commanded fruit trade ships out of New York City, New Orleans, 1882-1897, and San Francisco. Listed in 1887 New Orleans city directory as artist; granted U. S. citizenship, San Francisco, 1887. Commanded S. S. Joseph Ateli, Jr., 1897; first mate on transports in Caribbean for U.S.A. during Spanish-American War, 1898; received Masters License of Oceans, Seas, and Gulf, New Orleans, 1899. Painted ships and marine scapes in oils and watercolors. Exhibited at Grunewald's Music Store, New Orleans, 1887; Twenty-third Exhibition of the Mechanics' Institute, San Francisco, 1888. Died, Baltimore, Md., October 19, 1901. (From http://lahistory.org/site20.php)
Civil engineer Benjamin Henry Latrobe II, born on December 19, 1806, was the son of Benjamin Latrobe, architect of the United States Capitol and the Basilica of the Assumption. Around 1820, he worked with his father to establish a water supply for New Orleans. He died on October 19, 1878.
Born in New Orleans on October 19, 1878 , jazz clarinetist Alphonse Floristan Picou wrote and arranged early jazz music before it was given the name "jazz". A trained tiinsmith, he played classical music with the Creole section's Lyre Club Symphony Orchestra and with various dance bands and brass bands, including those of Buddy Bolden, Bouboul Fortunea Augustat, Bouboul Valentin, Oscar DuConge, Manuel Perez, Freddie Keppard, Bunk Johnson, the Excelsior Brass Band, the Olympia Brass Band and others. Many younger clarinetists, including Johnny Dodds and Jimmy Noone, cited Picou as an important influence. "King" Joe Oliver commissioned Picou to write new tunes for his band. Picou's compositions include "Alligator Hop", "Olympia Rag". In the 1940s he made his first recordings, and opened a bar in a building he owned on Claiborne Avenue. For years into the 1950s, he was a regular on Bourbon Street in the French Quarter with Papa Celestin's Band (with whom he also did radio broadcasts) and leading his own group. Picou died on February 4, 1961. His funeral procession was one of the largest the city had seen, with several brass bands and many additional musicians playing. Many have said that his death marked the end of an era -- the last prominent musician who had worked from the very birth of jazz music.
Born in Natchez, Mississippi on October 19, 1842, Adolph Meyer was a member of the Louisiana U. S. House of Representatives who served nine terms as a Democrat from 1891 until his death in office on March 8, 1908. During the Civil War, Meyer served on the staff of Brigadier General John Stuart Williams of Kentucky and attained the rank of assistant adjutant general. General Meyer Avenue in Algiers part of is named in his honor as a tribute to his efforts to lobbying for the U.S. Naval Station which was located there.