---

City Park Popp Bandstand is Dedicated
4th of July, 1917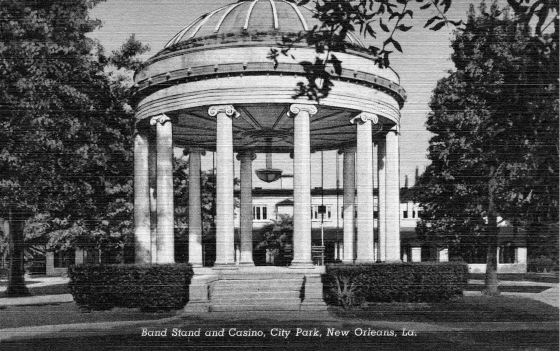 In 1916 a bandstand was dedicated to the memory of Alexis Ribet. In
1917
it was replaced by the Classical Greek-styled Popp Bandstand viewed here in the 1930s. Designed by Emile Weil at a cost of $75,000 it was dedicated on
July 4th
. Its twelve granite ionic columns are topped with a bronze dome. Named for its benefactor John F. Popp, who had made his fortune in a lumber business which was headquartered on the New Basin Canal (
click here for an illustration of the Popp Lumber Depot
).
The bandstand is a replica of Temple of Love in Versailles and the memorial plaque to Alexis Ribet is embedded into it. Many New Orleanians enjoyed their first glimpses of moving pictures here on summer evenings. Generations of musicians have played here including John Philip Sousa who performed in 1928. The bandstand still stands for our enjoyment if we wish to spend a 4th of July there near the Casino.
---
If you enjoy the Today in New Orleans History website click here to enjoy the books, also written, by Catherine Campanella
.

You Can Support this Site by Clicking on & Shopping from this Amazon Link -- and it won't cost you a penny more: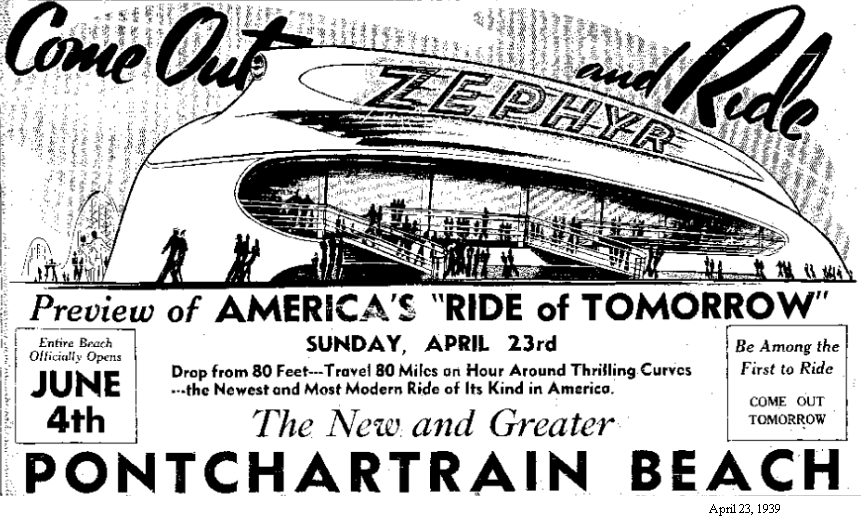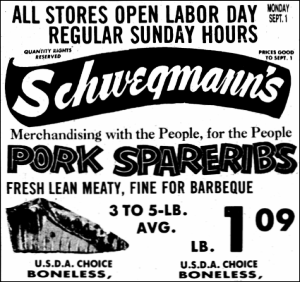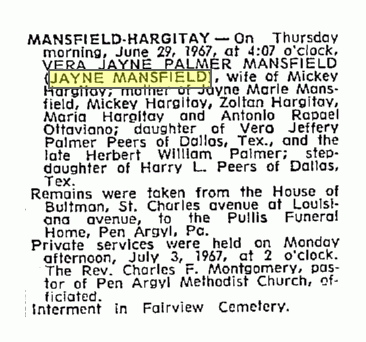 July 4, 1967 -- Times-Picayune obituary
Originally Airline Highway was a two-lane road that ran from Prairieville to Shrewsbury in Metairie. The first section, running between Williams Boulevard in Kenner and Shrewsbury Road, opened in June 1927. It was begun by the Jefferson Parish Police Jury as a local road and incorporated into the plan for Airline Highway during construction. The remainder of the highway was built between 1928 and 1933 by the Louisiana Highway Commission with federal aid, as the road would carry US 61 upon completion. The section north of the spillway was officially opened on July 4, 1933, and the section on the south side followed three weeks later. (Various sections had been temporarily opened to traffic beginning in October 1931.) Completion of the bridge over the Bonnet Carré Spillway was delayed until 1935, necessitating a detour over the Jefferson Highway (River Road) via temporary gravel roads along the spillway guide levees. The spillway bridge was opened to traffic on September 28, 1935 and dedicated on December 13. The eight-lane extension into Tulane Avenue (reached by a now-demolished six-lane bridge over the former New Basin Canal) was officially opened on August 26, 1940.

ARMSTRONG, Louis, jazz trumpeter, singer, band leader. reportedly Born, July 4, 1900, (Armstrong often stated that he was born on July 4, 1900, a date that has been noted in many biographies. Although he died in 1971, it was not until the mid-1980s that his true birth date of August 4, 1901 was discovered by researcher Tad Jones through the examination of baptismal records) traditionally given, but recent biogra-pher places birthdate sometime in 1898, in Jane Alley, New Orleans, La.; son of Willie Armstrong and Mary Ann "Mayann" (Miles?) of Boutté, La. Reared in early childhood by grandmother, Josephine Armstrong; arrested for firing a pistol on New Year's Eve, 1912 or 1913; sent to Colored Waifs' Home; joined Colored Waifs' Home Band, under the direction of Peter Davis (q.v.), playing first the tambour¬ine, then the drum, and the alto horn, before the cornet; was essentially a self-taught musi¬ci¬an; left the Home in 1914 or 1915 and worked at various jobs and sat in for cornet¬ists in honky-tonks around New Orleans; Joe "King" Oliver (q.v.), his sponsor and teacher, brought him to Chicago; replaced Oliver in 1918 or 1919 in Kid Ory's (q.v.) Band. Married Daisy Parker in 1918. In May 1919 joined Fate Marable's Band sailing out of St. Louis for a cruise on the Mississippi on the Dixie Belle. Wrote "I Wish I Could Shimmy Like My Sister Kate" which he sold for $50. Returned to New Orleans in September 1921, playing with various bands including Papa Celestin's (q.v.) Tuxedo Band; joined Oliver in Chicago in 1922. Divorced first wife in 1923 and married Lillian Hardin in February 1924; joined wife's band, "Lil Armstrong's Dreamland Syncopators" in 1925; switched from cornet to trumpet between 1925 and 1928 and during that time made the famous "Hot Fives" and "Hot Sevens" recordings under his own name; improvisations on his trumpet moved Dixieland jazz from ensemble playing; became the central jazz innovator of his time; originated what came to be called "Scat" singing; played with various bands and with his own "Louis Armstrong and his Stompers"; toured the United States and in July 1932 embarked on first European tour. Acquired in England the nickname, "Satchmo," a garbling of his original nickname, "Satchelmouth". Alternated touring the United States, Europe, and the rest of the world for the remainder of his life. In the 1930s began making film appearances in Ex-Flame (1931), Rhapsody in Black and Blue (1932), Pennies from Heaven (1936), Atlantic City (1944), A Song Is Born (1948), The Glenn Miller Story (1953), High Society (1956), and Hello Dolly (1969); Broadway appearances in-clude "Hot Chocolates" (1929), in which he introduced Fats Waller's "Ain't Misbehavin," and "Swingin' the Dream" (1939). Divorced Lil Hardin in 1932 and married Alpha Smith in 1938 but was divorced from her also. In 1942 married Lucille Wilson, his wife for the remainder of his life; toured in the 1930s and 1940s fronting big bands and playing popular music rather than blues or jazz; put together a smaller band, the "All Stars," in 1947 when decline of big bands began. Toured the world for the next three decades sometimes sponsored by the U. S. State Department as America's "Goodwill Ambassador"; seldom played New Orleans because of segregation laws. Returned for Mardi Gras in 1949 to be crowned King Zulu; received a cheering reception playing a benefit in New Orleans in 1965. Died in his sleep at his home in Corona, Queens, N.Y., on July 6, 1971; survived by his wife, Lucille, and his cousin, Clarence, whom he had adopted; interred Flushing, N. Y. cemetery. Singer Bowl, in Flushing Meadows Park, Queens, N.Y., was renamed Louis "Satchmo" Armstrong Park and Stadium and dedi-cated in October 1972; Armstrong Park on Rampart Street in New Orleans is a $10-million, thirty-one-acre park dominated by a twelve-foot statue of the jazzman; ten years in the planning it was dedicated in April 1980. D.W.M. Sources: James Lincoln Collier, Louis Armstrong, An American Genius (1983); Louis Armstrong, Satchmo: My Life in New Orleans (1954); Max Jones and John Chilton, Louis: The Louis Armstrong Story, 1900-1971 (1971); Leonard Feather, The Encyclopedia of Jazz (1955); William Russell, "Louis Armstrong," in Frederic Ramsey, Jr., and Charles Edward Smith, eds., Jazzmen (1939). Fromhttp://lahistory.org/site18.php

World War I fighter pilot Alvin Andrew Callender was born, New Orleans on July 4, 1893. He attended Boys High School and Tulane University. Callender served in the Louisiana National Guard, the Washington Artillery, on the Mexican borde and joined the Royal Flying Corps in Canada in 1917 where rhe eceived a commission and became flight instructor. In Enland he received final training at the Central Flying School. He piloted combat planes for the Royal Air Force from May to October 1918. Promoted to rank of captain in September 1918, hecommanded 'C' flight in No. 32 Squadron of the Royal Air Force. Killed in action on October 30, 1918; New Orleans' first municipal airport was dedicated and named Alvin Callender Field in 1926. The name was retained when the field was taken over by the U. S. Naval Air Force in the 1950s. (From http://lahistory.org/site20.php)
On the Fourth of July, 1858, Senator Jefferson Finis Davis, future President of the Confederate States of America, delivered an anti-secessionist speech on board a ship near Boston. He again urged the preservation of the Union on October 11, 1858 in Faneuil Hall, Boston.
On Saturday, April 30, 1803, the Louisiana Purchase Treaty was signed by Robert Livingston, James Monroe, and Barbé Marbois in Paris. Jefferson announced the treaty to the American people on July 4. After the signing of the Louisiana Purchase agreement in 1803, Livingston made this famous statement, "We have lived long, but this is the noblest work of our whole lives...From this day the United States take their place among the powers of the first rank." The United States Senate ratified the treaty with a vote of twenty-four to seven on October 20. The Senators who voted against the treaty were: Simeon Olcott and William Plumer of New Hampshire, William Wells and Samuel White of Delaware, James Hillhouse and Uriah Tracy of Connecticut, and Timothy Pickering of Massachusetts. On the following day, the Senate authorized President Jefferson to take possession of the territory and establish a temporary military government. In legislation enacted on October 31, Congress made temporary provisions for local civil government to continue as it had under French and Spanish rule and authorized the President to use military forces to maintain order. Plans were also set forth for several missions to explore and chart the territory, the most famous being the Lewis and Clark Expedition. France turned New Orleans over on December 20, 1803 at The Cabildo. On March 10, 1804, a formal ceremony was conducted in St. Louis to transfer ownership of the territory from France to the United States. Effective on October 1, 1804, the purchased territory was organized into the Territory of Orleans (most of which became the state of Louisiana) and the District of Louisiana, which was temporarily under the control of the governor and judges of the Indiana Territory.