---

First Edition of The Picayune
January 25, 1837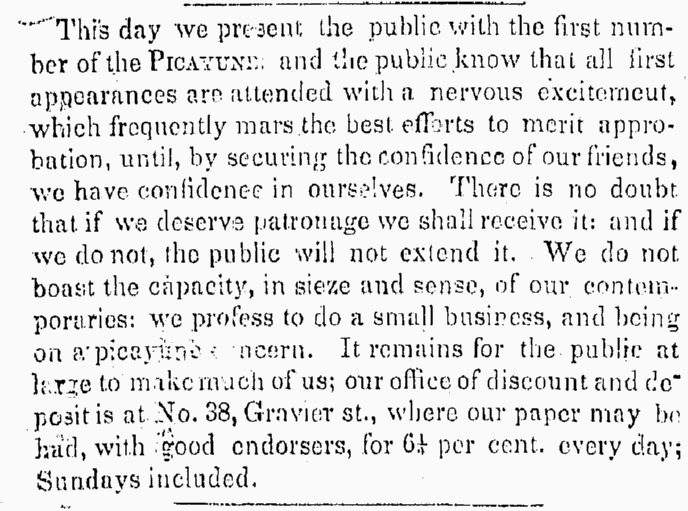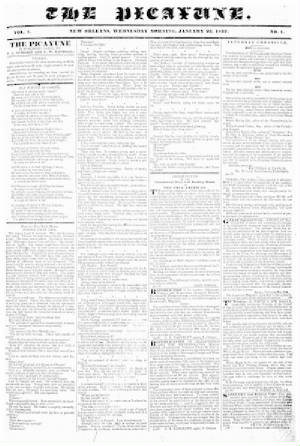 Today we celebrate the first edition of The Picayune on Wednesday, January 25, 1837. It contained 4 pages, few graphics, and was distributed by two carriers who sold 800 of the 1000 copies that had been printed from the office at No. 38 Gravier Street
The following day, January 26, 1837, 2,000 copies were printed and sold. It was the first New Orleans newspaper to sell for less than a dime. A picayune (a Spanish coin) equalled about 6 1/4 cents.
George Wilkins Kendall (the writer) and Francis Asbury Lumsden (who handled the buisness end of this budding business) came to New Orleans in 1835 after working in newspapers in New York and Washington D.C. They sought to reach a broad audience and inluded lighter news than the other popular newspapers in town.
The Picayune's first edition included, on page 1, a romantic fiction which filled two and one-half columns, a poem titled "Old Winter is Coming -- Scenes From Life" from the New York Mirror, advertisements, and subscription information -- the Picayune could be regularly secured for a cost of $2.50 per three months or 25 cents weekly. Page 2 of the of the January 25, 1837 edition included a long "Prospectus", describing what The Picayune aimed to do and how it intended to do it from No. 38 Gravier Street, "opposite Banks' Arcade" (also known as Hewlett's, which was apparently the Ruth's Chris Steakhouse of its day -- a restaurant and bar where business deals were made, politics was discussed, and even stocks were bought and sold).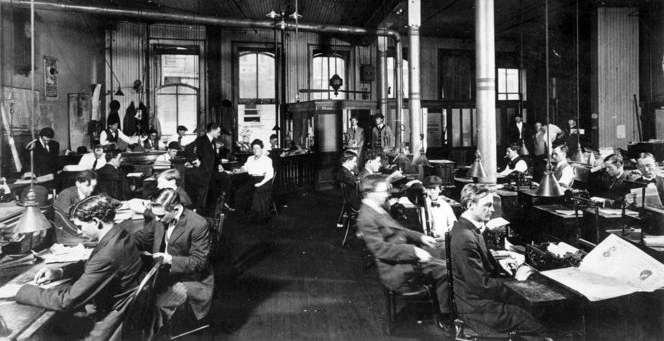 Through the years the Picayune introduced innovations such as society reporting (known as the "Society Bee" columns), children's pages, and the first women's advice column, which was written by "Dorothy Dix" (Elizabeth Meriwether Gilmer. Between 1880 and 1890, the paper more than tripled its circulation and became The Times-Picayune after merging in 1914 with its rival, the New Orleans Times-Democrat. In 1962, Samuel Irving Newhouse Sr. bought the morning daily The Times-Picayune and the other remaining New Orleans daily, the afternoon States-Item. The papers were later merged in 1980 and were known as The Times-Picayune/The States-Item until 1986 when it was called the Times-Picayune
The paper is now a part of Advance Publications, which is owned by the Newhouse family, and is operated through Advance's NOLA Media Group unit along with its sister website, NOLA.com. It is known to many New Orleanians as the "Sometimes Picayune" due to Newhouse's decision in 2012 to limited print editions to Wednesdays, Fridays, Sundays. and Mondays after Saints games.
The photo captures the New Orleans Item news room, circa 1900.
---

You Can Support this Site by Clicking on & Shopping from this Amazon Link -- and it won't cost you a penny more: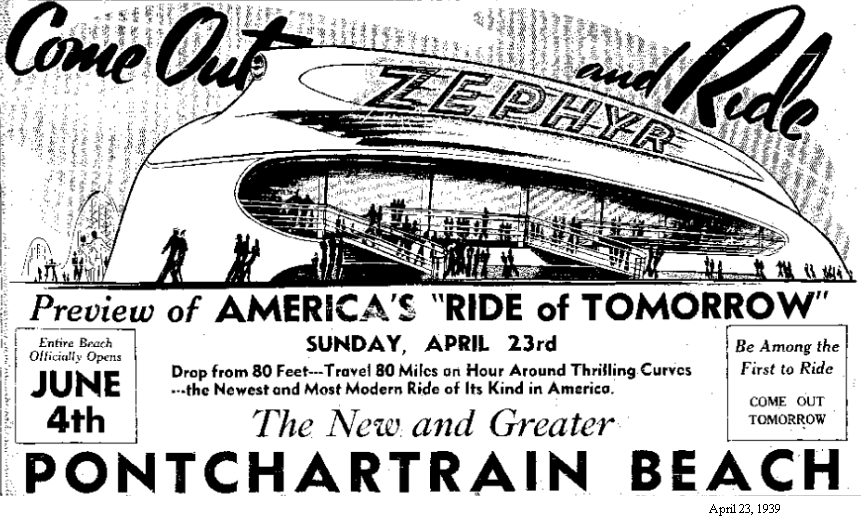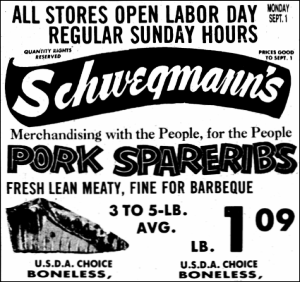 Mayor Dutch Morial reported that they city was able "to prevail upon the National Football League owners to bring Super Bowl XV on January 25, 1981, to New Orleans and the Superdome." The Mayor also apologized ahead of time to "you football widows'" who might not think his news was good news. (NOPL)
Photo of Jefferson Davis Parkway on January 25, 1972.
144 workers were employed in reconditioning old volumes by the "colored section" of the WPA Bookbinding Project in the McDonogh High School #24, They had cleansed and rebound more than 25,000 books during 1938.
Photo of WPA workers at their jobs
on
January 25, 1937
.(NOPL)
A portion of Berlin Street's name was changed to Gasquet Street on January 25, 1916. The same day, another section of Berlin Street was. changed to Vincent Street. It is now General. Pershing Street.
On January 25, 1906, the City Council discussed the dealers of Poydras Market's petition to install a streetlight in the market to illuminate from Melpomene to Terpsichore streets, as did residents in the vicinity of St. Mary and Carondelet streets.
CHASSAIGNAC, Eugène, composer, music critic. Born, Nantes, France, 1820. Studied music in Paris with Ludovic Halévy. Came to New Orleans and wrote theatre and music columns for Le Moniteur du Sud, La Chronique, Le Meschacébé, and Le Louisianais. In 1850 removed to Pointe Coupée Parish, La., where he married Elvire Porche. In 1852, taught at the Collège de la Mobile. In 1857 taught music history in New Orleans. Opened a music store, Elie et Chassaignac; quarreled with his associate Elie in 1859 and would have fought a duel had the police not intervened. Grand commander of the Scottish Rite Lodge, tried in 1867 to have men of color admitted as members. Created in May 1869 the Bulletin de la Maconnerie louisianaise. Composed many songs, some for which he provided the words, and others to poems by his friends such as Placide Canonge (q.v.) and Auguste de Chatillon (q.v.). A few songs published in La Violette (1849); others published in Boston, Paris, and New Orleans, between 1850 and 1872. Most of his manuscripts were destroyed in a fire at Morgan City where his wife had removed after his death. One comic opera, La Nuit aux echelles, performed in 1850 at the Théâtre de St. Martinville. Died, New Orleans, January 25, 1878. Source: http://lahistory.org/site20.php
A plan for a gallery to be constructed in the center of the chambers of the Cabildo, was shown at a meeting of the Cabildo (the Spanish governing body) on January 25, 1799. This was approved and ordered constructed according to plan.
CIRILLO DE BARCELONA, bishop. Born, Barcelona, Spain, January 25, 1731; son of Antonio Sieni and Alexandra Flannings. First Roman Catholic bishop ever to set foot on any part of what is now the continental USA. Joined Capuchin Order, November 14, 1748; ordained priest and engaged in missionary and pastoral work in Mexico, 1752-1772. Appointed superior of the Spanish Capuchins in Louisiana, 1772. Accused the French Capuchins still in New Orleans of flagrant abuses and corruption. Assumed pastorate of St. Louis Church, New Orleans, 1776, and named vicar general for the bishop of Santiago, Cuba, in Louisiana. In 1781 Father Antonio de Sedella (q.v.) arrived in New Orleans and joined the parish staff. Father Cirillo in West Florida, 1780-1781. Charles III of Spain nominated Cirillo, 1782, as auxiliary bishop of Santiago (bishop of Tricali) with residence in New Orleans. Cirillo began signing as Obispo Electo in 1783. Pius VI approved nomination in 1784 and Cirillo consecrated bishop in Havana, March 6, 1785. Conflict over salary with Bishop Echeverria of Santiago. Returned to New Orleans on August 1, 1785, and made initial visitation of all the Louisiana parishes. Returned to Havana on hearing of Echeverria's poor health. Rebuked by Echeverria for leaving his post and deprived of the pastorate of St. Louis Church, which was given to Father de Sedella. Crown ordered Cirillo to return to Louisiana on May 17, 1787, and again on March 26, 1788. Arrived in St. Augustine, Fla., July 18, 1788. Conflict with Father de Sedella because the latter was dealing directly with Bishop Trespalacios (newly created bishop of Havana). Sedella appointed Commissary of the Holy Office on February 10, 1786. Cirillo and Governor Miró alarmed. Sedella's appointment suspended and Cirillo instituted proceedings against him charging him with "incredible abuses". Sedella deported to Spain after receiving another commission from the Inquisition dated December 5, 1789. Cirillo continued his procedures against Sedella for which he was censured by Trespalacios. Father Joaquin de Portillo, another Capuchin sent to replace Cirillo in 1790. Conflict now between Cirillo and de Portillo, the latter being shortly replaced by a secular priest Theodore Tirso Henrique Henriquez. Cirillo officially recalled in 1790 but remained in Louisiana. Founded ecclesiastical parishes at Baton Rouge (St. Joseph) and Plattenville (Assumption) in 1793. Date of return to Cuba uncertain, probably 1793/94. Trespalacios did not pay his pension. Left for Spain. Sought to obtain a new episcopal appointment from the crown and payment of his arrears in salary. Died in obscurity at Villanueva y Geltru in Catalonia, February 18, 1809. Source: http://lahistory.org/site20.php