---

---



---
St. Patrick's Church (the second oldest church parish of New Orleans) along with St. Louis Cathedral (the oldest) held the first masses after Hurricane Katrina on Sunday, October 2, 2005. St Patrick's was founded in 1833. The current church at 724 Camp Street was completed in 1840.
Blues and jazzsinger Pleasant Joseph, known as Cousin Joe, was famous for his 1940s recordings with clarinetist Sidney Bechet and saxophonist Mezz Mezzrow. Unitil 1945 he toured Louisiana; that year he was asked to take part in the King Jazz recording sessions organized by Mezzrow and Bechet. Cousin Joe died in his sleep from natural causes in New Orleans, at the age of 81 on October 2, 1989. (Wiki)
On November 2, 1979, Tulane President Sheldon Hackney announced that Tulane Stadium would be demolished. The demolition started on November 18, 1979.
The New Orleans Jazz National Historical Park's Perseverance Hall (originally Masonic Lodge) was listed on the National Register of Historic Places on October 2, 1973.
On November 2, 1966, Times-Picayune Sports Editor Bob Roesler wrote that Dixon had contacted NFL Commissioner Bert Beli and AFL team owners, as early as 1957 regarding a professional team in New Orleans and had worked since then to see this happen. Dixon was quoted as saying, "I could write 10 books" about experiences along the way. He did, in fact write one, with the publication of The Saints, the Superdome, and the Scandal which was published on February 15, 2008.
In Times-Picayune, Sports Editor Bob Roesler's November 2, 1962 column, he quoted Dave Dixon as saying, "I stumped the state the past two months for Constitutional Amendment No. 10" which, if passed by the voters, would fund an all-purpose domed facility in the Greater New Orleans area. Dixen felt that most Louisianians were in favor of it. Also in his column that day, Roesler wrote, "The New Orleans Saints, or whatever they'll be called, would participate in the mid-January draft". This was likely the first time the team had ever been referred to as "The Saints" in the print media.
Major League Baseball player Preston James Robertson died in New Orleans on October 2, 1944. He pitched in two games for the Cincinnati Reds in 1913, thirteen games for the 1918 Brooklyn Robins and seven games for the 1919 Washington Senators. Robertson was born on September 16, 1891 in Rockville, Maryland.
On October 2, 1944 the Wordl War II Liberty Ship J. Rufino Barrios was launched in New Orleans by the Delta Shipbuilding Company. Justo Rufino Barrios was the President of Guatemala from 1873–85.
Born October 2, 1924, in New Orleans, Gerard William "Jerry" Ford was an American businessman who founded Ford Modeling Agency with his wife Eileen Ford in 1946 in their apartment on the Upper East Side of Manhattan in New York City.
Abraham Lincoln (A.L.) Davis, born on November 2, 1914, was a founder of the Southern Christian Leadership Conference (SCLC) and the first African American city councilman in New Orleans. He was born in Bayou Goula, Louisiana and moved to New Orleans in 1930 to live with a sister and attend high school. Reverend Davis graduated from McDonogh 35 High School, received his B. A. degree from Leland College and his theological degree from Union Baptist Theological Seminary. He became the pastor of New Zion Baptist Church in 1935 where he became known as the Rev. A. L. Davis. He served as pastor of New Zion for forty-three years. In 1957, Rev. Davis and a group of civil rights activists met at New Zion to organize the SCLC. The group chose as its first president Dr. Martin Luther King, Jr. and Rev. Davis became its first vice president. In 1975, he became the first African-American to serve on the New Orleans City Council. He was appointed to the District "B" seat on the City Council in 1975 to fill the unexpired term of Councilman Eddie Sapir, who had been elected judge of Municipal Court. Davis was elected to the seat in 1976. Due to a redistricting dispute, which had delayed the 1974 elections until 1976, the council members elected in 1976 served only until 1978. Rev. A. L. Davis died at the age of 63 of pancreatic cancer on June 25, 1978 and is buried in Bayou Goula. (From the New Olreans Public Library)
In 1904 Martin Behrman was elected Mayor of the City of New Orleans for the first time. He took office on November 6, of that year. His second term as mayor began on November 3, 1908 and his inauguration took place on December 7, 1908. Mayor Behrman was again elected for his third term on October 2, 1912. He took office on December 1, 1912 and his term expired December 4, 1916. He was elected for the fourth time without opposition on November 7, 1916, and remained in office until December 6, 1920 when Andrew J. McShane became Mayor of the city. Again in 1925, Martin Behrman ran for mayor being opposed by Paul H. Maloney and Andrew J. McShane. A second primary became necessary owing to the closeness of the count, but was not called due to Mr. Maloney withdrawing from the race. Martin Berhman was conceded the election on Monday, April 13, 1925, taking office May 4, 1925.
The steamboat in the background (of this photo) is the Oleander , which carried President Howard Taft down the Mississippi to New Orleans. The President and his fleet (other boats carried 24 governors and about 200 congressmen and senators) left St. Louis on October 25, 1909 and were joined along the way by boats from various river states carrying delegates to the great Waterways Convention, sponsored by the Lakes-to-the-Gulf Deep Waterways Association in New Orleans from October 30 to November 2. Some 50,000 to 100,000 people were expected to attend. The steamboat carrying the Missouri delegation is shown in the foreground.
On November 2, 1905, forty young men enrolled in New Orleans public schools' first short-hand, typing class.
Pharmacist Otis J. René, Jr., born in New Orleans on October 2, 1898, was the the co-author (with his brother Leon René, and Clarence Muse) of the 1931 song "When It's Sleepy Time Down South", which became a signature song for Louis Armstrong. During the 1940s, he and Leon established and managed the independent rhythm and blues labels Exclusive Records and Excelsior Records (1944 to 1951). Excelsior released some of the first recordings by Nat King Cole. Otis René was noted to have earned $25,000 on one song in 1945, "I'm Lost", recorded by the King Cole Trio. René had written and produced the song, and distributed the record. He died on April 5, 1970 in Los Angeles.
Walter Cook Keenan, an architect and civic leader, was born in New Orleans on November 2, 1881. He was educated at Tulane University and practiced as an architect for more than 55 years. He also served for many years as a member of the Audubon Park Commission and, from 1937 until 1952 as a member of the Vieux Carre Commssion. In 1943, he was named the "Architect of the Commission," a position that approximated that held today by the Director of the Vieux Carre Commission. Keenan died in New Orleans on November 7, 1970. (From the New Orleans Public Library)
During the October 1 -- 4, 1871 hurricane, New Orleans saw "unprecedented rainfall" on the 2nd and 3rd of October: six to ten inches. Homes were unroofed and telegraph poles fell. Damage was estimated at $5,000.
The 11th U.S. Colored Heavy Artillery mustered out of service October 2, 1865 at Camp Parapet (now the Causeway Boulevard/Old Jefferson area). Originally named the 14th Rhode Island Heavy Artillery, the squad was an African American artillery regiment that served in the Union Army during the Civil War. The 1st and 3rd Battalions served together at Camp Parapet. The 2nd Battalion was stationed at English Turn. The designation of the regiment was first changed to 8th U.S. Colored Heavy Artillery on April 4, 1864, and later to 11th U.S. Colored Heavy Artillery on May 21, 1864.
Henry Champion Deming served as Mayor of New Orleans from October 2, 1862-January 30, 1863. Deming is remembered in New Orleans in connection with Butler's notorious "Woman Order." He was walking with Farragut in full uniform through the streets of the city when some unknown person, presumably a woman, emptied a can of dirty water over the two officers. It is said it was this offense among others, that led Butler to issue the order. (From the New Orleans Public Library)
The 1860 hurricane, number 3 of the season on October 2 --3, was the third hurricane within seven weeks. It washed out 11 miles of railroad track near New Orleans, where the rain total was 5.02".
Halfway House Band Leader Abbie Brunies Dies
October 2, 1978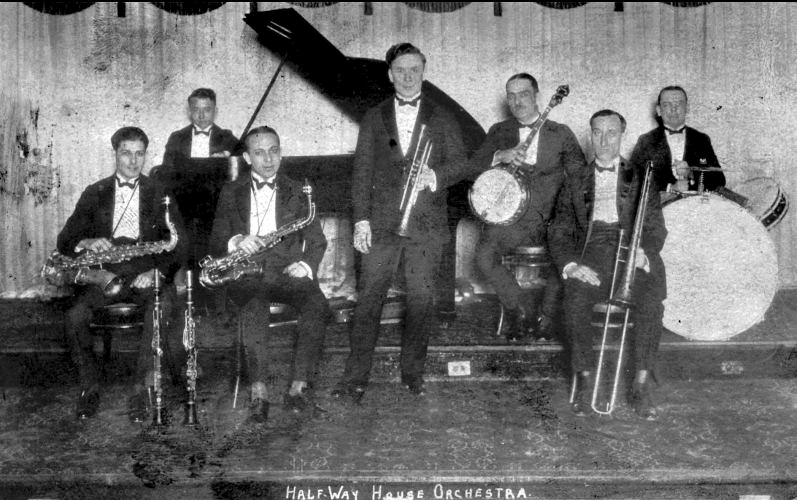 Left to right: Charlie Cordella, Mickey Marcour, Leon Roppolo, Abbie Brunies, Bill Eastwood, Joe Loyacano and Leo Adde
Jazz cornetist Albert "Abbie" Brunies passed away on October 2, 1978. He was born into a famous New Orleans musical family which includes brothers George and Merritt Brunies. Abbie was the leader of the Halfway House Orchestra from 1919 to about 1927 which recorded for Okeh Records in New Orleans in 1925. Among the musicians who played in this group were New Orleans Rhythm Kings members Charlie Cordella, Mickey Marcour, Leon Rappolo, Bill Eastwood, Joe Loyacano and Leo Adde. Abbie Brunies played in New Orleans into the mid-1940s, then moved to Biloxi where he played with Merritt in the Brunie Brothers Dixieland Jazz Band.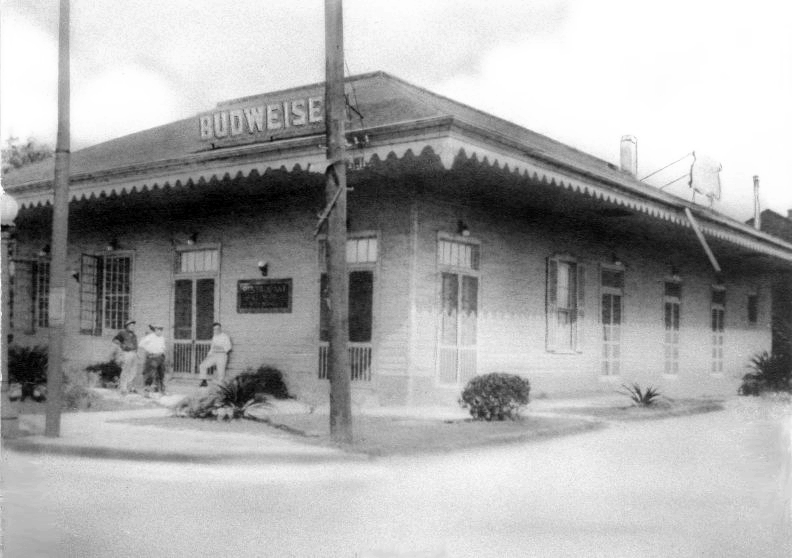 The Halfway House
The Halfway House was located at the current intersection of the Pontchartrain Expressway and City Park Avenue. Its name derived from the fact that it was located about half-way between the city and and West End which was a popular amusement and dining destination on the lakefront back in the day. A trip from town to West End in those days took some time so a stop for refreshments along the way was most welcome. The earliest mention of the place appeared in the local newspaper on July 18, 1844 with a coroner's inquest regarding a body left there -- the hapless victom of a horse racing accident where he was thrown to the ground along the New Shell Road (now the Interstate service road abutting Metairie Cemetery) near the Metairie Race Track (now the Metairie Cemetery). On November 23, 1848 an announcement appeared in the paper offering a "handsome reward" for a lost silk purse containing $350 (a very sizable amount in those days) in denominations of $100 bills and a $50 issued by the State Bank of Louisiana which was lost between the New Shell Road, the Halfway House, and the post office. By June 1853 a new horse-drawn omnibus appeared which could bring 16 inside passengers as well as 12 outside passengers to the Halfway House 6 times per day for a mere 15 cents.
But the heyday of the Halfway House was during the jazz age when Abbie Brunies and his orchestra played. It closed in the 1930s. Orkin Exterminating Company was located there for decades until a fire seriously damaged the building. The New Orleans Jazz Restoration Society planned to restore it an an estimated 1.25 million dollars until environmental tests showed high concentrations of pesticides. The Orleans 911 Communications District was located on the property until a February 2010 city council vote of 6-0 favored demolition of the historic structure.