---

Big Shot's Irbin Pailet Purchases Orange Crush
April 29, 1928
Irbin Pailet, with one horse and a wagon in 1920 built an ice and soft-drink empire. Pailet is pictured here in the office of Jefferson Bottling Company at Metairie Road and Frisco Avenue in 1922 with his brother-in-law H. J. Wallick, director of sales and brother Maurice, president.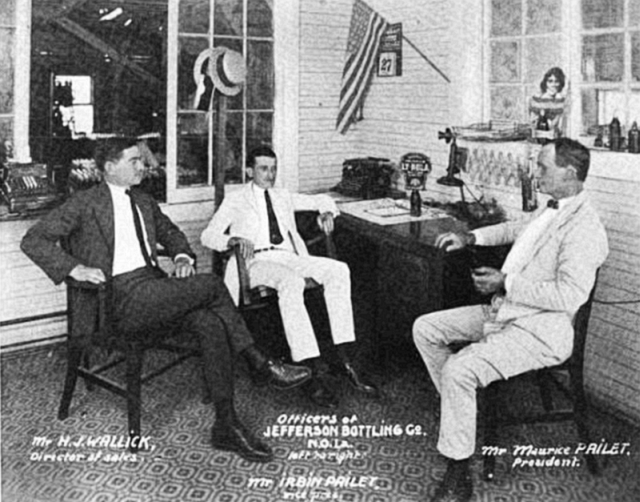 A 1927 advertisement for the business which operated at 716 Frisco Avenue noted that Jefferson Beverages offered "All Flavors" including root beer, cider, sweet mandarin, and grape "Manufactured in a Most Modern Up-To-Date Sanitary Plant -- Louisiana State Board of Health Inspection Scores 100 Per Cent". It was owned by Pailet Industries which also operated the Marada Stock Farms at the same location.
The family business also included Metairie Ridge Ice Company and The Metairie Ridge Ice Company at 308 North Labarre Road and employed sister Fannie and brothers Morris and Samuel Pailet Jr. In this 1926 photo Irbin is right of center (wearing a bow tie).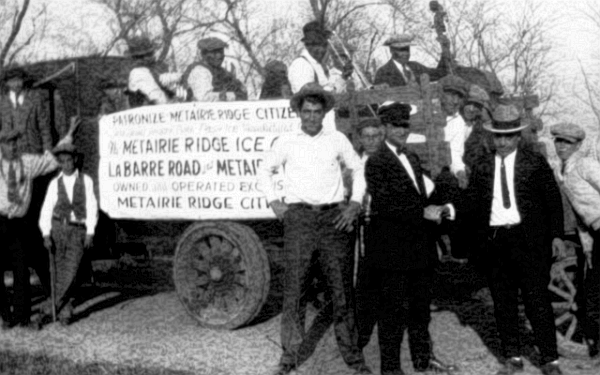 When the Hi-Way Baseball Park opened on Sunday, July 10, 1927 on Jefferson Highway at Harlem Avenue (now Causeway Boulevard) Jefferson Bottling Works began sponsoring a team (and would continue to do so for many years). The first game played at the new park pitted the Shrewsbury Athletic Club against Eiriatem ("Metairie" spelled backwards, the team was made up of Metairie High School students) followed by the Jefferson White Sox against Jefferson Bottling Works in a double header. The park's grandstand seated 1000 spectators.
On April 29, In 1928 Irbin announced the purchase of the Orange Crush bottling company at 3500 Tulane Avenue and renamed it Jefferson Orange Crush Bottling Company, Inc. Pailet said that the plant would have the capacity to produce 4,000 cans daily which would be transported via 15 delivery trucks. The company also expanded their Metaire bottling location and managed Metairie Ridge Coal Company.

In 1938 the Pailets introduced Big Shot Root Beer. (D.C. "Infrogmation" May.) and Tom Collins Jr (labled "The Life of the Party) -- a "lithiated lemon" drink in a double portion bottle as well as Double Cola. The company began running promotions that same year. The first offered a free silver plated spoon (valued at $1.50 per dozen) for every 12 bottle caps delivered to the plant off Metairie Road. The second, in conjunction with Big Shot's roll-out offered cash prizes; winners were announced on WDSU radio three times daily.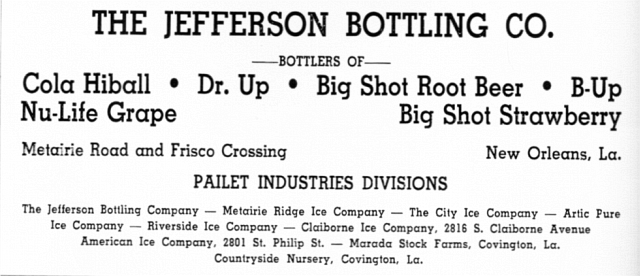 Round the Clock Ice
The company pioneered 24 hour service via coin operated machines. This 1949 advertisement shows that Pailet's business had expanded to include Claiborne Ice Company at 2816 South Claiborne Avenue (between Washington and Toledano), Arctic Pure Ice Company at 3701 Bienville Street (between Conti and North Jefferson Davis Parkway), Riverside Ice Company at 2731 Chartres Street (between Port and St. Ferdinand), American Ice Company at 2801 St. Philip Street (corner of North White), and The City Ice House at 3535 Tulane Avenue (between South Genois and South Clark). After theCity Ice House closed, Dr. Momus Alexander Morgus used it for his laboratory beginning on January 3, 1959. In an Interview with Morgus, the question was asked, "What brought you to locate your laboratory above the Old City Ice House?". Morgus replied, "When refrigerators and store-bagged ice cubes took over the market years ago, many ice houses closed down, leaving some excellent equipment behind that was ideal for freezing scientific specimens for my experiments - and, of course, the rent was cheap."
In 1960, on the company's 40th anniversary the local paper reported that Pailet Industries was "one of the states' and city's largest tax-payers...using raw materials principally from Louisiana resources".
In 1961, Jefferson Bottling introduced Chocolate Soldier to the Greater New Orleans Area. Two 72-case processors at the company plant cooked the tasty beverage in the bottle and more than 20 trucks delivered it to local stores. The product was such a success that production manager Buddy Massett, who had been with the company for over 30 years (and at one time had a tavern on Metairie Road) , added a Saturday working shift.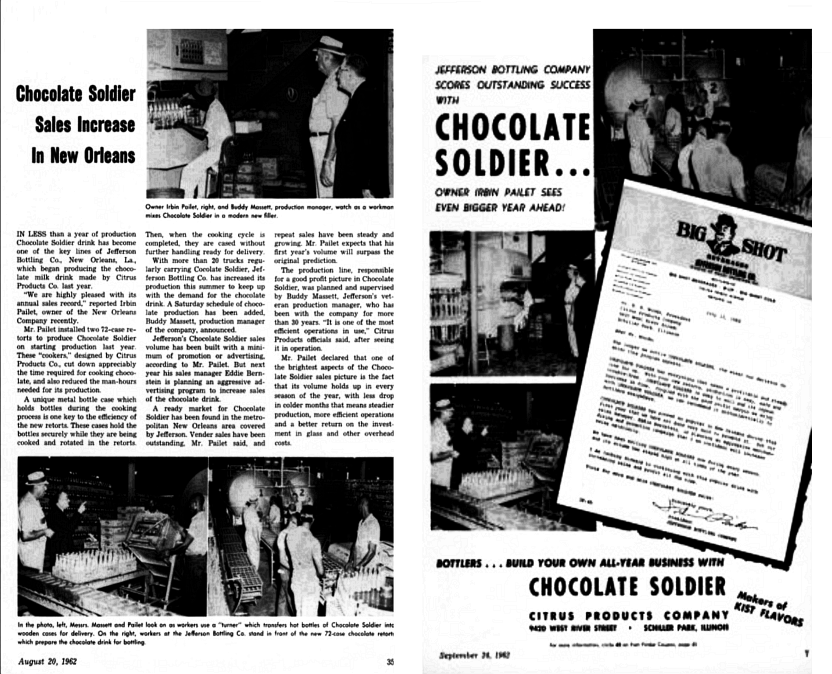 The bottling company operated on Frisco street in Old Metairie until the 1980s before moving to 4951 River Road. Big Shot is now manufactured by National Beverage Corporation in Harahan.
Irbin's death at Touro Infirmary on November 4, 1962 at the age of 64 was reported on the front page of the Times-Picayune. At the time he was president of Pailet Industries, Inc and Metairie Bank. He had been president of Metairie Bank, Metaire Men's Association, the Chamber of Commerce of the New Orleans Area, Covington Country Club, B'nai B'rith, the Congregation of Chevra Thilim and was a generous philanthropic supporter of the Jewish Community. He had owned interests in oil production, livestock (including Marada Stock Farms), nurseries (including Countryside Nursery in Covington), Irbin Pailet resided at 118 Hector Avenue in Metairie. 750 acres belonging to the Irbin Pailet family was acquired in the 1980s by Beau Chêne, Incorporated for use as the middle and eastern portion of an upscale Northshore housing development.
The above infromation is from
Legendary Locals of Metairie
by Catherine Campanella.
---

You Can Support this Site by Clicking on & Shopping from this Amazon Link -- and it won't cost you a penny more: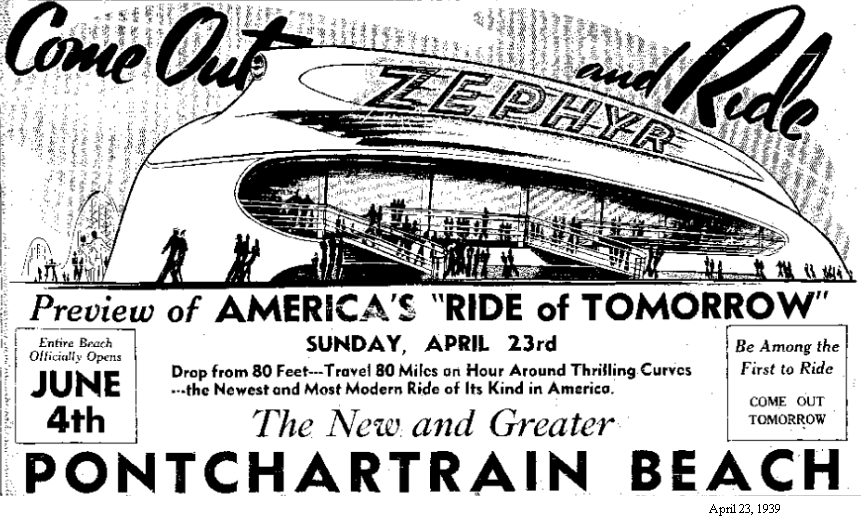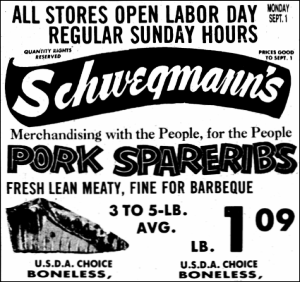 "How ya like dem erstuhs, Mister President?"
April 29, 1937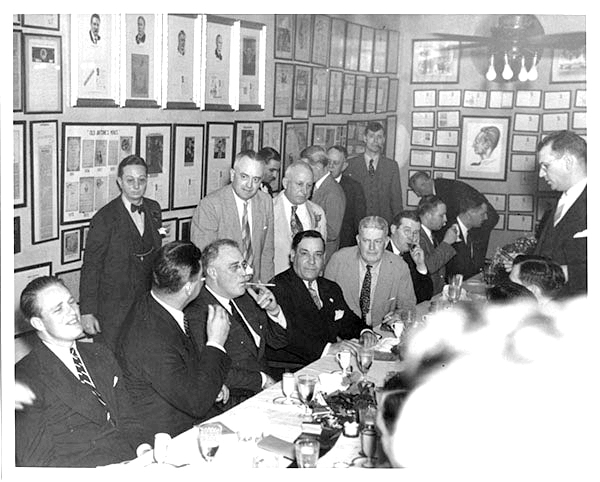 Franklin Delano Roosevelt enjoys a post-luncheon smoke at Antoine's using his well-known cigarette holder. The man in the bow tie behind the President is Roy Alciatore, the proprietor of Antoine's. Photograph by Earl S. Martin. [E. S. Martin Photograph Collection] President Franklin Delano Roosevelt visited the Crescent City on April 29, 1937. He came to dedicate the Roosevelt Mall in City Park near the city's new municipal stadium, then under construction . The mall and the stadium, along with other improvements to the Park, were projects of the Works Progress Administration (WPA), one of the keystones of FDR's New Deal. The President arrived in New Orleans by train following a journey from Washington through Atlanta and on to the Alabama and Mississippi Gulf Coast. Also pictured are Governor Richard Leche (on Roosevelt's right) and Mayor Robert S. Maistri (left of the presidient). At this luncheon, Maistri allegedly asked "How ya like dem erstuhs, Mister President?" Photo from the New Orleans Public Library.
Restaurateur Roy Louis Alciatore, born in New Orleans on December 19, 1902, was the son of Jules Louis Alciatore and Marie Althea Roy, and a grandson of Antoine Alciatore, who founded Antoine's Restaurant in 1840 (he formerly operated Pension Alciatore in the French Quarter). Roy attended Tulane University and married Mary Pearl Duggan. They had one daughter, Yvonne Elaine.
Roy Alicaotore began an apprenticeship under his father at the restaurant in 1920 and continued there until 1923 when he studied in French restaurants until 1930, the year he became proprietor and manager of Antoine's Restaurant -- positions he held for for forty-two years. He was also an avid ham radio operator, owned one of the most powerful stations in the New Orleans area, and was a member of the International Mission Radio Association.
In service to the community, he was a member of the board of commissioners of the New Orleans Public Belt Railroad, the board of directors of the New Orleans Convention and Visitors Bureau, board of curators of the Louisiana State Museum (1937-1941), New Orleans and the River Region Chamber of Commerce, Louisiana Restaurant Association president (1937), and the Young Men's Business Club. He was a member of the Southern Yacht Club, New Orleans Athletic Club, Bienville Club, Mardi Gras carnival organizations, and was active in Manresa House of Retreats and the Holy Name Society.
He was founder of the New Orleans chapter of Confrérie du Tastevin (October 23, 1940), decorated Grand Officer de la Confrérie du Tastevin (Nuits-Saint-Georges, France), recipient of the Cheva-lier du Mérite Touristique, France, recipient of Chevalier du Mérite Commercial, France, and Mr. Gourmet of 1966 for the Society of Bacchus, and a member of the Wine and Food Society of London, Les Amis D'Escoffier Société, New Orleans Sous Commanderie de Bordeaux, Gourmet Society of New York, and La Société des Escargots Orléanais.
Roy Alciatore died in New Orleans on September 29, 1972 and was interred in Metairie Cemetery. (Source: http://lahistory.org/site18.php)
Percy Robert Miller (born April 29, 1970 in New Orleans better known by his stage name Master P or his business name P. Miller, is an American rapper, actor, entrepreneur, investor, producer, and former professional minor league Basketball player. He is the founder of the popular label No Limit Records, which went bankrupt and was relaunched as New No Limit Records through Koch Records, followed by Guttar Music Entertainment, and No Limit Forever Records. He is the founder and CEO of P. Miller Enterprises, an entertainment and financial conglomerate and Better Black Television.
On April 29, 1949, Professor Longhair and his Combo played at the Caldonia Inn located at St. Phillip Street and St. Claude Avenue. Born Henry Roland Byrd, his hits included Walking Your Blues Away, Bald Head, Professor Longhair Blues, and The Mardi Gras.

On
April 29, 1909
, an "Orphan Train" from New York arrived at New Orleans Union Station, carrying 60 babies and young children who were tagged with descriptions of what was known of their family history.
More information
.
On April 29, 1909, the Christian Science Monitor reported, "The construction of three new high school buildings in New Orleans will soon begin, the city and school board having raised $500000 for the purpose". An earlier petition which included signatures from both private citizens and members of important city organizations, such as the Supreme Court of Louisiana, the Court of Appeals, the Civil District Courts, the Cotton Exchange, the Board of Trade, the Stock Exchange, the Progressive Union, Tulane University, and others. The petition, to the Mayor and Common Council of the city of New Orleans, read, ""We, the undersigned citizens, taxpayers, voters, former pupils of the public schools of New Orleans, earnestly urge the prompt erection of new, modern, and adequate High School buildings both for the boys and girls of our city; one of these to be a Boys' High School, the need of which is urgent, imperative, and recognized by everyone." (NOPL)
J. Valsin Guillotte was the 42nd mayor of New Orleans, serving from April 29, 1884 until April 23, 1888. He died, June 24, 1917 and is buried in St. Vincent de Paul Cemetery.