November 5
---


---
---

Buried Alive
November 5, 1970 Times-Picayune Article
Many still remember the guy who had himself "buried" in front of the Taco Bell at 4001 Veterans Highway back in 1970 but few remember the details. Below is a November 5, 1970 article which describes why 23 year-old Gretna resident John Diffley found himself in a home-made 3x3x8 foot coffin on public view via a peek-through shoot for the cost of a mere quarter. Diffley's aim was to break a 63-day "buried alive" record by enduring 65 days underground to earn college money.
On day 22 at 11 P.M., two men dropped a five-foot Blue Runner snake down the shoot and Diffley wound up at Ochsner hospital -- treated for shock. The men, both Avondale Shipyard workers, were arrested for criminal mischief, although they claimed to be merely playing a practical joke. Several days later, Diffley returned to the tomb, determined to break the record, but had to start over again at day one. I can find no information as to whether John Diffley successfully met his goal.
_~_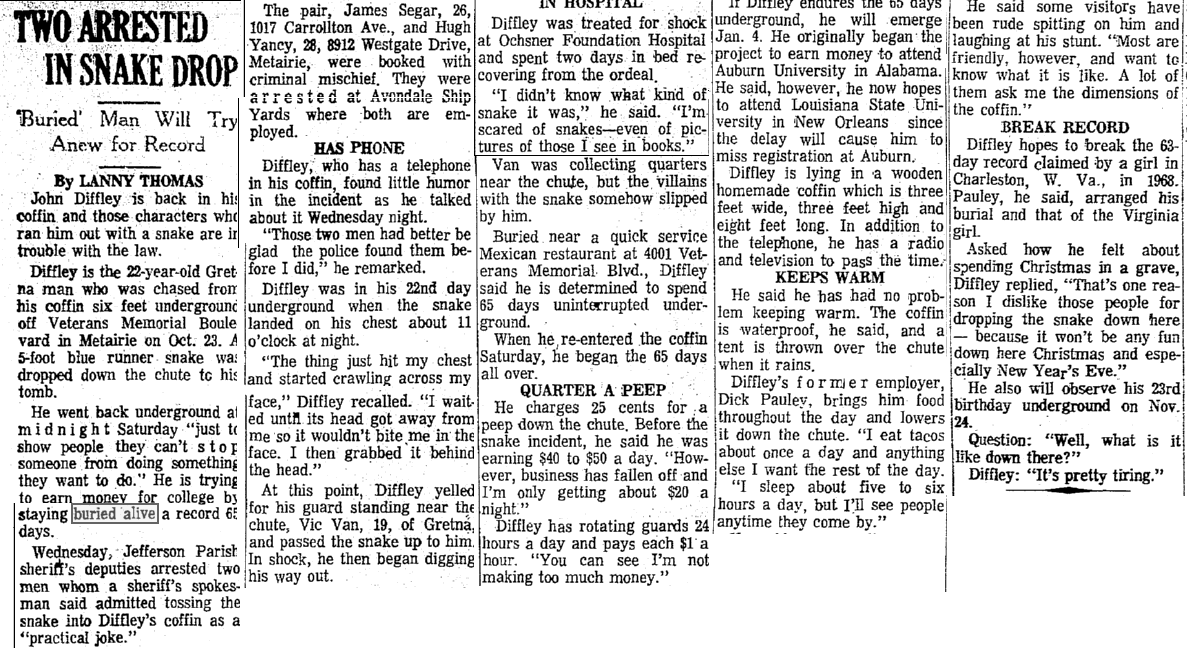 ---
---

---
On November 5, 1992, Mayor Sidney Barthelemy and the City Council picked Christopher Hemmeter-Caesar's Palace (known as the Grand Palais group) to lease the city-owned Rivergate site for development of a casino. The lease was signed on April 27, 1993.
Louis Alter (June 18, 1902, Haverhill, Massachusetts – November 5, 1980, New York City, New York) was an American pianist, songwriter and composer. Alter was 13 when he began playing piano in theaters showing silent films. He studied at the New England Conservatory of Music under the tutelage of Stuart Mason. Alter played in vaudeville houses as the accompanist for headliners Irène Bordoni and Nora Bayes. He appeared with Bayes from 1924 until her death in 1928, touring the United States and abroad.[1] Since he had previously written some songs for Broadway shows, Alter decided to concentrate on songwriting after Bayes' death. His first hit was "Manhattan Serenade" (1929). In 1929, Alter moved to Hollywood, where he wrote songs for films, beginning with The Hollywood Review of 1929, and he continued to provide piano accompaniment for various singers, including Beatrice Lillie and Helen Morgan. His contributions to Broadway musicals included songs in Sweet and Low (1930) and Ballyhoo (1931). His first song hit was "Hugs and Kisses" in 1926. In 1928, Alter composed the music and wrote the lyrics of Paris (1928 musical). Other top tunes by Alter include "My Kinda Love," "You Turned the Tables on Me," "Nina Never Knew," "Do You Know What It Means to Miss New Orleans" (for the 1947 film New Orleans), "Blue Shadows" and "Rainbow on the River." He wrote "A Melody from the Sky" and "Twilight on the Trail" for The Trail of the Lonesome Pine (1936). His collaborators included Oscar Hammerstein II, Charlotte Kent, Raymond Klages, Sidney D. Mitchell, and Jo Trent. Twice nominated for Academy Awards ("Dolores," "A Melody from the Sky"), he was inducted into the Songwriters Hall of Fame in 1975. At age 78, he died of pneumonia in New York's St. Clare Hospital. After Hurricane Katrina "Do You Know What It Means to Miss New Orleans" was used for strong emotional effect in Spike Lee's four-hour When the Levees Broke (2006) and an equally moving dramatic sketch by Billy Crystal on HBO's Comic Relief 2006.
On November 5, 1967, the Saints recorded their first regular season win, beating the Philadelphia Eagles, 31-24. Walt Roberts scored three touch downs in this game.
Photo of the Alvar Street Branch library,
on Alvar Street near Burgundy, which was recently completed by WPA and dedicated. The building is of monolithic concrete -- 40x60 feet, opening off the main entrance is a reading room -- cost approximately $32,000.
November 5, 1940
.
Several photos of the Pontalba Building on November 5, 1937 (scroll down near the end of the page).
Flood Street, from the river to Florida Walk was changed to Vernon Street on November 5, 1913.
On November 5, 1817, the Council passed an ordinance that more formally established the Commissaries of Police. This law provided that the Mayor nominate, with Council consent, three persons of "good morals and behaviour" as Commissaries. These individuals were to take an oath before the Mayor and also were to provide a security bond in the amount of $1000. Each Commissary would reside in, and be responsible for, one of the city's three wards. They were to walk the streets and other passages of their wards; to examine vagrants, beggars, and other "idle and disorderly persons" as to their place of residence and form of livelihood (those not giving satisfactory answers were to be brought before a magistrate to be dealt with according to law); to stop runaway slaves and bring them before the proper authorities (and share in the bounty provided for by the Code Noir); to report on the performance of the City Guard within their wards; and to generally see that the ordinances for the government of the city were obeyed. (From the New Orleans Public Library)
Harry Batt, Sr. Dies
November 5, 1977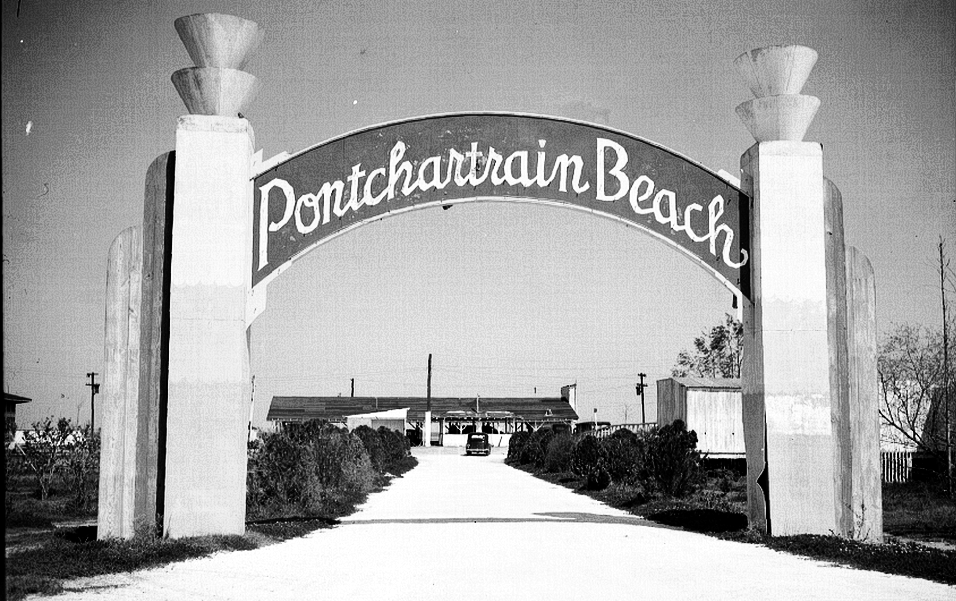 The first Pontchartrain Beach opened in 1928, across Bayou St. John from the old Spanish Fort on filled land newly reclaimed from the lake by the Orleans Levee Board. The "Old Beach" featured a boardwalk, a bath house and rides. But the hard times of the Depression hit the new amusement park hard, in spite of improvements (including a seawall to replace the boardwalk and a vehicular bridge over Bayou St. John) made by the Batt family, which took over its operation in 1933. In 1938, when development (with the help of the WPA) of Lake Vista began just next door, the Batts took advantage of the opportunity to move the park farther east along the lakefront to Milneburg, and the "Old Beach" was demolished. This photograph of the entrance to the park was taken on March 7, 1939, shortly before demolition began. (From the New Orleans Public Libary)
Before becoming involved in the amusement business, Harry Batt, Sr., born in New Orleans on June 20, 1903, worked at Home Ice Company, founded in 1893 by his grandfather. His father, John William Batt, had built the first ice manufacturing plant in New Orleans, according to Marquerite Batt, his wife. Educated at Danneel Elementary and Warren Easton High School, he dropped out of high school after the first year to help in the family business during WWI. He married Marguerite Spraul on September 2, 1924. When home refrigerators were becoming popular appliances in the upper-class homes in the areas serviced by Harry (University Section near Tulane and Newcomb Colleges), he foresaw a decline in his business and began to entertain the thought of entertainment as a career. In 1927 he met and befriended the merry-go-round operator at Audubon Park whose business was already suffering. Harry and his father invested an interest in this small endeavor. Harry's interest was peaked. A neighbor owned arcade equipment -- he and Harry leased the newly created lakefront land in front of what would become Lake Vista and opened an arcade there under the corporate name of Playland Amusements, of which his father was also an investor. The seawall had yet to be built but a wooden boardwalk was in place as well as a bathhouse and other facilities owned by Lakeshore Amusement Company. Playland owned and installed rides there on pilings. The park opened in 1928. In 1930 Harry became Playland's general manager and his father was no longer active in the business. In 1931, Dorothy Lamour was crowned Miss New Orleans there before becoming a top movie star. Lakeshore Amusements fell on hard times and in 1934 Playland successfully bid to become the sole operator of the park. "We never intended to [take it over], but when the Depression hit and the company which ran the park folded we took over", said Harry. The business was named Pontchartrain Beach.
In 1938 a vehicular bridge was built over Bayou St. John, residential development of Lake Vista began, and Playland, Incorporated a well as Pontchartrain Beach moved to a 50 acres site in front of what was the town of Milneburg. The "Bug" was transported to the new location and used until the last day, September 6, 1983. Harry's father, who died shortly after the move, told him, "You'll never make it. You put too much money into this" but it lasted 45 years until "the beach" closed in 1983. During the early days of the park at the end of Elysian Fields Avenue, Marguerite worked hard filling in at any positions which needed help. The family with two young sons, Harry Jr. and John, lived in town until Harry converted an old bathhouse into an apartment in which they lived for 22 years (until moving to Lake Terrace shortly before Harry retired in 1970) -- Marguerite said, "It was like living in a big, posh estate". Harry Jr. and John worked in the family business as boys, doing everything from manning the snowball shack to counting money.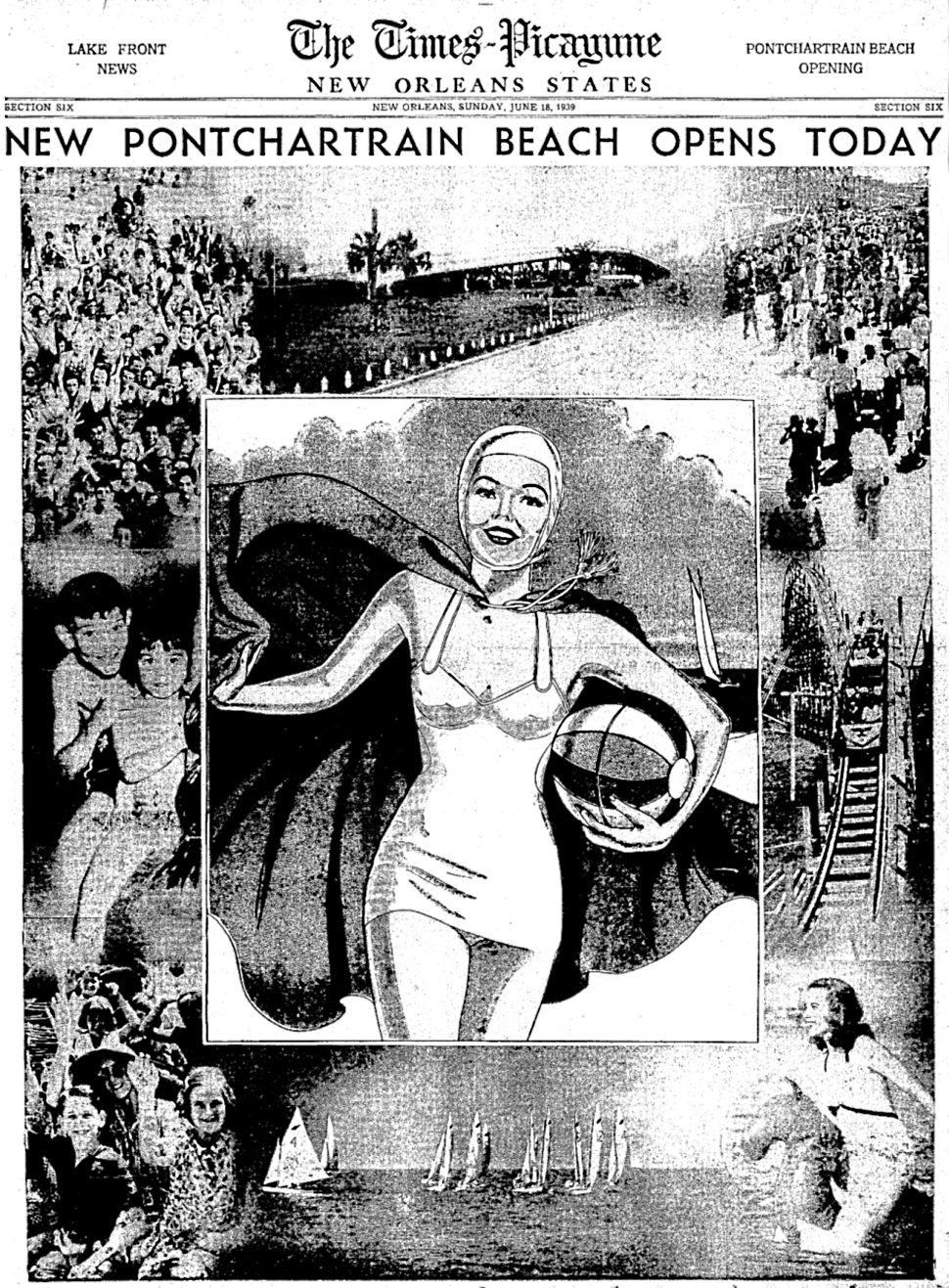 June 18, 1939 -- Times-Picayune
Pontchartrain Beach opens at Elysian Fields on the Lakefront
Harry's hands-on management style led him to personally hire many of the famous animal acts, magicians, tight-rope walkers, high-diver, daredevils, and entertainers. He introduced fire-works shows and dolphin acts. He hired celebrity guests including Lex Barker (the screen's Tarzan), Rudy Valee, Roy Rogers, Walter Pidgeon, Mike Douglas, and a very young Elvis Presley whose advertising and entertainment bill was topped by an animal act. Harry sponsored many charity events at his venue but his favorite thing to do at the beach was to host beauty pageants. "If there was anything I loved, it was a beauty contest", he said. Sharon Brown and Euyne Howell went on to become Miss USAs. The beach also hosted the Miss Louisiana pageant.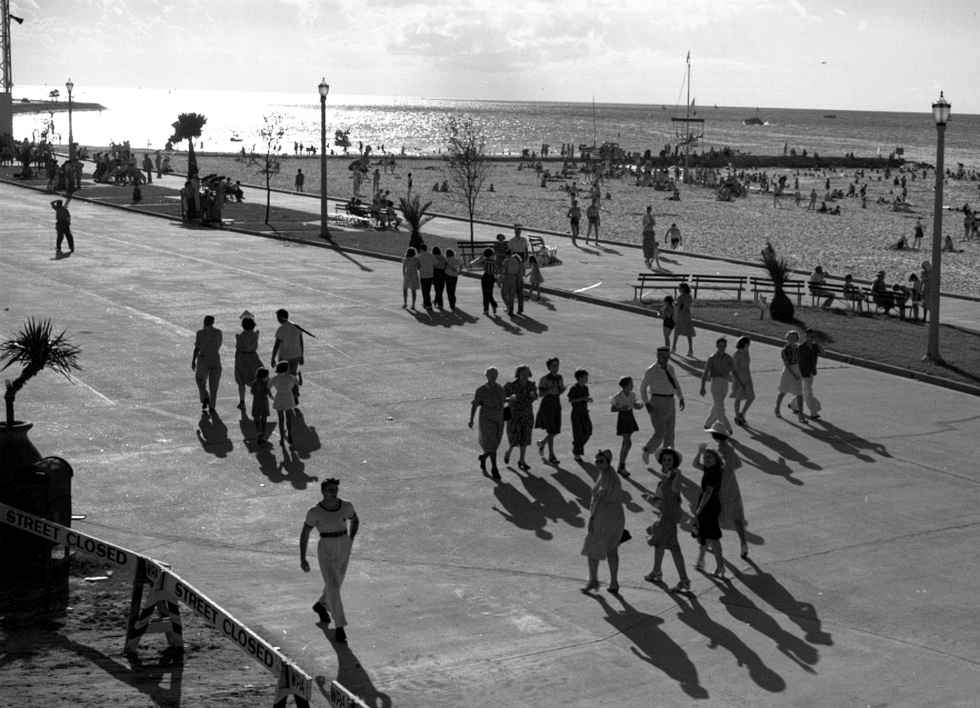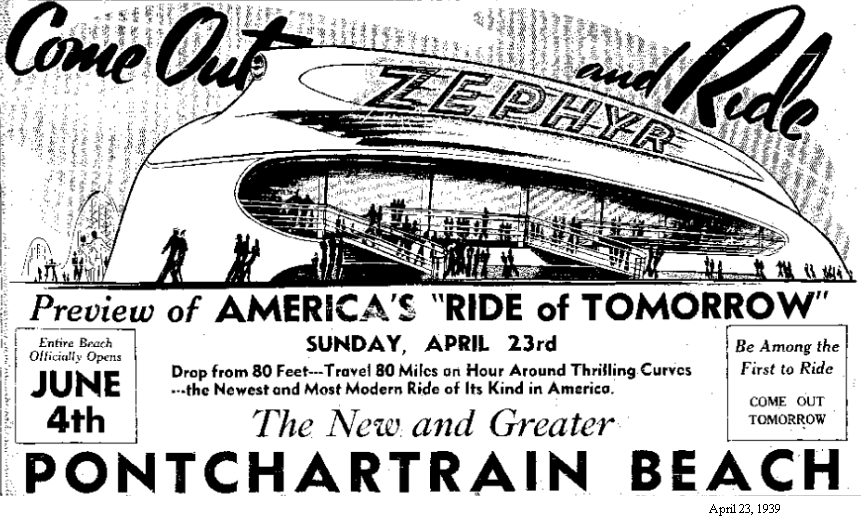 On April 23,
1939
, the Zephyr first whisked New Orleanians into the sky along its winding path around the park. Harry Jr. remembered, when he was a twelve year-old, "It was fantastic to get on top of the Zephyr and see nothing but cow pasture as far as you could see in Gentilly".
Kiddieland opened in 1947, surrounding the historic Milneburg/Port Pontchartrain light house. Bali Hai began serving Polynesian food in 1958, closing in 1975 with the exception of private catering functions.
1964 brought the introduction of POP (pay-one-price) Days but the attendance fell to an all-time low from 1964 through 1969. Harry Jr. and John added a new sky ride and the Calypso. In 1978 the $1.3 million Rajun Cajun was the last ride installed at the beach.
Harry Batt, Sr., retired in 1970 as president and managing director of Pontchartrain Beach, and Harry Batt, Jr., and his brother, John Batt, served as President, and Vice President, respectively, until the lakefront park closed.
Well known and respected in the amusement industry he was a co-director of the 1962 Seattle World's Fair and directed the installation of a model railroad at St. Louis Zoo in 1963. He was a member of the International Association of Amusement Parks and Attractions.
At home he helped organize the New Orleans Recreation Department, was instrumental in establishing a burn center at Charity Hospital, and was active in raising funds for victims of multiple sclerosis, the Crippled Children's Hospital, and the New Orleans Council of Jewish Women. He was a member of International House, New Orleans Chamber of Commerce education committee, Housing Authority of New Orleans, Salvation Army, and Variety Clubs International.
Mr. Batt was chairman of the board of managers of Delgado Museum (now New Orleans Museum of Art), director of the National American Bank, was honored in 1976 by the Young Men's Business Club for the annual outing he sponsored for poor children at his amusement park, received the Outstanding Citizen of the Year Award from the art museum in 1976, and reigned as king of the Louisiana Society of the Washington Mardi Gras ball in 1972. Harry Batt Sr. died of a heart attack during a trip to Hong Kong with his beloved Marguerite on November 5, 1977 at the age of 74.

Related reading: Lake Pontchartrain (Images of America) by Catherine Campanella