---

Pelicans' "Cotton" Knaupp's Triple Play
August 8, 1916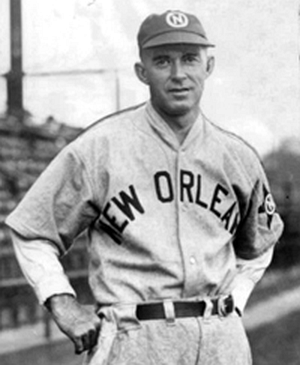 While playing second base for the New Orleans Pelicans on August 8, 1916, Henry Antone "Cotton" Knaupp became the only player in the history of the Southern Association to turn an unassisted triple play. With the bases loaded and Knaupp playing 2nd base in a game against the Chattanooga Lookouts, he caught a line drive hit by shortstop Joe Harris, tagged Jake Pilter who was running from first to second base, and stepped on 2nd base to put out Bob Messenger before he could return to second base.
Born in San Antonio on Aug. 13, 1889, Knaupp was a right-handed middle infielder with the New Orleans Pelicans from 1911 to 1923 after a stint in the Major Leagues with the Cleveland Naps (later the Cleveland Indians). He helped the Pelicans win three Southern Association Championships (1911, 1915, 1923). Knaupp holds records for most games played (1,476), most sacrifices (333) and most put-outs for second basemen (3,198) in Pelicans' history. "Cotton" Knaupp died in New Orleans on July 6, 1967 at the age of 77.
---



---
David Dixon, the "Father of the Superdome" passed away on August 8, 2010. An alumnus of Tulane University, Dixon created the New Orleans Professional Football Club, Inc., to lobby for an NFL or an AFL franchise for that city starting in 1962. In 2008, he published an autobiography The Saints, the Superdome, and the Scandal: An Insider's Perspective.
Garland Robinette was a news anchor and investigative reporter on New Orleans TV station WWL-TV Channel 4 for twenty years (1970 until August 8, 1990). (Wiki)
Joachim Octave Fernández, Sr. (August 14, 1896 – August 8, 1978), was a member of the U. S. House of Representatives from Louisiana's 1st congressional district. Like all other members of his state's congressional delegation at the time of his tenure, Fernández was a Democrat. Fernández was known as "Bathtub Joe" Fernández for his habit of avoiding calls from reporters by claiming he was taking a bath. (Wiki)
Born in New Orleans on June 26, 1921, Howard Joseph Pollet was a left-handed pitcher in Major League Baseball during the 1940s and 1950s. A three-time All-Star in 1943, 1946 and 1949, he twice led the National League in earned run average (1.75 in 1943 and 2.10 in 1946). In 1959 he became the St. Louis Cardinals' pitching coach, serving through 1964. In his last season there, St. Louis won the world championship. In 1965, he coached for the Astros. Pollett died from adenocarcinoma in Houston at age 53 died on August 8, 1974. (Wiki)
The Saints won the NFL Pro Football Hall of Fame Game in Canton, Ohio against the Minnesota Vikings with a score of 14-13 on August 8, 1970.
On August 8, 1960, Fat's Domino's "Walkin' to New Orleans" broke into Billboard's top-ten list.
Johnny Dodds (April 12, 1892 – August 8, 1940) was an American New Orleans based jazz clarinetist and alto saxophonist, best known for his recordings under his own name and with bands such as those of Joe "King" Oliver, Jelly Roll Morton, Lovie Austin and Louis Armstrong. Dodds (pronounced "dots") was also the older brother of drummer Warren "Baby" Dodds. (Wiki)
BALLARD, Edith Loeber, physician, medical activist. Born, New Orleans, August 8, 1875; daughter of Frederick Loeber, M. D., and Catherine Humbrecht Loeber. Education: St. Simeon's Select School in New Orleans; debut in New Orleans, 1898; teaching degree from Louisiana State Normal School in Natchitoches; Cornell University, B. A., 1905, and M. D., 1907. Internship two years Bellevue Hospital. Practiced in New Orleans. Tulane University's Board overrode the medical faculty to appoint E. Loeber and [Mary] E. Bass (q.v.), 1911. Active in various medical and social activities, until marriage on July 23, 1912, to Marshall Ballard (q.v.), editor (1907-1947) of the New Orleans Item. Gave up fulltime practice of medicine to raise family. Children: three daughters and two sons. Residence in Bay St. Louis, Miss., and New Orleans. Edith Loeber Ballard demonstrated an acute social conscience combined with intellectual and political skills. Throughout her life she worked for reform within her own time frame. She raised money, entertained, lobbied legislators, trained nurses, and championed the poor. Died, at a daughter's residence, New Orleans, December 23, 1948. J.P.M. Sources: New Orleans Item, December 23, 1948; New Orleans Times-Picayune, December 24, 1948; John Wilds, Crises, Clashes and Cures (1978); John Duffy, ed., The Rudolph Matas History of Medicine in Louisiana (1962); Duffy, Tulane University Medical Center . . . (1984); and the records of medical and social societies of New Orleans and Hancock County, Mississippi. Fromhttp://lahistory.org/site19.php