---

Falstaff Weather Ball is First Lit
August 1, 1952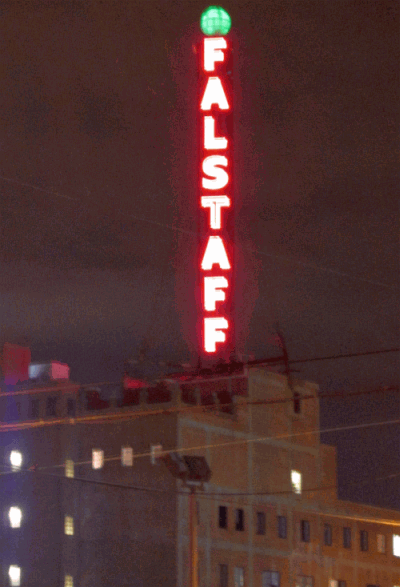 On Aug. 1, 1952, at exactly 8 p.m., a New Orleans landmark was lit for the first time.

The Falstaff Brewing Company, located at 2601 Gravier St., installed a 126-foot tower with an electrical sign on top of its new brewery. The man given the honor of throw-ing the switch was U.S. Weath-er Bureau meteorologist, the renowned and highly beloved Dr. Isaac Monroe Cline. Joining Dr. Cline for this auspicious occasion was New Orleans Mayor deLesseps "Chep" Morrison. Falstaff's advertising to the metropolitan New Orleans area informed the locals that the tower would forecast the next day's weather.

The changing colors of the massive ball on top of the sign were:

GREEN – fair weather.

RED – cloudy.

RED FLASHING – rain.

WHITE – showers.

RED AND WHITE FLASHING – approaching storms.

Temperature changes that were predicted were indicated by the lights on the vertical Falstaff sign.

Letters on the sign, spelling FALSTAFF from top to bottom, flashed on and off when temperatures remained constant.

Letters would light from bottom to top when temperatures were expected to rise.

When letters lit top to bottom the temperature was dropping.

The sign went dark on Dec. 7, 1978. On that day the facility was closed, at first temporarily, then permanently. The sign was dark for many years until the brewery and sign were renovated. The brewery has been converted into condominiums.

By Buddy Stall at http://clarionherald.org/20010301/stall.htm
---



---
The funeral Mass for Lindy Boggs was held on August 1, 2013 at St. Louis Cathedral. Interment followed later in the day at St. Mary's Cemetery in New Roads.
On August 1, 2002, the Board of Trustees of the Academy of the Sacred Heart authorized the purchase of the First Baptist Church property on St. Charles and Napoleon avenues. This was the first property acquisition for the school in 115 years. At one and a half square city blocks, the new property nearly doubled the size of the Sacred Heart campus and is located two blocks from the Rosary Campus. Called the Mater Admirabilis Campus, it is named for the original French Quarter school. (Wiki)
Pride Air, based out of New Orleans International Airport, began operations on August 1, 1985. Due to increased competition from Continental Airlines in the New Orleans market in tandem with low initial passenger loads, Pride Air suspended operations on November 15, 1985, only three months after it began flying.
Algiers Point was added to the National Register of Historic Places on August 1, 1978.
Jimi Hendrix performed at City Park Statidum on Thursday, August 1, 1968. The show was handled by Concert West Proudutions, who charged $4 for advance-purchase tickets and $5 at the gate.
Several photos of NORD boating (?), August 1, 1956.
Andrew Jackson Higgins (28 August 1886 – 1 August 1952) was the founder and owner of Higgins Industries, the New Orleans-based manufacturer of "Higgins boats" (LCVPs) during World War II. General Dwight Eisenhower is quoted as saying, "Andrew Higgins ... is the man who won the war for us. ... If Higgins had not designed and built those LCVPs, we never could have landed over an open beach. The whole strategy of the war would have been different." Even Hitler recognized his heroic war efforts in ship production and bitterly called him the "New Noah." The inventor and holder of some 30 patents pertinent to amphibious landing craft and vehicles, Andrew J. Higgins died in New Orleans on 1 August 1952, and was buried in Metairie Cemetery. (Wiki)
WPA photo -- Chiseling figures on the bird house at the Audubon Park Zoo, August 1, 1939.
Many WPA photos of work done in City Park, August 1, 1938.
Several photos of the Martin Behrman Memorial Center, August 1, 1936.
---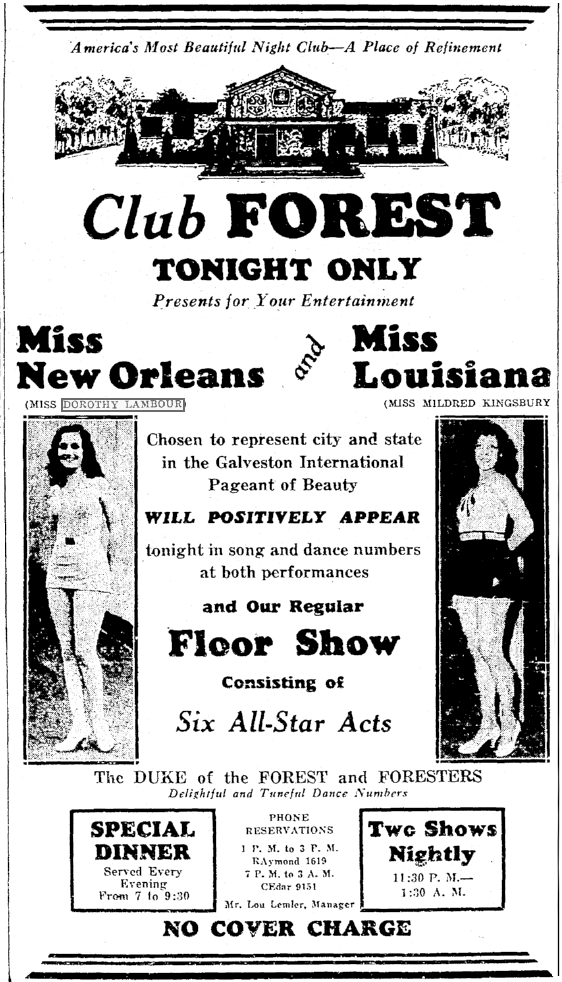 On Friday, August 1, 1930, Dottie Lambour and Dorothy Dell Goff boarded a 9 p.m. train at Union Station along with their mothers to head to Galveston for the International Pageant of Pulchritude (the Miss America and Miss Universe contests). Dottie's ranking in the New Orleans pageant qualified her as an alternate for Goff, who was crowned Miss United States (Miss America) on August 5, 1930 and then Miss Universe on August 10, 1930 in the Texas pageants. Goff, as Dorothy Dell became a film actress whose young life was cut short in an automobile accident on June 8, 1934 near Pasadena, California. Dottie Lambour became actress Dorothy Lamour.
Dottie Lambour won the 1931 Miss New Orleans contest wearing a blue bathing suit and a blue linen dress she had bought on Canal Street for $2.98.

Miss Lambour is seen here in an advertisement for Club Forest (407 Jefferson Highway) on June 7, 1931. She did, in fact, go on to the 1931 Galveston pageant but failed to take a crown. She attended Spencer Business College and took a job in the real real estate business but still dreamed of fame. According a 1974 interview with local writer David Cuthbert, Dottie bought two tickets to Chicago, left one along with a note to her mother, and left New Orleans for a bigger city. Her mother arrived the following day. They took jobs in a restaurant, with Carmen in the kitchen and Dottie waiting tables. She said the trays were too heavy for her to carry so "I walked into Marshall Field Department Store. I had a terrible inferiority complex but when you do you put up more of a front." "I want to see the supervisor" she said, to which the response was "Which one?" "Well that stopped me. At D.H. Holmes and Maison Blanche all they had was one. In those days at Marshall Field they had nine. All I could get out was 'I want to ride an elevator'. She got the job.While performing at a night clubs she was "discovered" by orchestra leader Herbie Kay who hired her to sing for his band.
---
Jazz musician William "Willy" Cornish (August 1, 1875 – January 12, 1942) was a member of Buddy Bolden's pioneering New Orleans style band, playing valve trombone. He was also an early member of the Eureka Brass Band.
An 1832 City Ordinance established that: Before next August 1st, all canine owners shall receive brass or metal collars on which the name and address of their owner shall be inscribed. Any canine found without said collar in the streets or public places after next August 1st, shall be taken and done away with as the purchaser or his agent shall see fit without prejudice to the rights of the purchaser, to have the tax on said animals paid to him should said tax not be paid.
On August 1, 1800, The Cabildo noted that "there being two grades of flour on the market now, the Commissioners resolved to set a price on bread in accordance with the grade of flour used". (NOPL)
On August 1, 1794, The Governor informed the Cabildo that he had ordered the bakers to reduce the price of bread to 36 ounces for one reale; also provided penalties for various violations.
On August 1, 1783, the Cabildo ordered that "Don Gabriel Perones (Peyroux) restore the Roads of the Bayou to their former condition, and to close the ditches he has made".