---

De La Salle High School Opened
Tuesday, September 6, 1949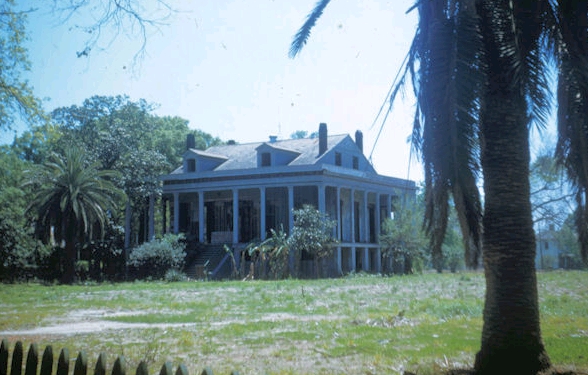 De La Sallle High School, operated by the Christian Brothers, opened the doors to 76 Catholic freshman boys on Tuesday, September 6, 1949 in an old house on Pitt Street. The brothers added a new class level each year, operating in several other old structures on the property spanning the 5300 block of St. Charles Avenue, between Valmont and Leontine streets, which the Archdiocese of New Orleans had purchased in April 1949 for $312,000. On Sunday, February 17, 1952 at 2 p.m., Archbishop Rummel officiated the formal dedication of the current De La Salle high school building which had been constructed at a cost of $375,000 to accommodate 750 students. It took the place of some very historic buildings which were also used by schools. They were New Orleans University and Gilbert Academy.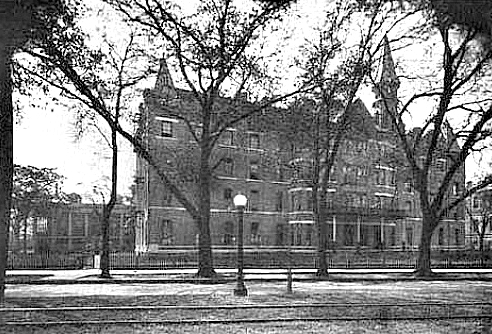 "In 1869, with the support of the Missionary Association of the Congregational Church (now the United Church of Christ) and the Freedman's Aid Society of the United Methodist Church, Straight University and Union Normal School were founded. Later, they were renamed Straight College and New Orleans University, respectively.
Gilbert Academy, a secondary school, was a unit of New Orleans University. Straight College operated a law department from 1874 to 1886. New Orleans University in 1889 opened a medical department, including a school of pharmacy and a school of nursing. The medical department was named Flint Medical College and the affiliated hospital was named the Sarah Goodridge Hospital and Nurse Training School. The medical college was discontinued in 1911, but the hospital, including the nursing school, was continued under the name Flint Goodridge Hospital.
In 1930, New Orleans University and Straight College merged to form Dillard University. The trustees of the new university called for the implementation of a coeducational, interracial school, serving a predominantly African American student body adhering to Christian principles and values. The university was named in honor of James Hardy Dillard, a distinguished academician dedicated to educating African Americans". (Text and photo from Dillard University).
The lovely Greek Revival home was built by W. T. Walden in 1837 in what was then the town of Rickerville (Leontine and Octavia streets were named for Mr. Rickerville's daughters). In 1884, Mary Bayle sold the home to the Methodist Episcopal Church. Around 1926, Dr. O. E. Kriege, a methodist minister and treasurer of Gilbert Academy, and his wife occupied the home and lived there until its demise. Mrs. Kriege hosted Women's Temperance Union meetings there.
The Christian Brothers first occupied the property on July 1, 1949. In December 1949, the archdiocese offered to give the home to any individual or organization which would move, restore it, and open it for public use. Despite public and private support the 112 year-old home was demolished in 1950. It had once sat amid a three acre sugar planation and was often referred to as the "Gould Plantation home". It was also known as the "President's Mansion" (used by the president of New Orleans University) and many New Orleanians called it "Gilbert Academy".
New Orleans University and the old home can be seen on the right. The univesity building was constructed in 1887 at a cost of $40,000. The huge main building contained 80 classrooms with metal door plaques recognizing donations from churches across the U.S. who had supported the school. It was demolished during 1930s after the university merged with Straight College to form Dillard University. Gilbert Academy closed in 1948.
---



---
New Orleans music arranger and producer "Creole Beethoven" Wardell Quezergue's career included work on Professor Longhair's Big Chief, Robert Parker's Barefootin, King Floyd's Groove Me, Willie Tee's Teasin' You, and Jean Knight's Mr. Big Stuff, and the Grammy Award-winning Dr. John album "Goin' Back to New Orleans" (1992). In 2009 he received an honorary doctorate from Loyola University New Orleans and in 2010 was inducted into the Louisiana Music Hall of Fame. Known as the "Creole Beethoven" Wardell Quezergue passed away on September 6, 2011.
On Tuesday, September 6, 2005, post-Katrina rescue workers said that there were still many, "holdouts," who were not heeding the mandatory evacuation order first issued by Nagin on August 28. They were concerned about their property being looted, were unaware of the full extent of the disaster, worried about their pets, or concerned that conditions would be worse in the shelters. Due to unsanitary conditions in the city, as well as contaminations of E. coli bacteria in the standing water in the city, Nagin ordered the forced evacuation of everyone that was not involved in cleaning up after Hurricane Katrina in which 38,093 Army National Guard and 5,770 Air National Guard were deployed (43,863 total). Senator Barbara Mikulski (D-MD) called for Michael D. Brown's resignation. House Minority Leader Nancy Pelosi (D-CA)and Senate Minority Leader Harry Reid (D-NV) voiced criticism of the disaster's handling, and of the Bush administration's management, delegation of control, leadership, and human consideration. (Wiki)
On Tuesday, September 6, 2005, the Port of New Orleans, the largest U.S. port in terms of tonnage handled, was able to receive and service relief ships post-Katrina. It was estimated that resumption of commercial shipments would take at least 14 days.
On September 16, 1977, ground was broken for the development of Lafreniere Park in Metairie at the site of the former Jefferson Downs racetrack and Magnolia Park harness racing facility.

Bruce Springsteen and the E Street Band entertained New Orleanians with two concerts, on September 6 & 7, 1975 at the New Orleans Performing Arts Center as a stop on their Born to Run Tour.
From the Sunday, September 6, 1954 Times-Picayune: Under partly cloudy skies heavy traffic flows out of the city for the Mississippi Gulf Coast. But there is lots to do for those who choose to stay in town. At City Park, Frankie Mann's Orchestra perform at 7 P.M. tonight in the stadium followed by a dancing exhibition 8 - 9:00 and free movies at 10:00. On Labor Day the Police Concert Band will play and another dancing exhibit is in the offering along with free swimming, tennis exhibitions, a golf tournament, more dancing, and more movies. On the lakefront at Pontchartrain Beach both today and tomorrow at 10 P.M. a lavish fireworks display is sponsored by the Electricians Association of New Orleans and the beach management. Free acts and special Labor Day programs highlight the weekend, according to Harry Batt, Managing Director of the resort. Sunday and Monday brings matinee performances on-stage at 4:30. On Monday the American Federation of Labor Unions sponsors the beach ceremonies with an address by Paul Barker, former attorney for the the National Labor Relations Board. Council President A. P. Harvey begins the program at 6:45. Two shows of stage performances take place at 7:30 and 11 P.M.
Mrs. Elster J. Courville, age 34, 1521 Mandeville Street, gave birth at Charity Hospital on August 26, 1954 to daughter, Polly Ann, while inside a specially designed iron lung. The baby, who weighed 5 1/2 pounds was in good health at the hospital but Mrs. Courville died of polio on Saturday, September 4 at 11:20 A.M. She had been in critical condition since August 23 when she was admitted to Charity with Bulbar Polio. A dome-type iron lung was flown from Houston by the National Foundation for Infantile Paralysis for the birth. A tracheotomy had been performed to ease Mrs. Courville's breathing and the child was born healthy. Funeral services were held at P.J. McMahon and Sons Funeral Home at 4800 Canal Street on September 6, 1954. Mrs. Courville was survived by her husband and two daughters.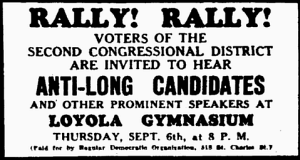 September 6, 1934 -- Times-Picayune.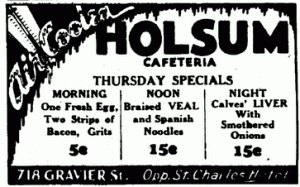 September 6, 1934 -- Times-Picayune

September 6, 1934 -- Times-Picayune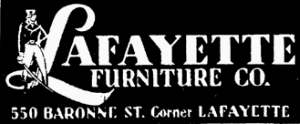 September 6, 1934 -- Times-Picayune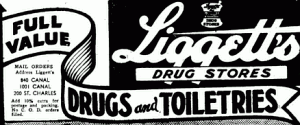 September 6, 1934 -- Times-Picayune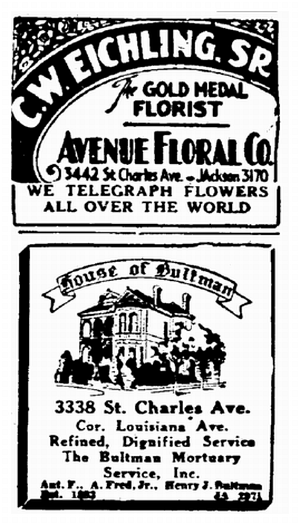 September 6, 1934 -- Times-Picayune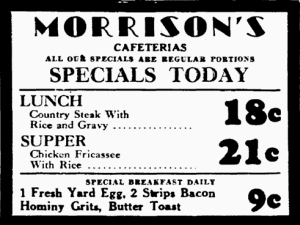 September 6, 1934 -- Times-Picayune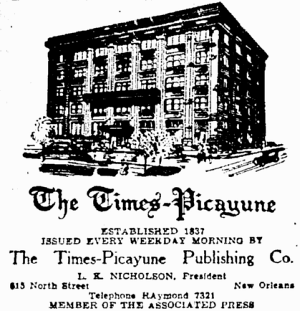 September 6, 1934 -- Times-Picayune
Fortier high school for boys opened as planned on February 2, 1931 but McMain high for girls, also planned for a 1931 opening, did not. As Fortier welcomed as many as 1500 boys, McMain's first floor had yet to be completed. According to official, difficulties were encountered in the foundation and excavation because "the site was once a swamp". The builder expected to sink 45 foot pilings but instead was forced to use 70 foot piles. To further the delay, many tree stumps had to be removed from the boggy location. Girls who were scheduled to attend McMain (whose student boundaries were South Carrollton, St. Charles Avenue, Howard Avenue, and Loyola University) enrolled instead at Sophie B. Wright. The opening of McMain was rescheduled for the fall of 1931. Plaster-work for McMain was executed by Sam C. Ball and Company, whose work could also be seen in five public markets and the old U.S. Mint. In July, $13, 730.36 was approved for purchasing furniture and equipment. On September 6, 1931 registration was open for McMain students but their school was still not ready.
---
Elks Approve First Truck Parade
September 6, 1934
Story by Buddy Stall
_____

As early as the 19th century, people decorated carriages, wagons, milk carts and other rolling stock, donned costumes, and with liquid refreshments and food to sustain them for the day headed for the crowded streets to join fellow revelers.

The year 1933 was a bleak one for the citizens of New Orleans. Like most Americans, New Orleanians were suffering from the effects of the Great Depression, which followed the stock market crash of 1929. So the approach of Mardi Gras that year filled the city with great anticipation. Perhaps it would get people's minds off the unpleasant conditions, if only for a day.

Because of the economic situation, Momus and Proteus were forced to cancel their parades, but Rex was scheduled to roll as usual. However, as fate would have it, Rex had to be canceled because of rain, the only time in its illustrious history that the Rex parade has been canceled because of the weather.

A young man named Chris R. Valley, who belonged to the Benevolent and Protective Order of Elks, Lodge No. 30, worked with other young members of the club until 4 o'clock on that Mardi Gras morning. They were getting their truck decorated for their traditional trek – roaming whatever streets they could find passable (trucks were not allowed on the parade routes), dancing in the streets, visiting friends and relatives, and ending up at one of several parks to eat, drink and generally have a good time.

When the early morning downpour that had forced Rex to cancel ended around noon, the 70 masked riders of the Elks group mounted their 40-foot trailer truck and took to the streets with a four-piece band. The theme of their decorations was "The White Indians." Other groups who had spent a great deal of energy (and little money) readying their trucks did likewise. So, although the people of New Orleans failed to see a Rex parade in 1933, they did enjoy an array of colorfully decorated trucks with more costumed riders than they had ever seen in any Mardi Gras procession.

That Mardi Gras, Valley thought of Mildred Washburn, the editor of his school newspaper and a very imaginative lady who had previously organized truck parades for the students. These parades were successful, but she had never fulfilled her lifelong dream of sneaking a truck onto the parade route to follow Rex. Thus the idea of organizing all of the Elks trucks into one cohesive, fun-loving group was born. Here was a chance to fulfill Mildred Washburn's dream for her.

Valley studied every aspect of such a revolutionary undertaking, and, after another dry run in 1934, he presented his idea to fellow Elks members. The date was Sept. 6, 1934. The Elks received and approved the idea of a truck parade with great enthusiasm. As quickly as they could arrange an appointment, Valley and a group of Elks went to City Hall and presented the idea to city officials, who were impressed enough to give Lodge No. 30 of the Benevolent and Protective Order of Elks a permit to follow Rex down the traditional route on Mardi Gras 1935.

One of the many virtues of the Elks organization is charity; therefore, it was decided that the king and queen of the Elks truck parade would be selected from a local orphanage rather than from the membership. This would allow less-fortunate children to be royalty for a day.

The first truck parade was well-received by the 1935 Mardi Gras crowd and has grown every year since. It is now made up of 150 trucks with an average of 40 people per vehicle – a total of 6,000 enthusiastic masked riders throwing to an equally enthusiastic, appreciative crowd. There is a waiting list of prospective participants. In 1981, there were 181 trucks with an average of 40 people per vehicle – a total of 7,240 riders, but the city decided that a limit of 150 trucks in the Elks parade was enough.

The Crescent City truck ensemble follows the 150-truck Elks convoy, and it was considered unfair to Crescent City to add more and more trucks in front of it every year.

In the five official truck krewes combined, there are an estimated 18,000 costumed riders who know how to have a good time. All five award trophies for the best decorated trucks and, as special recognition, the winners are placed in the lead spot in the next parade. Other awards presented are for best headdress, best costume and most-unique theme.

The top winner in the Elks Krewe of Orleanians is presented the coveted Chris Valley grand-prize trophy, named in honor of the man who had the vision and the drive to put into motion a truck extravaganza that merits the title "world's longest parade."

Source: Buddy Stall at http://clarionherald.org/20000217/stall.htm
---
The New York World's exposé of the Ku Klux Klan brought national media to the operations and actions of the Ku Klux Klan beginning on September 6, 1921. It published a series of twenty one consecutive daily articles that discussed numerous aspects of Ku Klux Klan including rituals, recruitment methods, propaganda, and hypocrisies in logic. At least fifteen other newspapers nationwide picked up the coverage, which led to national discourse on the activities of the group. These publications included the New Orleans Times-Picayune,
Regarded by contemporaries as a key figure in the development of the New Orleans style of rag-time music which evolved into jazz, cornetist Charles Joseph "Buddy" Bolden's sound was never recorded but his horn was said to have been heard across the Mississippi River clear from Algiers. Born on September 6, 1877, he was known for erratic behavior and as a heavy drinker, he was committed to Jackson State Asylum in 1907 after an altercation with his mother-in-law in their home. He passed away on November 4, 1931. Bolden has been immortalized in a number of versions of the tune I Heard Buddy Bolden Say, by his protege, Bunk Johnson among others. Click the box to the right to hear a 1939 recording by Jelly Roll Morton's New Orleans Jazzmen.
The Pontchartrain Rail-Road was an early railway, chartered in 1830, which began transporting people and goods between the Mississippi River front and Lake Pontchartrain on April 23, 1831, and closed more than 100 years later. The 5-mile long line on Elysian Fields Avenue connected the Faubourg Marigny along the riverfront with the town of Milneburg on the Lakefront. When built, the majority of the route ran through farmland, woods, and swamp. Meetings discussing building a railway began in 1828. The Pontchartrain Rail-Road was chartered on January 20, 1830. The right-of-way was approved by the New Orleans City Council on March 15, and construction began immediately, with a pair of parallel railroad tracks. Through swampland, up to 4 feet of fill was needed to create a sufficient road bed. A 150 foot wide bed was constructed along the entire route, with the rail line laid with red cypress timbers and English rolled iron rails. Construction of the line was completed on April 14, 1831, and it officially opened on April 23rd, with horse drawn railway carriages. The first steam locomotive, "the Shields", was built by John Shields and arrived from Cincinnatti by steamer on June 15, 1832. This first locomotive proved unreliable; the company even tried using sails to help propell the train. A second locomotive "the Pontchartrain" built by Rothwell, Hicks, and Rothwell arrived in September, was tested on September 6, 1832. It proved better, allowing the line to advertise regular steam service of 7 round trips per day (9 on Sundays) starting on September 27, 1832. "The Shields" was cannibalized, the boiler used to run equipment at the railroad's machine shop. "The Pontchartrain" as well as succeeding locomotives became known as the famous and beloved "Smokey Mary". It was comprised of an "engine car" (with the power of 24 horses) and 12 passenger/cargo cars