---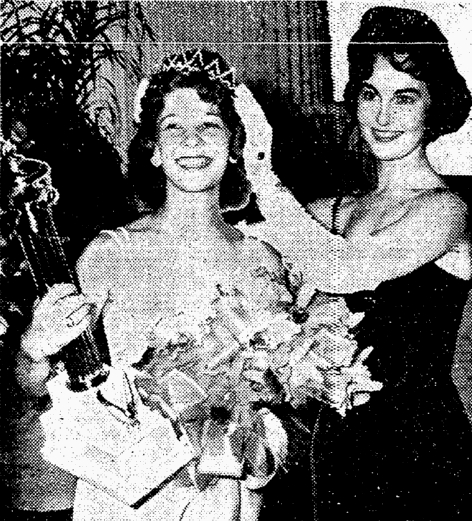 Sandra Greco Crowned
Miss New Orleans
At Pontchartrain Beach
June 16, 1960
The tiara was passed from 1959 Miss New Orleans, Barbara Reagan, to nine-teen year-old reddish-blond haired Sandra Greco on the stage at Pontchartrain Beach on Thursday, June 16, 1960. Standing at five feet and three inches tall, green-eyed Greco had taken third-place at the 1959 contest on the same stage. Chosen from among 16 other contestants, Greco wore a white bathing suit over her 106 pound 34-22-35 inch figure.
The daughter of Mr. and Mrs. John T. Greco of 109 Norton Street in Arabi, Sandra planned to enter the Miss Louisiana pageant the following week. Her future plans included becoming an airline stewardess but, as for marriage she said, "... I have no steady boy friends, but I do like boys and always have lots of them around, but none steady". Her pastimes included bowling, swimming, and dancing. She was a graduate of Annunciation High School and had also been chosen as Miss Swimming Pool and Miss Putt-Putt.
The 1960 Miss New Orleans runners-up were 18 year-old Miss Elizabeth Marseilles who resided at 1208 Gayosa Street and Miss Kathleen Langla, aged 19, of 606 North Burnadotte.
Photo from the front page of the June 17, 1960 Times-Picayune.
---

You Can Support this Site by Clicking on & Shopping from this Amazon Link -- and it won't cost you a penny more: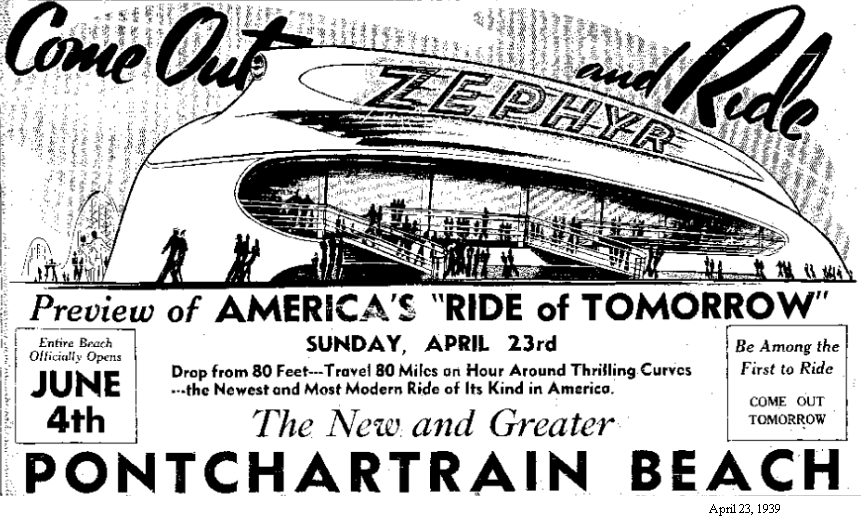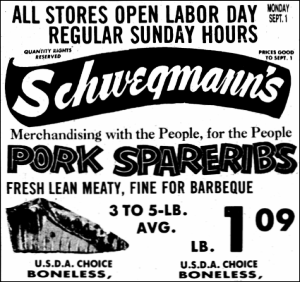 ---
The Huey P. Long Bridge in Jefferson Parish, Louisiana, is a cantilevered steel through truss bridge that carries a two-track railroad line over the Mississippi River at mile 106.1 with three lanes of US 90 on each side of the central tracks. Main construction contracts were signed on December 30, 1932 and work formally started the following day. Construction of the bridge proceeded smoothly over a three-year period with only minor interruptions due to high water and a one-month strike in September 1933. Opened in December 1935 to replace the Walnut Street Ferry, the bridge was named for the extremely popular and notorious governor, Huey P. Long, who had just been assassinated on September 8 of that year. The bridge was the first Mississippi River span built in Louisiana and the 29th along the length of the river. It is a few miles upriver from the city of New Orleans. The East Bank entrance is at Elmwood, Louisiana and the West Bank at Bridge City. It was designed by Polish-American engineer Ralph Modjeski. On June 16, 2013, a $1.2 billion widening project by the Louisiana Department of Transportation and Development was completed and opened to motorists. The bridge now consists of three 11-foot lanes in each directions, with inside and outside shoulders. Prior to the expansion, there were two 9-foot lanes in each direction with no shoulders.
The Nobles -- From 1959 until 2012, with over 70 different musicians comprising the band for more than 50 years, The Nobles entertained local audiences. In 1999 they were inducted into The Louisiana Rock and Roll Hall of Fame. Their last performance was on
June 16. 2012
at Rock n' Bowl. Pictured here are the original members in their first publicity photograph. They are (abaove left to right) Don Courtade, John Dauenhauer, Bill Murray, George Fried, Don Sixkiller, Roy Mark, and Melvin Navo. Drummer Bill Murray led the band for 47 years before retiring in 2007 when Maurice Trosclair took the reins. Band members, through the years included Eddie Freche Jr., Danny Hebert, Eddie "Gypsy Woman" Powers, "Good-Rockin" Ronnie Lamarque, Tony Manale, Jerry Stalcup, Billy Haden, Maurice Trosclair, Ray Genovese, Steve Bacharach, Randy Hebert, Mike Wibel, Don de la Houssaye, Allan Linker Jr., Barklay Emmons, Bobby Ohler, and Bert Cotton. Below is a 2012 photograph. (Courtesy of the City of Slidell.) #083 llm
Z.Z.Top and Wishbone Ash played at A Warehouse on June 16, 1972.
Alonzo "Lonnie" Johnson, born New Orleans on February 8, 1899, was a blues and jazzsinger/guitarist, violinist and songwriter who pioneered the role of jazz guitar and jazz violin, and is recognized as the first to play an electrically-amplified violin He died on June 16, 1970. (WIKI)

Desirée Glapion Rogers (born June 16, 1959, in New Orleans, Louisiana) is an American business executive who is the Chief Executive Officer of Johnson Publishing Company. In November 2008 she was selected by Barack Obama's office as the White House Social Secretary for the incoming administration, the first person of African-American descent to serve in this function. (WIKI)
Emmett Louis Hardy, born on June 12, 1903 in Gretna, was an early jazzcornet player and one of the best-regarded New Orleans musicians of his generation. Hardy died in New Orleans on June 16, 1925 shortly after his 22nd birthday and was buried in Gretna. (WIKI)

The United States Court of Appeals for the Fifth Circuit was created by the Evarts Act on June 16, 1891, which moved the circuit judges and appellate jurisdiction from the Circuit Courts of the Fifth Circuit to this court. At the time of its creation, the Fifth Circuit covered Florida, Georgia, Alabama, Mississippi, Louisiana, and Texas. (WIKI)
According to http://en.wikipedia.org/wiki/Christophe_Dominick_Duminy_de_Glapion:Christophe Dominick Duminy de Glapion, also known as "Louis Christope Dominick Duminy de Glapion," (Date of birth unknown - c.1855)) was the plaçage husband of the famed Louisiana Voodoo Queen, Marie Laveau. He was a white man of noble French descent. They began their relationship sometime before 1826, after the death of LaVeau's first, legal husband, Jacques Paris, who disappeared (and was presumed dead) not long after their marriage. de Glapion fathered seven children with LaVeau, but only two of these, Marie Heloïse Euchariste Glapion (born in 1827) and Marie Philomène Glapion (born in 1836) survived into adulthood. The youngest became Laveau's successor, the also-famed Marie LaVeau ll. He died on June 16, 1881, at the age of 86.
A letter dated June 16, 1804 from Governor William C. C. Claiborne transmitted a letter from Dr. Watkins announcing the small pox epidemic in the city.(NOPL)
On June 16, 1780, the citizens of the town of Gentilly versus Don Gabriel Peyroux de la Roche Malive. Re: Repairs to roads. - Sentence was imposed on Peyroux, who appealed to the Cabildo. Three Commissioners were appointed to sit with the trial judge and pass final judgement. (NOPL)
Judah Touro, born on June 16, 1775 in (Newport, Rhode Island, was an American businessman and philanthropist. In New Orleans, he used his business profits to buy and endow a cemetery, and to build a synagogue, an almshouse and an infirmary for sailors suffering from yellow fever, as well as a Unitarian church for a minister named Mr.Theodore Clapp whom he greatly admired. The infirmary became the largest free hospital in Louisiana, the Touro Infirmary. He was a major contributor to many Christian charities in New Orleans, as well as to such varied causes as the American Revolutionary War monument at Bunker Hill, and the relief of victims of a large fire in Mobile, Alabama. In a New Orleans fund-raising drive for Christians suffering persecution in Jerusalem, he gave ten times more than any other donor. One profile of Touro particularly praised his willingness to give both to Jewish and non-Jewish religious causes: "An admirable trait evinced, was the unsectarian distribution of charity, while the donor ever continued a strict adherent to the principles of his faith." His $20,000 donation to The Jews' Hospital in New York City (now Mount Sinai Hospital) led to its opening in 1855. He died on January 19, 1854 in New Orleans. (WIKI)