---

WPA Recreation Training Center
August 19, 1941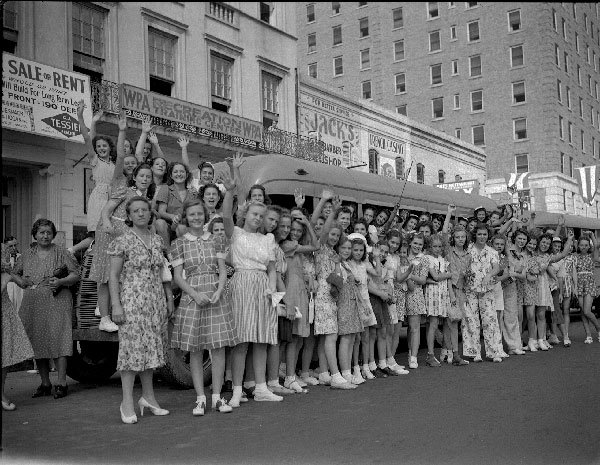 WPA photo from the New Orleans Public Library
In 1936, seventeen publicly supported playgrounds were open under the direction of the New Orleans Playground Commission managed by Lawrence diBenedetto. By the time this photo, capturing a group of young girls from public playgrounds just before departing to Camp Bena Lea near Covington on August 19, 1941, 107 playgrounds and recreation centers served New Orleanians. Adult playground workers were trained here at the WPA Recreation Training Center at 1420 Canal Street.
The phenomenal growth in the number of playgrounds, as well as the quality of services offered, was spurred by men and women of the Council of Social Agencies office who organized a Citizens Recreation Committee led by C. Ellis Henican. Their efforts resulted in 21 additional playgrounds at public and parochial schools which provided use of their grounds, WPA pledged training services, Mayor Robert Maestri's promise of city funding of $1500 per playground for equipment, and Kawanis Club pledges of $150 for each new playground.
With additional help from the WPA, led by State Director of Recreation Projects John A. Zimmerman, the Canal Street training center offered initial training as well as ongoing four-hour-per-week instruction to playground workers. This was the only recreational training center in the U.S. to work in affiliation with a university (LSU) to provide instruction while also offering two physical education college credit hours per semester. By 1939, 132 recreational units were developed: nine under the direction of the New Orleans Playground Commission; three under the supervision of Kingsley House, St. Mark's Community Center, and the Orleans Community Center; WPA supervised programs at 38 public schools, 19 parochial schools, and four public and parochial high schools; 13 under the direction of the New Orleans Playground Commission; 21 community centers at individual houses or vacant lots; 10 American Legion run WPA B-League groups, and 15 CYO (Catholic Youth Organization) units playing at night under lighting.
According to a July 16, 1939 Times-Picayune article, "Activities in these playgrounds vary with the locality and the personality of the youngsters". Some focused on dramatic productions, some on music, others on crafts. Sports, including baseball and volleyball, as well as checkers, ping-pong, shuffleboard, horseshoes, paddle tennis, and darts were offered. Zimmerman's approach to expanding playground presence in the city was primarily to locate schools and acquire principal's permission to set up a playground and then ask school mothers' clubs to raise funds for equipment. For example, St. Stephen's church on Soniat Street owned an empty square which was intended for future use as a burial ground. Permission was attained from the pastor for its use for ten years. The WPA leveled the ground and organized a group of "negroes" to raise money for equipment. This system was proven successful in neighborhoods which could support and fund playgrounds for their communities but was woefully inadequate in poor areas where residents could not provide support.
---



---
On August 19, 1993, four Greenpeace activists were successful in hanging a banner from the World's Fair gondola aerial transport system that stated "Break the circle of poison" in protesting the shipment of toxic pesticides through the Port of New Orleans.
On Friday, August 19, 1977, Michael Azzarello and Catherine Campanella were married at Mater Dolorosa church on Carrollton Avenue. A reception followed at Galler Hall. A good time was had by all. Mike and Cathy are still happily married, blessed now with children and grandchildren.
On August 19, 1971, the Hermann-Grima House at 818-820 St. Louis St. was listed on the National Register of Historic Places.
On
August 19, 1969
, during Hurricane Camille, winds gusted to 125 miles per hour (201 km/h) at Slidell as the pressure sank to 28.75 inches of mercury (974 hPa) . Almost total destruction was seen from Venice to Buras. Ostrica Lock measured a storm surge of 16 feet. Water overwashed U.S. Highway 90 to a depth of 10 feet (3.0 m). The highest rainfall report from the state was 5.23 inches (133 mm) from Slidell. Camille caused about $322 million (1969 dollars) of damage in Louisiana.
See also August 17
.
On August 17, 1963, local radio commentator William Stuckey from WDSU visited Lee Harvey Oswald and asked him to appear on the program Latin Listening Post. Oswald arrived at the station at 5:00 PM and taped a 37-minute segment, which was cut to 4 and a half minutes and broadcast at 7:30 that evening. Stuckey also invited him to take part in a radio debate with Carlos Bringuier and Bringuier's associate Edward Butler, head of the right-wing Information Council of the Americas (INCA). On August 19, 1963, Oswald accepted Stuckey's offer to debate Bringuier and Butler on live radio.
On August 19, 1962, the acting Archbishop of New Orleans, Joseph F. Rummel, dedicated Archbishop Shaw High School to former Archbishop of New Orleans John W. Shaw's memory and service in the community. The school was named after John W. Shaw, who was appointed Archbishop of New Orleans in 1918, due to his interest in the development of the Catholic community of the West Bank. Shaw was Archbishop from 1918 -- 1934. Under his leadership, 29 schools and 33 churches were established. In 1924, Archbishop Shaw appointed the first pastor of Immaculate Conception Parish in Marrero. Six years later, he dedicated the buildings for Hope Haven Institute, an orphanage and foster home. On that same property, a school in Archbishop Shaw's name opened 32 years later. (Wiki)
Former National Football League kicker and All American at Michigan State University, Morten Andersen was born on August 19, 1960 in Copenhagen, Denmark, Nicknamed "The Great Dane", he is the all-time leading scorer in NFL history, as well as being the all-time leading scorer for two different rival teams; the New Orleans Saints, with whom he spent 13 seasons, and the Atlanta Falcons, with whom he spent a combined eight seasons. Anderson retired from football on December 8, 2008. (Wiki)
Sportscaster and retired Saints quarterback Bobby Joseph Hebert Jr. was born in Cut Off, Louisiana on August 19, 1960. He played professionally in the USFL and NFL from 1983 to 1996 for the Michigan Panthers, Oakland Invaders, New Orleans Saints, and Atlanta Falcons. Nicknamed the "Cajun Cannon", Hebert led the Panthers to the USFL championship in the league's inaugural season. Later he helped bring the Saints their first playoff appearance in franchise history. Hebert was inducted to the Saints Hall of Fame in 1999 and the Louisiana Sports Hall of Fame in 2000. (Wiki)
Musician, singer, and songwriter Ivan Neville was born in New Orleans on August 19, 1959. He is the son of Aaron Neville and nephew to members of The Neville Brothers.
Several photos of Tulane University on August 19, 1950.
Aristides Agramonte y Simoni was a Cuban American physician, pathologist and bacteriologist with expertise in tropical medicine. He served on the Yellow Fever Commission, a U.S. Army Commission led by Walter Reed which examined the transmission of yellow fever. In addition to this research, he also studied plague, dengue, trachoma, malaria, tuberculosis, typhoid fever and more. After serving on the Yellow Fever Commission, he served as a professor at the University of Havana as well as many government positions. He died in New Orleans on August 19, 1931. (Wiki)

New Orleanian and World War I veteran Robert Edward Lee Oswald died of a heart attack on August 19, 1939, two months prior to the birth of his son Lee Harvey Oswald.
Aside from wide-open illegal gambling in the 1920s, Metairie was relatively crime free but some ladies were upset by the actions of some visitors as described in an August 19, 1927 article which read "Plans were discussed, to rid the streets and roads of the city of Metairie of the numerous petting parties of young men and women of New Orleans who are using these dimly lighted places as parking grounds, at a meeting of the Women's Civic Auxiliary of Metairie Thursday night at the home of Mrs. G. L. Sheen, Friedrichs Avenue". We ring in the roaring 20s in this chapter which meanders to the late 1950s, when even newer subdivisions, businesses, schools, churches, and gambling houses were born. (llm)
Civic and cultural leader Elsie Elizabeth McLundie "Peggy," Bolton was born in Chattanooga on
August 19, 1917
.
See March 22
.
Jazz double-bassist Albert Morgan was born in New Orleans on August 19, 1908. His film appearances include a feature on "Reefer Man" with the Calloway band in International House (1933), with Louis Armstrong in Going Places (1938), and in The Gene Krupa Story (1959). (Wiki)

August 19-20, 1812
: A hurricane struck just west of New Orleans. At 5 PM on the 19th, winds began out of the northeast in New Orleans. Winds increased to a "perfect hurricane" at 11 PM. Winds abated after 2:30 PM the next day. Nearly all buildings suffered. All window panes in City Hall were broken. Fifteen feet of water covered the city. Extensive damage to buildings, trees, and 53 boats was seen. The levee was destroyed, which allowed the storm surge to submerge areas south of the city. Plaquemines Parish went under as much as 15 feet of Gulf water. Sugar crops suffered severely. Nearly 100 people died during the storm. Losses totaled $6 million. Some public panic set in when after the storm rumors spread that the British had taken over Fort St. Phillip; this storm struck during the thick of the War of 1812 and the fort was controlled by the Americans at the time. In fact, the British fleet approaching the area was scattered widely across the Gulf during the storm. Fort St. Phillip itself went underwater. See article by Dr. Cary Mock entitled
Geographer Recreates The Great Hurricane of 1812 in Science Daily, 5 Feb. 2011
for additional information and a chart of the path of the hurricane.(NOAA)
The 180 ton French ship Beaumont left Nantes, France on June 11, 1785 under the command of Captain Daniel. It transported 178 Acadians to New Orleans, arriving August 19, 1785. (Wiki)