December 20


---

Santa Visits the WPA Recreation Center
1420 Canal Street
December 20, 1938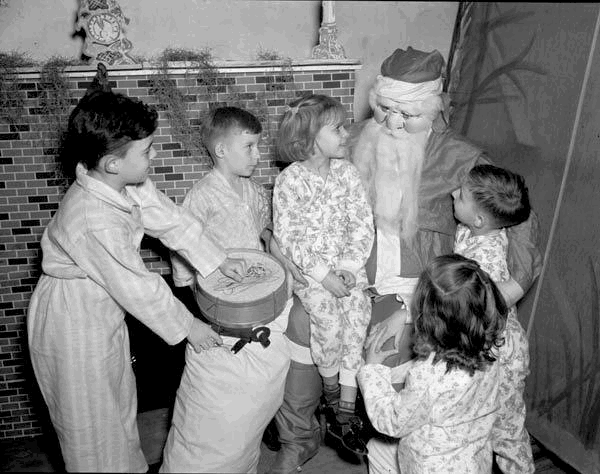 Santa Claus visits the WPA Recreation Center headquarters at 1420 Canal Street on December 20, 1938. Photo from the New Orleans Public Library.
---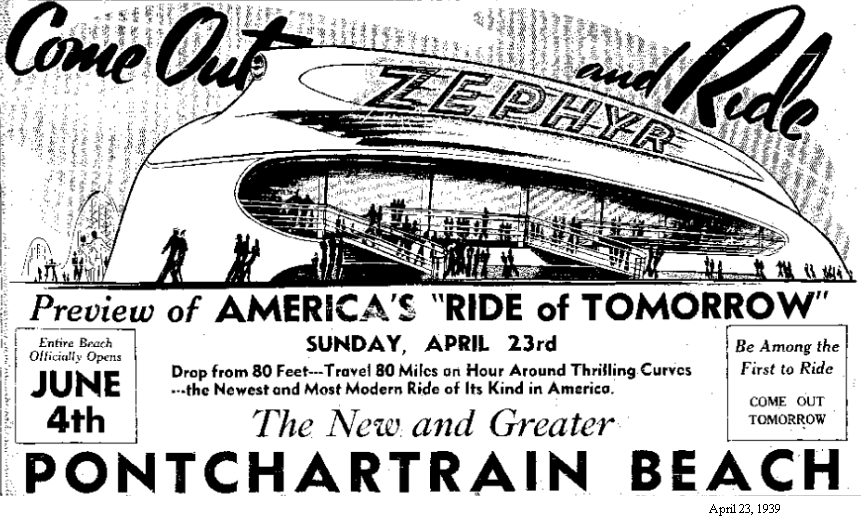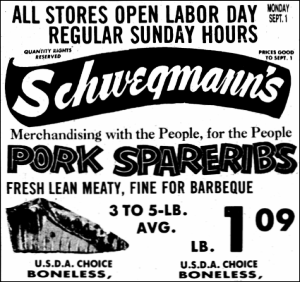 ---
Photo - James E. Fitzmorris receives Marine Corps Certificate of Appreciation from an unidentified officer, December 20, 1957. Photograph by TSgt. Edward R. Wojciechowski, 8th Marine Corps Reserve and Recruitment District.
On December 20, 1957, a month before filming of King Creole was due to begin, Elvis Presley received his draft notice. Presley and Paramount had to request special permission to defer Presley's enlistment to allow him to finish the film. Both pointed out to the draft board that a delay in filming would cost them a large sum of money invested in the pre-production of the film. On December 27, Presley received a 60-day deferment, (Wiki)
Photo - The Rex-Comus parade passing the reviewing stand in front of Jackson Square
, October 17, 1953. According to the official program of the sesquicentennial celebration this was "the first occasion in history in which the Krewes of Rex and Comus have paraded other than on Mardi Gras Day." Shown here is the final float in the parade, titled "Transfer of the Louisiana Territory,
December 20, 1803
." Photograph by Bessie Walker Callaway.
On December 20, 1945 Philip P. Cazale submitted plans for a cellar addition to plant number 4 of the Falstaff Brewery at 2600 Gravier Street.
Photo - Poland Street at St. Claude Avenue while paving work is underway on December 20, 1936.
Photo - St. Roch Avenue at Galvez Street before the WPA hardsurfaced St. Roch Avenue. December 20, 1936.
The city of New Orleans' Louisiana Purchase centennial was celebrated with great pomp and circumstance from December 18 to December 20, 1903. The festivities included an international Naval review on the River; a historical ball and a gala performance (with allegorical tableaux as a finale) at the French Opera House; receptions for dignitaries given by the Mayor and the City Council; speeches, proclamations and military reviews at the Cabildo; and a "grand pontifical mass" at St. Louis Cathedral. It must have been quite a weekend. (NOPL)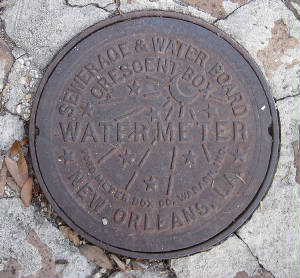 Who Makes Our Water Meter Covers?
The Ford Meter Box Company is a prominent manufacturer of products for the waterworks industry. Ford is headquartered in Wabash, Indiana, where it also operates a brass foundry. Products manufactured there include water meter setting materials, valves, couplings, meter boxes, and other fittings for the waterworks industry. Ford also has a manufacturing plant in Pell City, Alabama, where they manufacture pipe products such as pipe tapping sleeves, repair clamps, and pipe restraints. Ford sells their products in North America as well as worldwide, through a network of distributors.
Ford Meter Box was founded by Edwin Ford, who invented the meter box, applied for his patent on December 20, 1898. The meter box was invented as a place to install water meters outside of homes that did not have basements. Ford's early experimentation found that meters could be installed in pits, so that they would be protected from freezing. Along with meter boxes, Ford also began manufacturing meter setting products to put in the meter boxes. Ford later expanded their product lines to other materials for the water distribution industry. The company is still a privately held company with ownership partially held by descendants of the founder. From http://en.wikipedia.org/wiki/The_Ford_Meter_Box_Company

On Saturday, April 30, 1803, the Louisiana Purchase Treaty was signed by Robert Livingston, James Monroe, and Barbé Marbois in Paris. Jefferson announced the treaty to the American people on July 4. After the signing of the Louisiana Purchase agreement in 1803, Livingston made this famous statement, "We have lived long, but this is the noblest work of our whole lives...From this day the United States take their place among the powers of the first rank." The United States Senate ratified the treaty with a vote of twenty-four to seven on October 20. The Senators who voted against the treaty were: Simeon Olcott and William Plumer of New Hampshire, William Wells and Samuel White of Delaware, James Hillhouse and Uriah Tracy of Connecticut, and Timothy Pickering of Massachusetts. On the following day, the Senate authorized President Jefferson to take possession of the territory and establish a temporary military government. In legislation enacted on October 31, Congress made temporary provisions for local civil government to continue as it had under French and Spanish rule and authorized the President to use military forces to maintain order. Plans were also set forth for several missions to explore and chart the territory, the most famous being the Lewis and Clark Expedition. France turned New Orleans over on December 20, 1803 at The Cabildo. On March 10, 1804, a formal ceremony was conducted in St. Louis to transfer ownership of the territory from France to the United States. Effective on October 1, 1804, the purchased territory was organized into the Territory of Orleans (most of which became the state of Louisiana) and the District of Louisiana, which was temporarily under the control of the governor and judges of the Indiana Territory. (Wiki)
The first recorded use of fireworks in New Orleans was early in the 19th century. On December 20, 1803, the American flag flew over Louisiana for the first time. On that auspicious day, 27 years after independence was achieved, locals became Americans. Being the fun-loving people they were, they celebrated with military parades, fire drills by the militia, and thunderous salutes by the artillery, not to mention numerous parties, balls and general jollification evoked by the day's excitement. The evening ended with-what else? – a loud, colorful, magnetizing fireworks display. Source: Buddy Stall at http://clarionherald.org/19991028/stall.htm