---

Hurricane Camille
August 17, 1969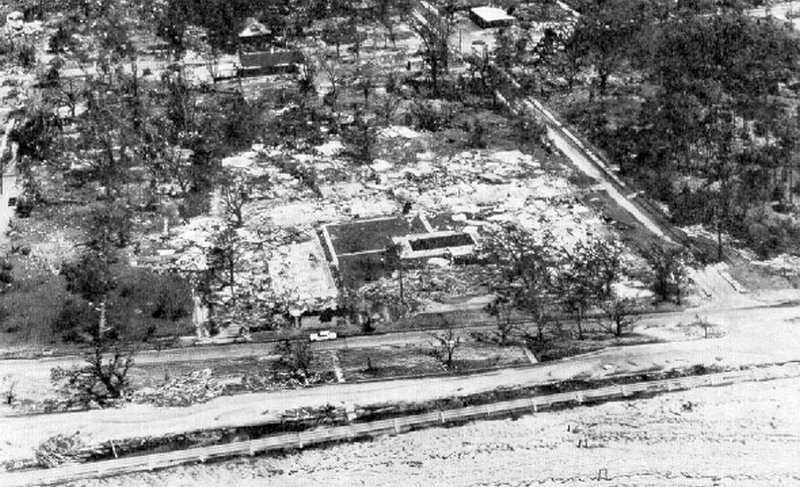 Photo from NOAA

Hurricane Camille was the third and strongest tropical cyclone and second hurricane during the 1969 Atlantic hurricane season. It was the second of three catastrophic Category 5 hurricanes to make landfall in the United States during the 20th century (the others being 1935's Labor Day hurricane and 1992's Hurricane Andrew), which it did near the mouth of the Mississippi River on the night of August 17. Estimates put sustained winds around 175 miles per hour but the true speed will never be known since the weather equipment was destroyed at landfall. By central pressure and winds, Camille was the second strongest U.S. landfalling hurricane in recorded history, second only to the Labor Day Hurricane in 1935. It was also the first modern Category 5 hurricane to ever receive a person's name when making landfall in the United States. In total, Camille killed 259 people and caused $1.42 billion (1969 USD, $9.13 billion 2014 USD) in damages. To this day, a complete understanding of the reasons for the system's power, extremely rapid intensification over open water and strength at landfall has not been achieved.
After passing very near southeastern Louisiana, Hurricane Camille made landfall early on August 18 in Waveland, Mississippi. Maximum wind speeds near the coastline were estimated to have been about 175 mph (282 km/h) with a pressure of 900 mbar. Making landfall in Waveland, Mississippi, as a Category 5 hurricane, Camille caused damage and destruction across much of the Gulf Coast of the United States. Because it moved quickly through the region, Hurricane Camille dropped only moderate precipitation in most areas. Areas in and around Pass Christian, its point of landfall, reported from 7 to 10 inches (180 to 250 mm). The area of total destruction in Harrison County, Mississippi was 68 square miles (180 km2). The total estimated cost of damage was $1.42 billion (1969 USD, $9.13 billion 2014 USD). This made Camille the second-most expensive hurricane in the United States, up to that point (behind Hurricane Betsy). The storm directly killed 143 people along Alabama, Mississippi, and Louisiana. An additional 153 people perished as a result of catastrophic flooding in Nelson County, Virginia and other areas nearby. In all, 8,931 people were injured, 5,662 homes were destroyed, and 13,915 homes experienced major damage, with many of the fatalities being coastal residents who had refused to evacuate.
The pressure fell to 27.80 inches of mercury (941 hPa) at Garden Island. Winds gusted to 125 miles per hour (201 km/h) at Slidell as their pressure sank to 28.75 inches of mercury (974 hPa) on August 19. Almost total destruction was seen from Venice to Buras. Ostrica Lock measured a storm surge of 16 feet (4.9 m). Water overwashed U.S. Highway 90 to a depth of 10 feet (3.0 m). The highest rainfall report from the state was 5.23 inches (133 mm) from Slidell. Camille caused about $322 million (1969 dollars) of damage in Louisiana.
In Mississippi, Camille was significantly worse than Hurricane Betsy and a September 1947 hurricane. Electricity went out during Camille's approach to the Mississippi coastline. United States Highway 90 flooded as a large storm surge overtopped seawalls, leaving a barge along the highway in Gulfport. Fires consumed coastal communities, with the exceptions of Bay St. Louis and Waveland. Camille destroyed the antebellum Trinity Episcopal church in Pass Christian, taking 15 lives. The Dixie White House, where President Woodrow Wilson and his family once stayed, was badly damaged. In Biloxi, Mississippi, the storm surge reached the second floor of the structure. The highest rainfall total recorded was 10.06 inches (256 mm) at the Mississippi Test Facility. Mississippi received the worst of the damage. Upon making landfall, Camille produced a 24 feet (7.3 m) storm surge. Along Mississippi's entire shore and for some three to four blocks inland, the destruction was nearly complete. The worst hit areas were Clermont Harbor, Lakeshore, Waveland, Bay St. Louis, Pass Christian, Long Beach, and the beach front of Gulfport, Mississippi City, and Biloxi. One of Frank Lloyd Wright's waterfront houses for W. L. Fuller, in Pass Christian, was completely destroyed.
More than 11 inches (280 mm) of rain occurred in Hancock County, and most low-lying areas were flooded with up to 15 feet (4.6 m) of water. U.S. Highway 90, which is close to the shore, was broken up in many areas, and sand and debris blocked much of it. Totals say that 3,800 homes and businesses were completely destroyed. As Camille came ashore, it passed over Ship Island, off the coast of Mississippi; Camille's strong storm surge and torrential rains literally split the island in two: the body of water between West Ship Island and East Ship Island is now called "Camille's Cut". Camille had significant ecological effects in the Gulf Coast region. A barrier island chain off the coast of Mississippi and 70% of Dauphin Island were completely inundated by the storm's surge. Camille caused about $950 million (1969 dollars) of damage in Mississippi.
One persistent account about Camille states that a hurricane party was held on the third floor of the Richelieu Manor Apartments (pictured above) in Pass Christian, Mississippi, in the path of the eyewall as it made landfall. The high storm surge flooded and destroyed the building, and there was only one survivor to tell of the story of the others, according to this account. The building was completely demolished by the storm. Twenty-three people are known to have stayed in the Richelieu Apartments during the hurricane, of whom eight died. The tale of the lone survivor and the party appears to have originated with survivor Mary Ann Gerlach. However, other survivors, including Ben Duckworth and Richard Keller, have expressed irritation at the story. "The hurricane party never happened, nor was the number of deaths associated with the apartment inhabitants accurate," says Patrick J. Fitzpatrick, Mississippi State University professor and author of
Natural Disasters: Hurricanes: A Reference Handbook (Contemporary World Issues)
. The site of the Richeliu Apartments, the corner of Henderson Ave and US90 in Pass Christian, later became a shopping center. It was destroyed by Hurricane Katrina. (Wiki)
---



---
WLPN-LP was a low-power television station in New Orleans, Louisiana, broadcasting locally on UHF channel 61 was founded on November 14, 1986. In 1989, the station affiliated with Channel America. The station's license was cancelled on August 17, 2010.
BRISTOW, Gwen, historical novelist, journalist. Born, Marion, S. C., September 16, 1903; daughter of Louis Judson and Caroline Cornelia Winkler Bristow. Education: Judson College in Alabama; Pulitzer School of Journalism, Columbia University. Reporter for the New Orleans Times-Picayune. Wrote poems and short stories from an early age (her first published work was at age twelve). Married Bruce Manning, a journalist, in 1929. Together they wrote four detective novels: The Invisible Host (1930), The Gutenberg Murders (1931), The Mardi Gras Murders (1932), and Two and Two Make Twenty-Two (1932). Removed to Hollywood, 1934, where her husband became a screenwriter. She began to write historical fiction, producing the Plantation Trilogy (1937-1940). In these three novels, Deep Summer (1937), The Handsome Road (1938), and This Side of Glory (1940), meticulous research provides the realistic setting and events involving several generations of the fictional families she created. From the early settlement of the southern Mississippi Valley, through the Civil War, and up to the 1920s the author delineates characters from all classes, Indians, whites and blacks. The trilogy is her most significant achievement. She wrote other entertaining novels with historical settings: Jubilee Trail (1950), Celia Garth (1959), and Calico Palace (1970). A World War II novel, Tomorrow Is Forever (1943), was made into a movie in 1946. Other writings include: The Alien and Other Poems (1926) and Gwen Bristow: A Self-Portrait (1940). Making their home in California, the Mannings returned to New Orleans often. She died in California, August 17, 1980; interred Garden of Memories, New Orleans. D.H.B. Sources: Contemporary Authors; H. R. Warfel, American Novelists of Today (1951); Current Biography (1940); American Women Writers, Vol. I (1979). From http://lahistory.org/site19.php
On August 16, 1963, Lee Harvey Oswald passed out Fair Play for Cuba leaflets with two hired helpers in front of the International Trade Mart. The incident was filmed by WDSU—the local TV station. The following day, August 17, radio commentator William Stuckey from station WDSU visited him and asked him to appear on the program Latin Listening Post. Oswald arrived at the station at 5:00 PM and taped a 37-minute segment, which was cut to 4 and a half minutes and broadcast at 7:30 that evening. Stuckey also invited Osward to take part in a radio debate with Carlos Bringuier and Bringuier's associate Edward Butler, head of the right-wing Information Council of the Americas (INCA).
---
Pontchartrain Railroad/Smokey Mary Schedule
Saturday, August 17, 1844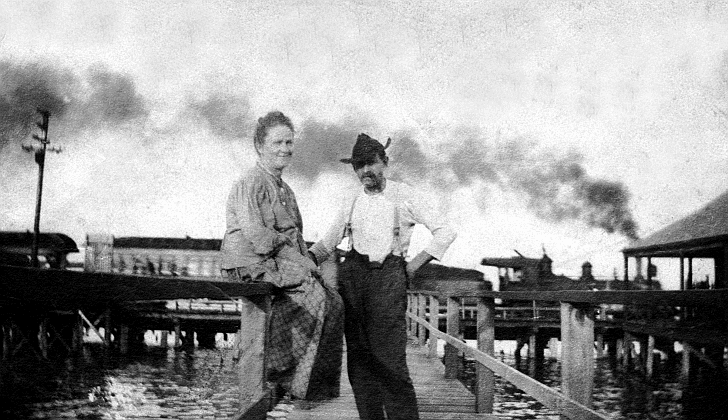 Theresa Gallagher and her second husband Conrad Freese pose on the front walk of a camp in Milneburg c. 1880 - 1890.
The Pontchartrain Railroad's "Smokey Mary" can be seen in the background. (Photo courtesy of Henry Harmison.)
The Pontchartrain Rail-Road was an early railway, chartered in 1830, which began transporting people and goods between the Mississippi River front and Lake Pontchartrain on April 23, 1831, and closed more than 100 years later. The 5-mile long line on Elysian Fields Avenue connected the Faubourg Marigny along the riverfront with the town of Milneburg on the Lakefront. When built, the majority of the route ran through farmland, woods, and swamp. Meetings discussing building a railway began in 1828. The Pontchartrain Rail-Road was chartered on January 20, 1830. The right-of-way was approved by the New Orleans City Council on March 15, and construction began immediately, with a pair of parallel railroad tracks. Through swampland, up to 4 feet of fill was needed to create a sufficient road bed. A 150 foot wide bed was constructed along the entire route, with the rail line laid with red cypress timbers and English rolled iron rails. Construction of the line was completed on April 14, 1831, and it officially opened on April 23rd, with horse drawn railway carriages. The first steam locomotive, "the Shields", was built by John Shields and arrived from Cincinnatti by steamer on June 15, 1832. This first locomotive proved unreliable; the company even tried using sails to help propell the train. A second locomotive "the Pontchartrain" built by Rothwell, Hicks, and Rothwell arrived in September, was tested on September 6. It proved better, allowing the line to advertise regular steam service of 7 round trips per day (9 on Sundays) starting on September 27, 1832. "The Shields" was cannibalized, the boiler used to run equipment at the railroad's machine shop. "The Pontchartrain" as well as succeeding locomotives became known as the famous and beloved "Smokey Mary". It was comprised of an "engine car" (with the power of 24 horses) and 12 passenger/cargo cars.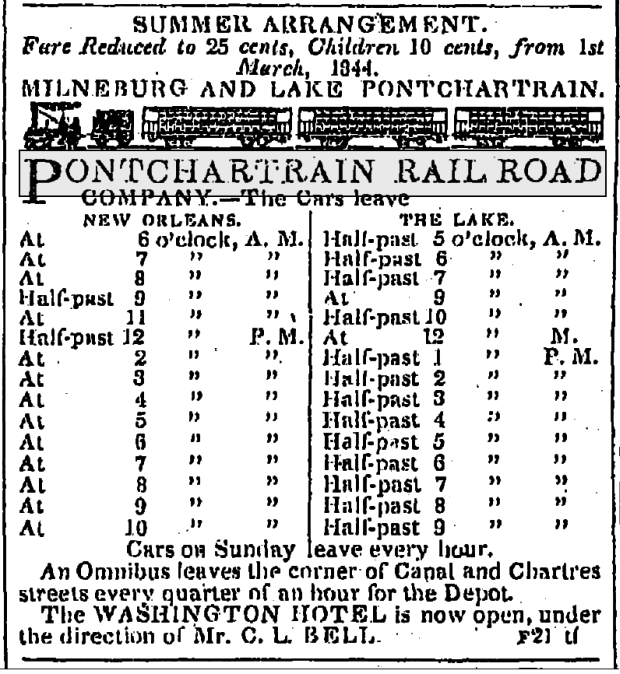 Saturday, August 17, 1844 Schedule
"When put to the test, Smoky Mary could, amidst great puffing and blowing and much expulsion of smoke and cinders, attain the remarkable speed of ten miles an hour. Passengers usually emerged with clothes blackened and eyes and throat stuffed with cinders" from [GumboYa-Ya]. The line was the first in the world to include a freight landing platform. Milneburg had no jail but the train had a prison car -- rowdies were loaded throughout the day and night into the car which was hooked to the train for its last run of the night to transport the captives to Parish Prison in the city. Passenger service on the Pontchartrain Railroad, one of the nation's oldest lines, ended after a century of servic on March 15, 1932, when Smokey Mary made a final trip from Milneburg -- three coaches packed with riders led by John A. Galivan, engineer during a third ( 32 years) of the railroad's history.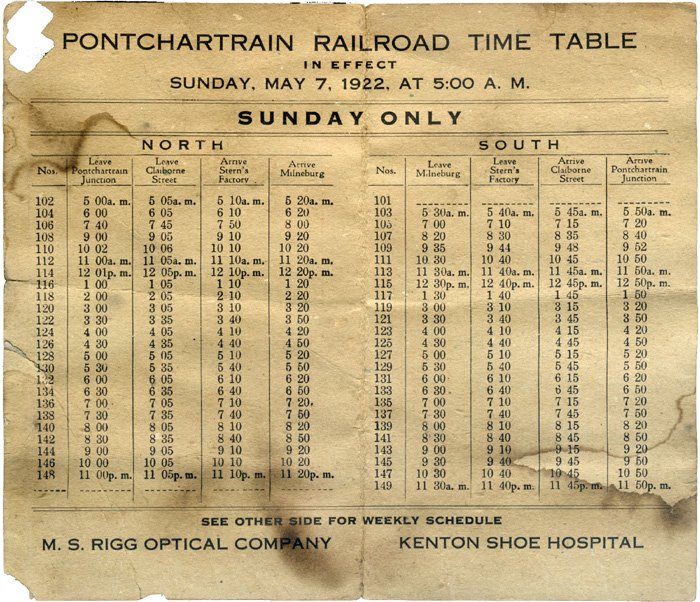 A 1922 Pontchartrain Railroad Schedule

---
The 1831 Barbados hurricane turned to the northwest, where it made landfall near Last Island, Louisiana as a Category 3 hurricane on August 17. There it flooded parts of New Orleans from its 7-to-10-foot (2.1 to 3.0 m) storm surge in Lake Pontchartrain and also causing hail. The back part of the city of New Orleans was completely inundated. It was simultaneously felt at Pensacola, Florida and Mobile, Alabama, and extended to Natchez, Mississippi 300 miles (480 km) up the Mississippi river. Its duration was six days from the time it commenced in Barbados and its course cycloidal; the distance passed over by the storm from Barbados to New Orleans is 2,100 nautical miles (3,900 km), and the average rate of its progress fourteen miles per hour.
On August 17 and 18, 1779, a hurricane made landfall at New Orleans. At the time, Spain had declared war on Great Britain. Almost all of Bernardo de Galvez' ships (Governor of New Orleans) that were to be used to secretly seize the British post at Baton Rouge were grounded or destroyed, thus ruining his plans for invasion until the 27th. The only ship that escaped disaster was El Volante. Among the ships wrecked was the America La Reseda. Some of the ships were found in the middle of woods after the storm! Wind and rain began on the night of the 17th. Full violence of the storm was attained by 3 am. All houses, piroughs, barges, and boats were decimated; these included an American Frigate, the Morris. This vessel was loaded with gunpowder to be used in the American Revolution against the British in Illinois (Barnes). Fields were leveled and all crops, stock, and provisions were lost. During this storm, William Dunbar made observations that uncovered the true nature of tropical storms and hurricanes; that they had a progressive forward movement and that the winds revolved around a vortex at the center. He witnessed the 5-6 minute calm at New Orleans, before the wind reversed and equaled its previous fury (Sullivan). His findings were presented to the American Philosophical Society in 1801. (From NWS)
Pierre Belly (August 17, 1738 – June 17, 1814) was a Louisiana planter, lawyer and judge. Originally a native of France, Belly arrived in Louisiana in 1774. Pierre had an extensive and successful military career serving as an officer with the Spanish colonial militia and participated in the Galvez expedition against the British in 1779. Pierre retired from the militia in 1792, but returned to duty in 1814 joining a company of men from Iberville in the defense of New Orleans during the War of 1812. The 8th Regiment under the command of Colonel Nathan Meriam was responsible for digging and improving the second line of defense of New Orleans. (WIKI)