---

Drive-In Theaters of the Greater New Oreans Area
September 3, 1966
(Times-Picayune advertisement)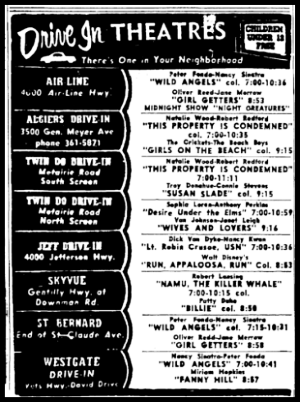 During the summer of '66, New Orleanians could visit any of eight drive-in theaters in the area. The Skyvue (Gentilly Highway at Downman Road) and the St. Bernard (at the "End of St. Claude Ave.) which were showing "Namu, the Killer Whale" followed by "Billie" (starring Patty Duke) and "Wild Angels" (starring Peter Fonda and Nancy Sinatra) followed by "Girl Getters" on this day in 1966.
In Algiers, on General Meyer Avenue, its namesake drive-in offered Natalie Wood and a young Robert Redford in "This Property is Condemned" the the Crickets and the Beachboys in "Girls on the Beach".
In Metairie at the Twin Do Drive-In on old Metairie Road, "This Property is Condemned" was also running along with "Susan Slade" starring Troy Donahue and Connie Stevens on the south screen. The north screen featured "Desire Under the Elms" with Sophia Loren and Anthony Perkins as well as "Wives and Lovers" with Van Johnson and Janet Leigh. Near the Kenner city line on Veterans Highway near David Drive the Westgate Drive-In was also showing "Wild Angels" as well as "Fannie Hill" starring Miriam Hopkins. Also in Metairie was the Airline Drive-In at 4000 Airline Highway which also featured "Wild Angels" as well as "Girl Getters" and a midnight showing of "Night Creatures".
The Jeff, at 4000 Jefferson Highway offered Dick Van Dyke in "Lt. Robin Crusoe, USN" and Walt Disney's "Run, Appaloosa, Run".
.
The old Airline Drive-in is now a Sam's Club. Apartments fill the former Jeff location. A strip shopping center took the place of the Algiers. The Do is now De Limon condominiums. The Skyvue became townhouses. The St. Bernard in Arabie closed in 1982. And the Westgate is also a shopping center.
---



---
---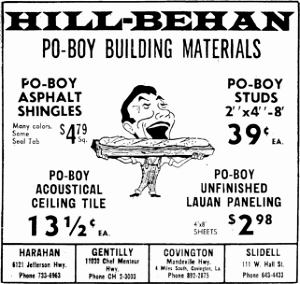 In 2001, after 89 years in business, Hill-Behan Lumber Company shut down its last 11 stores and closed due to "changing ecomomics in our business". Organized in 1912 by Archibald M. Hill and William L. Behan in St. Louis, it grew to become a prominent retailer of lumber and building materials with locations in four states -- Missouri, Illinois, Mississippi, and Louisiana. It remained in the Behan family until the end.
William Behan Jr. began his career in 1933 by joining his father in business and began operations in the New Orleans market in 1953 with its first location on Jefferson Highway serving area home builders and homeowners. William L. Behan Jr., died at his home in St. Louis, Missouri on Oct. 13, 2006 at the age of 92. He was a member of the New Orleans Country Club and The Boston Club.
This advertisement was included in the September 3, 1966 edition of the Times-Picayune.
---
On September 3, 1966 the first school zone flashing caution lights in the city were lit on South Carrollton Avenue, between Belfast and Apple Streets, for Lafayette School. Mayor Victor Schiro, City Traffic Engineer John Exncios, Superintendant of Parochial Schooks Monsegnior Henry C. Bezou, and Jack Pizzao, who represented Dr. Carl Dolce, Superintendant of Schools for Orleans Parish particpated in an installation ceremony which began at 9:30 a.m. The mayor said, "It is felt that these devices will prove a real safety factor in those school sones located on high-volume major boulevards [and streets]". The Carrollton Avenue lights were to be the first of 40 others planned throughout the city.
---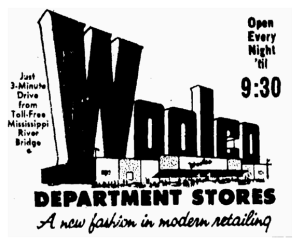 Woolco, a full-line discount department store company, was founded in 1962 in Columbus, Ohio by the F.W. Woolworth Company. The first Woolco store was located in Columbus.
By 1966, there were 18 in the United States and nine in Canada with corporate plans to open 30 more stores per year. By the mid-1970s, over 300 Woolco stores were in business across North America. Many locations contained Red Grille restaurants selling popcorn, milkshakes, and other fast-food items.
The American stores were closed in 1982. The remaining Canadian stores were sold to rival Walmart in 1994.
This advertisement for the Westbank location ran in the September 3, 1966 edition of the Times-Picayune.
---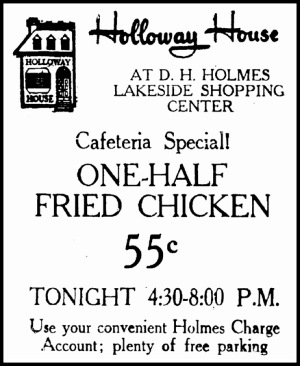 Advertisement of the D.H. Holmes department store's Holloway House at Lakeside Shopping Center in the
September 3, 1966
edition of the Times-Picayune.
---
Agnes Leonie Bauduit, educator. Born, New Orleans, October 31, 1884. Education: New Orleans public schools; pursued an education curriculum at Southern University Normal, University of Chicago, University of Illinois, University of California and Tuskegee Institute. Also studied supervision methods at the University of Chicago and observation and supervision methods at the University of California. Before joining New Orleans Public School System in February 1908, taught school in St. James Parish, La. Remainder of her career in New Orleans; taught at Bayou Road, 1908-1911, and Thomy Lafon, 1911-1914; served as principal at Daneel No. 2, 1914-1921, and McDonogh No. 6, 1921-1950. With others, advocated establishing in-service training programs; departmentalizing primary grades; establishing student councils. Encouraged the establishment of a dental clinic, centralized library, a remedial reading program, and a visual aids program. Agnes Bauduit Elementary School in New Orleans was named in her honor. Died, New Orleans,
September 3, 1950
; interred St. Vincent Soniat Cemetery. F.J. Source: Robert Meyer, Jr., Names Over New Orleans Public Schools (1975). From http://lahistory.org/site19.php Related reading:
A More Noble Cause: A.P. Tureaud and the Struggle for Civil Rights in Louisiana: A Personal Biography
Sarah Laumann was attacked on the night of September 3, 1919. Neighbors came to check on the young woman, who had lived alone, and broke into the home when Laumann did not answer. They discovered the 19 year-old lying unconscious on her bed, suffering from a severe head injury and missing several teeth. The intruder had entered the apartment through an open window, and attacked the woman with a blunt object. A bloody axe was discovered on the front lawn of the building. Laumann recovered from her injuries, yet couldn't recall any details from the attack. Police arrested several suspects but all were cleared of charges. See aso October 27.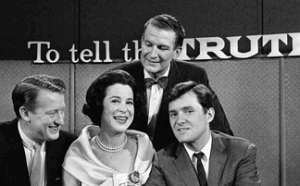 ---
Catherine Conn was born in New Orleans to the well-heeled, well-travelled (their whereabouts were regularly reported in the local newspapers) Dr. Joseph Conn and Hortense Holzman Conn on September 3, 1910. After her father's sudden death at age 51 in 1921, Catherine and her mother moved from New Orleans to Europe. They traveled frequently and moved often. Returning to the U.S., Catherine changed her name to Kitty Carlisle and began acting on Broadway in 1932. In 1934 she made two films with Bing Crosby -- She Loves Me Not and Here Is My Hear and had a lead role in Murder at the Vanities. In 1935 she appeared in A Night at the Opera with the Marx Brothers.

In the early 1950s, Carlisle was an occasional panelist on the NBC game show, Who Said That?, She was a panelist on To Tell the Truth from 1956 to 1978. She was also a semi-regular panelist on Password, Match Game, Missing Links, and What's My Line?

On December 31, 1966, Carlisle made her debut with the Metropolitan Opera as Prince Orlofsky in Strauss's Die Fledermaus and made her final performance with the company was on July 7, 1973

Carlisle resumed her film career in 1987 in Woody Allen's Radio Days . She also appeared in 1993's Six Degrees of Separation. Her last movie appearance was in Catch Me If You Can (2002) in which she played herself in a dramatization of a 1970s To Tell the Truth episode.

Known for her gracious manners and personal elegance Catherine Conn was honored by her New Orleans school, Louise S. McGehee, as a Distinquished Alumnaein 1994. She was a long-time spokeswoman for the arts. served 20 years on the New York State Council on the Arts. In 1991, and received the National Medal of Arts from President George H. W. Bush. She passed away on April 17, 2007.

Pictured: Kitty Carlisle (center) with Tom Poston, Bud Collyer, and Orson Bean on the set of To Tell the Truth.
---
Born in New Orleans on May 27, 1900, Jazzman Albert Nicholas's primary instrument was the clarinet, which he studied with Lorenzo Tio in his hometown of New Orleans. Late in the 1910s he played with Buddy Petit, King Oliver, and Manuel Perez. He spent three years in the Merchant Marines and then joined up again with Oliver in Chicago from 1925 to 1927. After time in East Asia and Egypt, he returned to New York City in 1928 and played with Luis Russell until 1933, playing there with Red Allen, Charlie Holmes, and J. C. Higginbotham. Later he played with Chick Webb, Louis Armstrong (with Russell) and Jelly Roll Morton (recorded 1929, 1939). He died on September 3, 1973 in Basel, Switzerland.
On September 3, 1814, the British ship HMS Sophie fired on a pirate ship returning to Barataria. Jean Lafitte's ship grounded in shallow water where the larger British ship could not follow. The British raised a white flag and launched a small dinghy with several officers. Jean Lafitte and several of his men rowed to meet them halfway. Captain Nicholas Lockyer, the commander of the Sophie, had been ordered to contact Lafitte, the "Commandant at Barataria". He was accompanied by a Royal Marine infantry Captain, John McWilliam, who had been given a package to deliver to Lafitte. The Baratarians invited the British officers to row to their island. When they had disembarked and were surrounded by his men, Lafite identified himself to them. Many of the smugglers wanted to lynch the British men, but Lafitte intervened and placed guards outside his home to ensure their protection. McWilliam brought two letters in his packet for Lafitte: one, under the seal of King George III, offered Lafitte and his forces British citizenship and land grants in the British colonies in the Americas if they promised to assist in the naval fight against the United States and to return any recent property that had been taken from Spanish ships. (The British were allied with Spain against the French and the US.) If they refused the offer, the British Navy would destroy Barataria. The second item was a personal note to Lafitte from McWilliam's superior, Lieutenant Colonel Edward Nicolls, urging him to accept the offer. Believing that the US would eventually prevail in the war against Great Britain, Lafitte thought he could more easily defeat the US revenue officers than he could the British navy. He had also been told in August that American officials were planning an assault on Baratria with forces under the command of Commodore Daniel Patterson. They feared that Lafitte and his men might side with the British. Fromhttp://en.wikipedia.org/wiki/Jean_Lafitte.
In a press release issued Saturday, September 3rd, 2005, Democratic Senator Mary L. Landrieu of Louisiana claimed that President Bush staged a photo opportunity, at the breached 17th Street levee, by having equipment quickly moved into the background during the event. Senator Landrieu says the equipment was dispersed elsewhere the next day, but did not provide details. Landrieu said in her press release, " ... we witnessed a hastily prepared stage set for a Presidential photo opportunity; and the desperately needed resources we saw were this morning reduced to a single, lonely piece of equipment. The good and decent people of southeast Louisiana and the Gulf Coast -- black and white, rich and poor, young and old -- deserve far better from their national government ..." (Wiki)
Five days after the metropolitan New Orleans flooded in the wake of Hurricane Katrina, 28,546 more military personel were deployed on Saturday, September 3, 2005 --25,548 Army National Guard and 3,998 Air National Guard On September 1, helicopters began dropping sandbags into the 17th Street Canal breach, and sheet piling was driven across the canal at the Old Hammond Highway Bridge. Sand bags were brought in and a sheet pile closure structure was built across the London Avenue Canal on September 3, 2005. Temporary pumps were later brought in to remove the water and drain the city, and the Orleans Metro sub-basin was officially declared dry on September 20, 2005. In total, the Corps removed more than 250 billion US gallons of water.(Wiki)