---

Saenger Theatre Opens
February 4, 1927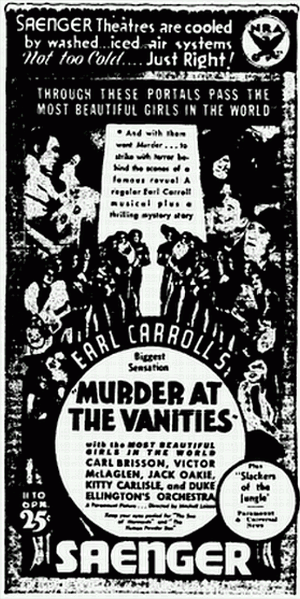 New Orleans' 4,000-seat Saenger Theatre opened on February 4, 1927 after three years of construction at a cost of $2.5 million. It was the flagship of Julian and Abe Saenger's theatre empire and is one of a few still in existance. Being New Orleans, a parade of thousands formed on Canal Street on opening night where the most expensive tickets could be had for 65 cents. For the cost of admission was a silent movie, stage play, and music by the Saenger Grand Orchestra. With an interior designed by architect Emile Weil it was an "atmospheric theatre" -- 150 lights in the ceiling are arranged in the shape of constellations in the night sky surrounding an Italian Baroque courtyard. Special effects machines projected images of moving clouds, sunrises, and sunsets.
The 2000-pipe Robert Morton theatre organ, installed at the theater's opening, is one of the largest instruments ever built by the Robert Morton Organ Company of Van Nuys, California and is one of the few Robert-Morton organs in the United States still in the location of its original installation.
In 1929, Julian Saenger sold the theatre for $10 million to Paramount Publix which, in 1933, converted it for "talking pictures" only. In 1964, ABC Interstate Theatres divided it into two smaller theatres with the upstairs theatre named the Saenger Orleans. On September 29, 1977 the theatre was designated a historic landmark by the New Orleans Landmark Commission. In December of 1977 it was added to the National Register of Historic Places.
In 1978, E.B. Breazeale bought the building for slightly more than $1 million and invested an additional $3 million (with co-investors Zev Bufman, Barry Mendelson, and Pace Management) for renovating and converting it into a performing arts center. Pace Management was hired to manage the theatre. It reopened in 1980 with a reduced seating capacity of 2,736. In 1985, the management team formed the Saenger Theatre Partnership, Ltd., a joint venture with 50 partners intent on purchasing it from Breazeale.
In the aftermath of Hurricane Katrina significant flooding occurred, filling the basement, the orchestra pit, rising above stage level, and damaging the historic organ. In 2009 ownership of the Saenger Theatre was turned over to the Canal Street Development Corp., a city agency, who would lease the building to the Saenger Theatre Partnership, Ltd. for 52 years. A stipulation of the deal requires the Saenger Theatre Partnership to host a minimum of 80 shows and sell 100,000 tickets each year. $15 million in federal grants, state and federal tax credits, and private financing were secured as part of a planned $38.8 million restoration to return to its original state and include modern updates. The marquee was re-lit in October 2009 to signify the Saenger Theatre's rebirth and plans are to light every night until the theatre reopens.
In June 2013 Saenger Theatre announced it would be opening September 28 with two performances from comedian Jerry Seinfeld. The opening gala would be held October 5, 2013.
Saenger Theater advertisement, May 27, 1934 for Murder at the Vanities with New Orleans-born Kitty Carlisle in a lead role.
---

You Can Support this Site by Clicking on & Shopping from this Amazon Link -- and it won't cost you a penny more: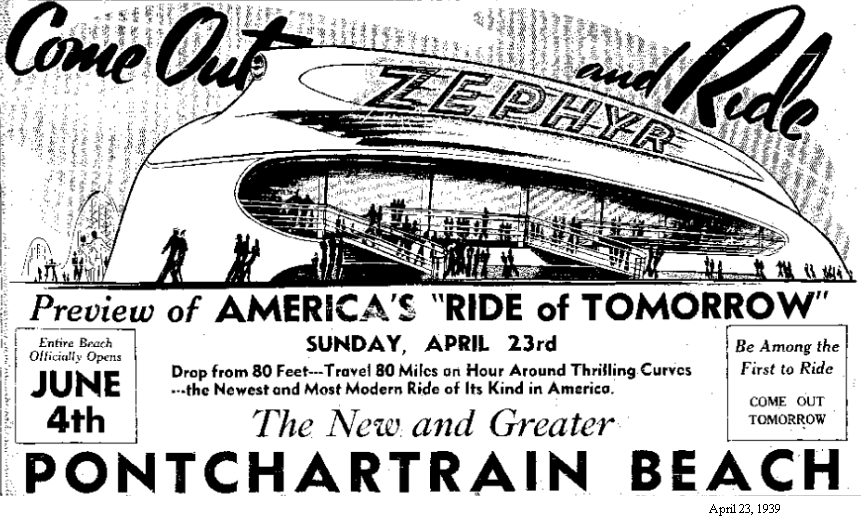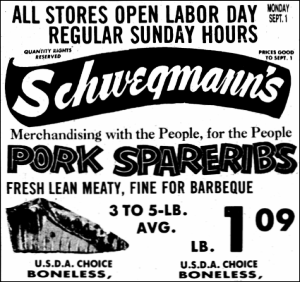 On Monday, February 4, 2013 there were 40,561 travelers processed through the Armstrong International Airport, the highest number of passengers in its 67-year history. With the record crowd, there were no significant issues reported with crowds passing through security in less than an hour at peak times. In preparation for the massive crowd, the airport in conjunction with the TSA doubled the number of passenger screening lanes to meet the outbound demand of Super Bowl Travelers and added additional baggage screening equipment. In addition, TSA checkpoints remained open around the clock from Sunday morning until after the last flight departed on Monday. Concessions remained open with certain locations remaining open all night to meet every traveler's needs.
Born, New Orleans on December 25, 1895, Merritt J. Brunies was one of the jazz-playing Brunies brothers. He started with a family band in the Irish Channel then moved on to Los Angeles, then Chicago where he achieved fame playing at the Friars Inn. The seven records he cut for Okeh and Autograph are among the rarest and most prized of collectors items. He moved South again in the late 1920s, settling in Biloxi, playing at many top night spots in southern Mississippi and Louisiana. Children: Raymond and Merritt H. Died, Biloxi, Miss., February 4, 1973; interred Lafayette Cemetery I, New Orleans. H.C. Sources: New Orleans States-Item, obituary, February 25, 1973; Al Rose and Edmond Souchon, New Orleans Jazz: A Family Album, 3rd ed. (1984). From http://lahistory.org/site19.php
Born in New Orleans on October 19, 1878 , jazz clarinetist Alphonse Floristan Picou wrote and arranged early jazz music before it was given the name "jazz". A trained tiinsmith, he played classical music with the Creole section's Lyre Club Symphony Orchestra and with various dance bands and brass bands, including those of Buddy Bolden, Bouboul Fortunea Augustat, Bouboul Valentin, Oscar DuConge, Manuel Perez, Freddie Keppard, Bunk Johnson, the Excelsior Brass Band, the Olympia Brass Band and others. Many younger clarinetists, including Johnny Dodds and Jimmy Noone, cited Picou as an important influence. "King" Joe Oliver commissioned Picou to write new tunes for his band. Picou's compositions include "Alligator Hop", "Olympia Rag". In the 1940s he made his first recordings, and opened a bar in a building he owned on Claiborne Avenue. For years into the 1950s, he was a regular on Bourbon Street in the French Quarter with Papa Celestin's Band (with whom he also did radio broadcasts) and leading his own group. Picou died on February 4, 1961. His funeral procession was one of the largest the city had seen, with several brass bands and many additional musicians playing. Many have said that his death marked the end of an era -- the last prominent musician who had worked from the very birth of jazz music.
The Queen and Crescent Limited passenger train, operated by the Southern Railway, traversed an historic route that had been established in the late 1800s called the Queen and Crescent Route, which referred to Cincinnati as the "Queen City" and New Orleans as the "Crescent City". The train began service in 1926 but was never a financial success. The Southern Railway operated the Queen and Crescent Limited from Cincinnati to New Orleans via Lexington, Kentucky, Chattanooga, Tennessee, Birmingham, Alabama and Meridian, Mississippi. It carried both coaches and Pullman sleepers and a dining car. Its road numbers on the Southern Railway were #43 (southbound) and #44 (northbound). In the first year of operation, the train derailed on October 15, 1926, one half mile south of Williamstown, Kentucky. One engineer died and another was seriously injured. On February 4, 1947, the Queen and Crescent struck a car and killed three persons near New Orleans. The Queen and Crescent was removed from the timetable by 1949 and only a remnant remained: Southern operated Train numbers 43 and 44 between Birmingham, Alabama and Meridian, Mississippi as a local.
Mayor Isaac W. Patton was born in Fredericksbury, Virginia, February 4, 1828. He engaged in cotton planting on property he purchased in Madison Parish and also looked after a sugar plantation below New Orleans which belonged to his father-in-law. In the first year of the War between the States, Mr. Patton was elected Captain of the Screwmen's Guard stationed at Proctorville. Shortly before arrival of the Federal Fleet at New Orleans, he was ordered to take command of the battery at Chalmette. When the city fell, the troops retired to Camp Moore on the Jackson Railroad. Captain Patton was then elected Colonel of the Twenty-second Louisiana Infantry with which he served until the end of the war. During the siege of Vicksburg he was wounded in the hip, from which he ever afterwards suffered and it probably was one of the ultimate causes of his death. Notwithstanding this wound, after the fall of Vicksburg, he again took command and saw active service at Mobile Bay, Spanish Fort and Cuba Station. At the close of the war he returned to New Orleans and embarked in the commission business. In 1872 he was elected sheriff of the Criminal Court. He was a member of Captain Pleasants' Company on September 14, 1874 in the famous battle on the levee. In 1878 he was elected Mayor of New Orleans and held this post for two years. The most important feature of Mayor Patton's administration was his management of the city's finances. His first step was to reduce the debt by fifty percent. In 1880 the legislature passed Act 133, establishing the Board of Liquidation which has been instrumental in solving the whole complicated problem of finance and has put the credit of the city on a firm basis. Considerable progress was made in constructing railroads which gave better access to the west and northwest, sanitary conditions improved steadily and towards the close of Mayor Patton's term, records showed that the death rate of the city was lower than it had been during the ten preceding years. At the expiration of his term, he returned to business, but in 1884 was elected City Treasurer and resigned that post to become Registrar of Voters by appointment of Governor S. D. McEnery and during the summer of 1888 was appointed tax collector for the Fourth District of Orleans Parish by Governor Nicholls. Death terminated his career on February 9th, 1890, while he was still leading an active life, though sixty-two years of age. Physically he was well proportioned and carried himself with a military grace, even until a few days before his death. He was well known and welcome anywhere, his popularity rested upon his real worth. He was always cheerful and sincere, his aims were always the purest and his whole life was actuated by the highest principles – that of serving best his fellow-men, his people and his state. The funeral took place from his residence, No. 221 Washington Avenue between St. Charles Avenue and Prytania Street. He was survived by his wife and three sons. (From the New Orleans Public Libray.)
Born Feb 4, 1909 in New Orleans, Harold "Duke" Dejan took clarinet lessons as a child and switched to alto saxophone. He quit school in the eighth grade to pursue music professionally, joining the Olympia Serenaders and appearing on an early radio show. His first brass band was the Holy Ghost Brass Band. He isbest remembered as leader of the Olympia Brass Band, including during the 1960s and 1970s when it was considered the top band in the city. In his later years Dejan often appeared at Preservation Hall. He gave up playing saxophone in 1991 due to waning health, but continued as a band leader and singer until shortly before his death in New Orleans on July 5, 2002 at the age of 93.
George Nicholson, journalist. Born, Leeds, England, May 22, 1820; son of Thomas Nicholson and Diana Allison. Immigrated to U. S. and New Orleans, 1842. Career with the Picayune began shortly thereafter as carrier. Promotions followed; appointed business manager of the paper shortly before Civil War. During war, often argued with Gen. Nathaniel Banks (q.v.) about Federal censorship policies. Subsequent to the death of Col. A. M. Holbrook (q.v.), owner of the Picayune, became a partner in the business, June 28, 1878. Married (1), in England, wife's name unknown; children, 2 daughters and son, George, Jr. Married (2) Eliza Jane Poitevent Holbrook (q.v.), widow of A. M. Holbrook (q.v.) and owner of the Picayune; two sons: Leonard and Yorke. A member of most city exchanges and commercial bodies. Early member of Krewes of Rex and Proteus; supporter of Louisiana State Society for the Prevention of Cruelty to Animals; member, Pickwick Club. Died, New Orleans, February 4, 1896; interred Metairie Cemetery. G.R.C. Source: New Orleans Daily Picayune, February 5, 1896.
The Louisiana Ave. streetcar line (February 4, 1850 – 1878, August 27, 1913 – December 27, 1934) – The original 1850–1878 Louisiana Line was a branch line of the New Orleans & Carrollton, running on Louisiana from St. Charles to the river at Tchoupitoulas. The later 1913–1934 line ran from Canal Street up to Louisiana Ave. on Freret and Howard (now LaSalle) Streets, then to Tchoupitoulas. For part of its life, it terminated on Canal Street at the ferry landing.
The Napoleon Ave. streetcar line (February 4, 1850 – February 18, 1953) – Like the Louisiana Line, the original Napoleon Ave. line was a branch line of the New Orleans & Carrollton, running on Napoleon from St. Charles Ave. to the river at Tchoupitoulas. Unlike the Louisiana, it was extended to Canal Street when electrified in 1893. A second line, popularly known as the Royal Blue Line, was opened on January 1, 1903 from St. Charles out to the end of the Avenue at Broad Street. The two were combined in 1906. With the Shrewsbury Extension on Metairie Road, which operated from 1915–1934, this was the longest streetcar line in New Orleans. Its routing was as follows: on Napoleon Ave. from Tchoupitoulas to S. Broad, then turning right onto S. Broad, left onto Washington Ave. (running between the street and the Palmetto-Washington drainage canal), right onto S. Carrollton Ave., left onto Pontchartrain Blvd. (this would now be impossible due to the presence of the Pontchartrain Expressway / I-10), left onto Metairie Rd., then zig-zagging through several Old Metairie streets to a terminus at Cypress and Shrewsbury Rd. (now Severn Ave.).