---

Rededication of the Olive Stallings Playground
July 14, 1991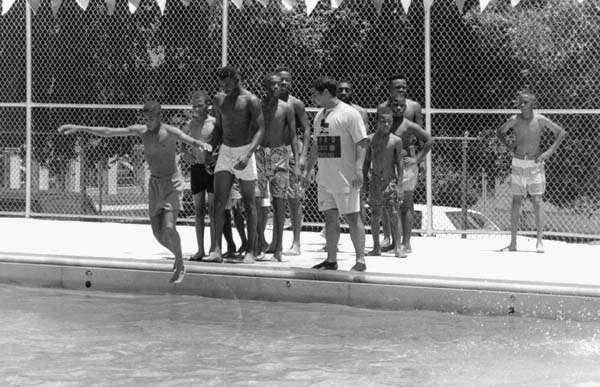 The New Orleans Playgrounds Commission, the predecessor of today's New Orleans Recreation Department, was established in 1911 to manage the three existing public playgrounds (the Poydras, Cleveland, and St. Roch Playgrounds) previously administered by the Civic Improvement and Playgrounds Association. The Civic Improvement and Playgrounds Association was itself an outgrowth of the earlier Outdoor Art Association, a private organization formed to improve and beautify the city, which had established the Poydras Playground in 1908 on ground provided by the city at Poydras and South Rampart Streets.
In short order, the new Playgrounds Commission opened two additional playgrounds, the Milneburg and the Taylor Playgrounds. Its name changed in 1923 to the Playground Community Service Commission, but its work continued until the creation of NORD in 1946. During those 35 years, the Commission increased the number of public playgrounds to 36, seven of which had swimming pools. Following the establishment of NORD, the Commission lived on to administer funds from the legacy left to Playgrounds Commission by its long-time president, Olive Stallings. (Text and photo from the New Orleans Public Library.)
---



---
On July 14, 2010, Air Canada announced the resumption of daily nonstop service between Toronto and New Orleans, utilizing Bombardier CRJ705 regional jet aircraft (which is a version of the Canadair CRJ-900) operated by Air Canada Express featuring two classes of service. Service on this route began on October 30, 2010. These Air Canada flights between MSY and Toronto are at present the sole remaining international passenger service operated on a scheduled basis from the airport.
Photo -- Interior of the Louisiana Superdome during preparation for the Republican National Convention, July 14, 1988.
Born in De Ridder on September 24, 1932, Stanton Morrison Frazar moved to New Orleans in 1955 where he was employed by Hibernia National Bank from then until 1975 having held various positions there including vice president of marketing. From 1975 -- 1986 he was the director of the Historic New Orleans Collection and served as president of WYES-TV from 1986 -- 1987. Frazar also served as a Louisiana Governor's delegate, on the La Salle Tricentennial Commission; as a member of the boards of Friends of the Cabildo (president), Preservation Resource Center (president), St. Charles Avenue Presbyterian Church, Save Our Cemeteries, Louisiana Landmarks Society, Bring Our Streetcars Home (chairman, 150th Birthday Celebration), Gallier House (vice chairman), Tidewater Development Association (secretary-treasurer), Arts Council of New Orleans (exhibit chairman, Seldom Seen III), Bouligny Improvement Association (vice president), Greater New Orleans Science Fair (president), WYES-TV, Tulane Summer Lyric Theatre, Friends of the University of New Orleans Library, Criminal Courts Renaissance, Le Debut des Jeunes Filles de la Nouvelle Orléans, Louise S. McGehee School, and Contemporary Arts Center, of which he was co-founder. Active in Mardi Gras organizations. he died in New Orleans on
July 14, 1987
. Source:
http://lahistory.org/site.php?pageID=23
.
Arthur James "Zutty" Singleton (May 14, 1898 – July 14, 1975) was an influential American early jazz drummer. Singleton was born in Bunkie, Louisiana and raised in New Orleans. He was working professionally with Steve Lewis by 1915. He served with the United States Navy in World War I. After returning to New Orleans he worked with such bands as those of Papa Celestin, Big Eye Louis Nelson, John Robichaux, and Fate Marable. He left for St. Louis, Missouri to play in Charlie Creath's band, then moved to Chicago, Illinois. (Wiki)
Photo -- Bob Hope in New Orleans, July 14, 1955.
NOPL Photo -- Archery tournament finals at Desmare Playground, July 14, 1947.
Francesco Todaro (died November 8, 1944) was an Italian-American mobster and onetime boss of the New Orleans crime family. Todaro briefly succeeded Corrado Giacona upon his death on July 25, 1944. Francesco "Frank" Todaro was born in the area of San Cipirello, Province of Palermo, Sicily in about 1889. Son of Giuseppe Todaro and Giuseppa DiMaggio. Frank Todaro along with brothers Carlos "Charlie", Giuseppe "Joe", and Salvatore "Sam" immigrated to the United States in 1907 and settled in New Orleans, La. Another brother, Angelo Todaro, remained in Sicily. Frank married to Nunzia "Nancy" Giammalva on July 14, 1914 in New Orleans and they had four children two sons, Joseph and Clement, and two daughters, Jacqueline and Josephine. Frank Todaro was alleged to be underboss of the New Orleans Mafia and to have briefly served as head of the New Orleans family before his death. Further it has been erroneously reported by John H. Davis that he was the father-in-law of Carlos Marcello. Carlos Marcello was in fact married to Todaro's niece Giacomina (Jackie), the daughter of his brother Joseph. Frank Todaro died at his residence on S. Broad Street in New Orleans at 5:45 a.m. on Wednesday November 29, 1944 from complications related to throat cancer. He was about 55 years of age. His funeral was held on December 1, 1944, the wake was conducted at Lamano-Panno-Fallo Funeral Home, a Roman Catholic Requiem Mass was held at St. Mary's Church and he was interred at Metairie Cemetery. (Wiki)
Photo -- Magazine Street at Nashville, July 14, 1926. [Photography by Louis T. Fritch]
Spencer Williams, born in New Orleans on October 14, 1889, was an American jazz and popular music composer, pianist, and singer. He is best known for his hit songs "Basin Street Blues", "I Ain't Got Nobody", "Royal Garden Blues", "I've Found a New Baby", "Everybody Loves My Baby", "Tishomingo Blues", and many others. (Wiki)
From the Daily Picayune - Tuesday Morning, July 14, 1863: An inquest was held yesterday at the Treme Police Post on the body of J. B. Lafosse, and a verdict was returned attributing death to injuries occasioned by car No. 74 on Rampart street. Deceased was a native of France, and about sixty years of age. For a year or so he had been a member of the Second District police force, and recently performed the special duties of policeman for Place d'Armes, formerly Congo Square. He was a curious old man, full of strange reflections of "La belle France," yet a thorough Republican in feelings, and an American in patriotism. Shortly after 8 o'clock, on Sunday night, he went to a corner grocery opposite to the tree-embellished breathing place which he guarded, for the purpose of procuring a bottle of whiskey to aid in commemorating the great events of the week just ended. After obtaining the whiskey he undertook to recross the street, humming "La Marseillaise," when he came in contact with the mule attached to car No. 74 on Rampart street. He fell, and before the car could be stopped one of the wheels passed over his neck and arm, breaking them both, thereby occasioning injuries which in a short time resulted fatally. Thereupon the body was conveyed to the Treme Post, where the inquest was held yesterday.
Godfrey (Gottfried) Weitzel (November 1, 1835 – March 19, 1884) was a major general in the Union army during the American Civil War, as well as the acting Mayor of New Orleans during the Federal occupation of the city. His term as mayor began on July 14, 1862.
Edward Henry Durell (July 14, 1810 – March 29, 1887) was the 25th mayor of New Orleans, and later a United States federal judge.