---

Actress Marguerite Clark Marries Harry Palmerston Williams
August 15, 1918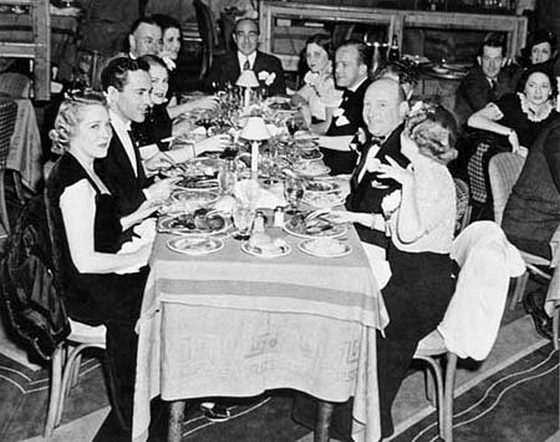 Dinner Party with Mary Pickford at the Clark-Williams Home in New Orleans
Photo from the Louisiana State Museum
Marguerite Clark (February 22, 1883 – September 25, 1940), one of the top movie stars of the 1910s semi-retired at age 38 to be with her husband in New Orleans.On August 15, 1918, she married New Orleans plantation owner and millionaire businessman Harry Palmerston Williams. She then split her time between residing in New Orleans and filming movies in New York. In 1921, the annual Quigley Publications poll of motion picture exhibitors ranked her as the nation's top movie actress of 1920. She produced and completed Scrambled Wives in 1921 and then retired to her husband's New Orleans mansion. The couple were socialites in Patterson, Louisiana (Harry's birthplace) and New Orleans -- she presided as acting Tsaritsa of the Mystic Court at the Duke of Alexis Tableau Ball in 1924.
Harry Palmerston Williams (October 6, 1889–May 19, 1936) made his fortune in oil, sugar, lumber, and banking. He also owned, with Jimmy and and his brother Walter Wedell, the Wedell-Williams Air Service Corporation in his native Patterson (where he had served as Mayor and Presdient of the Police Jury). His planes dominated air racing in the United States during the Golden Age of Aviation. Their first was enterprise Louisiana's first commercial airline offering passenger service from New Orleans to Houston, . The company also started their own postal air service and opened a flying school. They also designed and built low-wing monoplanes, starting with the Wedell-Williams Model 22 and then the "44" (Wedell-Williams Model 44) -- one of the fastest aircraft in the United States. Their planes set more speed and long-distance records than any others.
On May 19, 1936, as Williams was returning from Baton Rouge where he had a conference with Governor Richard Leche, and flying with the company's chief pilot, John Worthen, their Beechcraft Model 17 Staggerwing crashed on takeoff, killing both men instantly. The loss of Williams, along with the recent deaths in air crashes of both Wedell brothers along with the company test pilot, led Marguerite to sell the assets of the company in 1937 to Eastern Air Lines. The new owner, Captain Eddie Rickenbacker, folded in the Wedell-Williams Air Service Corporation into the larger airline operation, gaining the mail route from New Orleans to Houston, giving Eastern its first presence in Texas.
Marguerite moved back to New York City. She was the model for Snow White in Walt Disney's Snow White and the Seven Dwarfs (1937) and died following a bout with pneumonia in 1940.
The mansion at 5120 St. Charles Avenue, built in 1907 for Marks Isaacs and purchased in 1912 by Francis B. Williams was the home of Harry P. Williams and Marguerite Clark. It is now the Milton S. Latter Memorial Library branch of the New Orleans Public Library. (Main source: Wiki)

---



---
On August 15, 2012, the St. Bernard Market at 1522 St. Bernard Avenue (also known as "The Circle" market) was listed on the National Register of Historic Places.
Adrian Guy Duplantier, Sr. (March 5, 1929 – August 15, 2007), served from May 31, 1978, until his death as a judge of the United States District Court for the Eastern District of Louisiana. He was also a former four-term Democratic member of the Louisiana State Senate, having represented Orleans Parish.
Jon Bon Jovi's "Queen of New Orleans" was released as the second single from his second solo album Destination Anywhere on August 15, 1997.
Dixieland clarinet playerAlbert Burbank was born in New Orleans on March 25, 1902. He was taught by Lorenzo Tio and performed with , one of that city's most famous clarinet players, he performed in the New Orleans area Kid Milton's band, Paul Barbarin, Kid Ory, and the Preservation Hall band. In 1975, he suffered a stroke but continued playing until his death on August 15, 1976.
New Orleans businessman, playwright, pioneer of restoration in the French Quarter, and director of the New Orleans International Trade Mart Clay LaVerne Shaw (March 17, 1913 – August 15, 1974) was the only person prosecuted in connection with the assassination of President John F. Kennedy. District Attorney Jim Garrison prosecuted Clay Shaw on the charge that Shaw and a group of right-wing activists, including David Ferrie and Guy Banister, were involved in a conspiracy with elements of the Central Intelligence Agency (CIA) to kill Kennedy. Garrison arrested Shaw on March 1, 1967. Shaw was acquitted. (Wiki)

BURBANK, Albert, musician. Born, New Orleans, March 25, 1902. Pupil of Lorenzo Tio, Jr. Started in the 1920s with Arnold de Pass's Olympia Band. In the 1940s and 1950s joined Paul Barbarin at the Mardi Gras Lounge, Octave Crosby at the Paddock, and Kid Ory (q.v.) on the West Coast. Later played with Kid Thomas and Albert French and recorded for the Riverside series. During the early 1970s, a regular at Preservation Hall. Died, New Orleans, August 15, 1976; interred Rest Haven Memorial Park. H.C. Sources: New Orleans States-Item, obituary, August 19, 1976; John Chilton, Who's Who of Jazz … (1972); Samuel B. Charters, Jazz: New Orleans, 1885-1963 (1963); Al Rose and Edmond Souchon, New Orleans Jazz, A Family Album, 3rd ed. (1984). From http://lahistory.org/site19.php
The 1988 Republican National Convention was held in the Superdome from August 15 to August 18, 1988. The convention nominated Vice PresidentGeorge H. W. Bush for President and James Danforth "Dan" Quayle, U.S. Senator of Indiana as Bush's vice-presidential running mate.
Colonel Charles Barbin "Chuck" DeBellevue, born in New Orleans on August 15, 1945, became one of only five Americans to achieve flying ace status in the Vietnam War and the first Air Force Weapon Systems Officer to earn ace status in In 1972. He was credited with a total of six MiG kills, the most earned by any U.S. aviator during the Vietnam War. He WAS a recipient of the Air Force Cross. (Wiki)

Jazz drummer, cornetist and melophone player Arthur "Monk" Haze was born Harvey on August 15, 1903. He played with Emmett Hardy, Stalebread Lacombe, Abbie Brunies (the Halfway House Orchestra), and Tony Parenti. Monk led his own Bienville Roof Orchestra (which played for atop the Bienville Hotel at Lee Circle, and made recordings in 1928) and then spent time in New York playing with Johnny Wiggs, Jack Pettis and with his own group (1929–31). Hazel was in Hollywood for a period (working with Gene Austin) but eventually came back to New Orleans, performing with Joe Caprano (1937) and the Lloyd Danton Quintet. Hazel spent 1942-43 in the Army and then worked for a time outside of music. However during his final 20 years, Hazel was once again quite active in New Orleans, performing with Sharkey Bonano, George Girard, Mike Lala, Santo Pecora and virtually every other important name in New Orleans jazz. As a leader, Monk Hazel recorded four titles in 1928 for Brunswick Records and a full album for Southland Records in 1954; Pete Fountain and Al Hirt were among his sidemen on the latter recording. He died on March 5, 1968. (Wiki)
The archdiocese on New Orleans was incorporated on August 15, 1866 as "The Roman Catholic Church of the Diocese of New Orleans," and the diocesan newspaper, The Morning Star, was founded in February 1868. (Wiki)
August 15-18th, 1866: On the 15th, stormy conditions spread across Southwest Pass, as winds increased out of the northeast. New Orleans became breezy on the 16th, but rain was absent. A steady rain set in by sunset on the 17th. High tides and stormy weather were experienced at Southwest Pass, as winds became southeast. New Orleans also rained during much of that day. Proving the previous keeper of the Timbalier Bay lighthouse correct in his decision, "gale-driven" seas again invaded from the Gulf. The temporary light and dwelling houses were demolished. The new keepers clung to a buoy for days, riding out the storm (Cipra).