---

Poydras Playground Opens
May 16, 1908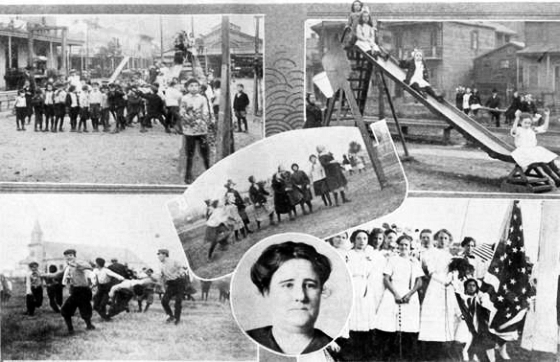 The Poydras Playground [top left], opened on May 16, 1908 by the Outdoor Art Association, was located on the site of the old Pilie Market, bounded by North and South Poydras, South Rampart and South Basin (now Loyola Avenue) streets. The Poydras Market (on Poydras Street between Baronne and South Rampart), which was completed in 1837 on ground ceded by the Carrollton Railroad Company, can be seen in the background. Maylies Restaurant was opened originally as a coffee shop in the Poydras Market by Madame Esparbe. In 1876, it moved to a larger building across the street, noted for the wisteria vine that coiled about its facade. It soon became a famous restaurant around the world, and remained a New Orleans favorite until its closing in 1986. The Maylie's building was, prior to Hurricane Katrina, a Smith & Wollensky steakhouse. It now houses Walk-On's Bistreaux & Bar.
The St. Roch Playground (bottom left) at St. Roch and Roman was the third oldest of the city playgrounds, opening on June 26, 1910. The Cleveland Playground at Tulane and South Claiborne opened on September 26, 1909, and the Taylor Playground (bottom right) at Washington and Derbigny, on November 3, 1911.
The caption under this collage from the 1912 Report reads:
Top left, Group at Poydras; Top right, Using the slide at Cleveland; Center, Girls playing Basketball at St. Roch; Bottom left, Football at St. Roch; Center, Mrs. Mary Buckley, Supervisor at Poydras; Bottom right, Flag Raising at Taylor.
[Report of the New Orleans Playgrounds Commission for Nineteen Hundred and Twelve]
Photo from from the New Orleans Public Library.
---

You Can Support this Site by Clicking on & Shopping from this Amazon Link -- and it won't cost you a penny more: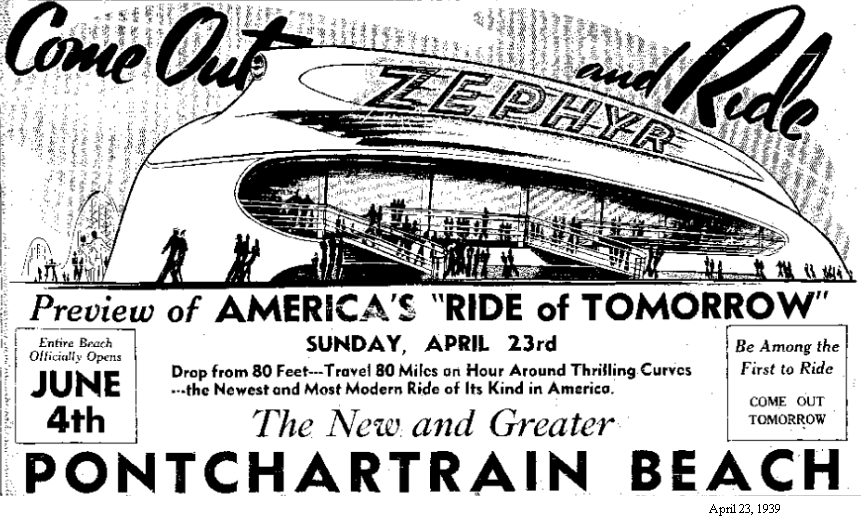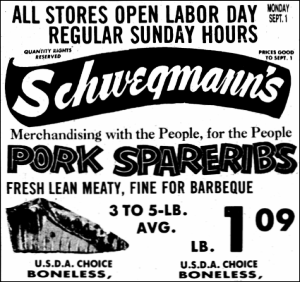 The Liberty ships Amasa Delano and Robert W. Bingham were launched by Delta Shipbuilding Company on May 16, 1944.

Born in Huntingdon, England on September 25, 1827, James Gallier Jr. emigrated with parents to New York City in 1832. In 1849 he succeeded to his father's architectural firm in New Orleans. He was in partnership until 1858 with John Turpin, and from 1858-1868 with Richard Esterbrook as designers/builders of a number of significant structures in New Orleans, including Leeds Iron Foundry ("Gothic" revival, 1852); Lavinia Dabney House (1856-1857); Mechanics Institute (1856-1857); Gallier House (1857-1859); French Opera House (1859); Luling Mansion (Louisiana Jockey Club, 1865); and the gates and gatehouses of New Orleans Fairgrounds Race Track (1866). He served as a private in Captain Greenleaf's Company (Orleans Light Horse Louisiana Cavalry, Confederate) and died in New Orleans on May 16, 1868. He is buried in St. Louis Cemetery III. Source: http://lahistory.org
Charles Laveau Trudeau alias Don Carlos (1743-1816) became the the 5th mayor of New Orleans on May 16, 1812 and served until October 8, 1812. He served as Acting Mayor during six months. Membership on the City Council remained the same as during the administration of James Mather.
At a meeting of the Cabildo on May 16, 1794, Commissioner Francisco Pascalis de la Barre asked the Cabildo to petition His Majesty that Carondelet be made Captain-General of the Province. At this meeting they resolve to make the petition.