---

May 27, 1934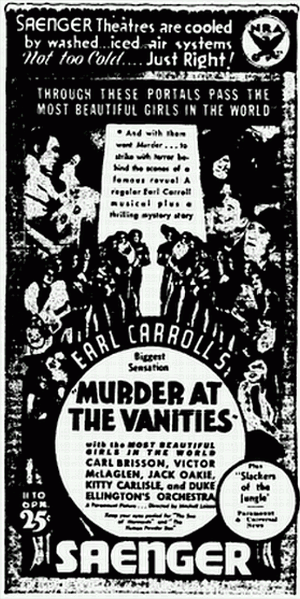 Saenger Theater advertisement, May 27, 1934 for Murder at the Vanities with a young Kitty Carlisle in a lead role.
New Orleans' 4,000-seat Saenger Theatre opened on February 4, 1927 after three years of construction at a cost of $2.5 million. It was the flagship of Julian and Abe Saenger's theatre empire and is one of a few still in existance. Being New Orleans, a parade of thousands formed on Canal Street on opening night where the most expensive tickets could be had for 65 cents. For the cost of admission was a silent movie, stage play, and music by the Saenger Grand Orchestra. With an interior designed by architect Emile Weil it was an "atmospheric theatre" -- 150 lights in the ceiling are arranged in the shape of constellations in the night sky surrounding an Italian Baroque courtyard. Special effects machines projected images of moving clouds, sunrises, and sunsets.
The 2000-pipe Robert Morton theatre organ, installed at the theater's opening, is one of the largest instruments ever built by the Robert Morton Organ Company of Van Nuys, California and is one of the few Robert-Morton organs in the United States still in the location of its original installation.
In 1929, Julian Saenger sold the theatre for $10 million to Paramount Publix which, in 1933, converted it for "talking pictures" only. In 1964, ABC Interstate Theatres divided it into two smaller theatres with the upstairs theatre named the Saenger Orleans. On September 29, 1977 the theatre was designated a historic landmark by the New Orleans Landmark Commission. In December of 1977 it was added to the National Register of Historic Places.
In 1978, E.B. Breazeale bought the building for slightly more than $1 million and invested an additional $3 million (with co-investors Zev Bufman, Barry Mendelson, and Pace Management) for renovating and converting it into a performing arts center. Pace Management was hired to manage the theatre. It reopened in 1980 with a reduced seating capacity of 2,736. In 1985, the management team formed the Saenger Theatre Partnership, Ltd., a joint venture with 50 partners intent on purchasing it from Breazeale.
In the aftermath of Hurricane Katrina significant flooding occurred, filling the basement, the orchestra pit, rising above stage level, and damaging the historic organ. In 2009 ownership of the Saenger Theatre was turned over to the Canal Street Development Corp., a city agency, who would lease the building to the Saenger Theatre Partnership, Ltd. for 52 years. A stipulation of the deal requires the Saenger Theatre Partnership to host a minimum of 80 shows and sell 100,000 tickets each year. $15 million in federal grants, state and federal tax credits, and private financing were secured as part of a planned $38.8 million restoration to return to its original state and include modern updates. The marquee was re-lit in October 2009 to signify the Saenger Theatre's rebirth and plans are to light every night until the theatre reopens.
In June 2013 Saenger Theatre announced it would be opening September 28 with two performances from comedian Jerry Seinfeld. The opening gala would be held October 5, 2013.
---

You Can Support this Site by Clicking on & Shopping from this Amazon Link -- and it won't cost you a penny more: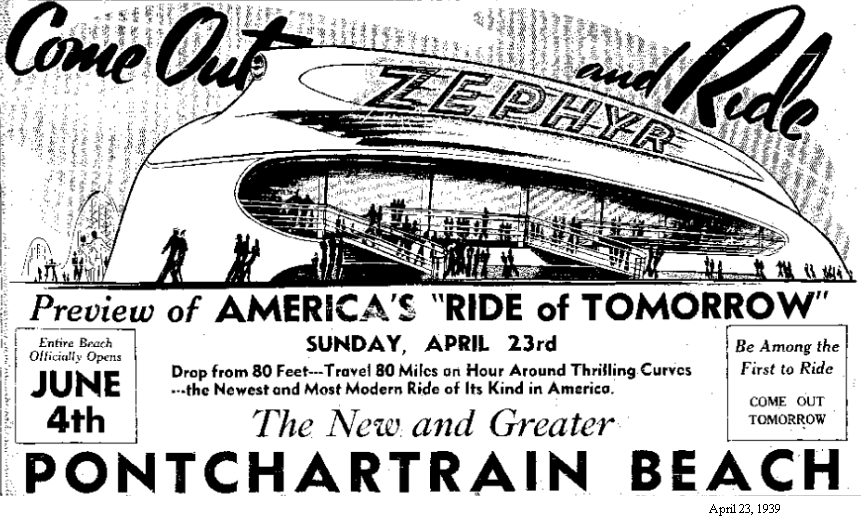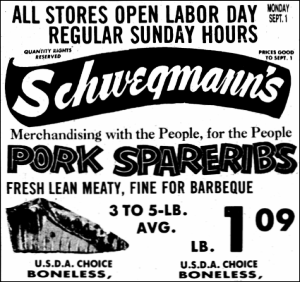 Vice-President Hubert Humphrey earned a Master of Arts degree in Political Science from LSU in 1940. From 1939 to 1940 he taught there as an assistant instructor of political science. He was born on May 27, 1911 in Wallace, South Dakota.

Stanford Emerson Chaille, physician, research scientist, academic, medical administrator. Born, Natchez, Miss., July 9, 1830; son of William Hamilton Chaillé and Mary Eunice Priscilla Stanford. Education: private tutors until mother's death in 1844; then Phillips Academy, Andover, Mass., 1844-1847; and Harvard College, 1847-1851; University of Louisiana, M. D., 1853; resident student at Charity Hospital, 1852-1853. Resident physician, United States Marine Hospital, 1853-1854. Resident physician of the Circus (Rampart) Street Infirmary, 1854-1860. Married, February 23, 1857, to Laura E. Mountfort (d. 1858). One daughter. Demonstrator of anatomy, University of Louisiana from March 20, 1858, to March 29, 1860. Study in Paris with Claude Bernard, April 1860 to October 1861. With outbreak of Civil War returned to New Orleans as an ardent secessionist. Enlisted as a private, New Orleans Light Horse, 1861. From February 17, 1862, to May 1, 1862, acting surgeon general of Louisiana. From May 12, 1862, to July 24, 1863, surgeon and medical inspector, Army of the Tennessee, on staff of Gen. Braxton Bragg (q.v.). July 1863 to January 1864 surgeon in charge of Fair Ground No. 2 Hospital in Atlanta. Beginning in January 1864 he supervised construction and operation as surgeon-in-charge, Ocmulgee Hospital, Macon, Ga. Later captured and paroled. Lecturer in obstetrics, University of Louisiana (now Tulane University), until returned to Paris, 1866-1867; thereafter professor of Physiology and Pathological Anatomy, March 29, 1867, to 1908; additional position of professor of Hygiene after April 2, 1891; and dean of the medical faculty, June 1, 1885, until retirement at a public jubilee on May 20, 1908. Editor, New Orleans Medical and Surgical Journal, November 1857 to January 1868. President, Havana Yellow Fever Commission of the National Board of Health, 1881-1882; member, National Board of Health, 1885-1893. Member, Committee on the Organization of the International Medical Congress, Washington, D. C., in 1887. Friend and physician to Jefferson Davis (q.v.), including his final illness, 1889. His research, writing, and teaching ranged widely on the important topics of his age. He published more than 150 articles on vital statistics, public hygiene, medical jurispridence, medical ethics, yellow fever, intimidation of voters in Reconstruction Louisiana, alcoholism, medical education, and biography. He was one of the authors of the new constitutions and by-laws for the Orleans Parish Medical Society (May 6, 1878) and the Louisiana State Medical Society (April 9, 1879). Died, New Orleans, May 27, 1911; interred Washington Cemetery. Source: http://lahistory.org/site20.php
André Callioux, cigar maker, soldier, hero of Port Hudson. Born, 1820. Raised regiment after Gen. Benjamin F. Butler (q.v.) arrived at New Orleans in 1862. He was born a free man of color and was quite wealthy. Callioux's "identity with his race could not be mistaken," for he proudly boasted that he was the blackest man in New Orleans. On May 27, 1863, the two black regiments of the Louisiana Native Guards were ordered to charge Port Hudson, an important Confederate stronghold. As Captain Callioux was leading his troops into battle his left arm was injured. Refusing to leave the field, he led his men forward with his arm dangling from his shoulder, in the face of intense fire power. Mortally wounded. Died, Port Hudson, May 27, 1863; given a hero's burial at New Orleans, July 1863. From http://lahistory.org/site20.php
Jefferson Davis' Remains Exhumed
May 27, 1893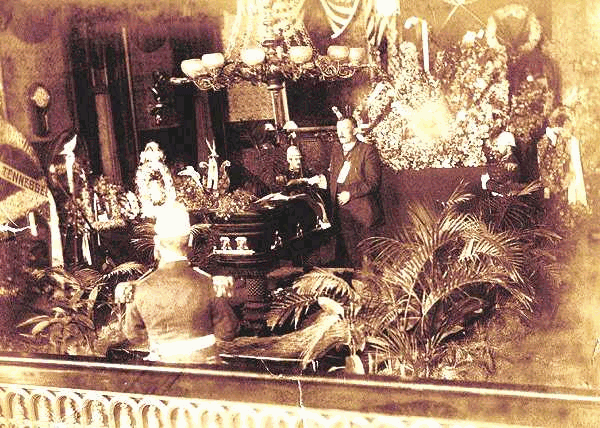 Jefferson Davis, former president of the Confederate States of American, died on December 6, 1889 at the New Orleans home of Associate Justice Charles E. Fenner, at the corner of First and Camp Streets. Later that day his body was removed to the City Hall at Lafayette Square (now Gallier Hall), where the body lay in State from Midnight, December 6 to Noon, December 11, 1889. Thousands of people filed past the coffin to look for a last time upon the face of the man who had presided over the destinies of the Confederacy during the entire period of its brief existence. The deceased was dressed in a suit of Confederate gray and the council chamber was profusely decorated with the somber trappings bespeaking the gloom that dwelt in the hearts of the thousands to whom he was dear.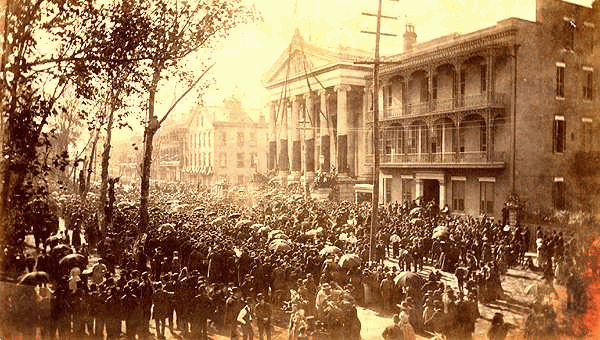 The funeral services were held the at the entrance to the City Hall and it was one of the most impressive ever held in the United States.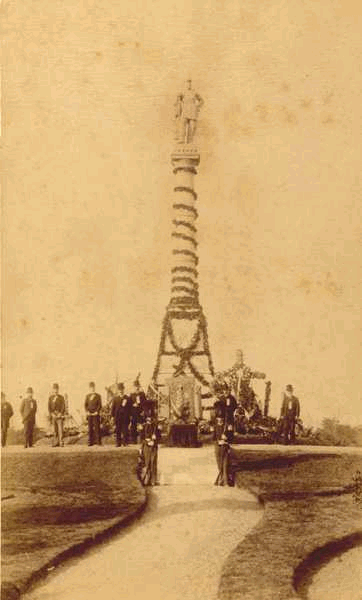 The body was then carried by a funeral procession through the streets of New Orleans to Metairie Cemetery. Davis was buried there in the tomb of the Army of Northern Virginia. On May 27, 1893, his remains were transferred to a new casket and placed in state at Confederate Memorial Hall for a day before being removed to the Louisville & Nashville train that carried them to Richmond, Virginia, for reinterment in the Hollywood Cemetery. (From the New Orleans Public Library.)