---

Pelican Stadium Becomes a Used Car Lot
October 16, 1956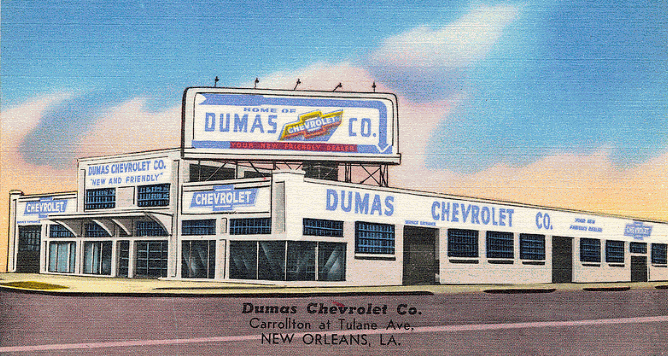 Robert Ernest "Dumas" Milner, who owned Dumas Chevrolet Company, was the Tom Benson of Jackson, Mississippi -- a self-made millionaire who made a fortune through turning small companies into large profitable ones, opening car dealerships, buying and selling real estate, and generally making everthing he touched turn to gold. "Dumas" was a nickname given to him after he began following a hired hand by that name around his family's cotton farm. At age 7 he hawked Rosebud Salve elixir to his rural neighbors. As a young man he took over Magnolia Chemical Company which employed six peope to produce their patented Pine-Sol and other cleaning products, and turned it into a $10 million per year company with 86 warehouses, and sold it to American Cyanamid for $17 million. He bought hotel and real estate, owned the tallest building in Jackson, began an exporting business, and acquired National Car Rental. He was Chief of Staff of Mississippi Governor John Bell Williams and owned Henderson Mansion in Pass Christian. With a somewhat quirky (but true to his times) business philosophy, he refused to hire a man to a key position until he met the man's wife.
When the Dumas dealership formally opened at 4049 South Carrollton (pictured here) on August 30, 1952 at 8 a.m., gifts were given to the ladies and Val Barbara and his Orchestra played. The air-conditioned showroom was modern in every way. The repair shop was stocked with $50,000 worth of parts and equipment. Thirty-five employees were on duty, with 80 more expected to be brought on during the next six months. Ben Howard Nelson was the vice-president and general manager, W. N. Newt Godfree was the GM, Herbert P. Jackson served as service manager, S.K. Martin the business manager, J. Clyde Carter was in charge of parts, Alex Holliday was truck manager, and Henry Carter was the used car head man.
By the time the dealership celebrated its second anniversary, it had added a used car lot at 3925 South Carrollton (across from what is now Costco). By 1956, Dumas had four dealerships in New Orleans, including locations at 215 South Claiborne (between Tulane and Canal) and in Kenner at Airline Highway at Clay Street.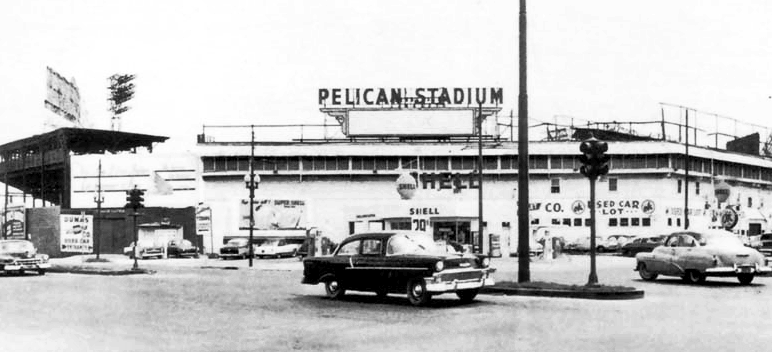 The beloved Pelican Stadium, which sat across Carrollton from the first Dumas New Orleans dealership, has a long history of its own (much too long to feature here) but for baseball fans, this sight (right) must have been heartbreaking. On October 16, 1956, Dumas announced the opening of a used car lot at Pelican Stadium. A want-ad published in the Times-Picayune that day sought new and used car salesmen to work it..."Apply in person to Bill Watson".
From 1915 the New Orleans Pelicans (the first professional sports team in New Orleans) called it home, as did the Black Pelicans and the Creole Negro teams. Pelican/Heinemann Stadium also allowed local fans to view major league exhibition and training games and to get a glimpse of stars such as Babe Ruth, Jackie Robinson, and Hank Aaron. The stadium was demolished in 1957. It was replaced by the Fontainebleau Hotel which was was later converted into a storage facility.
---



---
Historic Landmark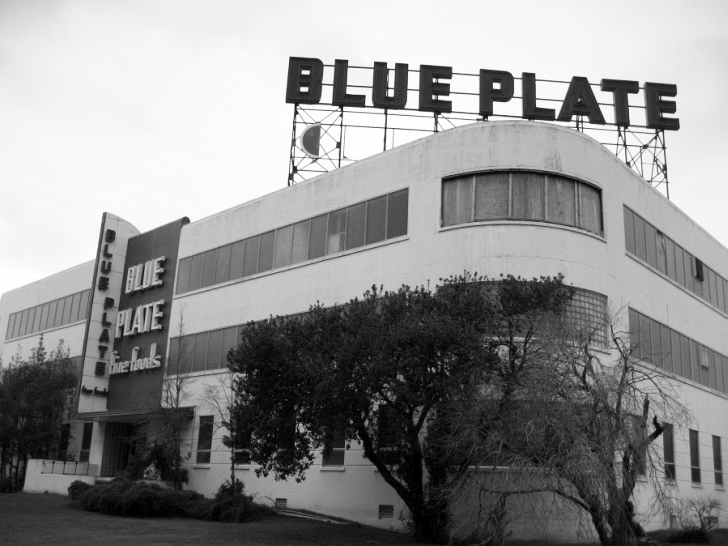 May 2007 photo by Infrogmation
The former home of local favorite Blue Plate Mayonnaise was rehabilitated by HRI Properties and JCH Development into 72 mixed income loft-style apartments designed with a leasing preference for artists. The Blue Plate building was listed on the National Register of Historic Landmarks on October 16, 2008 and is located in a designated Louisiana Cultural District. It was the first building in New Orleans constructed in the Art Moderne style.
In 1941, the new division of the Wesson-Snowdrifts Company required a new home. A site was identified at 1315 South Jefferson Davis Parkway, Architect August Perez, Jr., commissioned, and the first pile was driven a month before Pearl Harbor was bombed December 7, 1941. The government's demand for steel, labor and other materials presented a challenge due to the war.
Innovative measures were employed to continue construction. Second-hand railroad ties were shipped to a steel mill in St. Louis to be reworked and recycled as rebar to reinforce the concrete, and then shipped back to the Blue Plate site. To conserve copper wire, needed for the war effort, the electrical panels were concentrated in a water-proofed basement. Forms were built and concrete poured continuously to create a single monolithic exterior wall. Perez remarked "it was the strongest air raid shelter in the United States."
Most unusual to New Orleans at the time, a basement was built within the structure
In 1974, the Wm. B. Reilly Company (now Reily Foods Company) of New Orleans purchased Blue Plate Foods from what had become Hunt-Wesson. The operation did not reopen post Katrina, and the mayonnaise processing was moved to Knoxville, Tennessee.
The building is a classic example of the Streamline Moderne design style with its horizontal form, ribbon windows, curving glass block windows, flat roof and gleaming white surface devoid of ornamentation. Expanded in 1948, the building was named for the Chinese Blue Willow china plate pattern. A medallion is located at the right of the building's entrance, commemorating the pattern and building name.
Newly developed technology was employed for interior finishes. Since product ingredients such as sugar, milk, oil and vinegar would gradually deteriorate concrete, the floors were made of acid-proof brick as well as the grout. Walls were partially tiled and new epoxy paints were applied on the ceilings.
Top to Bottom manufacturing processes were employed. After rail entered the site from the Erato Street side of the building, raw ingredients were transported into the building through roll-up doors on its Eastern side. The third floor is where ingredients were blended in big steel vats. Once blended, BBQ sauce, sandwich spread and mayonnaise were funneled through machinery to the second floor, where bottling, capping, and labeling took place. Machines on the second floor packaged the bottled products in cardboard cartons. The cartons were then transported to the first floor for shipping, where delivery trucks rolled up to the docks to be loaded and distributed to local grocers. The process cleverly capitalized on gravity's pull. From http://www.blueplatelofts.com/Apartments/module/website_documents/website_document%5Bid%5D/28807/
Attorney and congressman Thomas Hale Boggs was born, Long Beach, Miss., February 15, 1914. He married, on January 22, 1938, Corinne Morrison (Lindy) Claiborne, of Brunswick Plantation. They had three children -- Barbara Rowena (Mrs. P. Sigmund, Jr.), Thomas Hale, Jr., and Corinne M. (Mrs. S. V. Roberts). Hale was active in the Democratic party as the U. S. Representative, Second District of Louisiana (1941-1943 and 1947-1972) and served on the House Ways and Means Committee and Joint Economic Committee and chairman, Sub-committee on Foreign Economic Policy; assistant majority leader (1962-1970), majority leader, (1971-1972). During the Second World War, he entered the Navy as an ensign in 1943 and was, released as a lieutenant commander in 1946. He practiced general civil law from 1943 to 1946. He was a member of: Roman Catholic church; Phi Beta Kappa; Omicron Delta Kappa; Beta Theta Pi; American, Louisiana, and New Orleans bar associations; American Judicature Society; International Association of Ports and Harbors; New Orleans Chamber of Commerce; American Legion; Amvets, Knights of Columbus, general manager of Tulane University Alumni Association, 1939-1940; Family Service Society of New Orleans; Congressional Club. On October 16, 1972 a plane carrying U.S. Congressman Hale Boggs and 3 other men vanished in Alaska. The wreckage has never been found, despite a massive search at the time. He was declared dead by an Alaskan court and honored in a memorial Mass at St. Louis Cathedral on, January 4, 1973. He was succeeded in Congress in 1973 by his wife Lindy. (From http://lahistory.org/site19.php)
Businessman John Georges born October 16, 1960, chairman of Georges Enterprises, completed the purchase of the The Advocate, the largest daily newspaper in Louisiana on April 30, 2013. He formerly served on the Louisiana Board of Regents and isa commissioner of the New Orleans Public Belt Railroad. In 2007 he took over Georges Enterprises, which includes grocery distribution, offshore marine services, video and arcade entertainment, food services, and investments. The family business which began in 1916 as Imperial Trading Company. It still operates as a wholesale grocery distributor of goods ranging from candy to health and beauty products.
Drummer Minor Hall, better known as Ram Hall, studied at the New Orleans University and began playing with Kid Ory around 1915. He played in various New Orleans ensembles such as the Superior Band, then moved to Chicago in 1918. He took his brother, Tubby Hall's spot in Lawrence Duhe's band briefly before serving in the U.S. Army during World War I. By the time he returned, King Oliver was leading Duhe's band, which Hall rejoined in 1921. In 1926 he played with Jimmy Noone, and then moved to California for an extended run with Mutt Carey's Jeffersonians (1927–32). He played in the Winslow Allen band in the 1930s, but took a hiatus from music for part of the decade, and served briefly in the Army again in 1942. In 1945 he rejoined Ory in his Creole Jazz Band and became one of his most longstanding members, remaining with Ory's ensemble until 1956, when he retired on account of poor health. He recorded extensively with Ory and also did some recording with Louis Armstrong in the 1940s. He was born on March 2, 1897 in Sellers, Louisiana and passed away on October 16, 1959 in Sawtelle, California.
On October 16, 1932 the Spanish Fort streetcar made it last ride to Lake Pontchartrain at the mouth of Bayou St. John where an amusement area was built aound the remains of the fort. This was the original location of Pontchartrain Beach before it moved further east to Elysian Fields Ave. The Spanish Fort Line branched off of the West End Line at what is now Robert E. Lee Blvd. It began on March 26, 1911.
Born on October 16, 1928
in New Orleans,
Leonard Joseph "Lenny" Yochim
made his professional baseball debut with the Pittsburgh Pirates on September 18, 1951. He played in parts of two seasons for the Pirates in 1951 and 1954, and later served in the organization for almost four decades. A left-handed screwball specialist, he threw a good curve ball as well, but a sore arm limited him to pitch in only 28.1 innings. He pitched in two games in 1951 and ten in 1954, ending his major league career with a 1-2 record and a 7.62 ERA in 12 games (three as a starter). His professional career highlight came on December 8, 1955, when he became the first pitcher to throw a no-hitter in a professional game in Venezuela while pitching for the Caracas Lions club. Helped by catcher Earl Battey, Yochim accomplished the feat in the Caracas 3–0 victory over Magallanes. Ramón Monzant was credited with the loss. Following his playing career, Yochim rejoined the Pittsburgh Pirates organization in 1966 to become a member of their baseball operations department. He served as an area
scout
, national crosschecker and major-league scout for the Pirates before moving into the front office in 1994. Yochim also worked as a senior adviser for player personnel from 1994 through 2004, when he decided not to return for another season. He died in New Orleans on May 11, 2013.
Born in New Orleans on October 16, 1926 , Judge James August Comiskey served in the United States Army during World War II, from 1944 to 1946. He received a B.A. from Loyola University New Orleans in 1949 and a J.D. from Loyola University New Orleans School of Law in 1951. He was in private practice in New Orleans from 1951 to 1967. On January 16, 1967, Comiskey was nominated by President Lyndon B. Johnson to a new seat on the United States District Court for the Eastern District of Louisianacreated by 80 Stat. 75. He was confirmed by the United States Senate on March 2, 1967, and received his commission on March 4, 1967. Comiskey served in that capacity until his resignation on June 15, 1975. He was thereafter in private practice in New Orleans until his death in that city on February 1, 2005.
On October 16, 1890, David C. Hennessy, New Orleans police chief died after being shot (see Ocotober 15).
Louis Alfred Wiltz (October 22, 1843–October 16, 1881), the 29th Governor of Louisiana (from 1880 to 1881), also served as mayor of New Orleans, lieutenant governor of Louisiana, and a member of the Louisiana House of Representatives.
Louis Alfred Wiltz, born on October 22, 1843, served as 29th Governor of Louisiana from 1880 to 1881 and before that time was mayor of New Orleans, lieutenant governor of Louisiana, and a member of the Louisiana House of Representatives. He died on October 16, 1881.
October 16-19th, 1887: A hurricane struck southeast Louisiana. On the 16th, a strong northeast wind blew across the area. Winds continued strong until the 18th, when winds rose to "a regular storm". Rain was steady until the 19th when skies cleared, but the wind remained. The cyclone caused much destruction in New Orleans, where the pressure fell to 29.22" and the city received the heaviest rain in many years.
Louis Alfred Wiltz (October 22, 1843–October 16, 1881) served as 29th Governor of Louisiana from 1880 to 1881 and before that time was mayor of New Orleans, lieutenant governor of Louisiana, and a member of the Louisiana House of Representatives.