---

First Saints Season Game
Tulane Stadium
September 17, 1967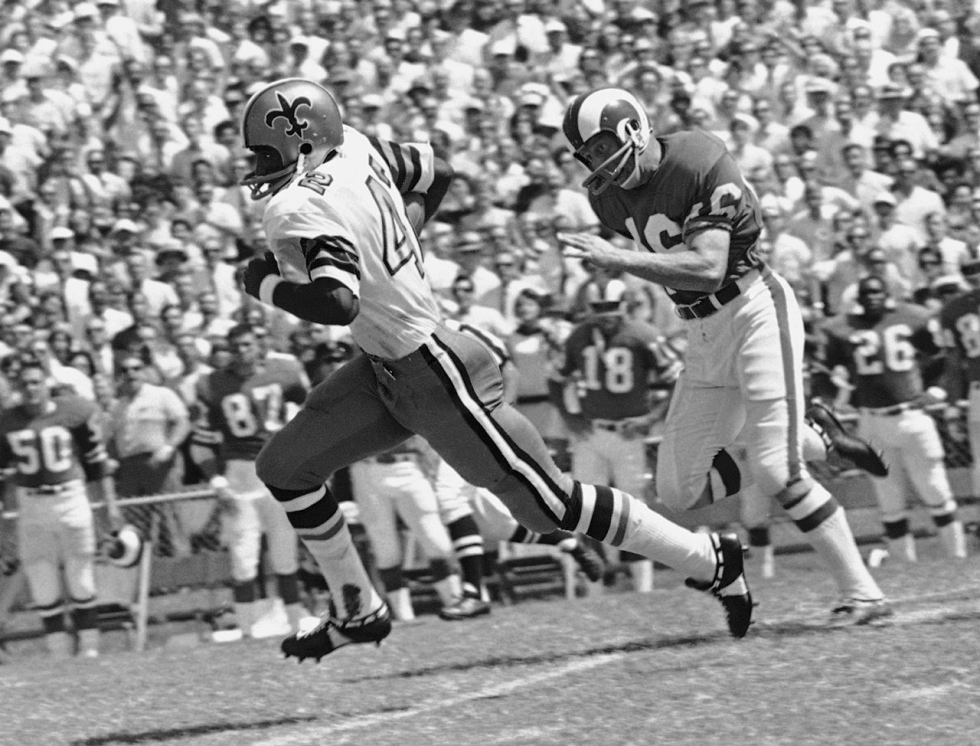 Photo from NewOrleansSaints.com
The first play of the New Orleans Saints first regular season game against the Los Angleles Rams in Tulane Stadium for a crowd of 80,897 fans on September 17, 1967 ended with rookie running-back John Gilliam returning the opening kickoff for a 94 yard touchdown. The game's final score was Rams 27, Saints 13. By the end of their first season the Saints record was 3–11, which set an NFL record for most wins by an expansion team.
Al Hirt, the musical director for the Saints, played the National Anthem before this first-ever season game. He would became a fixture at the games in Tulane Stadium, playing his horn for fans as often as possible. The last Saints game ever played in the stadium was on December 8, 1974 when they won 14-0 over the St. Louis Cardinals.
Other September 17 Saints highlights include the 1982 trade of veteran quarterback Archie Manning to the Houston Oilers for T Leon Gray and the 2006 come-back win over the Green Bay Packers in
2006 to open a season with back-to-back road victories for the first time in franchise history.
---



---
Danzinger Bridge Police Convictions Vacated
September 17, 2013
On August 5, 2011, a federal jury in New Orleans convicted five police officers of myriad charges related to the cover-up and deprivation of civil rights in the Danzinger Bridge shootings. The convictions were vacated on September 17, 2013 due to prosecutorial misconduct, and a new trial was ordered.
Hurricane Rita
September 17-24, 2005
____
Rita hit South Florida and the Florida Keys as a Category 2 storm on September 20. As it moved away from Florida, Rita became Category 5. After weakening, Rita came ashore as a Category 3 between Sabine Pass, Texas and Johnson Bayou, Louisiana at 2:30 a.m. CDT. Water from Rita came down the Intracoastal Canal and water was also pushed in from the bays. The natural levees of the Intracoastal Canal that had been formed by dirt when the Intracoastal Canal was dug had severely eroded over the years from barge traffic and they were breached. Eighty percent of the homes in Erath, Vermilion Parish, LA were flooded, and serious flooding ocurred elsewhere in Cermilion Parish as well as in Iberia and St. Mary Parishes.
On September 23, 2005, the outer bands of the storm caused a breach in the Industrial Canal levee in New Orleans in the lower ninth ward causing re-flooding of the area. The largest evacuation in Texas history was undertaken on September 22, 2005. The traffic was backed up for 100 miles on IH-45; and, 24 elderly persons died on the morning on September 23, 2005 ten miles south of Dallas when a bus exploded from oxygen tanks ignited by sparks from the brakes.
---
Bill Elder Dies

September 17, 2003
______

William Stanley Elder Jr. was born on January 28, 1938, grew up in Opelousas, and began a career in journalism there reporting for the Daily World. He moved on to Lafayette's The Daily Advertiser, then started work in television at KATC-TV. From 1965 to 2000 Elderwas an anchor and investigative reporter for the New Orleans CBS affiliate WWL-TV Channel 4. In 1998 he was diagnosed with a brain tumor and reported his progess on Channel 4. Nicknamed the "Mike Wallace of Louisiana" he retired in 2000 due to his illness and passed away September 17, 2003.
---
Jessie Hill Dies
September 17, 1996
_______
Jessie Hill was born in New Orleans on December 9, 1932. In his teens played drums in local bands and in 1951 he formed his own group, the House Rockers. After periods performing as drummer with Professor Longhair and then Huey "Piano" Smith, Hill formed a new version of the House Rockers in 1958, which enabled him to focus on singing.
He wrote "Ooh Poo Pah Doo" and recorded it at Cosimo Matassa's studio. Produced by Allen Toussaint it was released in 1960 and became a favorite at Mardi Gras song, selling 800,000 copies and reaching the Top 5 in the US Billboard R&B chart and a Top 30 slot in the Billboard Hot 100 pop chart.
The origins of "Ooh Poo Pah Doo" were apparently created from a tune played by a local pianist who was known only as Big Four. Hill wrote the lyrics and melody, later expanding the work with an intro taken from Dave Bartholomew. It was further honed on stage, before being recorded.

Hill made subsequent but less successful recordings in New Orleans before moving to California to work with fellow New Orleans musicians including Harold Battiste and Mac (Dr. John) Rebennack. He wrote songs recorded by Ike and Tina Turner, Sonny and Cher, and Willie Nelson. A 1972 solo album was unsuccessful, and he began to suffer financial difficulties exacerbated by a drinking problem. These problems continued after his return to New Orleans in 1977, and several benefit gigs did little to revive his personal or professional fortunes.
Hill died of heart and renal failure in New Orleans in September 1996, at the age of 63. Carrying on his musical legacy are two of his grandsons are James and Troy "Trombone Shorty" Andrews who performed "Ooh Poo Pah Doo" in Episode 7 of the HBO series Treme.
"King of New Orleans"
September 17, 1996
______

"King of New Orleans" is the lead single from the 1996 Better Than Ezra studio album,
Friction, Baby
. It was released as a commercial single on September 17, 1996. "King of New Orleans" spent seventeen weeks on the
Billboard
Modern Rock Tracks chart, peaking at No. 5.
The single also reached No. 62 on the
Billboard
Hot 100 Airplay chart.
---
Ashley Avery Ambrose is Born
September 17, 1970
______
New Orleans born -- is a former professional American football cornerback for several NFL teams during the 1990s and early 2000s who is currently the defensive backs coach for the California Golden Bears football team.
Ambrose was a one time Pro Bowl selection in 1996 and AFC Defensive Back of the Year while he was playing with the Cincinnati Bengals, the team for which he played from 1996-1998. He also played for the Indianapolis Colts from 1992–1995, the New Orleans Saints in 1999 and again in 2003 and 2004 and for the Atlanta Falcons from 2000-2002. He attended Mississippi Valley State University and has 42 career interceptions for 512 yards and three touchdowns. Prior to the 2005 season, he tried out for the Kansas City Chiefs.
Ambrose was hired as a defensive technical intern for the Colorado football team's 2008 season. In May 2009, head coach Dan Hawkins announced that Ambrose would take over as the wide receivers coach in 2010. In 2011 he will be the Defensive Backs coach at California.
Seymour Weiss Dies
September 17, 1969
______
Prominent New Orleans hotel executive and civic leader Seymour Weiss, who was a close confidante of "The Kingfish" Huey Pierce Long, Jr., was born in Bunkie on September 13, 1896. He moved to New Orleans in 1916 to clerk in a shoe store. In 1923, he became the manager of a barbershop at the Grunewald Hotel built by owner Louis Grunewald in 1893. In 1923, a consortium of local investors purchased the hotel and renamed it "The Roosevelt" in honor of President Theodore Roosevelt, who had died four years earlier. In 1924 Weiss was appointed the assistant hotel manager. In 1928, he was promoted to hotel manager. In 1931, Weiss was named president of the New Orleans Roosevelt Corp. From 1931–1965, he was the principal owner and managing director of the Roosevelt. He sold it in 1965.
His friendship with Long began after meeting during the 1928 gubernatorial campaign and the governor made the hotel his New Orleans headquarters. Legend is rife with stories of secret communications, rooms, and passageways provided for Long by his friend. Weiss became treasurer of both the Louisiana Democratic Association and Long's secret political fund. During the Depression, Weiss had control of federal relief funds in Louisiana. He was vice-president of the Win or Lose Corp., a controversial oil company whose structure was devised by Huey Long. On Long's death, Weiss chaired the Huey P. Long Memorial Commission. Weiss remained active in the Long machine until scandals swept through the organization.
In 1934, Weiss was indicted by a federal grand jury in New Orleans on tax evasion charges. He paid back taxes after the charges were dropped. He was indicted again on tax evasion and mail fraud charges growing out of the "Louisiana Scandals" of the late 1930s. He was convicted and imprisoned for sixteen months between 1940 and 1942, before he was paroled and ordered to pay back taxes. In 1947, he was given a full and unconditional pardon by Democratic President Harry Truman.
Weiss was a member of the New Orleans Zoning Board and commissioner of the municipal fire and police departments between 1932 and 1936. He was also president of the board of commissioners of the Port of New Orleans from 1933–1938. He was active in the American Hotel Association and was president of the Louisiana Hotel-Motel and the New Orleans Hotel associations. He won statewide awards for hotel management in 1952 and 1957. He was a director of the New Orleans chapter of the American Red Cross, the Chamber of Commerce, and the International Trade Mart. In 1968, Weiss chaired the committee for the 250th anniversary of the founding of New Orleans. He was the chairman of the board of managers of Delgado College.
He died of a heart attack at age 73 in Baton Rouge, where he had travelled for a meeting of the State Department of Commerce and Industry, on September 17, 1969. Delgado classes were cancelled and the graduation program was dedicted in his memory. The Times-Picayune editorial on September 19, 1969 stated, "His death removes from the city one of its most prominent and effective leaders".
Lee Harvey Oswald in New Orleans
September 17, 1963
Lee Harvey Oswald obtained a tourist card good for one visit to Mexico City from the Mexican consulate in New Orleans on September 17, 1963.
Theryl DeClouet is Born
September 17, 1951
______

Born in Hollygrove, also known as House Man, is a soul/R&B singer, best known as the former lead vocalist for the musical group Galactic. He appeared on the band's first four studio albums as well as a live release and a compilation before health concerns forced his departure from the band and its heavy tour schedule. His latest independent solo release, The Truth Iz Out, features support from longtime friendIvan Neville and guitarist June Yamagishi of Papa Grows Funk. He also appeared on Charlie Hunter Quintet's 2001 album, Songs from the Analog Playground, Hunter's first to feature vocals. DeClouet sang on versions of Earth, Wind & Fire's "Mighty Mighty" and the Willie Dixon standard "Spoonful."
Former Dean of LSU Medical School Dies
September 17, 1941
Rigney D'Aunoy, physician, educator. Born, New Orleans, August 8, 1890; son of Joseph D'Aunoy and Zelina Chrétien. Education: Tulane University, B. S., 1910; M. D., 1914. Never married. Assistant pathologist, New Orleans Dispensary, 1916-1917; assistant pathologist, Charity Hospital, 1919-1924; pathologist, 1928-1939. Instructor in Pathology and Bacteriology, Tulane, 1919-1924; professor of Pathology and Bacteriology, Louisiana State University, 1931-1938; dean, LSU Medical School, 1937. Died, New Orleans, September 17, 1941; interred St. Louis Cemetery II. From http://lahistory.org/site21.php
Murder at the Lee Circle Bar
September 17, 1939
On
September 17, 1939
Philip Carey, an official of the National Maritime Union, was shot and killed just outside the Lee Circle Bar. The alleged murderer, William C. McCuistion, later appeared as a witness in a Congressional investigation into Communist influence in the union. He was still at large when
this phot of the interior of the Lee Circle Bar
was taken on
November 19, 1940.
(From the New Orleans Public Library)
Louis Hall Nelson is Born
September 17, 1902
______
Louis Nelson was born on September 17, 1902 at 1419-21 Touro Street. During the 1920s, he played with Buddy Petit, Kid Rena, Kid Punch Miller, Sam Morgan, Chris Kelly, Papa Celestin, Willie Pajeaud, Kid Howard, Sidney Cates and Kid Harris' Dixieland Band. During the late 1920s he joined the Sidney Desvigne Orchestra. which played for white audiences at the New Orleans Country Club and the Southern Yacht Club. Monday and Tuesday nights were reserved for black audiences at such venues as the Pythian Temple and the Bulls Aids and Pleasure Club. During his 15 years with Desvigne's 10 piece Orchestra, Nelson played for summer Mississippi River cruises on the steamer S.S. Capitol.
During the Depression, he became first chair in the Works Progress Administration (WPA) band. Between engagements, he and fellow musicians dug stumps for the City Park WPA expansion project. He enlisted in the U. S. Navy and became Musician 1st Class at the U.S. Navy base in Memphis, Tennessee. After the war he returned to New Orleans and resumed playing with Sidney Desvigne's Orchestra.
In 1945 he joined Kid Thomas Valentine's band, playing at the Tip Top club, Fireman's Hall in Westwego, and Speck's Moulin Rouge in Marrero. He also worked for the Herbert Leary Orchestra at this time and kept day jobs as a driver for the post office, working as a fish merchant, chauffeuring, and working as a janitor.
In 1949, he recorded with clarinetist Big Eye Louis Nelson Delisle, as well as Charlie Love, Johnny St. Cyr, Ernest Rogers, and Austin Young at his father's Touro Street house and recorded by jazz historian Bill Russell of AM Records. He played at the Paddock Lounge and Dixieland Hall, both on Bourbon Street. He was a regular player with the Preservation Hall band and travelled abroad as both a soloist and band member of the Billie and De De Piece and Kid Thomas Valentine's bands. His travels, begining in 1963, included perfomances with the George Lewis band in Japan, Eastern, Western Europe, South America, Australia, Canada and Mexico, as well as the United States.
His music can be heard on the soundtrack of the movie Pretty Baby (1978) starring Brooke Shields. He can be seen in many New Orleans jazz documentaries, including Art Ford's House Party, Live the Jazz, Three Men of Jazz and Till the Butcher Cut Him Down. In later years, with a grant from the National Endowment for the Arts he developed a program in which he played for New Orleans public school students and discussed New Orleans jazz history. Lous Nelson appeared at every New Orleans Jazz and Heritage Festival until his death on April 5, 1990 as result of a hit-and-run collision.
---
Edward P. Benezech, soldier. Born, New Orleans, September 17, 1894; son of Henry Benezech and Camille Felullon. Married Violet Herkinder. Three children. Enlisted in Washington Artillery, Louisiana National Guard, December 1915. Served on Mexican border, World War I & II. Commander, Washington Artillery, 1939-1941. Died, New Orleans, May 13, 1967; interred St. Louis Cemetery III. TAG, LA Source: Military records, Jackson Barracks Library, compiled by Mary B. Oalmann, military historian. From http://lahistory.org/site19.php
Hurricane Danages Steamboat Natchez
September 17-18th, 1875
______

On the 17th, a strong south wind developed across Louisiana as this hurricane made landfall near Indianola, Texas. At Calcasieu and Lake Charles, the wind shifted and blew with "terrific force". Tides at Shell Island were higher than during the Isle Dernieres disaster in 1856. At New Orleans, this squall came in and increased the winds to 36 mph. The pressure fell to 29.30" at Southwest Pass at noon on the 18th. The squall at New Orleans did a number on the steamer Natchez. It collided with the ferry Louise, linked up with the boat, and drifted down the Mississippi. After brushing past the C. H. Durfee and Belle Rowland, the steamer was re-secured. The Greenleaf dragged its anchor and went ashore.