---

Mayer Israel Passes Away
February 14, 1915
__________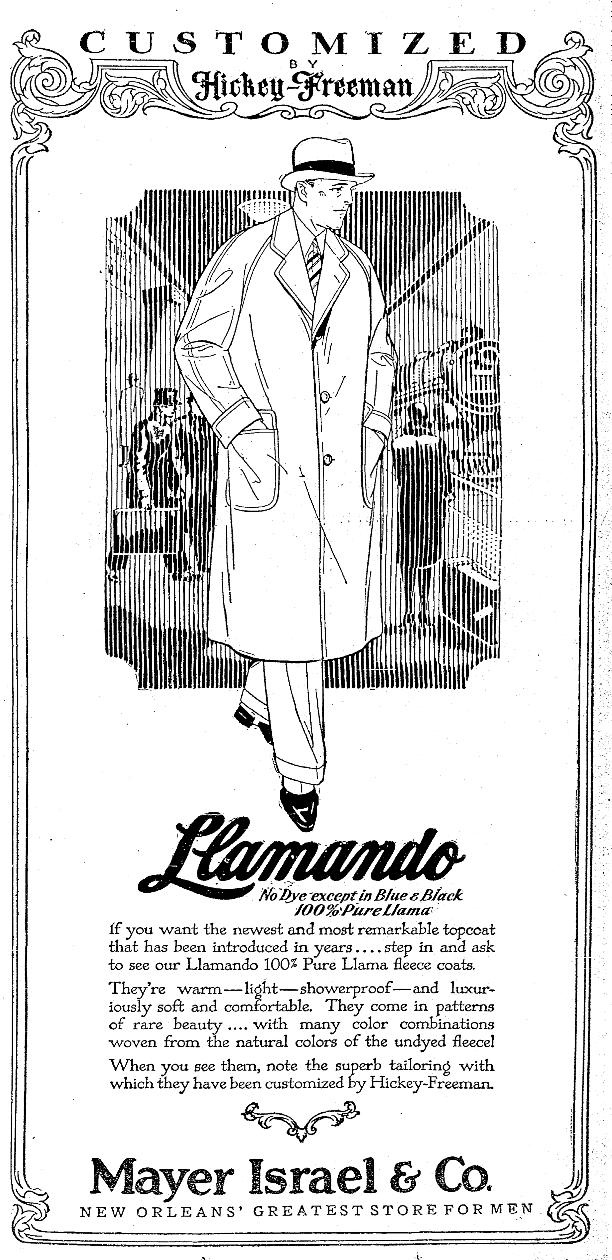 Mayer Israel's Canal Street clothing store. was a fixture in downtown New Orleans from 1906 until it closed in the late 1950s. Born on March 12, 1857, Mayer Israel, as a young man, entered the business of his uncle Leon Godchaux (Leon Godchaux's Clothing Company).
At age 22, in 1891 he purchased the clothing house of H.D. McGown. In 1906, he moved the store to 706 Canal, and in 1910, he purchased the property at 714 Canal and had a new structure built on the site. The store later expanded into 716 Canal as well. It operated as Mayer Israel & Company.
This advertisement ran on November 13, 1928 in the Time-Picayune.
During the Depression, Israel was called upon by President Roosevelt to serve as chairman of the National Recovery Act for the New Orleans area. He was president of the New Orleans Chamber of Commerce in 1936, an original member of the board of directors of the Vieux Carre Commission, an organizer of the Boy Scouts of America in the New Orleans area, helped create and was president of the Jewish Welfare Fund, served as a member of the Children's Welfare Association, served on the board of directors of the Red Cross, and was one of an 11-man team who raised funds for the enlargement of Tulane Stadium for the Sugar Bowl. Mayer Israel died on February 14, 1915 in New Orleans.

---

You Can Support this Site by Clicking on & Shopping from this Amazon Link -- and it won't cost you a penny more: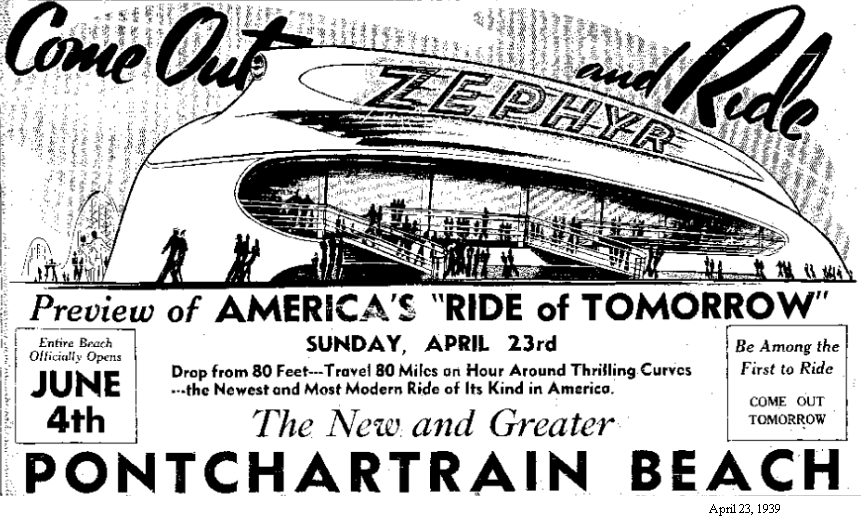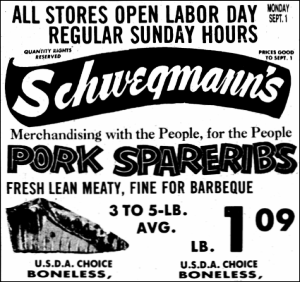 On
February 14, 2008
, the Hubbell Branch library patrons, employees, and volunteers gathered to honor Ms Louise LaMothe, who had worked for NOPL for 37 years, eighteen of which were spent as the Branch manager of the Hubbell Branch Library. A hands on individual, Ms LaMothe was a fixture in the Algiers Point community and made the library a central gathering place for many Algiers Point residents.
Photos of the celebration
. (NOPL).
Arthur Joseph O'Keefe (1876-1943), a native of New Orleans, served as the city's mayor from 1926-1930. Before entering politics, O'Keefe operated a coffee and tea importing business and served as a director of other local firms. He was a member of the Choctaw Club, the city's Democratic machine, and in 1925 was elected Commissioner of Finance in Martin Behrman's last administration. When Behrman died early in 1926, the Commission Council elected O'Keefe acting mayor. He later won the special election to fill Behrman's unexpired term. His term witnessed construction of the Watson-Williams bridge [also know as the Maestri bridge or the Highway 11 bridge] over Lake Ponchartrain and the beginning of the Municipal Auditorium construction project. O'Keefe opposed efforts, supported by Huey P. Long, to build free bridges at the Rigolets and Chef Menteur pass and to pipe cheap natural gas into the Crescent City. On July 15, 1929, O'Keefe took a leave of absence from his office (T. Semmes Walmsley became acting Mayor) and formally resigned the position on February 14, 1930. (NOPL)
Josie Arlington (1864 – February 14, 1914) was a brothel madam in the Storyville district of New Orleans, Louisiana. Arlington was born Mary Deubler in New Orleans to German parents. Though very attractive and shrewd, Arlington was known to be short-tempered and violent. She began working as a prostitute in 1881, supporting her family on her earnings, and opened a brothel on Customhouse Street in 1895. In 1898, when Storyville became established, Arlington moved her operations to a four-story frame mansion 225 North Basin Street. The establishment, formally named Chateau Lobrano d'Arlington but locally known as The Arlington, was famous for its opulence. As an expensive "$5.00 House" it offered about ten or twelve girls at any time, as well as a live sex 'circus' that could be viewed for an extra fee. Though it had a reputation for depravity, Josie claimed that no virgin was ever defiled or exploited by her business. The Arlington was damaged in a fire in 1905. The madam and her girls were taken in temporarily by Tom Anderson, a saloon keeper and friend/lover of Arlington's. Anderson's establishment gained the nickname 'The Arlington Annex' as a result Arlington closed the business in 1909 and retired. Many of her assets were bought by Tom Anderson. Arlington died in 1914 and was buried at Metairie Cemetery, in a tomb designed by Albert Weiblen. The famous grave features a bronze female figure which has been said to leave its post at the door of the monument and walk around the other graves. The grave quickly became a tourist attraction, which left Arlington's family mortified. The body was later moved to another location within the same cemetery. The monument still stands, and deceased members of the Morales family are now held within it. The bronze female figure is thought to symbolize a virginal girl being turned away from the Arlington door, following Arlington's claim in life that no woman's innocence was taken on the grounds of her establishment.
Marie Marguerite Bonnet, novelist. Born, New Orleans, February 14, 1865; daughter of Jean François Bonnet. Little information is available on her life. Said to have traveled extensively, she was the author of ten or more books for young people. Removed to Pennsylvania in the 1920s, living at Reading part of the latter years of her life. Her works include: Sweet William (1890); Little Marjorie's Love Story (1891); Prince Tip-Top (1892); My Lady (1894); A Child of Tuscany (1895); Pierette (1896); A Little House in Pimlico (1898); Tales of an Old Chateau (1900); Bernardo and Laurette (1902); Clotilde, A Story of Old New Orleans (1903). D.H.B. Sources: Lucian Knight, ed., Biographical Dictionary of Southern Authors (1929); Albert G. Alexander, "Louisiana Writers, 1875-1900" (M.A. thesis, George Peabody College, 1931). From http://lahistory.org/site19.php
When Robert E. Lee's figure was raised in stone at Tivoli Place (now Lee Circle), Charles Erasmus Fenner had been instrumental in its erection and delivered the unveiling oration. He was president of the R. E. Lee Monument Association. Educated in the public schools of New Orleans he then attended Western Military Institute of Kentucky where he was valedictorian, the University of Virginia, and the law department of University of Louisiana (now Tulane University. He formed te Civil War military unit of Louisiana Guards and entered Confederate service day after Fort Sumter was fired upon. He was assigned to Pensacola and became a member of Dreux's Battalion. He then served in Virginia, formed Fenner's Battery of artillery, served at Port Hudson, in Georgia, and in Tennessee before surrendering with Richard Taylor in Meridian, Mississippi. Returning to New Orleans, he formed a partnership with Gustave A. Breaux. In 1880 he was named associate justice of the Louisiana Supreme Court in 1880, a position he resigned in 1894. That year he became Vice-president (later president) of the board of administrators of the Tulane Fund which was instrumental in the organization of Tulane University. He was also a member of the Peabody Education Fund. Born in Jackson, Tennessee on February 14, 1834, he died in New Orleans on October 24, 1911 and was interred at Washington Cemetery. (From http://lahistory.org/site.php?pageID=23)
A fire on March 21, 1788, started when a candle ignited the lace draperies of an altar in the home of the military treasurer of the colony, Vincente Jose Nunez, on Chartres Street. Among the buildings burned to the ground were the Church of St. Louis, the priests' residence, and the Casa Principal, which housed the Cabildo. In a letter written on March 28, 1788, Father Antonio de Sedella (Pere Antoine), who was pastor of the church, described the rapidity with which the fire made headway. He wrote that he had sent some of the church records to the home of the tobacco director, "distant from the Presbytere about two rifle shots," but they were lost when that house caught fire. Nearly a year elapsed before the charred remains of the church were cleared away and construction of a new church began in early 1789. The cornerstone was laid on February 14, 1789. More than five years were to pass before the new church was completed in December, 1794. The second Church of St. Louis was the gift of the wealthy Don Andres Almonester y Roxas, a native of Andalusia who had acquired numerous properties since his arrival in New Orleans in the wake of Governor Alejandro O'Reilly. As Louisiana and the Floridas had been created a diocese in 1793, and Luis Pefialver y Cardenas appointed first bishop with New Orleans as his See city, the new church was dedicated as a Cathedral and put into service on Christmas Eve, 1794. Sources: http://www.saintlouiscathedral.org/HistoryE2.htm and http://nutrias.org/~nopl/spec/pamphlets/slc/slc.