---

Terrytown Opens
March 6, 1960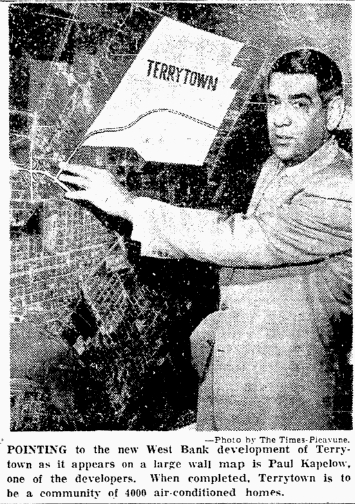 On July 2, 1959, the Jefferson Parish Council authorized its intention to create new drainage, garbage collection, flood protection, and road lighting for its 1st, 2nd, and 3rd Westbank wards which lie between Gretna and Plaquemines Parish. At this time both Timberlake and Terrytown (tentatively called Oakdale) were planned as housing developments. The waterworks district had already been created and the developers agreed to provide interim financing for the service. The area's population stood at 1000 but optimistic leaders expected the number to grow to 40,000 by 1980.
In August 1959 a contract was signed by Terrytown, Inc., (property owner) and Kesko, Inc. (builder) for the construction of 493 dwelling units at a cost of $5,485,025. The photo on the right, which captures developer Paul Kapelow (president of Shelby Construction Company and head of the building firm Guardian Construction Company) showing his plans for Terrytown, appeared in the September 20, 1959 edition of the Times-Picayune. The page one headline describing the new subdivision read "New 400 Home Project Begun -- Store Areas, Schools, Churches Included". Terrytown homes would boast of central air and heating, contain three or four bedrooms (some with family rooms), one or one-and-one-half baths, and could be had for $12,750 to $15,500. They would have fully-equipped kitchens with "modern built-ins...to make the new subdivision unique in its class in the area". Existing trees would be preserved whenever possible, to be viewed from inside of rooms containing "contemporary exposed beams and sloped ceilings".
In the initial construction phase, 493 homes between Victory Drive and the Belle Chasse Highway in the 1200 acre development would have a frontage road (Terrytown Parkway, later Terry Parkway) 1000 feet from the Mississippi River Bridge toll plaza (the bridge was expected to be completed the following year). The main arteries to the subdivision would be Stumph Boulevard and Heritage Avenue but "semi-isolate areas of minimum traffic" would provide a quiet environment for Terrytown homeowners who would live "10 minutes from downtown".

Kapelow's Shelby Construction Company was also in the process of building what would become Lakeside Shopping Center and had already completed the Claiborne Towers, the Motel De Ville, and the Parkchester Apartments. Meanwhile Pontchartrain Park subdivision was underway, offering 1725 homes ranging from $14,300 to $25,000 exclusively for Negro homeowners (according to a 1969 UP article). Airline Park Shopping Center had just entered into a lease with Maison Blanche department store, the two-story Lakeshore Shopping Center (including Lakeshore Lanes bowling alley) on Robert E. Lee Boulevard was in the design stage, Schwegmann's Airline Highway store was under construction, and new homes were offered for sale in Lake Terrace. Pap's grocery on Mirabeau Avenue was brand new, Fifty-seven homes in Arabie's Caroline Park were for sale. The Royal Castle commissary at Maple Ridge and Airline Highway was under construction (it would later become Popeye's). Willowdale opened off Veterans Highway as did Aurora Gardens near General Meyer. By December of 1959, the Westgate Annex of new homes was complete and the first of eight new Jefferson Parish sewerage disposal systems was in operation under the direction of Ray L. Condon Jr. The greater New Orleans area positively booming.
Terrytown was officially dedicated/opened on March 6, 1960 by Kapelow, who named the "town" after his teen-aged daughter, Terry, who cut the ribbon. After the 11 a.m.ceremony, a tour of homes and luncheon buffet was offered to several hundred invited guests.
On a related note, Paul Kapelow's son, Stephen Kapelow, headed the venture which was to redevelop Pontchartrain Beach amusement park after it closed in 1983 and was the promoter of the ill-fated 1971 Celebration of Life rock fest held in McCrea, La.
---

You Can Support this Site by Clicking on & Shopping from this Amazon Link -- and it won't cost you a penny more: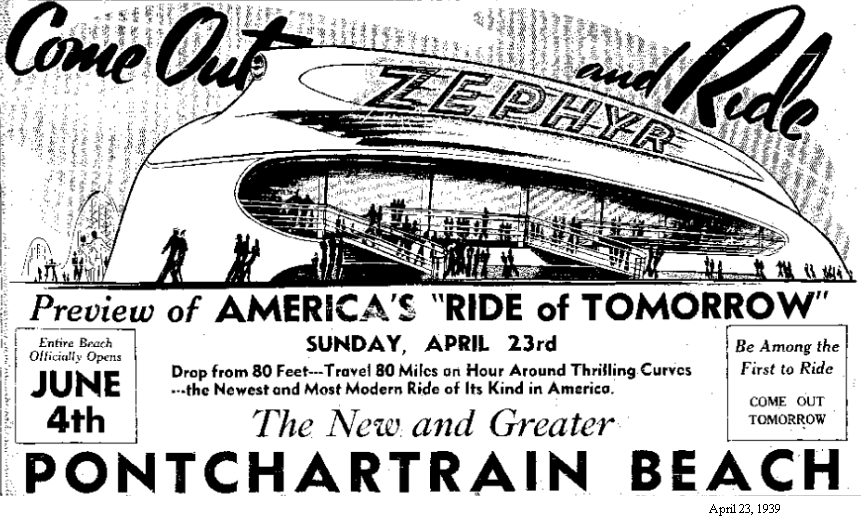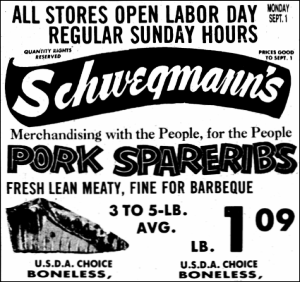 On March 6, 2012, Sean Payton and Mickey Loomis issued a statement taking "full responsibility" for not stopping the alleged "bounty" program. Payton and Loomis also apologized to Saints owner Tom Benson and the Saints fans, and promised that such behavior would never happen again. Three days later, Drew Brees, the starting quarterback for the Saints, issued a statement denying any knowledge of or involvement in the program.
New Orleans soul singer and songwriter King Floyd passed away on March 6, 2006. Best known for his Top 10 hit from 1970, "Groove Me", Floyd was born on February 13, 1945.
On March 6, 1944 the Liberty ship Cecil N. Bean was launched by Delta Shipbuilding Company.
Norman Treigle, born in New Orleans on March 6, 1927, made his operatic debut in 1947 with the New Orleans Opera Association, as the Duke of Verona in Roméo et Juliette. A graduate of Loyola's College of Music, Treigle went on to receive international acclaim. He died in New Orleans on February 16, 1975. On October 12, 2012, Treigle Plaza, at the Mahalia Jackson Theater for the Performing Arts, was dedicated in his name. The dedication ceremony preceded a Gala Concert by the New Orleans Opera starring Plácido Domingo with Patricia Clarkson as hostess.
A new prison was opened in New Orleans on July 12, 1837. The three-story $200,000 structure was located on the square bounded by Orleans, Marais, St. Ann and Treme.
Charles Joseph Dominique Bouligny, born in New Orleanson October 4, 1773, wasa soldier, politician, and U. S. senator. He was elected to the first territorial house of representatives in 1804 and reelected in 1807. He was seated in two session of the legislative council in November 1805 and April 1806 and commissioned major in the territorial militia on October 15, 1805. He was a member of the Committee for the Defense of New Orleans (1814-1815) and justice of the peace and ex-officio member of the Orleans Parish Police Jury. Elected as a U.S. senator, succeeding Henry Johnson, he served from 1824 until 1829. As a senator, he pursued satisfactory settlement claims by Louisiana citizens for losses in the War of 1812. A Whig and supporter of Henry Clay, he was the first Louisianian in Congress to champion a protective tariff when he voted for the Woolens Bill, 1827, and again stood alone when he cast his vote for the Tariff Act of 1828, known to its opponents as the "Tariff of Abominations." Bouligny continued as a Whig leader until his death in New Orleans, on March 6, 1833. He is interred at St. Louis Cemetery No. I. Source: http://lahistory.org/site19.php