December 23


---

Wirthbru Beer
"Created for New Orleans and the South"
By Standard Brewing Company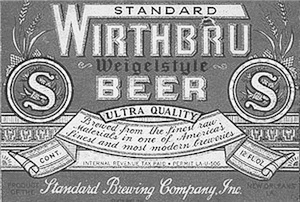 Wirthbru Beer was "created for New Orleans and the South" (according to a two page advertisement announcing the introduction of Wirthbru on December 23, 1934 in the Times-Picayune) in the Standard Brewing Company's South Johnson Street brewery which had "The finest, most modern brewhouse equipment". "The finest glass of beer you ever tasted" was the mantra. Guy L. Dean was Standard's president and general manager. Christian Jetter the brewmaster. "Weigelstyle" (on the label) apparently refers to the Weigelwerk equipment used in the brewery which was, in fact, cutting edge in its day, allowing for quality control to produce a consistently good product.
---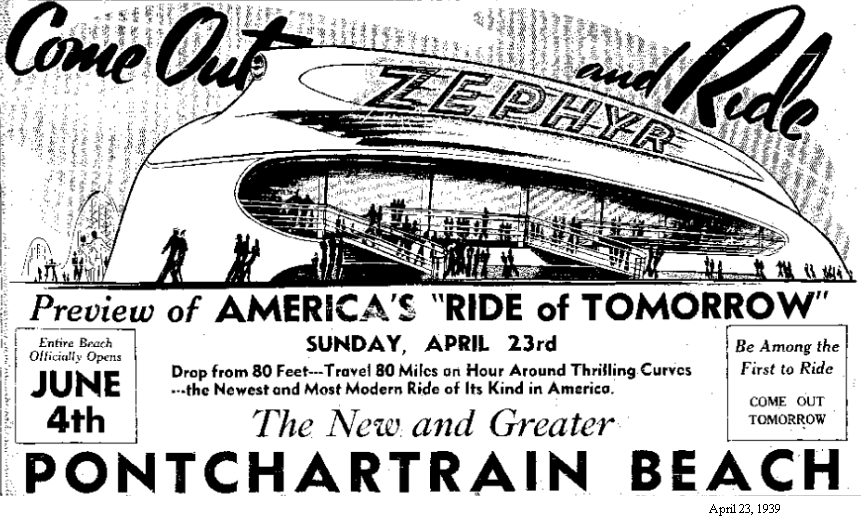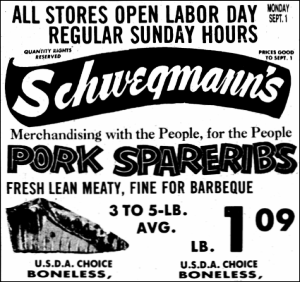 ---
On December 23, 2007, the Regional Transit Authority (RTA) extended service from Napoleon Avenue to the end of historic St. Charles Avenue (the "Riverbend").
The newest concourse at Louis Armstrong airport, D, opened on December 23, 1996 and houses a Delta Air Lines Sky Club, the sole such airline club remaining at Armstrong. A six-gate rotunda, designed by Sizeler Thompson Brown, has been built on the end of the concourse. Concourse D has 12 operating Gates: D1 - D12. Delta Air Lines (Gates D2, D4, D6, D8, D10, D12), United Airlines (Gates D1, D3, D5, D7, D9, D11), and Air Canada Express (Gate D7) operate out of this concourse.
Jazz Fest Founder Allison Miner was born on September 23, 1949. When the New Orleans Jazz and Heritage Festival first began [the second incarnation of it] in 1969, it was radical. Here in the South, still reeling from the Civil Rights movement and race integration, the festivals' founders — Quint Davis, George Wein, and Allison Miner — created a safe space for New Orleanians to come together, to hear each others' music and to party — together. Eve Abrams brings us this profile of Allison Miner, a titan in New Orleans music, and the only person with a Jazz Fest stage named for her: For many people, like me, Allison Miner was a name attached to the stage inside the grandstand where musicians talk more than play. But then I started meeting people like Grant Morris, who became close with Miner when she managed Professor Longhair for most of the 1980's. Morris calls Allison, "one of the most important people in music history, in the history of people who aren't musicians."...Allison managed the Wild Magnolias, Rebirth Brass Band, Steve Masakowsi, and most infamously, Professor Longhair. She was part nurturing mother, part hard-nosed business woman, and there was no line between the musician and herself. They were like family...Allison Miner died at age 46 of bone marrow cancer. By that time, she'd started the Jazz and Heritage Archive, helped launch WWOZ, and ensured that the Jazz Festival would be a non-profit and part of a foundation. After she died [on December 23, 1995], the Music and Heritage stage was named in her honor. It's still the only Jazz Festival stage named for someone. Read the entire beautiful tribute to Allison Miner at WWNO.org By Eve Abrams, WWNO
BALLARD, Edith Loeber, physician, medical activist. Born, New Orleans, August 8, 1875; daughter of Frederick Loeber, M. D., and Catherine Humbrecht Loeber. Education: St. Simeon's Select School in New Orleans; debut in New Orleans, 1898; teaching degree from Louisiana State Normal School in Natchitoches; Cornell University, B. A., 1905, and M. D., 1907. Internship two years Bellevue Hospital. Practiced in New Orleans. Tulane University's Board overrode the medical faculty to appoint E. Loeber and [Mary] E. Bass (q.v.), 1911. Active in various medical and social activities, until marriage on July 23, 1912, to Marshall Ballard (q.v.), editor (1907-1947) of the New Orleans Item. Gave up fulltime practice of medicine to raise family. Children: three daughters and two sons. Residence in Bay St. Louis, Miss., and New Orleans. Edith Loeber Ballard demonstrated an acute social conscience combined with intellectual and political skills. Throughout her life she worked for reform within her own time frame. She raised money, entertained, lobbied legislators, trained nurses, and championed the poor. Died, at a daughter's residence, New Orleans, December 23, 1948. J.P.M. Sources: New Orleans Item, December 23, 1948; New Orleans Times-Picayune, December 24, 1948; John Wilds, Crises, Clashes and Cures (1978); John Duffy, ed., The Rudolph Matas History of Medicine in Louisiana (1962); Duffy, Tulane University Medical Center . . . (1984); and the records of medical and social societies of New Orleans and Hancock County, Mississippi. Fromhttp://lahistory.org/site19.php
On December 23, 1944, the Liberty ship Nachman Syrkin was launched at Delta Shipbuilding Company.
The New Orleans Church of St. Louis, which had been rebuilt after being destroyed in the fire of 1788, was dedicated as a cathedral on
December 23, 1794
.