November 4
---


---
---

Owen Edward Brennan Dies
November 4, 1955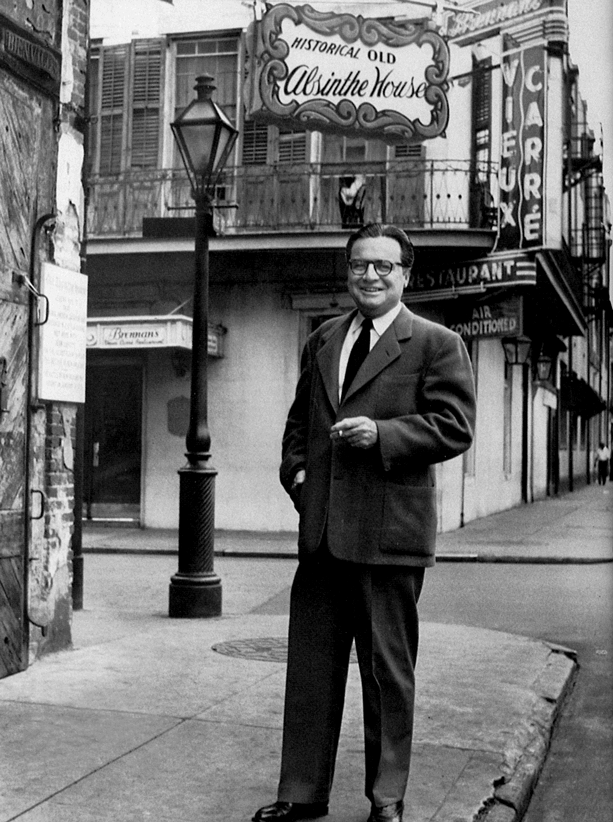 Born in New Orleans on April 5, 1910, Owen Edward Brennan is most widely known as the founder of Brennan's Restaurant. The son of Owen Patrick Brennan and Ella Mary Valentine, he was the oldest of six children in the family which included John, Richard (Dick), Adelaide, Ella, and Dorothy (Dotti).
Brennan attended Redemptorist and Loyola. His first major business venture was the ownership and operation of Parkview Pharmacy (along with Joseph Pattarre) at Carrollton Avenue and Dumaine. He was also a district sales manager for a whiskey distilling company. In 1943, he and his father, Owen Patrick purchased the Old Absinthe House at 240 Bourbon Street.
In July 1946, the father and son opened Owen Brennan's French & Creole Restaurant, also known as the Vieux Carre Restaurant and Brennan's French Restaurant at 241 Bourbon Street (now the Bourbon Cowboy) -- across the street from the Old Absinthe House. It became popular with locals and celebrities alike and a venue for parties and banquets. Local society writer Jill Jackson broadcast interviews with patrons from the restaurant on WWL radio. In 1951, after a glut a banana's filled to the docks (Owen Patrick had a prior career with the Dock Board), Brennan's Chef Paul Blangé introduced Banana's Foster, named for awning company owner, New Orleans Crime Commission chairman, and Brennan's friend Richard Foster. In 1955 the famous "Breakfast at Brennan's was introduced.
In 1954, Owen leased the historic Paul Morphy house at 417 Royal Street (then housing the Patio Royal) with plans to renovate it and relocate the restaurant there. On November 3, 1955, he attended a banquet at Antoine's restaurant, went home to his family at 6539 West End Boulevard, and by morning had died in his bed of a heart attack at the age of 45.
Owen's sister Ella and wife Maud Mary Seiner Brennan ran the restaurant after his death. Sons James (Jimmy), Theodore (Ted), and Owen Jr. (Pip) would later take the reins. In 1956, Brennan's restaurant finally moved to 417 Royal Street. Early "Midday" (WDSU) television programs were aired live from the new location
Because the original Brennan's was owned by both father and son, upon the son's death it was inherited by the son's wife and children and all of the son's siblings (John, "Dick", Adelaide, Ella, and "Dotti"). During the early 1970s, family ownership was split -- the siblings left Brennan's and took over Commander's Palace. Since then various Brennan relatives have opend numerous popular restaurants in New Orleans and beyond.
The 'new' Brennan's is planned to repoen in a totally renovated building by new owners Ralph Brennan and Terry White in the fall of 2014.
---
---

---
In 2008, William Jefferson sought re-election to the United States House of Representatives. Seven Democrats challenged him for the seat in the Democratic primary. In the October 4, 2008 Democratic primary, opposition to Jefferson was split among six contenders. Some of the challengers made strong showings in their base neighborhoods but failed to garner much support in other parts of the district. Jefferson ran second, third, or even fourth in many precincts, but his 25% total was enough to give him a plurality and to send him into the runoff primary, where he faced Helena Moreno, a former TV newscaster. Aided by overwhelming support from African-American voters on the same date as the presidential candidacy of Barack H. Obama drew them to the polls in unprecedented numbers, Jefferson won the Democratic nomination in the congressional party primary, which barred the district's 41,000 Republicans and many of its 84,000 other voters not registered as Democrats. Jefferson won the November 4 Democratic runoff. The general election round occurred on December 6, 2008. Jefferson faced Republican candidate Anh "Joseph" Cao, Green Party candidate Malik Rahim, and Libertarian Party candidate Gregory Kahn. An earlier candidate, independent Jerry Jacobs, withdrew. Jefferson was defeated in the general election on December 6, 2008 in a major upset by Republican nominee Cao, who had endorsements from several prominent Democrats including Moreno and City Councilwomen Jacquelyn Brechtel Clarkson and Stacy Head. New Orleans Mayor Ray Nagin endorsed Jefferson. Cao won by three percentage points. Jefferson thus became only the third Democratic incumbent since the end of Reconstruction to lose to a Republican at the federal level in Louisiana.
Buddy Bolden Dies
November 4, 1931
______
Regarded by contemporaries as a key figure in the development of the New Orleans style of rag-time music which evolved into jazz, cornetist Charles Joseph "Buddy" Bolden's sound was never recorded but his horn was said to have been heard across the Mississippi River clear from Algiers. Known for erratic behavior and as a heavy drinker, he was committed to Jackson State Asylum in 1907 after an altercation with his mother-in-law in their home. He passed away on November 4, 1931. Bolden has been immortalized in a number of versions of the tune I Heard Buddy Bolden Say, by his protege, Bunk Johnson among others. Click the box to the right to hear a 1939 recording by Jelly Roll Morton's New Orleans Jazzmen.
Jazz is Legislated as a National American Treasure
November 4, 1987
______

In 1987, the US House of Representatives and Senate passed a bill proposed by Democratic Representative John Conyers Jr. to define jazz as a unique form of American music stating, among other things, "... that jazz is hereby designated as a rare and valuable national American treasure to which we should devote our attention, support and resources to make certain it is preserved, understood and promulgated." The bill passed in the House of Representatives on September 23, 1987 and in the Senate on November 4, 1987.
ATKINSON, Charles M., clergyman. Born, Newburyport, Mass., June 17, 1819; licensed in 1848 to preach by Con-gregational Association of New York and Brooklyn. In 1867 named moderator of the Synod of Mississippi which included most of Mississippi and all of Louisiana; in 1875 the Doctor of Divinity Degree was conferred on him by King College, Bristol, Tenn. Served 29 years as Evangelist of the Presbytery of New Orleans, from that city to Lafayette; lived in Morgan City during the yellow-fever epidemic of 1878 when he ministered and served the en-tire community. In 1880, removed to Thibodaux where he resided for 8 years, continuing as "Evangelist of the Teche." Twice married; seven children, two of whom were lost in the 1878 epidemic. Died, Centerville, La., November 4, 1900. Atkinson Memorial Presbyterian Church in Morgan City named in his honor. L.K.L. Source: Author's research. From http://lahistory.org/site18.php
BOGAERTS, John Baptist(e), clergyman. Born, at Olmen, Belgium, December 29, 1840. Studied at Seminary of Malines; ordained subdeacon at Malines; received order of diaconate and priesthood in New Orleans, November 4, 1863. Arrived on Good Friday, April 3, 1863; immediately named pastor of St. Joseph's, Gretna; completed construction of church and built combination school-rectory. Named pastor, July 15, 1871, of St. Henry's, New Orleans. Before becoming rector of St. Mary's Archbishopric Church (l'Evêché) and chancellor of the archdiocese in 1891. Appointed 1889, vicar general by Archbishop Francis Janssens (q.v.). Upon Janssens' death (June 9, 1897), selected as apostolic administrator of the archdiocese, holding that post until installation of Archbishop Placide L. Chapelle (q.v.), February 1898. Assumed the pastorate of St. Ann's Church, New Orleans, May 1901. With Fr. Joseph Koegerl, was instrumental in having Benedictine Fathers transfer site of their seminary activities from Gessen in Tangipahoa Parish to more salubrious location in St. Tammany Parish. Died, New Orleans, June 28, 1925; interred St. Joseph Abbey Cemetery, St. Benedict, La. H.C.B. Sources: Archives, Archdiocese of New Orleans and of St. Ann's (personal scrapbook); Roger Baudier, The Catholic Church in Louisiana (1939). From http://lahistory.org/site19.php
Big Shot's Irbin Pailet Dies
November 4, 1962

Irbin Pailet, with one horse and a wagon in 1920 built an ice and soft-drink empire. Pailet is pictured here in the office of Jefferson Bottling Company at Metairie Road and Frisco Avenue in 1922 with his brother-in-law H. J. Wallick, director of sales and brother Maurice, president.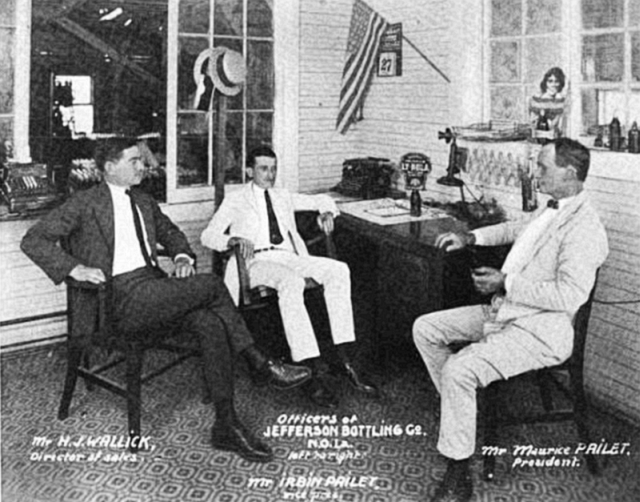 A 1927 advertisement for the business which operated at 716 Frisco Avenue noted that Jefferson Beverages offered "All Flavors" including root beer, cider, sweet mandarin, and grape "Manufactured in a Most Modern Up-To-Date Sanitary Plant -- Louisiana State Board of Health Inspection Scores 100 Per Cent". It was owned by Pailet Industries which also operated the Marada Stock Farms at the same location.
The family business also included Metairie Ridge Ice Company and The Metairie Ridge Ice Company at 308 North Labarre Road and employed sister Fannie and brothers Morris and Samuel Pailet Jr. In this 1926 photo Irbin is right of center (wearing a bow tie).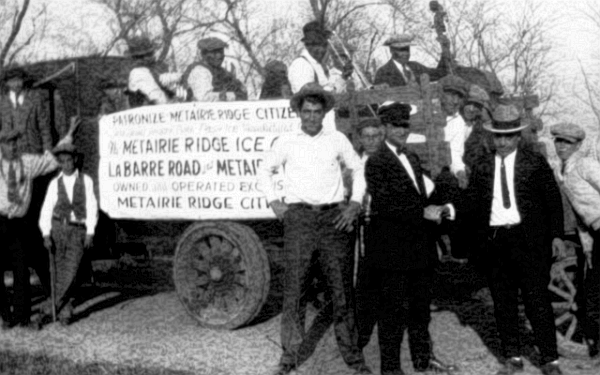 When the Hi-Way Baseball Park opened on Sunday, July 10, 1927 on Jefferson Highway at Harlem Avenue (now Causeway Boulevard) Jefferson Bottling Works began sponsoring a team (and would continue to do so for many years). The first game played at the new park pitted the Shrewsbury Athletic Club against Eiriatem ("Metairie" spelled backwards, the team was made up of Metairie High School students) followed by the Jefferson White Sox against Jefferson Bottling Works in a double header. The park's grandstand seated 1000 spectators.
On April 29, In 1928 Irbin announced the purchase of the Orange Crush bottling company at 3500 Tulane Avenue and renamed it Jefferson Orange Crush Bottling Company, Inc. Pailet said that the plant would have the capacity to produce 4,000 cans daily which would be transported via 15 delivery trucks. The company also expanded their Metaire bottling location and managed Metairie Ridge Coal Company.

In 1938 the Pailets introduced Big Shot Root Beer. (D.C. "Infrogmation" May.) and Tom Collins Jr (labled "The Life of the Party) -- a "lithiated lemon" drink in a double portion bottle as well as Double Cola. The company began running promotions that same year. The first offered a free silver plated spoon (valued at $1.50 per dozen) for every 12 bottle caps delivered to the plant off Metairie Road. The second, in conjunction with Big Shot's roll-out offered cash prizes; winners were announced on WDSU radio three times daily.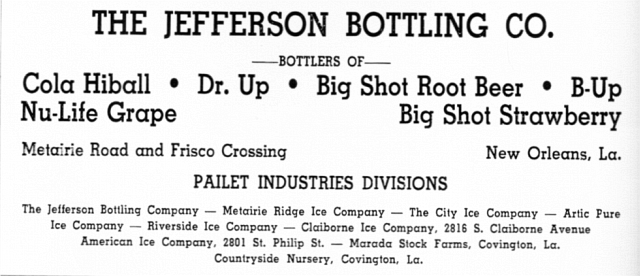 Round the Clock Ice
The company pioneered 24 hour service via coin operated machines. This 1949 advertisement shows that Pailet's business had expanded to include Claiborne Ice Company at 2816 South Claiborne Avenue (between Washington and Toledano), Arctic Pure Ice Company at 3701 Bienville Street (between Conti and North Jefferson Davis Parkway), Riverside Ice Company at 2731 Chartres Street (between Port and St. Ferdinand), American Ice Company at 2801 St. Philip Street (corner of North White), and The City Ice House at 3535 Tulane Avenue (between South Genois and South Clark). After theCity Ice House closed, Dr. Momus Alexander Morgus used it for his laboratory beginning on January 3, 1959. In an Interview with Morgus, the question was asked, "What brought you to locate your laboratory above the Old City Ice House?". Morgus replied, "When refrigerators and store-bagged ice cubes took over the market years ago, many ice houses closed down, leaving some excellent equipment behind that was ideal for freezing scientific specimens for my experiments - and, of course, the rent was cheap."
In 1960, on the company's 40th anniversary the local paper reported that Pailet Industries was "one of the states' and city's largest tax-payers...using raw materials principally from Louisiana resources".
In 1961, Jefferson Bottling introduced Chocolate Soldier to the Greater New Orleans Area. Two 72-case processors at the company plant cooked the tasty beverage in the bottle and more than 20 trucks delivered it to local stores. The product was such a success that production manager Buddy Massett, who had been with the company for over 30 years (and at one time had a tavern on Metairie Road) , added a Saturday working shift.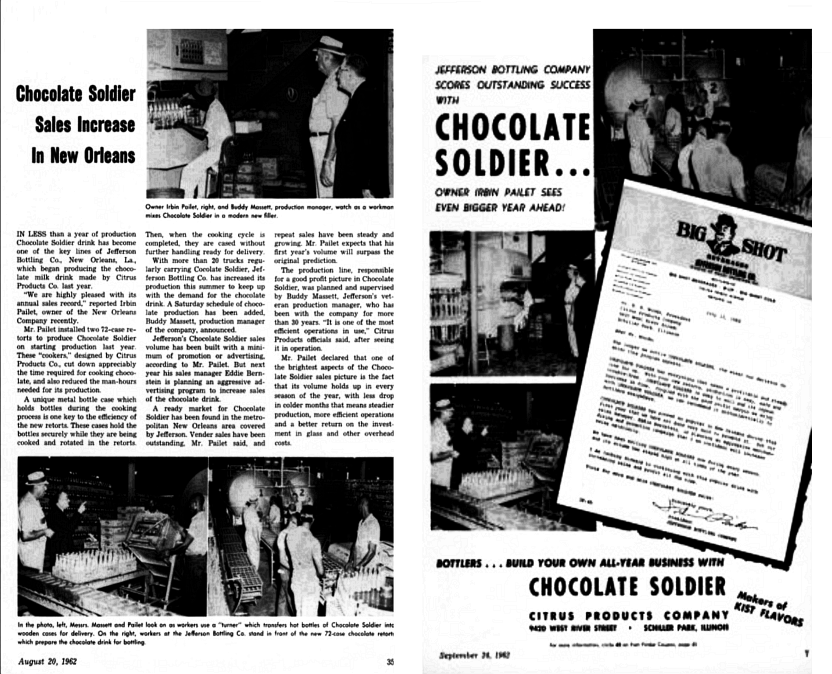 The bottling company operated on Frisco street in Old Metairie until the 1980s before moving to 4951 River Road. Big Shot is now manufactured by National Beverage Corporation in Harahan.
Irbin's death at Touro Infirmary on November 4, 1962 at the age of 64 was reported on the front page of the Times-Picayune. At the time he was president of Pailet Industries, Inc and Metairie Bank. He had been president of Metairie Bank, Metaire Men's Association, the Chamber of Commerce of the New Orleans Area, Covington Country Club, B'nai B'rith, the Congregation of Chevra Thilim and was a generous philanthropic supporter of the Jewish Community. He had owned interests in oil production, livestock (including Marada Stock Farms), nurseries (including Countryside Nursery in Covington), Irbin Pailet resided at 118 Hector Avenue in Metairie.
750 acres belonging to the Irbin Pailet family was acquired in the 1980s by Beau Chêne, Incorporated for use as the middle and eastern portion of an upscale Northshore housing development.
Irbin Pailet, as well as many other local people, are included in
Legendary Locals of Metairie
by Catherine Campanella.