---

Jet Crashes into Hilton Inn
Thursday, March 30, 1967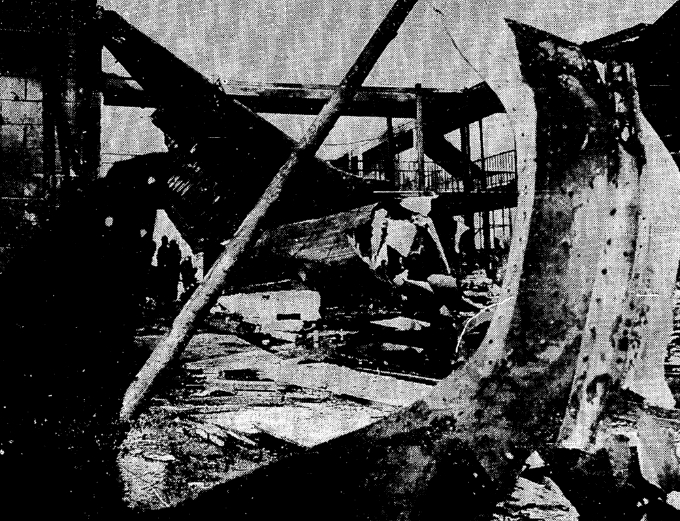 Delta Air Lines, Inc., DC-8, N802E, operating as Flight 9877, crashed during a landing approach to Runway 1 at New Orleans International Airport, Kenner, Louisiana, on March 30, 1967. Five crewmembers and an FAA observer were fatally injured. This was a training flight with no passengers aboard; however, impact occurred in a residential area and 13 persons on the ground were also killed. The aircraft, several homes and part of a motel complex were destroyed.
The flight had just taken off on Runway 28 at 0043 CST, and. was in the process of executing a simulated two-engine out landing when the crash occurred. me weather at the time was clear skies, visibility five miles, and the wind from 110 degrees at three knots.
The Board determines the probable cause of this accident was the improper supervision by the instructor, and the improper use of flight and power controls by both the instructor and the captain-trainee during a simulated two-engine out landing approach, which resulted in a loss of control.
The photo on the left appeared in the March 31, 1967 edition of the Times-Picayune with the caption "TAIL OF PLANE SEEN THROUGH OTHER WRECKAGE AT HILTON INN".
Delta Air Lines DC-8-51 N802E was scheduled as Flight 9877, to provide crew training for a captain-trainee and a flight engineer-trainee. In addition the flight engineer-instructor was being given a routine proficiency check.

At 23:14 a weather briefing was given to the instructor pilot, indicating, "... the only significant weather was a restriction in visibility which was expected to reduce to about two miles in fog and smoke near 0600...".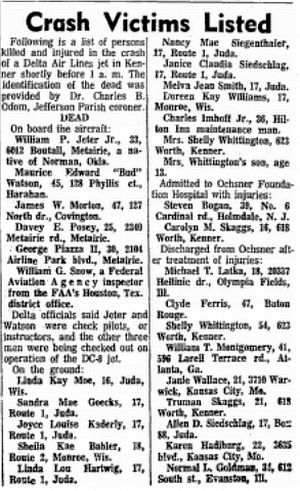 The flight departed the ramp at 00:40 with the captain-trainee in the left seat and the check captain in the right seat. At 00:43 the crew advised the tower they were ready for takeoff and would "...like to circle and land on one (runway 1)." The tower controller then cleared them as requested. The aircraft was observed to make what appeared to be a normal takeoff and departure. At 00:47 the crew reported on base leg for runway 1, and the controller cleared the flight to land. A subsequent discussion revealed that they would execute a simulated two-engine out approach, execute a full stop landing and then takeoff on runway 19.
The tower controller observed Flight 9877 in a shallow left turn on what appeared to be a normal final approach. The degree of bank increased to approximately 60 degrees or greater when the aircraft hit the power lines approximately 2,300 feet short and 1,100 feet west of the runway threshold. The DC-8 crashed into a residential area, destroying several homes and a motel complex.
PROBABLE CAUSE: "Improper supervision by the instructor, and the improper use of flight and power controls by both instructor and the Captain-trainee during a simulated two-engine out landing approach, which resulted in a loss of control."
From the NTSB -- Complete National Transportation Safety Board report.
A March 30, 1967 Times-Picayune account of the tragic accident provides the following information as well as the list of dead and injured seen on the right:
The jet first hit electrical wires and a tree before plowing through the roof of Truman Skaggs' home at 618 Worth Street in Kenner, behind and to the left of the hotel. It then hit the Whittington home at 623 Worth Street, killing Mrs. Shelly Whittington and her 13 year-old son Shelly Clarence Whittington Jr. Mr. Whittington was blown from the home and survived. The jet then hit a railroad embankment and exploded. Fuel engulfed the main entrance of rear wing and a maintenance building of the Hilton Inn on Airline Highway, across from the New Orleans International Airport, at approximately 12:51 a.m.
Eight high school students from Juda, Wisconsin, on their senior trip (which they had funded along with 23 fellow students through bake sales, car washes, baby sitting, etc.) lost their lives in two motel rooms after spending the evening dining in the French Quarter. Another girl was killed while being blown from her room. The students had planned a trip to the gulf coast and a dance aboard the Steamer President as itinerary while in New Orleans -- a city they had chosen to visit. Monsignor A. I. Screen, pastor of St. Pius X parish in Lake Vista performed the church's Last Rites on the girls. He reported that a group of girls had died standing in a motel room shower, facing one another and clutching each other's forearms -- the shower still running at 6 a.m. when they were discovered. Surviving Juda students had run from their rooms to escape injury.

The nose of the plane was found behind a fence between the railroad tracks and the motel. The flight crew-members were found near the railroad track, burned beyond recognition. Five of them were local residents. The jet's reverse engine landed in a courtyard on the opposite side of the motel. Parts of the cockpit and wing rested behind the motel maintenance building. Charles Imhoff, a Hilton maintenance man was killed. The tail and strips of the plane's fuselage settled on the opposite side of the building. Thirty to forty motel rooms were destroyed or extensively damaged by water used to fight the fire.

A temporary morgue was set up at the airport in a newly constructed building which would become a cargo and mail facility. A group of uninjured students from Rich Central High School in Olympia Fields, Illinois were provided sleeping quarters on the carpets of the airport's V.I.P. room.
The body of 18 year-old motel dish-washer Clarence Johnson was reportedly found near the motel on Friday, March 31.
---

You Can Support this Site by Clicking on & Shopping from this Amazon Link -- and it won't cost you a penny more: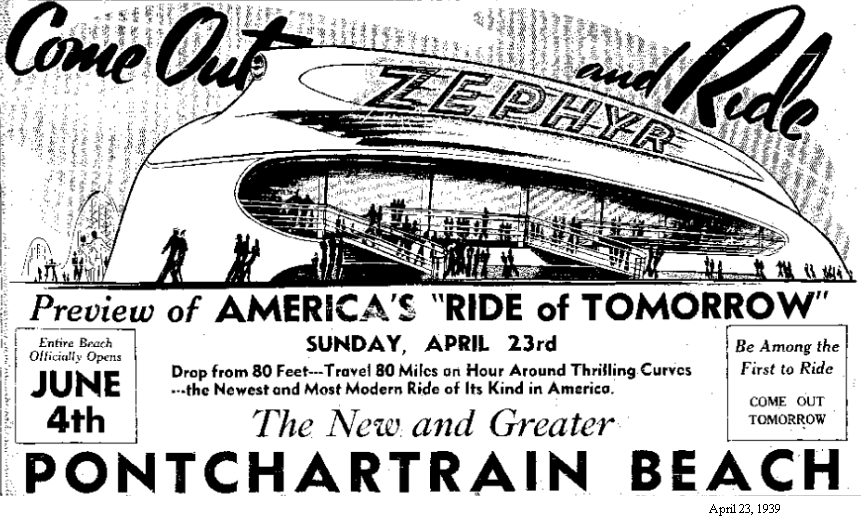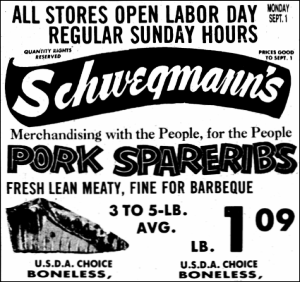 Angela Hill (born March 30, 1949) has been a journalist since 1972. Angela Hill grew up in Corpus Christi, Texas and graduated from the University of Texas at Austin in 1972 with a Bachelor of Arts degree in Journalism. Prior to moving to New Orleans, she worked as an anchor and assistant news director at KGBT-TV, the CBS affiliate in Harlingen, Texas. In April 1975, Angela Hill was hired as the consumer reporter for WWL-TV, the CBS affiliate in New Orleans, Louisiana, USA. In September 1975, Hill became the first female anchor at WWL-TV. Between 1975 and 2013, she would coanchor the 5 PM, 6 PM and 10 PM newscasts. In 1998, the newscasts Hill co-anchored, achieved a 20 Nielsen household rating, double that of its closest competitor WDSU, and the highest rating for an early-evening newscast of all stations within Nielsen's 38 metered markets. During Hill's 38 year career at WWL-TV, she traveled to Paris, London, Beirut, China, Africa and Rome where she would deliver the news and produce documentaries. In 1984, she played the role of a woman reporter in the film Tightrope. In 1989, Angela Hill created and hosted the Angela Show, a daily talk show. The Angela Show started in 1989 and ended in 1996. The Angela Show aired 1,668 shows. Hill's interviewees included notable actors, authors, fashion designers, musicians, and Oscar de la Renta. Angela Hill has been nationally recognized for her contributions as an American journalist. She has been awarded the following national awards: Gabriel Award, Gracie Awards and Freedoms Foundation Award. During her career as an American journalist, Angela Hill produced a documentary on China, in 1979, and the Golden Fleece Awards, in 1978. On June 6, 2013, the New Orleans City Council honored Angela Hill for more than 35 years of service in New Orleans, Louisiana. (WIKI)
Camille Nickerson, academic, concert pianist, singer. Born, New Orleans, March 30, 1887; daughter of William Joseph and Aurelie (duConge) Nickerson. Education: Oberlin (B. A., M. A.); Juilliard; Columbia Teachers College. Teaching career included Nickerson School of Music (father's school), New Orleans, 1916-1926; Howard University, 1926-1962; professor emeritus, School of Music, Howard University, 1962-1982. Concert appearances as pianist and organist in the South, 1916-1920; lecturer, recitals in Creole folksongs of Louisiana, 1941-1960; recitals in Europe; published arrangements of Creole songs. Founded B-Sharp Music Club, New Orleans, 1917; established Junior Department of Music, Howard University; organized Musicians Guild of Washington, D. C., with branch in Baltimore; chairman, Department of Music, Howard University, 1926-1962; president, National Association of Negro Musicians, 1935-1937; participant, Nickerson's Ladies' Orchestra, New Orleans, first female orchestra in Crescent City; collector, Louisiana Creole folksongs. Member, Pi Kappa Lamda; National Association of Negro Musicians; AAUP; advisory board, Fides Settlement Neighborhood House; Howard University Faculty Women's Club, president, 1953-1959. Died, Washington, D. C., April 27, 1982. C.T. Sources: Who's Who of American Women, 2nd ed. (1961); The Black Perspective in Music (1982), p. 230. From http://lahistory.org/site.php?pageID=31

The New Orleans Mint (Old U.S. Mint) was listed in the National Register of Historic Places on March 30, 1973.
New Orleans' Own Willie Pastrano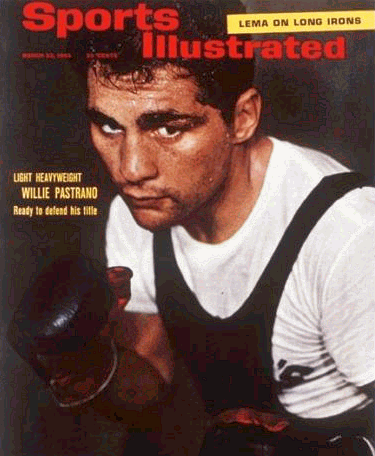 Born in New Orleans on November 27, 1935, boxer Wilfred "Willie" Raleigh Pastrano was the light-heavyweight boxing champion of the world from 1963 until 1965.
A close friend of boxer Ralph Dupas, as kids they trained under Coach Ernest "Whitey" Esneault at St. Mary's Italian gym on Chartres Street in the French Quarter. The first mention of Pastrano in the Times-Picayune reported his upcoming bout for the Southern AAU boxing charmpionship at Buras Auditorium on June 1, 1951, representing St. Mary's CYO. He weighed 135 pounds. Several months later, he made his professional debut at age 16 on September 8, 1951 against Leo Bayard at Municipal Auditorium.
As a pro he was managed by Angelo Dundee and often sparred with Dundee's greatest champ, Cassius Clay/Mohammad Ali. Pastrano won the light heavyweight championship on June 1, 1963 against Harold Johnson in a 15 round decision at the Las Vegas Convention Center. He held the title by defeating Argentine's Gregorio Peralta with a technical knockout in the fifth round at the Municipal Auditorium on April 10, 1964, and again on November 30, 1964 at King's Hall in Manchester, England in an 11 round TKO.
Pastrano appeared on the cover of issue of Sports Illustrated with the caption reading "Light Heavyweight Willie Pastrano Ready to Defend His Title" against Jose Torres at Madison Square Garden. He lost that title on March 30, 1965 in a 9th round TKO, and never fought professionally again.
Willie Pastrano died n New Orleans on December 9, 1997 at the age of 62.
---
Henry Thomas, "Mr. Golf" in New Orleans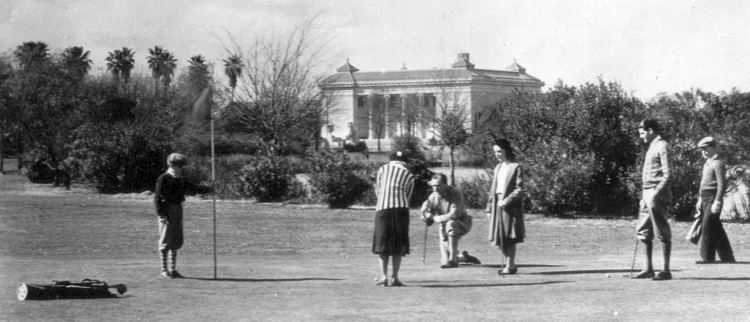 "In Lieu Of Flowers, Please Make Donations To Rebuild City Park Golf Course" requested the Times-Picayune obituary for Francis Henry Thomas who died on December 2, 2005 in Houston months after post-Katrina federal flood-wall breaks caused ruin to park's courses and displaced him, his wife Romy, and hundreds of thousands of other New Orleanians. Thomas had dedicated more than half of his 94 years to caring for and expanding City Park's golf offerings into one of the largest facilities in the country. He came to be known as "Mr. Golf" to local adherents of the sport.
Henry Thomas began working, in 1920, as a caddy at the park when he was 9 years old. He carried Babe Ruth's clubs when the Yankees trained in New Orleans. In 1929, Thomas became a pro at age 18 and in 1930 he became an assistant at City Park. He then moved to Colonial Country Club in Harahan until 1933 when he returned as head pro at City Park when golf facilities included a mere 9-hole course abutting the McFadden mansion (now Christian Brothers School) and property.
Thomas remembered the "Black Cat", a depression era speakeasy on the 13th hole near Bayou St. John, where golfers stopped for a home-brew -- many of them then failing to complete the remaining holes. During the 1930s he organized a Christmas Holiday Tournament which evolved into the New Orleans Open, which he was instrumental in organizing and served twice as its chairman. In 1933 he organized free weekly lessons for children age 5 through 14 which continued for decades and introduced generations of New Orleanians to the sport. The program grew to include as many as 200 teachers, many of whom he had taught. A good number of his students became golf professionals, including the man who would replace him when he retired.
During Thomas' tenure the following improvements were completed:
A new nine hole golf course completed in 1937, which added nine holes to the original course. It ran along Bayou St. John, surrounded the McFadden property, and continued north of Art Museum. The WPA caption for the 1930s photograph above reads "Golf the Year Round. This course, in beautiful City Park, is one of the six evergreen golf courses in New Orleans on which play is continuous the year round".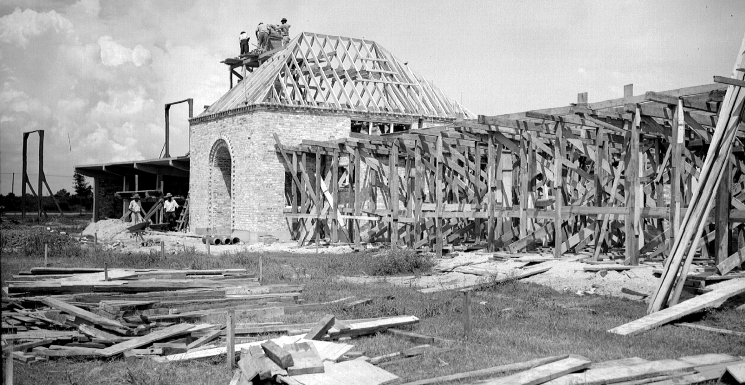 The driving range is under construction in this
1938 view (left). WPA notes for this photograph are, "It will have an administrative building which will contain lockers and dressing rooms; refreshment room; six stalls, each of which will be 18 feet wide. The field will be equipped with four batteries of flood lights".
The old St. John's golf clubhouse was remodelled at this time and was surrounded by additional structures which contained a lobby, lounge, display shop, men's and women's locker rooms (increased from 75 to 250 lockers), and a caddy house accommodating 300 caddies with a sound system connecting with the club house and a bulletin board maintained to display current news on golfing events throughout the country, and an outdoor recreational area – all at a cost of $85,000. For the 1938 New Orleans Open PGA Golf Tournament Mayor Robert S. Maestri donated $5000 in prize money – then $10,000 per year until 1941 when dentist Herbert H. Meyer donated $5,000. The 1938 event attracted 10,000 spectators. The Crescent City Open in 1938 was won by Lloyd Mangrum who bested Sam Snead and Lawson Little. The park hosted the Open until 1962.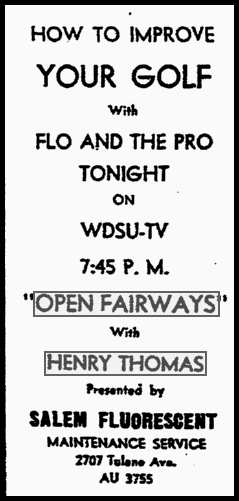 In 1940, Thomas inaugurated an annual tournament for juveniles. In 1942, he created a club for working women golfers, Beginning in the 1940s, he began visiting Carville Leprosarium twice each month to teach doctors and patients, and continued to do so until the 1980s.
In 1950, Thomas presented golf lessons on WDSU-TV on his show "Open Fairways". The advertisement ran in the Times-Picayune on March 30, 1950. In 1951 the show was renewed with Mel Levitt as host and Thomas as instructor. In 1962, Levitt featured Thomas in a weekly "How to Play Golf" feature on his 10:15 sports segments during the nightly news. Beginning in 1962 Thomas oversaw the reconstruction of the golf courses and the addition of a third 18-hole course which opened 1964.
1969 brought the addition of the 18-hole North Course and another club house -- Mayor Victor Schiro was the first to tee off. That year the 15,000 square-foot "Henry Thomas' Golf Shop" in the park at 1040 Filmore Street took in $6,500 in gloves sales alone (5% of the total volume of the shop, at which Mrs. Romy Thomas, his wife, worked).
The Greater New Orleans Sports Hall of Fame inducted Henry Thomas in 1977. In 1984 Friends of City Park named a tournament for him. Golfers played 250,000 rounds of golf at City Park that year. In 1986 he asked that his contract be extended for another two years, which the City Park commissioners approved, but in 1988 they decided that it was time for him to retire.
As a founder of the Italian Open, he was honored in 1988 by the Italian Cultural Society as the recipient of their Podnuh Award. On May 9, 1988, a testimonial roast at the Hilton Riverside Hotel was attended by 600 people including emcee Jim Henderson, Archie Manning, Times-Picayune writers Angus Lind and Dave Lagarde, and the man who would replace hime, Frank Mackel.
Thomas' last day as head golf pro at City Park was June 30, 1988. He was 77 years old but was committed to helping Mackel learn the ropes Mackel said of the man who had been the leader of City Park golf for 55 years, "He's staying with me as long as he wants to stay. I can't fill his shoes". Frank Mackel took over July 1, 1988. Thomas moved on to Plantation Golf Course on the West Bank, which he greatly improved. He also returned to the park to teach at the driving range, which he visited monthly until Hurricane Katrina.
A past president of the International Golf Sponsors Association, Thomas began his career as keeper of a nine-hole course and left our urban park with an 81 hole (including a 9-hole junior course) facility and driving range. It was the largest municipal golf facility in the United States, spanning 850 acres, taking in $2 million net per year from the courses and $60,000 from the driving range.
Henry Thomas Drive, which meanders through the course between Roosevelt Mall and I-610, is named in his memory.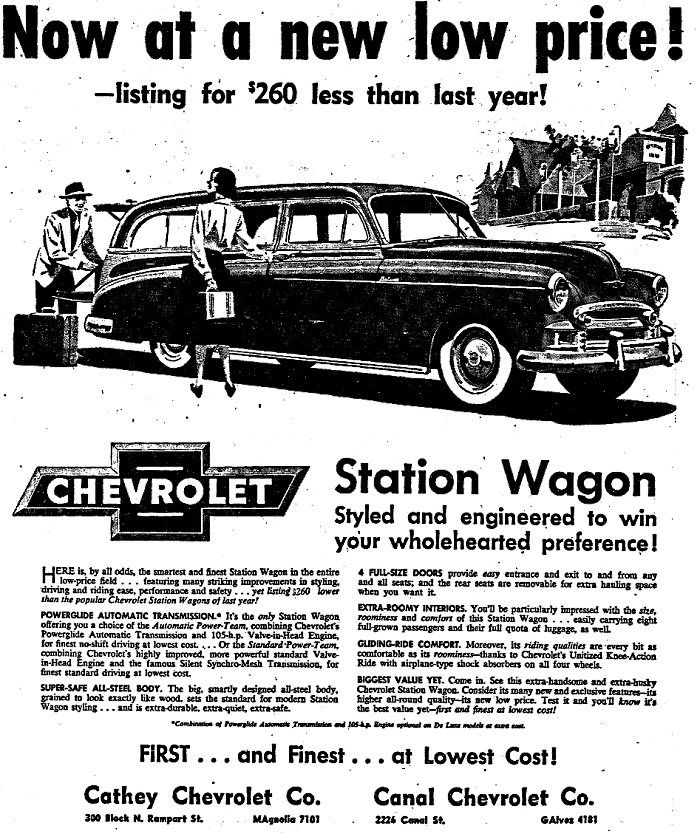 March 30, 1950 -- Times-Picayune
Cathey Chevrolet Company
2226 Canal Street & 300 Block North Rampart