---

Two Swan Boats
In City Park and Audubon Park
July 11, 1931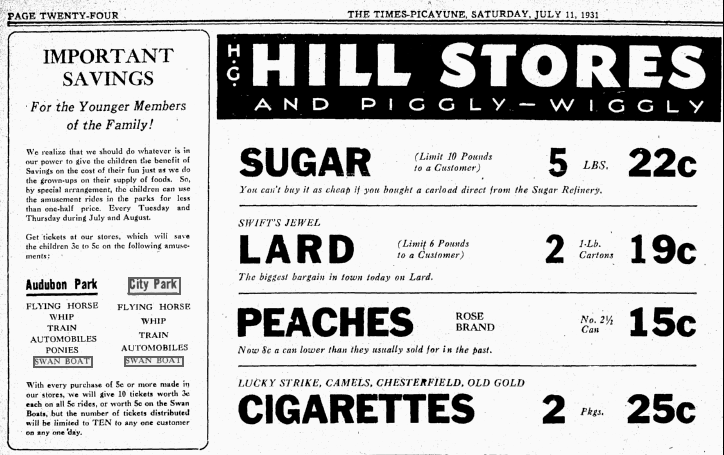 City Park Casino Opens
July 11, 1913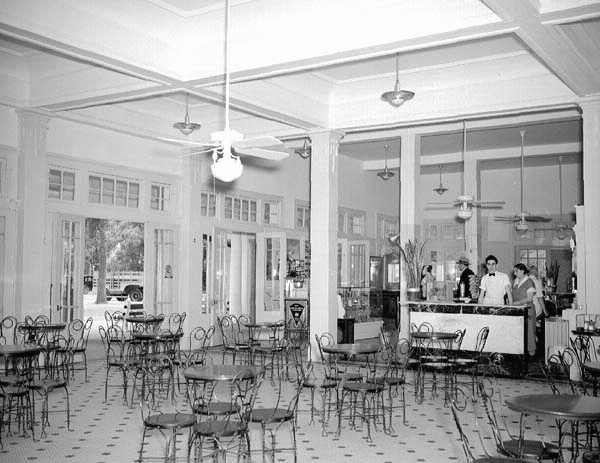 Now over 100 years old, the City Park Casino opened on July 11, 1913, is now one of the park's few surviving Spanish Mission-style era structures. This photo was shot on March 26, 1939 after WPA repairs and renovations of the Casino as a part of the general improvement program in the park. For a time, the Swan boat docked nearby on Bayou Metairie. Renovated in 1999, and re-named the Timken Center, its second floor is used for meetings and parties. It is now used as a Morning Call coffee shop. (Image from the New Orleans Public Library) #072cp
---



---
On April 19, 1966, the Algiers Regional Branch library opened. It was was the first of three regional branches built during the 1960s and 1970s. Click here for a photo of the then new library. During Hurricane Katrina, it sustained major damage from wind and rain and was demolished. A trailer was used beginning in June 2006, which was replaced by atemporary building in November, 2008. A rebuilt branch opened on July 11, 2012. Photos of the opening ceremonies. (NOPL)
On July 11, 2001, the airport New Orleans Internationa Airport was renamed after jazz musician Louis Armstrong in honor of the centennial of his birth.
Mayor Victor Schiro celebrated his fourth anniversary as Mayor of New Orleans, July 11, 1965. (NOPL)
Richard Simmons, the famous fitness advocates, was born in New Orleans on July 11, 1948. On the same day and in the same city, TV actor Jay Thomas (Mork and Mindy, Cheers, Murphy Brown) was born. Source: http://www.nortexinfo.net/McDaniel/0712.htm
Born in New Orleans on December 11, 1897, Herbert William Christenberry attended New York University and served in the United States Navy during World War I (1917 to 1918), received an LL.B. from Loyola University New Orleans School of Law in 1924, and was in private practice in New Orleans from 1924 to 1933. He was an assistant attorney of the Board of Commissioners, Port of New Orleans, Louisiana from 1933 to 1935. He was a deputy commissioner on the Louisiana Debt Moratorium Commission in 1935, and was an assistant district attorney of the Parish of Orleans, Louisiana from 1935 to 1937. He was an assistant U.S. Attorney of the Eastern District of Louisiana from 1937 to 1942, and was then the United States Attorney for that district from 1942 to 1947. On July 11, 1947, Christenberry was nominated by President Harry S. Truman to a seat on the United States District Court for the Eastern District of Louisiana vacated by Adrian J. Caillouet. Christenberry was confirmed by the Senate on December 18, 1947, and received his commission on December 20, 1947. He served as chief judge from 1949 to 1967, and continued on the court thereafter until his death on October 5, 1975 in Kentwood, Louisiana.
NORIERI, August (Noriea), artist, portraitist, model maker, musician. Born in January or February, 1860. Studied under Andrés Molinary in 1880 and 1881 and had established his practice by 1884 which continued until his death. Remembered today mainly for his marine scenes, Norieri received little recognition during his lifetime and had difficulty selling his work. Exhibited at the National Academy of Design in New York in 1885; the Creole Exhibit Art Gallery in the North, Central, and South American Exposition in 1885-1886. Exhibited between 1886 and 1892 at the annual exhibitions held by the Artists' Association of New Orleans, of which he was also a member. Died, New Orleans, July 11, 1898. C.S.B. Source: The Historic New Orleans Collection, Encyclopaedia of New Orleans Artists, 1718-1918 (1987). From http://lahistory.org/site.php?pageID=31
According to Janet Clarkson in
Food History Almanac: Over 1,300 Years of World Culinary History, Culture, and Social Influence (Rowman & Littlefield Studies in Food and Gastronomy)
, on
July 11, 1869
, the first long-distance transport of machine-frozen food occurred when the SS Agnes transported beef from Texas to New Orleans' Fulton Street wharf. The six day voyage was sponsored by Henry Peyton Howard of San Antonio who employed John Gorrie's invention of a 25 x 50 foot storage unit. The following evening, a celebratory banquet was hosted at the St. Charles Hotel. The remainder of the meat was used by local hospitals, hotels, and restaurants. The advantages of this method of shipment were of reduced size and weight. The offal of the animals was discarded before beeing frozen which resulted in half the shipping weight as compared to transporting cattle. Frozen butchered meat required only one-fourth the amount of space aboard ships. Thus the frozen-food industry was born.
The Expulsion of the Acadians, also known as the Great Upheaval, the Great Expulsion and Le Grand Dérangement, was the forced removal by the British of the Acadian people from the present day Canadian Maritime provinces of Nova Scotia, New Brunswick, Prince Edward Island, and also part of the US state of Maine—an area also known as Acadie. The Expulsion (1755–1764) occurred during the French and Indian War (the North American theatre of the Seven Years' War)[6] and was part of the British military campaign against New France. The British first deported Acadians to the Thirteen Colonies, and after 1758 transported additional Acadians to France. In all, approximately 11,500 Acadians were deported. On July 11, 1764, the British government passed an order-in-council to permit Acadians to legally return to British territories, provided that they take an unqualified oath of allegiance. (WIKI)