---

Rieth Florist
February 27, 1921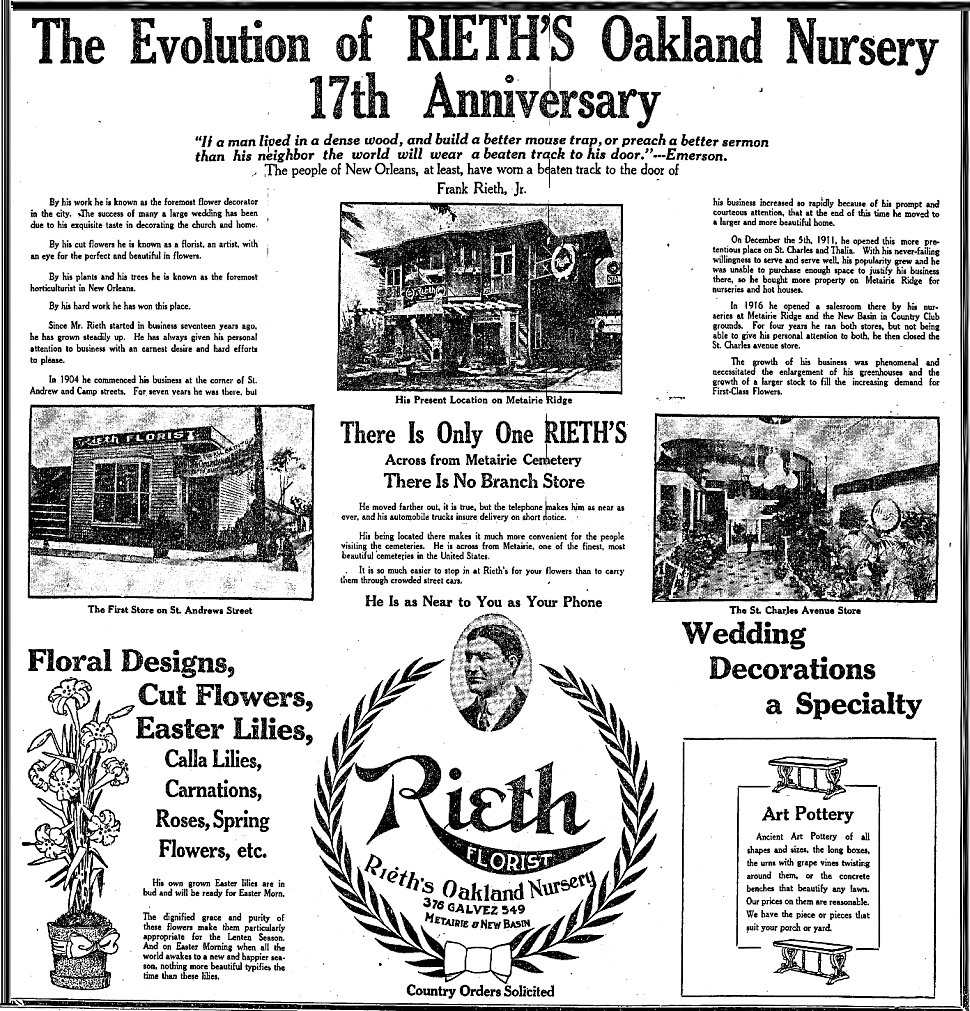 February 27, 1921 Times-Picayune advertisement.
In 1904 Frank Rieth Jr. opened a florist shop at the corner of St. Andrew and Camp streets. Business was good, and on December 5, 1911 he moved to a larger and "more pretentious place" (according to the advertisement above) on St. Charles at Thalia streets. He expanded the business in 1916 to include a location in the far-flung area near the cemeteries "in Country Club grounds" at the Metarie Ridge and the New Basin Canal. Rieth ran both stores until the early 1920s when he let go of the St. Charles location to focus on the newer shop where "Country Orders" (orders from the then rural Metairie and Gentilly) were solicited. He added greenhouses and nurseries and began selling cemetery urns, vases, and benches. The 1921 ad tells us that "He moved farther out, it is true, but the telephone makes him as near as ever, and his auto trucks insure delivery in short notice. His location there makes it much more convenient for the people visiting the cemeteries...It is so much easier to stop in at Rieth's for your flowers than to carry them through crowded streetcars".
Rieth's Florist was a landmark on the New Basin Canal. It was later enveloped by the Pontchartrain Expressway when the canal was filled during the 1950s. Rieth's operated for 76 years at this location, closing in 1982. In 1988, Cleo Pelleteri opened the short-lived Bayou Ridge Cafe, featuring chef Kevin Vizard's California cuisine. Pelleteri leased the site from owner Mabel Ricca and dedicated $125,000 to redesign the property with the then popular wood paneling and ferns. The cafe sat 28 patrons in a 2400 square foot restaurant. Pelleteri, who had operated The Book Stop since 1985 in the rear of the property. also remodelled the second floor to accommodate 1600 square feet of office space.
In the 1990s, Hans Limburg, Gary Darling and Greg Reggio ("The Taste Buds" who late created the Zea restaurant chain) opened Semolina's at this location. A fire put an end to that enterprise but in March 2013, the Taste Buds opened Mizado Conina, a "modern Latin" restaurant at Mr. Rieth's old florist shop.
---

You Can Support this Site by Clicking on & Shopping from this Amazon Link -- and it won't cost you a penny more: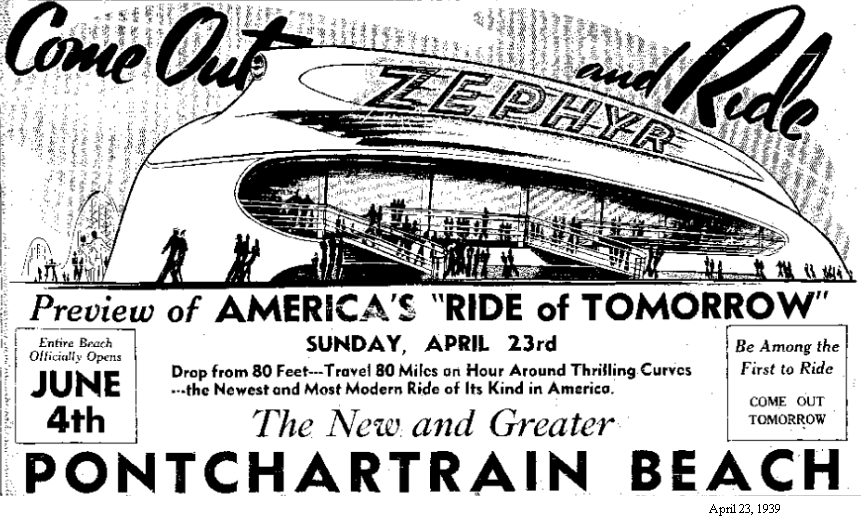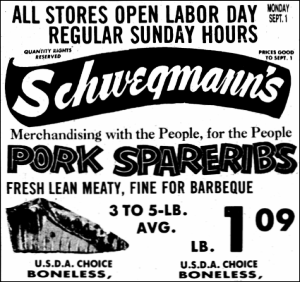 R. Shultz's Fresh Hardware and residence at 1720 Lake Avenue in Bucktown -- Local legend says that Ralph added "Fresh" to his general store and bar sign during prohibition to let patrons know he had a fresh keg of home-brewed beer on tap. He also sold trawl, crab, and crawfish nets, bait, tackle, boats, motors...just about anything needed to capture the bounty of the lake. A commercial fisher and hunter, Shultze was also a visionary. During the 1950s he was an outspoken representative against the banning of commercial fishing in Lake Pontchartrain and for government intervention in improving its ecosystems. In 1962, while the Mississippi River Gulf Outlet (MRGO) was under construction he noted that "Surely it can be understood that more water will pour in [into the lake] should a severe hurricane strike" and called for an additional lock at the lake on the Industrial Canal to prevent gulf water from surging into the lake. He also noted that "At present Chef Menteur and the Rigolets channels pour water into the lake". In 1963 he brought attention to the Louisiana Department of Wild Life and Fisheries (LDWF) that shell dredging allows lime to "sweeten" the lake water making it less salty and detrimental to life. He called on the agency to study this issue. In 1965, 1968, 1969, and 1972 he blamed the accidental killing of small shrimp by trawlers on the LDWF's opening the season before the shrimp matured. Always one to buck the system, Shultz sometimes publicly admitted to ignoring LDWF mandates and spent 3 days in jail in 1960 for killing 11 ducks, 1 coot, and a rail out of season. In 1961 he opposed a proposed 1 mile marina extension into the lake near Bonnabel Boulevard, saying time and money would be saved if it were, instead 1/2 mile long (it was, in fact, built only a few blocks long). Ralph had ten siblings including Mrs. John C. (Grace) Bruning. In 1975 at the age of 76 he was crowned King of the Blessing of the Fleet celebration when he was one of the oldest men in Bucktown still active in fishing and crabbing. He was a founding member of the East End Volunteer Fire Department, a deputy sheriff, and member of the Bucktown Fisherman's Association. Ralph A. Shultz was born May 20th, 1898. Ralph Shultz passed away in Metairie on February 27th, 1994 at the age of 95. His home and store are gone.
Mardi Gras Day was cancelled on February 27, 1979 due to the New Orleans Police strike. Some Orleans Parish parades were rescheduled in Jefferson Parish.
Carnival Day was celebrated on February 27, 1968.
Photographs
of the wedding day of Margaritae Schott and Michel Daigrepont on
February 27, 1949.
Carnival Day was celebrated on February 27, 1900.
According to the University of Houston Library, On February 27th 1827, the first Mardi Gras celebration was held in New Orleans. A group of students, inspired by a study abroad experience in Paris, took to the streets in masks and costumes to celebrate and party. The celebrations became more elaborate every year. In 1833, it was made an official city wide celebration. From http://uhdigitallibrary.blogspot.com/2012/02/1827-first-mardi-gras-celebration-in.html
Tulane's Tuts
Mummies in the Sugar Bowl

On November 2, 1979, Tulane President Sheldon Hackney announced that Tulane Stadium would be demolished. The demolition started on November 18, 1979. In the spring of 1979, Tulane Curator of Art Bill Cullison found two 3000 year-old Egyptian mummies in their wooden sarcophagi under the bleachers.
Cullison had been looking for them. To his knowledge, they had been given to the school (then named University of Louisiana) in 1852 by Egyptologist Doctor Joseph Gliddon who had ceremoniously unveiled them to an audience at the Mechanics Institute near Common and Dryades streets. He had found a 1938 City Guide which described them as a "young man and a young woman". Cullison said that they had been on display in Tulane's old Natural History Museum in Gibson Hall unitl it was dismantled in 1959 and replaced with classrooms. Cullison knew that they were stored in a vault in the stadium but did not know their exact location. He found a metal structure under the bleachers and suspected it might contain the mummies. He had more trouble trying to find the key to open it than he did actually locating the vault. When he stepped inside, he found glass cases through which he first saw the hair and fingernails of the deceased couple. The cases were put on display in the Special Collections Division of the Howard Tilton Library. "Tulane's Tuts", an apt description by Dixie Roto writer Elise Martinez in a March 18, 1979 article about them, were moved to the medical school and put under cold storage.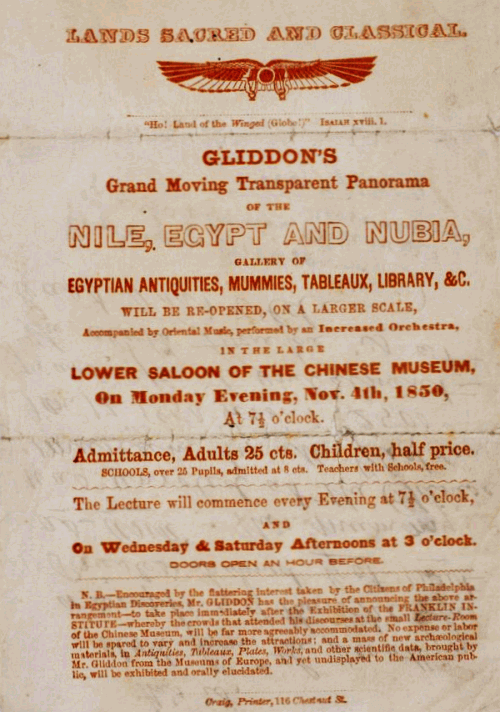 A search of old newspaper articles reveals that Gliddon was a bit of showman who, during the 1850s, took his mummies around the country to display them to the general public. In Boston in January 1850 he had an "officiating carpenter" saw a sycamore box in half, lenghwise, to reveal a female mummy to a large audience. In September 1850 he was a subject a a media blitz when he mistook his male mummy for a female. In 1851 he was in Philadelphia, hawking and displaying the ancient Egyptians. In January 1852, claiming to be a former U.S. Consul to Cairo, he advertised a series of 12 lectures, beginning on March 2, 1852, to be held in New Orleans at Lyceum Hall sponsored by the Committees of the Board of School Directors at which he would discuss and display his mummies and, on February 27, he would unwrap one of them before the audience. Tickets for one gentleman accompanied by two ladies could be had for $8.00, which allowed admittance to all 12 lectures (a season ticket, of sorts). For $5.00 one person could attend all lectures. The unwrapping required an additional 50 cents from season ticket holders or $1.00 from the general public. The handbill on the right advertises Gliddon's Philadelphia show.
On the day of the unwrapping, Gliddon advertised his mummies as "Adam and Eve" but at the actual ceremony he claimed not to know their gender, race, or age. The unwrapping was done under the supervision of New Orleans faculty members of the Medical Department of the University of Louisiana. The actual unrolling was principally done by doctors Jones, Wedderburn, and Chilto who took 45 minutes to accomplish their task. The mummy turned out to be female "in a beautiful state of preservation". Gliddon then announced that at his next lecture he would divulge secrets learned after studying the swathing and inscriptions found on a piece of papyrus found within the folds of the linen. At his last New Orleans lecture, on March 3, 1852, faculty members of the university read letters revealing the results of their examinations of the remains and Gliddon announced that he would turn two mummies over to the school's Museum of Medicine which, in 1880 was located on Common Street between Baronne and Dryades streets.
A later account of Gliddon's mummies tell us that he actually gave them to Josiah Nott, a University of Louisiana anatomical professor. They remained in the medical school's anatomical library until 1894 when they were moved (with the school) to the uptown campus and placed in the Museum of Natural History on the third floor of Gibson Hall. In 1927 there were at the Mid American Research Institute in Didwiddie Hall. They moved back to Gibson hall in 1930 and from 1955 to 1978 they were placed in a dark, non-climate controlled room under the stadium's bleachers. In 1982 they moved to the basement of the Howard-Tilton library and more recenlty back to Diwiddie Hall in a special darkened room where they were studied by anthropologist John Verano.
By June 1980. the mummies were safe and sound but the stadium was gone. It had been condemned in 1975. Upon appeal by the university, the original concrete and brick section was deemed fit to use, but the newer metal seating section was declared unfit.
Ground was broken for Tulane stadium on April 7, 1924. It opened on October 23, 1926 with a seating capacity of roughly 35,000. New Orleans-Item sports editor Fred Digby popularized the term "Sugar Bowl" in 1927. The first Sugar Bowl game was played there on January 1, 1935, against the Philadelphia Temple Owls. The last was on December 31, 1974 when Nebraska beat Florida 14-10.
In 1947 the stadium was expanded to accommodate 80,985 fans. Lights were installed in 1957.
It was the home of the Saints, from their first game on September 17, 1967 when John Gilliam returned the opening kickoff 94 yards for a touchdown (but they lost 27-13 loss to the Los Angeles Rams) until December 8, 1974 when they won 14-0 over the St. Louis Cardinals. On November 8, 1970, Tom Dempsey made his record-breaking 63-yard field goal there, pushing the Saints into a 19-17 win over the Detroit Lions.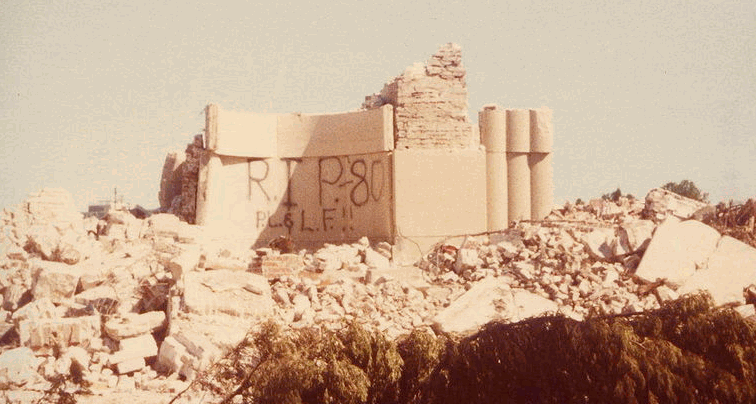 Tulane Stadium was the site of three of the first nine Super Bowls -- Super Bowls IV in 1970, VI in 1972, and IX in 1975. Super Bowl IX was the final professional league game ever played at the stadium. It would become one of three stadiums which hosted a Super Bowl and are no longer standing. Tampa Stadium (which hosted two Super Bowls) was demolished in April 1999 and the Orange Bowl (which hosted five Super Bowl games) was demolished in September 2008.
The record attendance of 86,598 was set on December 1, 1973, during the last game played by LSU against Tulane in the Sugar Bowl. Tulane defeated LSU 14-0, ending a 25-year winless streak against LSU.
Tulane's final game at their home stadium ended in a 26-10 loss to Ole Miss on November 30, 1974.
During its final five years, the stadium was used for football practice, high-school games (in a limited seating area), and other smaller events. The Denver Broncos used Tulane Stadium as its practice field prior to Super Bowl XII, the first Super Bowl played in the Superdome.

The last game ever played in Tulane Stadium was between De La Salleand Rummel on November 1, 1979. The last point scored in Tulane Stadium History was by Rummel High place kicker Gary Boudreaux. The stadium was under demolition from November 18, 1979 through June 15, 1980. (Photo by Infrogmation, 1980)