---

Mississippi River Bridge Open for Traffic
April 15, 1958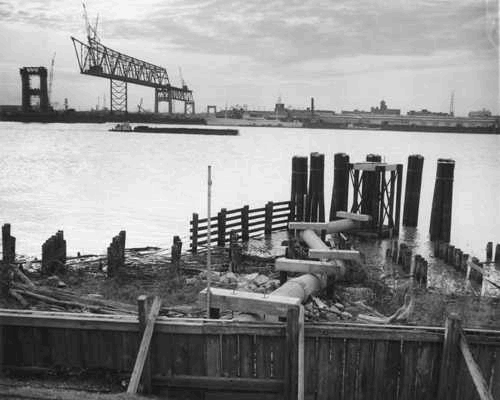 In the news November 27, 1957, The Mississippi River Bridge Authority accepted a $74,850.00 bid submitted by R. B. Tyler Company of New Orleans which covered the cost of materials and work for the East-West Bank bridge then under construction. The work included using a special Bituminous Concrete paving to be laid in the 24 and 28 foot wide span. This roadway would cover the steel grid flooring between Pier No. 1 and Pier No. 3 of the 52 foot-wide roadway of the main span. The bridge was designed with two 12-foot traffic lanes in each direction. The only other bid for this project was submitted by Texas Bitulithic Company.
The Greater New Orleans (GNO) Bridge opened for traffic on April 15, 1958. Construction on the GNO Bridge No. 2 (called the Crescent City Connection) began in March 1981. Traffic first crossed over the second span in September 1988
Pictured is a view of the bridge, under construction on February 1, 1957, taken from the water intake station at Socrates and the River on the West Bank.
---

You Can Support this Site by Clicking on & Shopping from this Amazon Link -- and it won't cost you a penny more: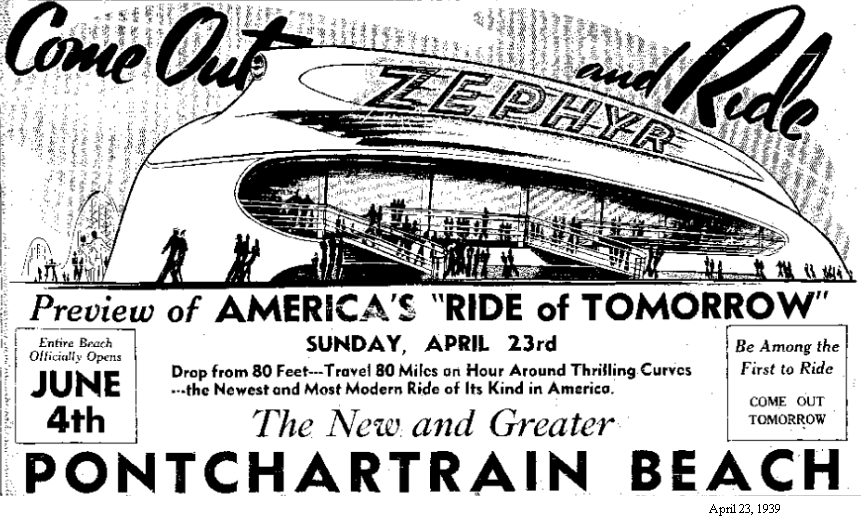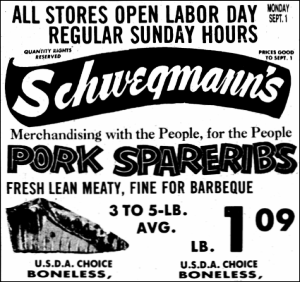 George Edward Burch, academic, physician, editor. Born, Edgard, St. John the Baptist Parish, La., January 10, 1910; son of George Edward Burch, M.D. (d. 1930), and Lottie Edith Monroe. Education: Edgard High School, graduated 1927; attended Tulane University, 1927-1929; Tulane School of Medicine, 1929-1933. Married Vivian Ann Gerard, September 16, 1932. Four children. Interned at Charity Hospital, New Orleans, 1933-1934; became a three-year clinical fellow in internal medicine at Tulane and Charity, as well as assistant, 1934-1935, and instructor, 1935-1942, in the department headed by John Herr Musser (q.v.). Received B. S. degree, Tulane University, 1935. During service as instructor, launched academic career by selection as a Commonwealth Foundation Fellow in cardiovascular research at the hospital of the Rockefeller Institute for Medical Research, 1939-1941. In 1942 became assistant professor at Tulane; 1943, named associate professor. Four years later followed mentor as Henderson Professor and chairman of Department of Medicine, serving from October 7, 1947, to January 10, 1975. During that time he was physician-in-chief of the Tulane unit at Charity Hospital. Continued at Tulane as Emeritus Henderson Professor until his death. In other activities, served as captain, Louisiana National Guard, 1936-1940; captain, Medical Reserve Corps, U.S. Army, Tulane Base Hospital No. 23, 1940-1942. Editor, American Heart Journal for over 25 years; served on numerous editorial boards. Author of Hot Climates, Man and His Heart (1962). Other books on cardiology (1947), venous pressure (1950), spatial vector cardiography (1953), electrocardiography (1945, 1964, 1967), congestive heart failure (1954), digital plethysmography (1954), Clinical Measurement of Blood Pressure (1962), and Of Publishing Scientific Papers (1954) and Of Research People (1955). Pioneer work in using radioactive elements to study electrolyte turnover led to Gold Medal Award, American Medical Association, 1947. President, American College of Cardiology, 1968; membership on American Board of Internal Medicine, 1955-1962. After death awarded Scientific Achievement Award, American Medical Association. Died, New Orleans, April 15, 1986; cremated, ashes scattered over courtyard of Charity Hospital, New Orleans. J.P.M. Sources: Burch Papers, National Library of Medicine, Bethesda, Maryland; Burch's twelve books and over 800 published papers, Rudolph Matas Medical Library, Tulane University Medical Center; William C. Roberts, American Journal of Cardiology, LVIII (1986); Who's Who in America, 1976-77; New York Times, April 23, 1986; Orleans Parish Medical Society Bulletin (May, 1986); John Duffy, The Tulane University Medical Center … (1984). From http://lahistory.org/site19.php

Pharmacist Otis J. René, Jr., born in New Orleans on October 2, 1898, was the the co-author (with his brother Leon René, and Clarence Muse) of the 1931 song "When It's Sleepy Time Down South", which became a signature song for Louis Armstrong. During the 1940s, he and Leon established and managed the independent rhythm and blues labels Exclusive Records and Excelsior Records (1944 to 1951). Excelsior released some of the first recordings by Nat King Cole. Otis René was noted to have earned $25,000 on one song in 1945, "I'm Lost", recorded by the King Cole Trio. René had written and produced the song, and distributed the record. He died on April 5, 1970 in Los Angeles.
Alfred David Danziger, attorney, civic leader. Born, New Orleans, September 20, 1884; son of Isidore Danziger and Amelie Dreyfous Danziger, grandson of Able Dreyfous, early New Orleans notary. Education: Boys High School, New Orleans, Tulane University. Studied law in the office of his uncle, Felix J. Dreyfous; admitted to the bar in 1908. Assistant attorney general, 1934; executive counsel for Mayor Robert S. Maestri (q.v.), 1936-1946. President, Young Men's Business Club, 1937; New Orleans Association of Commerce, 1929. Active in flood-control legislation, the development of Grand Isle, Young Men's Hebrew Association, Greek War Relief in Louisiana, Jerusalem Temple and Masonic affairs. Died, April 15, 1948; interred Hebrew Rest Cemetery, New Orleans. From http://lahistory.org/site21.php. The Danziger Bridge in New Orleans East is named for him.
Murray Henderson, a philanthropist, was born January 2, 1883 in Algiers. He attended McDonogh No. 5 Elementary School. He studied as an apprentice at the John A. Barrett Funeral Home and later operated his own funeral home. Mr. Henderson spent his years bettering conditions for those less fortunate than himself. During the severe influenza epidemic of 1918, Henderson paid the medical expenses of many victims of the illness and provided food for impoverished convalescents. At Christmas time, he provided toys for needy children. He lived a quiet lifestyle on the Westbank, having no interest in accumulating wealth. This giving reputation made him a legendary figure in the history of Algiers.Henderson died in Algiers on April 15, 1930 at the age of 47. He is buried in McDonogh Cemetery. (NOPL)
On April 15, 1927, 15 inches (380 mm) of rain fell in New Orleans in 18 hours. More than 4 feet (1.2 m) of water covered parts of the city, and influential bankers in town met about how to guarantee the safety of the city, with the scale of flooding upriver already known. A few weeks later, about 30 tons of dynamite were set off on the levee at Caernarvon, Louisiana and sent 250,000 ft³/s (7,000 m³/s) of water pouring through. This was intended to prevent New Orleans from experiencing serious damage, but flooded much of St. Bernard Parish and all of Plaquemines Parish's east bank. As it turned out, the destruction of the Caernarvon levee was unnecessary; several major levee breaks well upstream of New Orleans, including one the day after the demolitions, made it impossible for flood waters to seriously threaten the city.
The Foot of Canal Street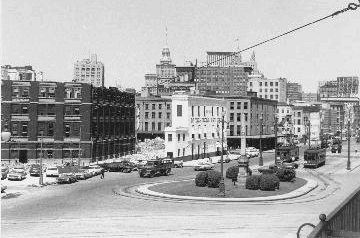 During the "revitalization" efforts of 1950s, the intersection of Canal Street at the river was considered a prime site. A decade later, on November 12, 1964, C.H. Leavell & Co. submitted plans for "Rivergate" at number 4 Canal Street.
The Municipal Auditorium, dedicated on May 30, 1930, had become obsolete for convention-exhibition purposes. The modern center for such activities was to face the Mississippi River, relate to the recently completed International Trade Mart Tower, and tie these two elements together by means of a spacious pedestrian plaza. The designated site, six city blocks, was bounded by Canal, Poydras, South Peters Street, and what is now Convention Center Boulevard. The 1964 photo on the right shows the streetcar turn at the foot of Canal Street, the Liberty Monument, and the three and four-story buildings dating from mid nineteenth-century which would be demolished to make way for the Rivergate. Left of center is a partially demolished warehouse dating from c. 1905. (Photo by Rolland Golden; printed by Robert S. Brantley, Historic New Orleans Collection.)
The Rivergate was originally called the International Exhibition Facility. It was to be a key element with International House, the International Trade Mart, and the hotels in downtown New Orleans as the necessary units required to qualify the City as a World Trade Center. The concept of the World Trade Center was conceived at the International House by Dr. Paul Fabry and was the first such institution in what has now become a great worldwide organization.
The proposed construction of an elevated expressway along the riverfront threatened to thwart the site plan of the Rivergate and would have separated the building from the river and from the International Trade Mart office building. The decision was made to funnel this section of the expressway into an underground tunnel at an estimated additional cost of $1.5 million. Meanwhile, the plans for the Rivergate were being seriously delayed, awaiting a final decision regarding the actual construction of the expressway. At this time the idea for the great covered porch materialized. The sheltered driveway not only made good sense as a way to deal with the possibility of tropical downpours during Rivergate events, but it also left open the option of constructing the tunnel at a later date while allowing construction of the building to proceed on schedule. In time the tunnel, 6 lanes wide and 30 feet high, was authorized, designed into the plan, and constructed. The Riverfront Expressway, however, was eventually defeated, and the tunnel remained, unused, during the life of the Rivergate.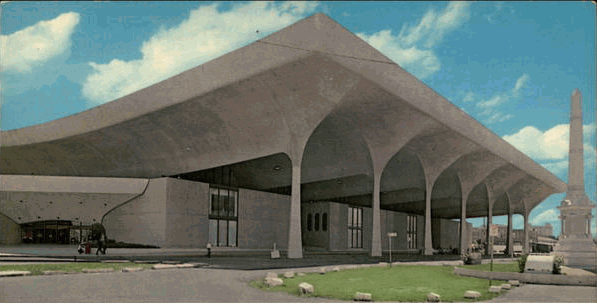 The Rivergate was designed by the local firm Curtis and Davis (Nathaniel Cortlandt Curtis Jr. (1917–1997) and Arthur Quentin Davis (1920–2011) who had also designed the Thomy Lafon School (1954) and the Louisiana State Penitentiary at Angola (1956) and would later design the Superdome. The undulating forms of the Rivergate's thin barrel vaults were not whimsical but are the precise shape necessary to manage the unusually long spans required for the roof over the column free space below. The cantilevers all around contribute to the stability of the roof structure. The selection of six temple like bays utilized to the limit the spans between columns; the columns themselves are slender and graceful, suited to the task of support. The Rivergate, while it stood in New Orleans, was looked upon by many as a significant example of outstanding national and international contemporary architecture and was compared to the recognized masterpieces of its period. The most distinguishing feature of the Rivergate was the roof. The 95,500-sq. foot South Hall was covered by a swooping and sweeping dual curved roof. This reinforced concrete barrel-arched roof design was symbolic of the rolling Mississippi River which flows about 500 feet from the building. Engineering News Record referred to these "humpbacked" 1-1/2 catenary curve barrel arches 453 ft. long as having the profile of a whale. The Rivergate roof was perhaps the longest thin shell concrete roof span that had been constructed at that time. The 34,500-sq. foot North Hall, later called Penn Hall, in honor of its distinguished and successful manager, Herman Penn, was spanned by steel trusses 6' deep and covered with a flat roof.
It was under construction from 1964 to 1968, at a cost of $25 million. By 1994, this building was estimated to be worth $300 million. The Rivergate had pedestrian entrances on Canal and Poydras Streets and Convention Center Boulevard. The South Peters Street elevation was dedicated to entrance and exit openings for the two-level subsurface 800-automobile parking garage, a long loading dock with two access doors 20' x 20' to the first floor, and freight elevators.
The caption for the postcard (above) reads: The RIVERGATE, which covers six city squares, located where famed Canal Street meets the Mississippi River, is one of the most uniquely constructed convention-exhibition halls in the country. Boasting 130,000 square feet of clear, unobstructed space, with no posts or pillars; it is capable of seating more than 16,000 persons for an assembly or meeting with 733 - 10' x 10' exhibit spaces, or a combination of both. This 13 1/2 million dollar ($13,500,000) structure will be one of the nation's newest and finest facilities".
Ground breaking ceremonies on December 4, 1964 were followed by the driving of piles and a deep excavation to provide space for the parking garage, mechanical and electrical equipment, stairs and escalators to move people from subsurface levels up to the first floor, and the tunnel 60' x 750' ($1.3 million).
Although the Rivergate was conceived and designed as a convention-exhibition facility, it was also used as the venue for Mardi Gras balls, high school graduations, and the lying in state of New Orleans native Mahalia Jackson in 1972). But like the Municipal Auditorium, the Rivergate became obsolete in its usefulness as a convention and exhibition center. The Ernest N. Morial Convention Center was being planned in 1978. As of 2006, it has about 1.1 million square feet of exhibit space, covering almost 11 blocks, and over 3 million square feet of total space. It is the 5th-largest facility of its kind in the United States and would dwarf the old Rivergate.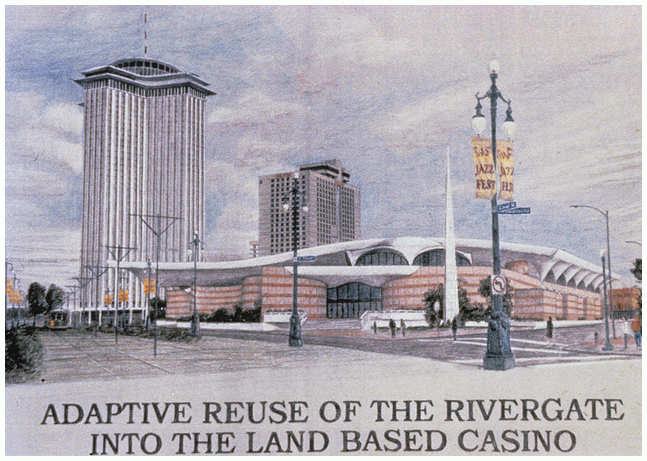 In June 1992, Louisiana House Bill 2010 (Act 384 of the 1992 Regular Session) authorized a land-based casino in New Orleans. The legislation specifically defined the location of the land-based casino -- the Rivergate site at the foot of Canal Street. The law did not require the Rivergate to be torn down, and it did not require a new casino to be built.
The City of New Orleans then altered the zoning ordinances to allow construction of a casino at the Rivergate site. The city issued a call for casino proposals due on August 14, 1992 which required a $50,000 payment for the privilege of submitting a proposal, half of which was refundable to unsuccessful bidders.
On November 5, 1992, Mayor Sidney Barthelemy and the City Council picked Christopher Hemmeter-Caesar's Palace (known as the Grand Palais group) to lease the city-owned Rivergate site for development of a casino. The lease was signed on April 27, 1993.
Subsequently, the Casino Board awarded the casino operator's license to Harrah's Jazz, a partnership of Harrah's and the Jazzville group (all local investors).
On April 15, 1993, Mayor Barthelemy and the City Council finalized the selection of Hemmeter as the "developer" -- he later teamed with Caesar's World of Las Vegas to operate the casino in a renovated Rivergate but soon the Hemmeter-Caesar's group proposed its demolishion to make way for a new building called Grand Palais. This plan would include a twenty-two-inch deep pond, called Celebration Lake which would run across the foot of Canal Street, ending at One Canal Place. And there would be a sound and laser-light show and much more including a recreation of Bernard the colonnaded arcades at the Palace of Fine Arts in San Francisco. In the end, the only elements of the Grand Palais scheme that were constructed were the "Casino Support Facility" -- a ten-leve, 2 1/2 block long parking garage) which replaced a group of nineteenth-century buildings at the corner of Poydras and South Peters Streets and the tunnel linking it to the casino. But everything else fell through.
The official "wall-breaking" ceremony took place on Friday, January 13, 1995. On this occasion, a back hoe equipped with a claw toothed bucket and a "Harrah's" banner draped on its back climbed up the steps at the Canal-South Peters Streets entrance and began wrecking the underside of the cement plaster entrance canopy.
Much of the concrete debris was hauled to West End at Lake Pontchartrain to be used as fill for enlargement of a park off Breakwater Drive. Although only reinforced concrete was supposed to be dumped there, other debris was included. The nature of the debris stirred environmentalists and their protests stopped the dumping at the West End site.
On October 28, 1999, Harrah's Casino was completed at the foot of Canal Street, three years behind schedule.
From THE RIVERGATE (1968 - 1995) Architecture And Politics -- No Strangers In Pair-A-Dice
Rosa Freeman Keller
1911 - 1998

The New Orleans Recreation Department Keller Center at 1814 Magnolia Street was dedicated on
November 22, 1971
. It was named in honor of Rosa Freeman Keller who had dedicated decades of her life in New Orleans to racial and gender equality.
Coca Cola heiress and racial pioneer Rosa Freeman Keller worked tirelessly throughout her long life for those less fortunate than herself, particularly New Orleans's African American residents. Though her elite social background made her perhaps an unlikely social activist, Keller helped lead the fight for the integration of public schools and transportation facilities in New Orleans. She never hesitated to use her position in powerful organizations, such as the Independent Women's Organization, the National Urban League, or the Young Women's Christian Association, to advocate for racial equality. Further, Keller encouraged women to play an active role in the political process. The Keller Family Foundation currently continues her legacy.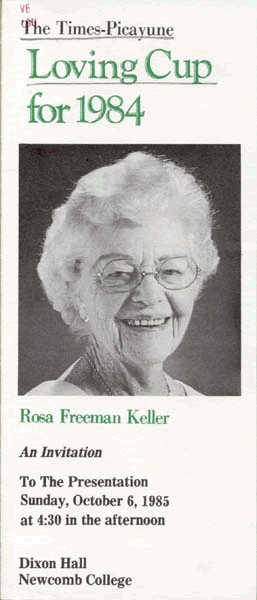 Rosa Freeman was born March 31, 1911, to Alfred Bird "A.B." Freeman and Ella West. While her mother descended from a family of southern aristocrats, Rosa's father was a salesman—a "nobody from nowhere"—until he made a fortune with his fledgling Coca Cola business. With his success, the family gained entrance into the world of the New Orleans elite. After high school, Rosa Freeman attended Sophie Newcomb College for a year and then, anxious to establish her independence, transferred to Hollins College in Virginia, only to drop out a year later. At her social debut in New Orleans, Rosa Freeman met Charles Keller II, whom she married in 1932. After a few itinerant years because of Charles's work in the armed services, the Keller family settled in New Orleans in 1944.
Already a member of the New Orleans chapter of the League of Women Voters, Keller began her foray into the world of politics working on voter registration. When her mother died in 1945, Keller was asked to serve on the local YWCA board, an integrated organization that deeply impacted her views on race relations. In 1947, seeking to alleviate the housing shortage for New Orleans's black families, Rosa and Charles Keller, along with friends and philanthropists Edith and Edgar Stern, financed the construction of Pontchartrain Park, one of the first middle-class black communities in the country.
Keller expanded her political involvement in the early 1950s when she helped organize the Independent Women's Organization, created to support the election of moderate mayoral candidate deLesseps Morrison. When Morrison asked Keller to serve on the board of the public library system, she readily accepted, becoming the first woman to serve on a citywide board. Almost immediately Keller brought controversy to her position when she set out to integrate the New Orleans public library system—a goal she eventually achieved.
Keller continued to serve the New Orleans black community in a variety of ways. She chaired the board of Flint-Goodridge Hospital, a facility that catered to the black community. In this capacity, she fought for and won access to Blue Cross coverage for the New Orleans black community, and insisted that African American medical students have access to New Orleans's medical libraries. Keller also served as president of the New Orleans Urban League, and on the boards of numerous citywide interracial organizations.
In 1953, Keller decided that it was time the League of Women Voters, an organization she loved, begin the process of admitting black members. With the help of her progressive peers, she succeeded in integrating the organization in 1955. State laws passed in the wake of the U.S. Supreme Court's decision in Brown v. Board of Education, however, forced to the league to resegregate a year later. Through Keller's persistence, the league permanently achieved integrated status in 1963.
In 1958 Keller led the fight to desegregate the New Orleans public transportation system, but she considered her efforts to integrate the city's public schools as "her war." Toward this end, Keller helped create Save Our Schools (SOS), an organization dominated by elite white women in the New Orleans community. During the 1960 New Orleans School Crisis, when the first black children attended formerly all-white schools, SOS ferried children to and from the integrated schools. They also raised monies for the black and white families who kept their children in the schools and lobbied the state legislature on behalf of integrated schools. Much to the chagrin of some family members, Keller also personally financed the legal fight to desegregate Tulane University in 1963. Through the years, Rosa Keller had no qualms about holding interracial gatherings in her Uptown home, though it was considered a serious breach of racial etiquette at the time.
Keller received numerous honors for her work on racial issues in New Orleans, including the Times-Picayune Loving Cup Award, which honors New Orleans residents who have worked unselfishly for the community without expectation of public acclaim or material reward. She also received an honorary alumnus degree from Newcomb College and an honorary doctorate from Dillard University. She died in April 15, 1998, in New Orleans. The Keller Family Foundation, established in 1949, continues to provide monies to sustain and improve the New Orleans community. The Rosa F. Keller Library & Community Center at 4300 S. Broad was named for her on October 6, 1999
Frystak, Shannon. "Rosa Keller." KnowLA Encyclopedia of Louisiana. Ed. David Johnson. Louisiana Endowment for the Humanities, 31 Jan. 2011. Web. 20 Nov. 2013.
Photos from the New Orleans Public Library.