---

Happy Birthday, Tom Benson
Born in New Orleans on July 12, 1927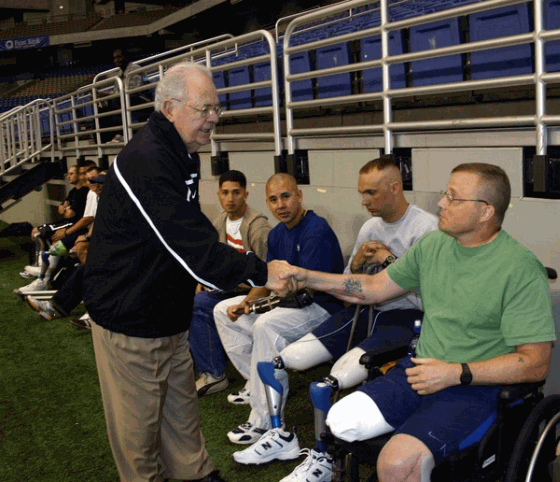 New Orleans Saints owner Tom Benson thanks Army Master Sgt. Tom Carpenter, from Brooke Army Medical Center, for his sacrifices and welcomes him to a Saints practice October 7, 2005. Photo by Andricka Hammonds
Thomas Milton "Tom" Benson was born in New Orleans on July 12, 1927 to Thomas Benson, Sr., and Carmen Benson. He graduated from St. Aloysius high school in 1944, served in the U.S. Navy ,and then graduated with an accounting degree at Loyola University of New Orleans in 1948. After school he worked as a car salesman at Cathey Chevrolet in New Orleans. In 1956, he moved to San Antonio to try and revive a poorly performing dealership; he was granted a 25% interest in the dealership for his efforts. In 1962, he became full owner of Tom Benson Chevrolet. He is the owner of several automobile dealerships in the Greater New Orleans and San Antonio areas. Benson became wealthy by investing profits from his automobile dealerships in local banks. He eventually purchased several small Southern banks and formed Benson Financial, which he sold to Norwest in 1996.
He purchased the Saints from John Mecom in 1985. Ownership of the team was officially transferred to him on May 31, 1985. On April 13, 2012, it was announced that Tom Benson, had purchased the New Orleans Pelicans from the NBA for $338 million.
Benson has been married three times. His first wife, Shirley Landry, and second wife, Grace Marie Trudeau Benson, both died. In October 2004, he married Gayle Marie LaJaunie Bird. Benson has seven children, two of whom are deceased. He is a generous benefactor to both New Orleans and San Antonio organizations. (WIKI)
He was inducted into the Saints Hall of Fame in 2012, and on June 21, 2014 Tom Benson was inducted into the The Louisiana Sports Hall of Fame.
---



---
Fitness personality and actor Milton Teagle Simmons was born in New Orleans on July 12, 1948. He is better known as Richard Simmons. (WIKI)
James Corbitt Morris (June 20, 1907–July 12, 1998), known professionally as Jimmy Driftwood or Jimmie Driftwood, was a prolific folk music songwriter and musician, most famous for his song "The Battle of New Orleans" (WIKI)
Photo -- Token evacuation of strategic equipment -- Part of Civil Defense Operation Alert, July 12, 1956. (NOPL)
On July 12, 1944, the Liberty ship Frederick Von Steuben was launched by Delta Shipbuilding Company
FENNER, Darwin Schriever, financier, civic leader, philanthropist. Born, New Orleans, July 12, 1908; son of Charles Erasmus Fenner ([II]q.v.) and Virginia Schriever Fenner. Education: local schools, Tulane University. Married, May 28, 1931, Flora Sanders Hardie (b. 1908). Children: Darwin Charles (b. 1932), James Hardie (b. 1936), Flora (b. 1938). Joined father's brokerage firm, Fenner & Beane in 1929; worked in various capacities to learn business; became general partner, 1934. In 1941 merger, firm became Merrill Lynch, Pierce, Fenner & Beane (later Merrill Lynch, Pierce, Fenner & Smith); served as general partner of new firm; vice-president, 1957; senior vice-president, 1964; retired, 1970; became president, Gulf States Assets Management, Inc. World War II service: 1942-1946, Army Air Force, entered as second lieutenant, demobilized as major. Communty activities: chairman, Community Chest; founder, United Way; member, biracial committee to smooth transition to integrated public schools; member, later chairman, Tulane University board of administrators; founder, director, later president, Council for a Better Louisiana; founder, Metropolitan Area Committee; founder, Health Education Authority of Louisiana. Rex, 1955; captain of the Rex organization, 1956-1970; revamped parading style of organization, bringing back Boeuf Gras and Rex bandwagon, introducing doubloons. Honors and awards: Good Citizenship Medal, Sons of the American Revolution, 1957; Weiss Brotherhood Award, New Orleans Chapter of the National Conference of Christians and Jews, 1962; Distinguished Service Medal, Dominican College, 1963; Times-Picayune Loving Cup, 1965; one of ten distinguished New Orleans civic leaders, Institute for Human Understanding, 1975; honorary LL. D., Tulane University, 1978; Certificate of Merit, Governor of Louisiana, 1979. Member, Trinity Church (Episcopal). Died New Orleans, June 9, 1979; interred, Metairie Cemetery. P.B. Sources: Charles L. Dufour, Darwin Fenner: A Life of Service (1984); New Orleans Times-Picayune, June 10, 12, 1979; interview with Darwin C. Fenner. From http://lahistory.org/site.php?pageID=23
On October 30, 1897, three "New Orleans boys all under thirty" (according to the Daily Picayune) welcomed all to the noon opening ceremony of their newly redesigned department store in the ten-year old Mercier Building on the corner of Canal and Dauphine streets in the 900 block of Canal. The Picayune reported that the "Maison Blanche no longer resembles its old self". In fact, Simon J. Shwartz, Maison Blanche's general manager, had already been doing business at this location since 1892. He had formerly worked in his father Abram's fine emporium, A. Shwartz and Son, which employed some 200 people, in the 700 block of Canal. In 1889 Simon married Clara Newman, daughter of Isadore Newman, one of New Orleans' wealthiest businessmen and most generous philanthropists. At that time, Schwartz was a buyer for his father's business, residing in New York. After a massive fire on February 17, 1892, which destroyed his father's store (and badly damaged D. H. Holmes, Werlein's, and Kreeger's), Simon opened S. J. Shwartz & Company in the Mercier building. On July 11, 1892 Simon went into partnership with Gus H. Schulhoefer, continuing to operate under the business name S. J. Shwartz & Company. Schulhoefer who would manage the second and third floors of Maison Blanche was Isadore Newman's brother-in-law. On July 12, 1892 Simon legally withdrew from his father's firm and on Monday, October 17, 1892, S. J. Shwartz & Co. advertised a new "Grand Opening" in the New Orleans Item. Hart D. Newman, original office and advertising director of Maison Blanch, was the master of ceremonies at its 1897 grand opening. Newman had previously worked with A. Schwatz & Son as well as S. J. Schwartz & Co. He was Isadore Newman's son. Many historical sources tell us that Isodore Newman founded Maison Blanche but in local author Edward J. Branley's word in Maison Blanche Department Stores (Arcadia Publishing), Isidore Newman actually "funded" it. Branley added "One of [Isidore] Newman's best investments was in his son-in-law's career".
July 12-13th, 1866: A storm moved well off the coast of Louisiana. On the 11th at 28.5N 87.3W, a three-masted schooner was dismasted in heavy seas. Winds "blew hard" at New Orleans for a few hours on the evening of the 12th. Tides increased until daybreak the 13th. Damage was seen at the Timbalier Bay lighthouse. "Ugly, threatening weather" hit on the 12th. Three feet of water surrounded the tower. Wave action knocked away two brick piers, as 24 hours of pounding surf broke against the lighthouse. The keeper became spooked by the combination of weather condition and loneliness, and "promptly resigned" (Cipra).
A new prison was opened in New Orleans on July 12, 1837. The three-story $200,000 structure was located on the square bounded by Orleans, Marais, St. Ann and Treme. The Bee news-paper printed the following report after inspecting the jail: "Tradition says, according to Frank Boatmer, who heard of it some years ago, that the parish prison, built in 1837, was called humorously, the 'Mississippi Hotel.' This was because so many Mississippians, who came to New Orleans to have a good time, found themselves in jail when they could not pay the debts incurred by their splurging. Some owed money to New Orleans merchants and were arrested for debts when they came." Imprisonment for debt was an accepted practice. On March 6, 1839, the Picayune newspaper had an editorial denouncing imprisonment for debt stating, "Our prison is crowded with debtors – the majority of them, it is fair to presume, honest debtors." The editor stated he would continue the campaign against the monstrous evil. By the time of the Civil War, nearly all the constitutions of other states had abolished the imprisonment for debt. But, strange to say, it was not until Jan. 1, 1961, that imprisonment for debt was abolished legally in Louisiana. The last suit under the old code was fought as late as 1948. In the early morning of March 23, 1948, Juan Malamud from Buenos Aires, Argentina, was arrested in his room at the Roosevelt Hotel and taken to the parish prison where he was confined after the assurance of a writ under Article 209 of the Code of Practice. He was arrested upon complaint of a firm in New York city that alleged that he was indebted to them for the sum of $10,000, and to get out of jail he had to post a $15,000 bail. By Buddy Stall at http://clarionherald.org/19991111/stall.htm
Indenture agreement, July 12, 1809 -- WITNESSETH: That Lolo Bremont, free mulatto woman, fourteen or fifteen years of age, or thereabout, born at Mirebalais, Isle of San Domingo, heretofore in the employ of Marie Rose, (free colored woman) by virtue of an agreement entered into at the Mayorality, the seventh day of April, 1809, and at this time to make a new contract, and because of the relinquishment of the aforementioned Marie Rose on this date, of her claim on the time and services of the aforementioned Lolo Bremont, has hired herself anew, for a good and valid reason, and with the well wishes and sanction of the Mayor of New Orleans, in the capacity of apprentice, at the disposal of Mrs. Augustin, of this city, to the end that she might learn the trade of making fashionable articles, in which trade the said Mrs. Augustin is now engaged. She furthr agrees to reside without interruption near her employer during the space of four years, consecutively, from the date hereof, to obey the just orders of the said Mrs. Augustin, and not to quit her without good cause and unless expressly authorized. And the Madame Augustin, in consideration of the foregoing, promises and obligates herself to teach to the said apprentice the said trade of making fashiionable articles and all else thereunto belonging, and further to supply her with good and sufficient food, lodging, clothing, washing, and the aid of the craft, in case of illness. (NOPL)