---

Last Fuel Tank at Michoud Rolls Out
September 20, 2010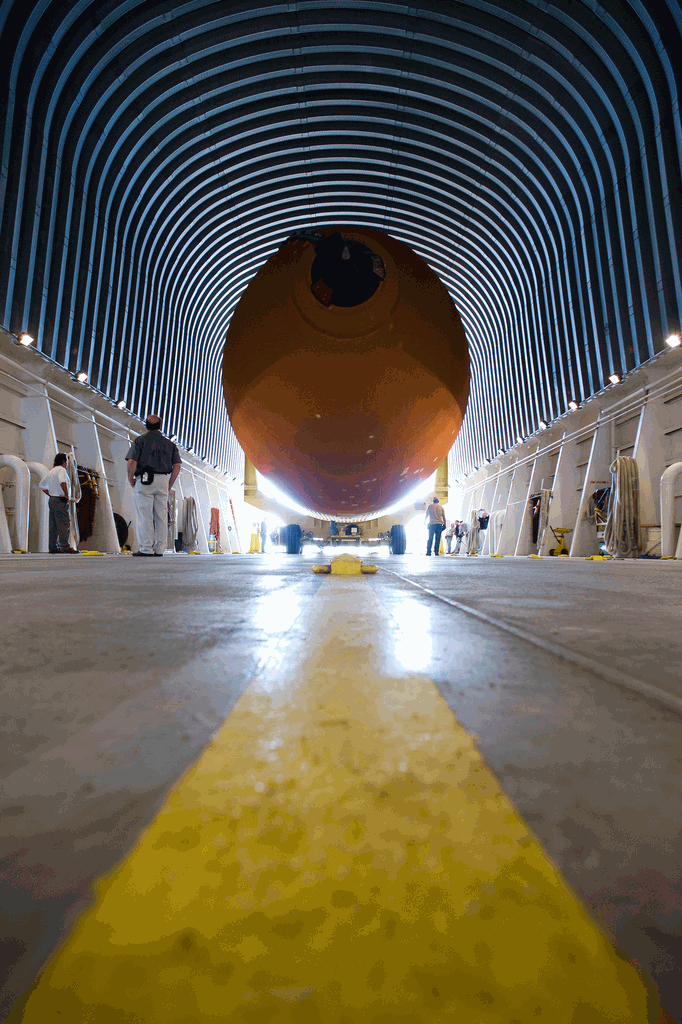 ET-122 Rolls Out at Michoud Assembly Facility
Photo from NASA
The Michoud Assembly Facility's 832-acre site in New Orleans East is owned by NASA as a component of its Marshall Space Flight Center, and is maintained and operated by Jacobs Technology. It is one of the largest manufacturing plants in the world with 43 environmentally controlled acres (1,870,000 sq ft)) under one roof. Michoud employs approximately 3,700 people. From September 5, 1973 to September 20, 2010 it was used for the construction of the space shuttle's external fuel tanks by its lead contractor, Lockheed Martin.
The facility was originally constructed in 1940 at the village of Michoud and its plantation by Higgins-Tucker division of Higgins Industries under the direction of Andrew Jackson Higgins on behalf of the United States government for the war production during World War II to make plywood C-46 cargo planes and landing craft. During the Korean War it made engines for Sherman and Patton tanks, and boasted a 5,500 foot paved runway. It came under the management of NASA in 1961 and was used for the construction of the S-IC first stage of the Saturn V rocket and the S-IB first stage of the Saturn IB rocket. It is home to the first stage of the last constructed Saturn V, SA-515.
The Michoud Assembly Facility has been most closely associated with the construction and production of NASA's External Tank (ET) program. Throughout the Space Shuttle program, the facility produced 136 tanks. Rollout for ET-1 used for STS-1 was on June 29, 1979. The last flight ready tank, ET-122, rolled out on September 20, 2010.
Ironically, in 2005
,
all shifts At Michoud were initially canceled up to
September 20, 2005
, potentially setting back future Shuttle flights. All the buildings and the shuttle hardware within survived the hurricane without grave damage, but the roof of the main building was breached and debris damaged ET-122 stored inside. This tank flew on the final flight of Space Shuttle Endeavour, STS-134 (
More about that...
)
Only one tank produced at the facility, ET-94, was not used in spaceflight and remained at Michoud as a test article.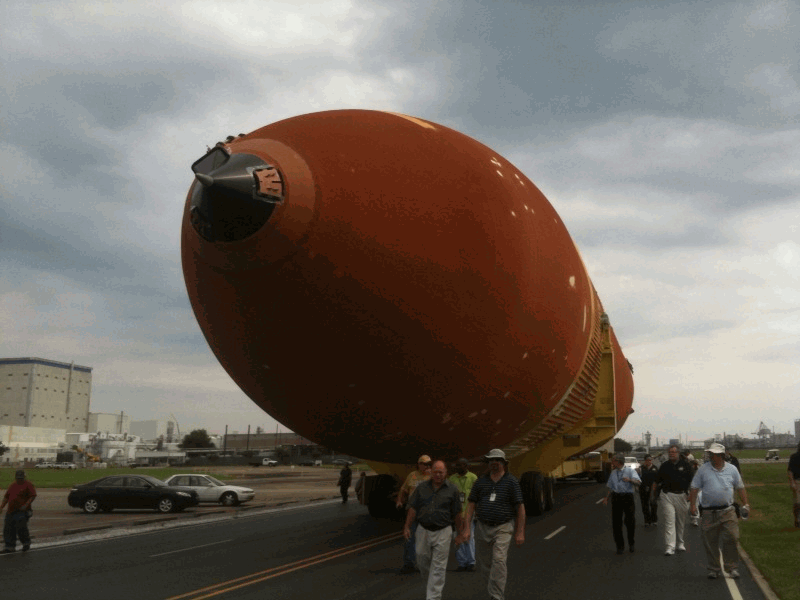 ---



---
Katrina Aftermath
September 20, 2005


On September 1, 2005, helicopters began dropping sandbags into the 17th Street Canal breach, and sheet piling was driven across the canal at the Old Hammond Highway Bridge. Sand bags were brought in and a sheet pile closure structure was built across the London Avenue Canal on September 3, 2005. Temporary pumps were later brought in to remove the water and drain the city, and the Orleans Metro sub-basin was officially declared dry on September 20, 2005. In total, the Corps removed more than 250 billion US gallons of water. In addition, the Corps replaced 2.3 miles of floodwalls and 22.7 miles of levees and repaired 195.3 miles of scour damage following Hurricane Katrina.
Oops!... I Did It Again
September 20, 2000

Britney Spears performed at the Superdome on September 20, 2000 during her Oops!... I Did It Again Tour.
"City of New Orleans" Writer
Steven Benjamin Goodman Dies
September 20, 1984

Born on July 25, 1948, Steven Benjamin Goodman was an American folk music singer-songwriter from Chicago, Illinois who wrote "City of New Orleans" which became a Top 20 hit for Arlo Guthrie in 1972. It became as American standard, covered by such musicians as Johnny Cash, Judy Collins, Chet Atkins and Willie Nelson, whose recorded version earned Goodman a posthumous Grammy Award for Best Country Song in 1985. He died of leukemia on September 20, 1984 at the age of 36.
Plans for Terrytown
September 20, 1959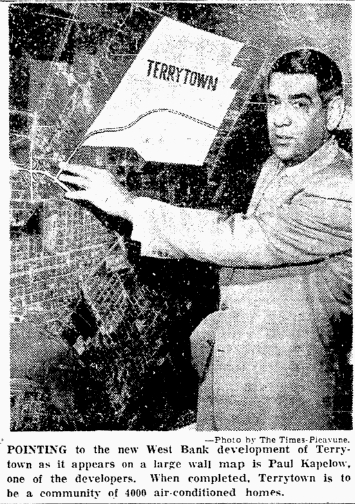 On July 2, 1959, the Jefferson Parish Council authorized its intention to create new drainage, garbage collection, flood protection, and road lighting for its 1st, 2nd, and 3rd Westbank wards which lie between Gretna and Plaquemines Parish. At this time both Timberlake and Terrytown (tentatively called Oakdale) were planned as housing developments. The waterworks district had already been created and the developers agreed to provide interim financing for the service. The area's population stood at 1000 but optimistic leaders expected the number to grow to 40,000 by 1980.
In August 1959 a contract was signed by Terrytown, Inc., (property owner) and Kesko, Inc. (builder) for the construction of 493 dwelling units at a cost of $5,485,025. The photo on the right, which captures developer Paul Kapelow (president of Shelby Construction Company and head of the building firm Guardian Construction Company) showing his plans for Terrytown, appeared in the September 20, 1959 edition of the Times-Picayune. The page one headline describing the new subdivision read "New 400 Home Project Begun -- Store Areas, Schools, Churches Included". Terrytown homes would boast of central air and heating, contain three or four bedrooms (some with family rooms), one or one-and-one-half baths, and could be had for $12,750 to $15,500. They would have fully-equipped kitchens with "modern built-ins...to make the new subdivision unique in its class in the area". Existing trees would be preserved whenever possible, to be viewed from inside of rooms containing "contemporary exposed beams and sloped ceilings".
In the initial construction phase, 493 homes between Victory Drive and the Belle Chasse Highway in the 1200 acre development would have a frontage road (Terrytown Parkway, later Terry Parkway) 1000 feet from the Mississippi River Bridge toll plaza (the bridge was expected to be completed the following year). The main arteries to the subdivision would be Stumph Boulevard and Heritage Avenue but "semi-isolate areas of minimum traffic" would provide a quiet environment for Terrytown homeowners who would live "10 minutes from downtown".

Kapelow's Shelby Construction Company was also in the process of building what would become Lakeside Shopping Center and had already completed the Claiborne Towers, the Motel De Ville, and the Parkchester Apartments. Meanwhile Pontchartrain Park subdivision was underway, offering 1725 homes ranging from $14,300 to $25,000 exclusively for Negro homeowners (according to a 1969 UP article). Airline Park Shopping Center had just entered into a lease with Maison Blanche department store, the two-story Lakeshore Shopping Center (including Lakeshore Lanes bowling alley) on Robert E. Lee Boulevard was in the design stage, Schwegmann's Airline Highway store was under construction, and new homes were offered for sale in Lake Terrace. Pap's grocery on Mirabeau Avenue was brand new, Fifty-seven homes in Arabie's Caroline Park were for sale. The Royal Castle commissary at Maple Ridge and Airline Highway was under construction (it would later become Popeye's). Willowdale opened off Veterans Highway as did Aurora Gardens near General Meyer. By December of 1959, the Westgate Annex of new homes was complete and the first of eight new Jefferson Parish sewerage disposal systems was in operation under the direction of Ray L. Condon Jr. The greater New Orleans area positively booming.
Terrytown was officially dedicated/opened on March 6, 1960 by Kapelow, who named the "town" after his teen-aged daughter, Terry, who cut the ribbon. After the 11 a.m.ceremony, a tour of homes and luncheon buffet was offered to several hundred invited guests.
On a related note, Paul Kapelow's son, Stephen Kapelow, headed the venture which was to redevelop Pontchartrain Beach amusement park after it closed in 1983 and was the promoter of the ill-fated 1971 Celebration of Life rock fest held in McCrea, La.
Athlete Jim Taylor is Born
September 20, 1935
James Charles Taylor was born in Baton Rouge on this date in 1935. An LSU All-American in 1957, his final game at LSU was a 25-6 victory over Tulane which was the start of 22 game unbeaten streak for the Tigers.
Taylor played professional football for ten seasons -- from 1958-67. He was a running back for the Green Bay Packers from 1958-66, and for the New Orleans Saints in their first season of 1967 and retired the following year. He finished his career with 8,597 yards and 83 rushing touchdowns, highlighted by his five straight 1,000-yard rushing seasons from 1960-1964.
Taylor also caught 225 passes for 1756 yards and 10 touchdowns, and returned 7 kickoffs for 185 yards, giving him a total of 10,539 net yards and 93 touchdowns. His 8,207 rushing yards with the Packers remained a franchise record until Ahman Green surpassed it on November 8, 2009. While playing for the Saints, Taylor was the first running back in NFL history to gain over 1,000 for five consecutive seasons. He was inducted into the Pro Football Hall of Fame in the summer of 1976.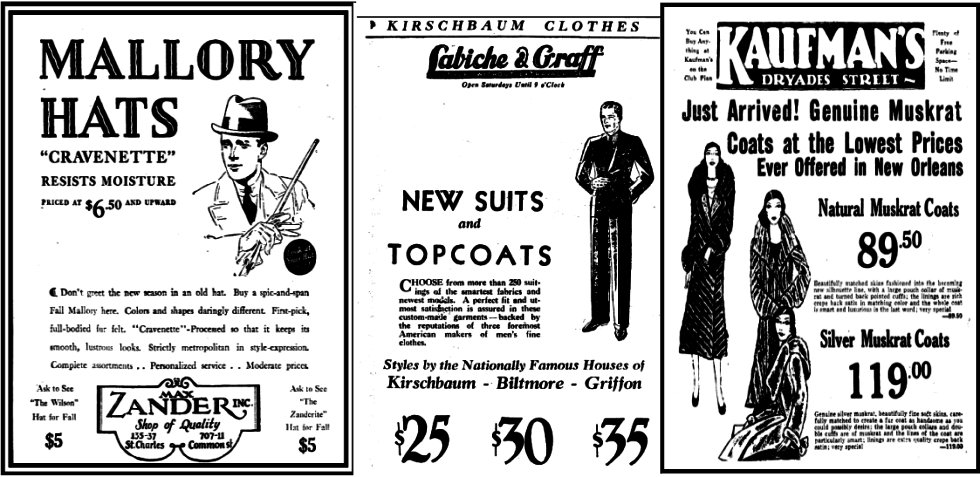 Advertisements from the September 20, 1930 Times-Picayune
Max Zander Inc. -- "Shop of Quality" -- 135-37 St. Charles & 707-11 Common Street
Labiche & Graff -- 313-315 Baronne Street
Kaufman's - 1712 Dryades Street.
WSMB to Increase Power
September 20, 1930
On September 20, 1930 WSMB Radio announced that the stations' power would soon increase from 500 watts to 1000 watts. Operated by Maison Blanche and Paramount-Publix Interest, WSMB was granted persmission on the 19th to increase its power, said station manager A. S. Foster, who also reported that the transmitter would likely move from atop the MB building to a location out of the city limits in order not to blanket reception [the transmitter was moved to Kenner]. Foster also said that the studios would remain in the Maison Blanche building and in the Saenger Theater but that two more studies were being planned which would make WSMB "the most elaborate studios in the South".
Eddie Bo is Born
September 20, 1930

Born in New Orleans on this day in 1930, pianist Edwin Joseph Bocage "Eddie Bo" was known for his blues, soul and funk recordings, compositions, productions and arrangements. He debuted on Ace Records in 1955 and released more single records than anyone else in New Orleans other than Fats Domino. May 22, 1997 was declared "Eddie Bo Day" in New Orleans by mayor Marc Morial while Bo was playing in Karachi, Pakistan. Bo was also named New Orleans' music ambassador to Pakistan. Mr. Bocage passed away on March 18, 2009.
Truman Capote
Born in New Orleans on September 20, 1924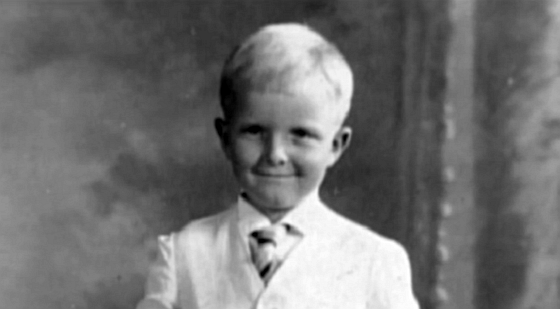 Truman Capote was born in New Orleans on September 30, 1924. Named Truman Streckfus Persons, he was the son of Archulus Persons, a nonpracticing lawyer and of the former Lillie Mae Faulk of Monroeville, Alabama. Years later he adopted the name of his stepfather, Joe Capote, a Cuban-born New York businessman. According to the New York Times, he and his parents were living "in a New Orleans hotel when she sent Truman to live with relatives in Monroeville when he was barely able to walk, and for the first nine years of his life he lived mostly in Alabama under the supervision of female cousins and aunts" but "Most summers the boy returned to New Orleans for a month or so, and accompanied his father on trips up and down the Mississippi aboard the Streckfus owned riverboat on which Mr. Persons worked as a purser. Truman learned to tap dance, he said, and was proud of the fact that he once danced for the passengers accompanied by Louis Armstrong, whose band was playing on the steamboat". As an adult, Capote lived briefly in a Royal Street apartment where he did some writing before producing his first novel,
Other Voices, Other Rooms
(1948). He visited New Orleans sporadically over the last two decades of his life to lecture or to be interviewed in his "hometown." Capote claimed to have established a new literary form with the publication of
In Cold Blood
(1965). He died in Los Angeles on
August 25, 1984
. Photo from
Emy Augustus.
The Grand Isle Hurricane
September 20, 1909

September 20th, 1909: A hurricane passed over Berwick Bay before moving inland between Baton Rouge and New Orleans. Winds of 80 m.p.h. were reported at Thibodaux. The pressure at Abbeville bottomed out at 28.68". Extensive damage occurred in New Orleans to coal barges, railroads, communication lines, crops, and much property public and private when winds reached 66 mph at 7 p.m. Crowley saw a 35% loss to its rice crop. Cotton and sugarcane suffered greatly across greatly across Southwest Louisiana. Significant delays to rail traffic were caused by wreckage strewn across the line from Avondale westward to Morgan City and New Iberia. The launch boat Maine was sunk in Grand Bay. Many sailing vessels were swept ashore near the Rigolets. Damages totaled $6 million. The Category 4 hurricane killed 353 people and its 15 foot storm surge inundated much of southern Louisiana.
Zeke Bonura is Born
September 20, 1908

Born in New Orleans on this day in 1908, Henry John "Zeke" Bonura became the youngest male athlete ever to win an event at the National (AAU) Track and Field Championships in June 1925, at the age of sixteen, throwing a javelin 65.18 meters to claim the title and to beat the record by nearly twenty-feet. He played Major League baseball from 1934 through 1940 -- for the Chicago White Sox (1934–1937), the Washington Senators (1938, 1940), the New York Giants (1939), and the Chicago Cubs (1940). In a seven-season career, Bonura posted a .307 batting average with 119 home runs and 704 RBI in 917 games played. Bonura received the Legion of Merit award while serving in the US Army during World War II for his work as athletic director for the Army in Oran, Algeria in 1943 in 1944. He died on March 9, 1987.
George "Red" Reyer Joins the NOPD
September 20, 1918
After a stint as a streetcar conductor, "Red" Reyer was employed as patrolman on September 20, 1918. He was promoted to detective on April 1, 1921 and appointed captain of detectives on July 9, 1925. He was named Supervisor of Policeon December 19, 1928, appointed Chief of Police on May 7, 1930, and became the Superintendant of Police on December 24, 1931.
Jelly Roll Morton is Born (?)
September 20, 1899

Ferdinand Joseph LaMothe, known professionally as Jelly Roll Morton, was born into a Creole of Color family in the Faubourg Marigny. Sources differ as to his birth date: a baptismal certificate issued in 1894 lists his date of birth as October 20, 1890; Morton and his half-sisters claimed he was born on September 20, 1885. His World War I draft registration card showed September 13, 1884, but his California death certificate listed his birth as September 20, 1889. No birth certificate has been found to date.
Widely recognized as a pivotal figure in early jazz, Morton is perhaps most notable as jazz's first arranger to publish musical notations. His composition "Jelly Roll Blues" was the first published jazz composition, in 1915. Morton is also notable for naming and popularizing the "Spanish tinge", and for writing such standards as "Wolverine Blues", "Black Bottom Stomp", and "I Thought I Heard Buddy Bolden Say", the latter a tribute to New Orleans personalities from the turn of the 19th century to 20th century.
Reputed for his arrogance and self-promotion as often as recognized in his day for his musical talents, Morton claimed to have invented jazz outright in 1902 — much to the derision of later musicians and critics. He died on July 10, 1941. Source: http://en.wikipedia.org/wiki/Jelly_Roll_Morton
Alfred David Danziger is Born
September 20, 1884
Alfred David Danziger, attorney, civic leader. Born, New Orleans, September 20, 1884; son of Isidore Danziger and Amelie Dreyfous Danziger, grandson of Able Dreyfous, early New Orleans notary. Education: Boys High School, New Orleans, Tulane University. Studied law in the office of his uncle, Felix J. Dreyfous; admitted to the bar in 1908. Assistant attorney general, 1934; executive counsel for Mayor Robert S. Maestri, 1936-1946. President, Young Men's Business Club, 1937; New Orleans Association of Commerce, 1929. Active in flood-control legislation, the development of Grand Isle, Young Men's Hebrew Association, Greek War Relief in Louisiana, Jerusalem Temple and Masonic affairs. Died, April 15, 1948; interred Hebrew Rest Cemetery, New Orleans. From http://lahistory.org/site21.php. The Danziger Bridge is named for him.