---

Carnvial Day 1970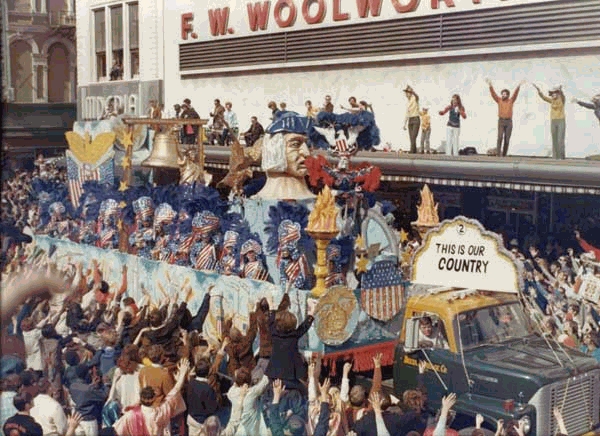 Canal Street on Carnival Day, 1970. Note the people standing on the canopy outside the now-demolished Woolworth's store on Canal Street near Bourbon. Also note the Imperial Shoe store and Kreeger's, both no longer in business, on the corners. (NOPL) Carnival Day was also celebrated on February 10, 1959, and 1948, It will fall on the same date in 2032 and 2043.
---

You Can Support this Site by Clicking on & Shopping from this Amazon Link -- and it won't cost you a penny more: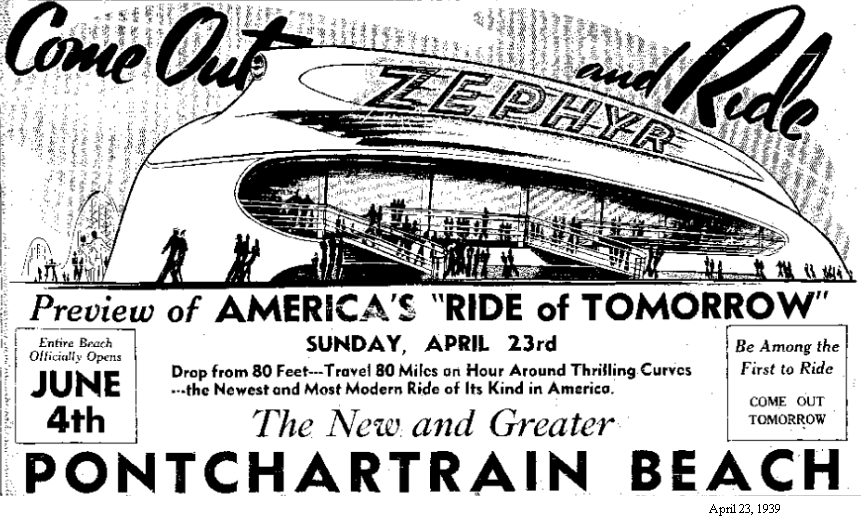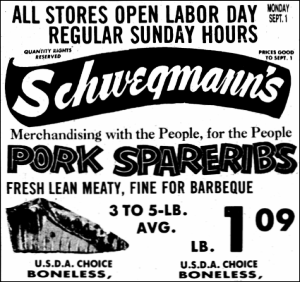 On February 10, 1973, voters approved a bond issue for the acquisition of the old Jefferson Downs Race Track in Metairie. It would beome Lafreniere Park.
Stanhope Bayne-Jones was a physician, an American bacteriologist, a United States Army medical officer, and a medical historian. As a member of the United States Surgeon General's Advisory Committee on Smoking and Health, he had a significant role in the 1964 report linking smoking to cancer. He was born in New Orleans, on November 6, 1888, and died on February 10, 1970, in Washington, DC. Bayne-Jones was the subject of a biography in 1992. Bayne-Jones Community Hospital at the US Army's Fort Polk is named in his honor, as is a professorship at Johns Hopkins University School of Medicine. His papers were donated to the National Library of Medicine in the late 1960s.
Leon Trice photograph of thePontchartrain Expressway looking from Broad overpass to lake, February 10, 1960.

Photos of Gentilly Boulevard on February 10, 1952.
On February 10, 1944 Delta Shipbuilding Company launched the Liberty ship James B. Aswell.
A grand parade to promote milk drinking, took place during Carnival season,
1923
, specifically on
February 10.
Children from 16 different school decorated cars and trucks and competed for a first place prize of a $10 gold piece.
The caption on reverse of this photograph
reads "Butter Balls -- This truck was decorated with yellow flowers. A sign was on the side of the truck 'There is no substitute for Butter. Children need more of it.' This truck contained a number of stout robust children dressed in butter color. This truck won second prize." (NOPL)
The port of New Orleans and the Louisiana Territory west of the Mississippi were ceded to Spain on February 10, 1763, by Article 7 of the Treaty of Paris.
Shushan Lakefront Airport Opens
February 10, 1934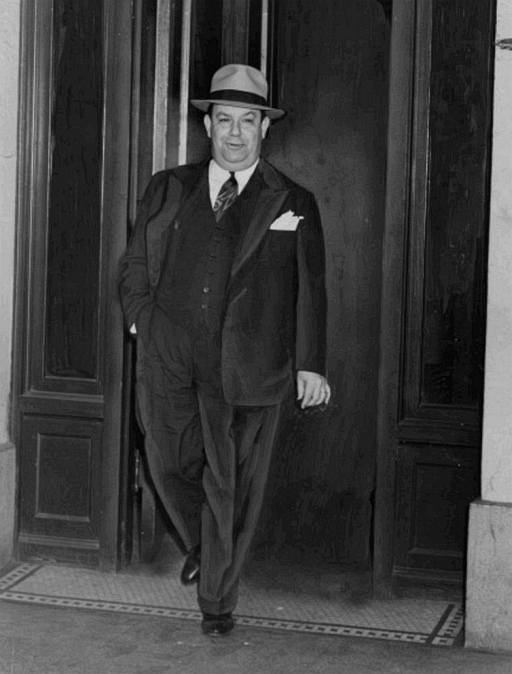 The man behind the construction of the lakefront airport and the massive lakefront "land reclamation" along the New Orleans lake shore (see October 29) is pictured here walking out of his office alone on October 23, 1941, after learning of his impending arrest for defrauding his fellow citizens. He had no comments for the the news reporters gathered there but with a forced smile, said the the photographers, "TAKE A GOOD ONE, BOYS". The mandate for his arrest had been filed at 11:20 a.m. He was in federal jail by 4:00 that afternoon.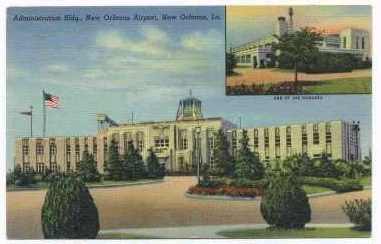 Eight years earlier, on February 10, 1934, the airport opened with great fanfare. More than 10,000 visitors from around the world attended the dedication of what was coined "the Air Hub of the Americas". Built at a cost of $4.5 million, the airport's 3,000 foot-long field qualified it for the U.S. Department of Commerce's highest rating of AA-I. The architecture was considered a modern marvel. Everything about the airport was state-of-the-art and first class. It was the first major airport in the region and the first combined land and seaplane air terminal in the world. And it was named Shushan Airport.
Architect Leon C. Weiss designed it (as well as the state capital, the governor's mansion, the Louisiana State University buildings, and the LSU Medical School. Inside the terminal building were/are beautiful Art Deco appointments as well as murals by artist Xavier Gonzalez, friezes by Enrique R. Alferez who also carved the Fountain of the Four Winds which stands out front.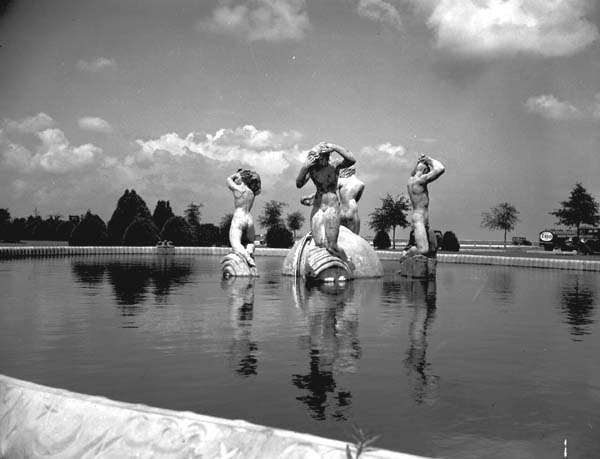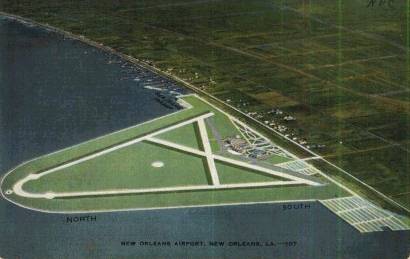 Shushan Airport, which had been under construction since 1929, sits adjacent to the Industrial Canal on a man-made peninsula jutting into the lake. To make land available for this elaborate project, the Orleans Levee Board drove a 10,000 foot retaining wall into the lake and pumped six million cubic yards of hydraulic fill to raise the field above the water. It was this project (and others) that landed Shushan, the levee board president, in hot water.
On March 27, 1934 he submitted his resignation, citing health reasons. In the letter of resignation to Governor O.K. Allen he noted accomplishments during his tenure which included a five-and-one-half long "levee" (along what is now Lakeshore Drive) with an average width of 3500 feet (over one-half mile) for eventual use as residential and recreational development (this became a part of the Lakeview post-WWII subdivisions of Lake Vista, Lake Terrace, etc.). Shushan was indicted on October 19, 1934 for eight counts of personal income tax evasion, was tried on October 8, 1935, and acquitted later that month of those charges. He remained the levee board president, however, because at at subsequent meetings of the board there were no quorums, therefore, no means of accepting his resignation. He was a slick operator, to say the least. He said, regarding the tax evasion charges, that he was being persecuted politically.
On August 21, 1939, Shusan (and five others) were indicted for mail fraud. He had allegedly been aware of a bribe which led a levee board member to pursue fellow members not to submit the job for public bid, resulting in Orleans Dredging Company netting the deal. In 1931 he also allegedly received $130,500 for his part in extorting exorbitant fees from the government, far in excess of services rendered, in a bond refunding deal and for using the U.S. mail to do so (mail fraud). But all that seemingly escaped notice for several years until until the indictment.. He was convicted on December 22, 1939 and sentenced to 30 months in federal prison on January 2, 1940. The U.S. Supreme Court refused to review the case on May 12, 1941 and declined to reconsider its decision on October 3, 1941.
In October 1941, the Orleans Airport Commission discussed removing the cornerstone of the Shushan Airport which included not only his name but the names of other former levee board members convicted of misdeeds during what became known as the "Louisiana Scandals". The cornerstone was reported to be "the only place where the name Shushan remains at the airport (which doesn't lend credence to the oft-told urban legend that his name was on all doorknobs, flooring, etc., including plumbing). The commission decided to keep the stone in place for "historical significance" and a matter of record which should be preserved.
Shushan was released from prison on parole in September of 1942. On February 28, 1947, President Harry S. Truman granted him a full and unconditional pardon.
Born on January 12, 1894 in Reserve, Abraham Lazar Shushan on died on November 3, 1966 at Touro Infirmary and is buried in Chevra Thilim Cemetery. He was educated in New Orleans and began his career at Shushan Brothers, a whole-sale dry-goods firm owned by his father and uncle, and later became its president and principal owner. He had served as levee board president during the terms of four governors (Parker, Fuqua, Long, Allen) who had all appointed him to the position beginning in 1920. He was a close personal friend of Huey P. Long. Shushan's political clout enabled constitutional amendments calling for the development of the lakefront to be enacted.
Related reading:
Louisiana Aviation: An Extraordinary History in Photographs
by Vincent P. Caire.
The airport was constructed in the mid-1930s by Huey Long on a man-made peninsula dredged by the Orleans Levee Board, jutting into Lake Pontchartrain on the Eastern New Orleans side of the Industrial Canal. It was originally named Shushan Airport after Levee Board president Abraham Shushan. The airport was inaugurated on 10 February 1934. Visitors noticed that every doorknob, window sill, countertop, and plumbing fixture either had the name or the initials of Abe Shushan. The airport was soon thereafter renamed New Orleans Airport, and was assigned the airport code "NEW", which it retains despite its current name.
During World War II, the airfield was used by the United States Army Air Forces and housed the Tropical Weather School in 1945.
At the start of the 1960s, thick concrete panels were added to the main terminal building to turn it into a Cold War era bomb shelter.
Lakefront Airport was badly damaged by storm surge during Hurricane Katrina in 2005, and again during Hurricane Isaac in 2012. While the airport was quickly brought back to service, many facilities remained in temporary trailers for years after Katrina.
Post-Katrina reconstruction at the airport has included restoration of the main terminal building's original Art Deco facade. The Art Deco interior and restoration of the Shushan terminal is being filmed for a television documentary titled,
Return Flight
. Filming began in 2012 and will conclude in 2013 when the restoration draws to a close