---

World's Fair Opens
Saturday, May 12, 1984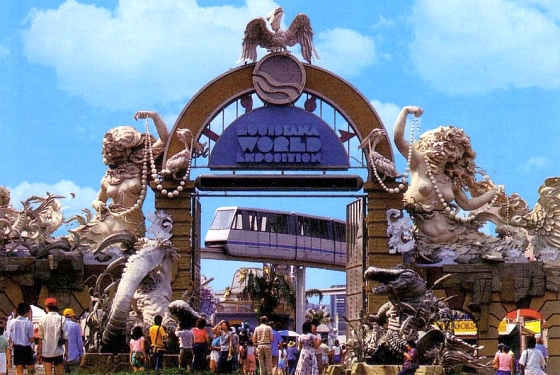 While mourning the closing of Pontchartrain Beach amusement park at the end of the summer of 1983, New Orleanians found some solace knowing that at the beginning of the following summer, the Louisiana World Exposition would open. Crowds flocked to see Seymour D. Fair, the Wonder Wall, the gondolas, the bare-breasted mermaids, synchronized swimmers, and much more (not to mention the food) on opening day, May 12, 1984. Themed "The World of Rivers—Fresh Waters as a Source of Life", the fair took place 100 years after the 1884 World Cotton Centennial (aka World's Fair) which occupied grounds we now know of as Audubon Park.

A financial flop, the fair was successful in attracting locals and creating interest in redevelopment of the riverfront and the Warehouse District. It closed on Sunday, November 11, 1984. The New Orleans Convention Center now occupies the fair grounds.
---

You Can Support this Site by Clicking on & Shopping from this Amazon Link -- and it won't cost you a penny more: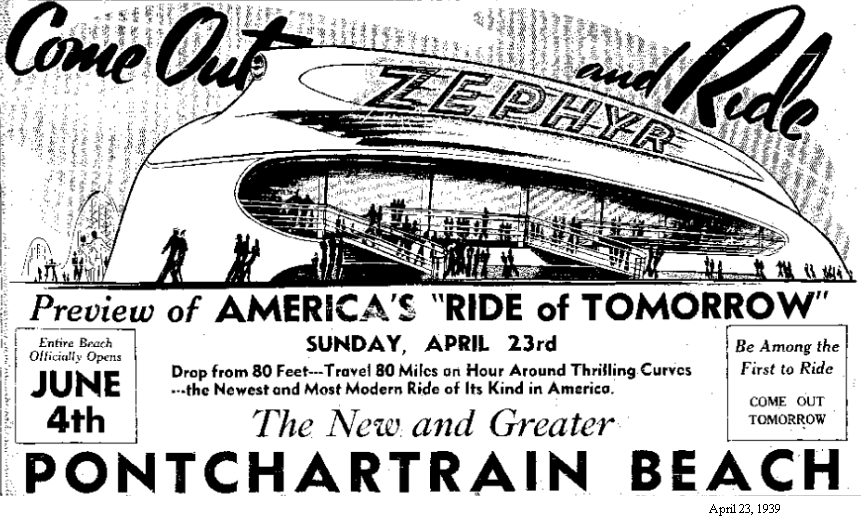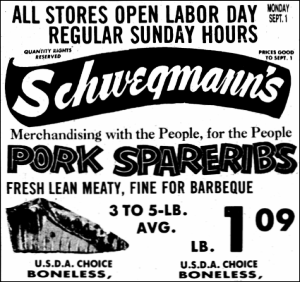 On May 2, 2012, four current and former Saints players were suspended after being named as ringleaders in what has become known as the New Orleans Saints Bounty Scandal, with linebacker Jonathan Vilma being suspended for the entire 2012 season—the longest suspension for an on-field incident in modern NFL history.
Jazz drummer Louis Barbarin, born in New Orleans on October 24, 1902 studied under the famed drummer, Louis Cottrell, Sr. and worked with the bands of Armand J. Piron, Papa Celestin, Papa French, Preservation Hall, and others until he retired in the mid-1980s due to hearing problems. He was the younger brother of Paul Barbarin. Louis died on May 12, 1997.
Since the capture of New Orleans durng the Civil War, no elections were held until the qualifications for voting were made contingent under the production of amnesty oaths required in the presidential proclamations of December 8, 1863. It was understood that all those who were excluded for any reason from the benefit of the amnesty oaths would not be permitted to vote unless specially pardoned by the President. May 12, 1865 was the day fixed for the election of Mayor and all other city officials. The campaign was interesting because it witnessed the appearance of the National Democratic and of the Democratic Conservative parties. This ended the Military appointees by the federal government.
Hamilton Dudley Coleman, politician, businessman. Born, New Orleans, May 12, 1845. Attended public and private schools. Enlisted in 1861 as a private in the Washington Artillery, Army of Northern Virginia, and served throughout the Civil War, surrendering at Appomattox with Gen. Robert E. Lee. Married Jessie Prague, August 4, 1870. Manufacturer of and dealer in plantation machinery; head of Coleman Machinery Co., New Orleans. An organizer of the first electric lighting company in the city, 1880, served as vice president and president of the company, active in the organization of the World's Industrial and Cotton Centennial Exposition, 1884-1885. President of the New Orleans Chamber of Commerce, 1887-1888; a vice president of the National Board of Trade and the New Orleans Board of Trade, 1889. Elected as a Republican to the Fifty-first Congress (March 4, 1889-March 3, 1891); unsuccessful candidate for reelection to Congress in 1890 and 1894; unsuccessful candidate for governor, 1890 and 1894, and for lieutenant governor, 1892; delegate to Republican League Convention at Cleveland, Ohio, 1895; delegate to the Republican state conventions in 1896, 1900, and 1904. Appointed melter and refiner, United States Mint at New Orleans in 1899 and served until March 1, 1905; served as a member of United States Assay Commission, 1912. Died, Jefferson Davis Confederate Soldiers Home, Biloxi, Miss., March 16, 1926. Survived by three sons: W. P., Hamilton, and H. Dudley, Jr., and two grandsons: Coleman and Victor Romain; interred Metairie Cemetery, New Orleans From http://lahistory.org/site20.php
Charles Genois (c. 1793 – August 30, 1866) was the Mayor of New Orleans from May 12, 1838 to May 10, 1840. Genois's brief tenure has been characterized as feeble because of a stagnant period that followed the enterprise outbreak during his predecessor's term. However, Genois's administration started dealing with the consequences of the previous mayors' heavy borrowing, so reforms and improvements were postponed while a solution to financial troubles was found. Improvements under his adminstration included the paving of Royal Street, improvements made in expanding the city toward the lake, and the initial digging of the Carondelet Canal. The main event of Genois's term was the January 1840 dedication of the Jackson monument in the presence of Andrew Jackson. Mayor Genois died in 1866 after a long illness, at the age of 73. He is buried in St. Louis Cemetery Number 2
Denis Prieur, a Creole, born in 1791, was elected the eighth mayor of New Orleans and took office on May 12, 1828. Previous to his election he was City Recorder. He was a Jacksonite, the precurser of the democratic organization of Louisiana. He was re-elected unanimously each term during a period of ten years. He was re-elected by the Democratic Party on April 4, 1842 and served until February 7, 1843 when he resigned to take charge of the office of Mortgage Registrar to which position he was appointed by the Governor. In 1828 the legislature of Louisiana passed a law prohibiting the exhibition of Negroes for sale in the more frequented parts of the city. During his admnisitration: he condemned the mal-treatment and frightful abuse of slaves. These changes were approved. John Holland, the sheriff and a large number of local troops proceeded to a certain scene to avert an insurrection among the slaves (the adventures of Bras Coupe were of great interest at that time because the white population in those days greatly feared him and newspapers advertised a reward for the capture of fugitive slaves); n 1829 Donaldsonville became the State Capital, possibly because the legislature had no place to meet due to the burning of the State Court House in New Orleans and also because it was deemed unwise to expose the members to the temptations of the pleasures and distractions of city life but in 1831 the seat of Government was returned to New Orleans. A year later the buildings occupied by the Charity Hospital located at Common and Baronne Streets became vacant, by the removal of the institution to its site on Tulane Avenue. They then became the property of the State and were used as the home of the various governmental departments and as the meeting place of both branches of legislature during the following sixteen years; an epidemic of cholera broke out in 1832 in which the defective water was thought to be the cause. Six thousand persons perished within twelve days. One hospital deserted by physicians and attendants, was found filled with corpses, and the ghastly contents as well as the buildings were ordered to be burned; in 1834 the First Presbyterian Church was built facing Lafayette Square; the St. Charles Theatre was built in 1836 at the cost of $350,000; the first St. Charles Hotel was completed in 1838 costing $600,000. He later served as, Collector of Customs. He died on November 9, 1857 at the age of 66, from a paralytic stroke. His funeral, which took place from the residence of his sister, Mrs. Le Monier, 193 Canal Street, was one of the largest ever held in New Orleans. (From the New Orleans Public Library)