December 3
---


---
---

First Electric Buses
December 3, 1929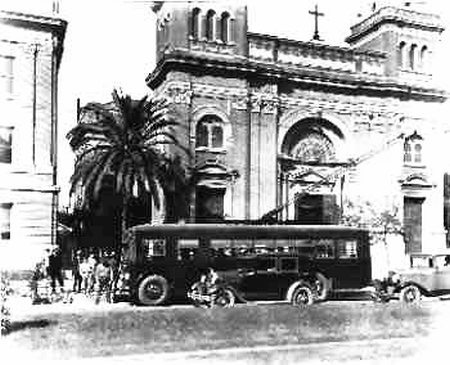 NOPSI (New Orleans Public Service) inaugurated electric bus service on December 3, 1929, when two of these electric trolley buses began to roll on the "Southport Shuttle Route" from Oak Street to Carrollton Avenue Electric buses continued in use throughout the city into the 1970s, replacing a number of the old neighborhood streetcar lines. Also visible in this photograph is the Mater Dolorosa School, seen at the left of the Church; once filled with grammar school children, the building has been converted by the Archdiocese of New Orleans into apartments for senior citizens. [New Orleans Public Library, Louisiana Photograph Collection. Municipal Government Collection; Department of Utilities Series]
---
---

If you have enjoyed these daily updates, please consider these books by Catherine Campanella for your holiday gift giving:
The National World War II Museum re-opened post-Katrina on December 3, 2005.
On Thursday, December 3, 1981, Atlantic Records and promoter Bill Graham reserved the Riverboat President for an $85,000 private party which was attended by some 500 people. Graham dressed as the boat captain. Jerry Hall played roulette. Young men and women sashayed by dressed in antebellum costumes and Confederate army uniforms. Keith Richards hobbled around with a cane. Mardi Gras Indians danced. Hairdresser King Sanchez wore long red underwear unbuttoned to the waist, leg warmers, and a scarf. Paul Prudhomme provided red beans and rice, gumbo, Cajun popcorn (fired crawfish) crawfish pie, hush puppies, fried catfish, blackened redfish salad, crabmeat tortillas, pralines, and pies. Deacon John, Dr. John, "Frogman" Henry, Oliver "La La" Morgan, the Neville Brothers with Steven Still on guitar, the Meters, "Tuts" Washington, Earl King, and the Original 6th Ward Dirty Dozen Band performed. Guests got on the boat around 7:00 and didn't get back to the dock until 2 a.m.
Born in the Bywater on April 20, 1895, jazzman Emile Joseph Christian was the younger brother of Frank Christian, also jazz musician. Emile wrote "Meet Me At the Green Goose", "Satanic Blues", and "Mardi Gras Parade". In 1918 he went to New York City to replace Eddie Edwards in the Original Dixieland Jass Band. In the 1950s he moved back to New Orleans, where he played with the bands of Leon Prima, Santo Pecora, Sharkey Bonano, as well as in his own band. In 1957 he toured with the Louis Prima Band. He died in New Orleans on December 3, 1973 at the age of 78.
Jazz bass player William Manuel "Bill" Johnson, born on August 10, 1872, is considered the father of the "slap" style of string bass playing. Johnson claimed to have started "slapping" the strings of his bass (a more vigorous technique than the classical pizzicato) after he accidentally broke his bow on the road with his band in northern Louisiana in the early 1910s. Other New Orleans string bass players picked up this style, and spread it across the country with the spread of New Orleans Jazz. Johnson was founder and manager of the first jazz band to leave New Orleans and tour widely in the 1910s, The Original Creole Orchestra. In Chicago in the early 1920s he assembled King Oliver's Creole Jazz Band, considered perhaps the best of the early ensemble style jazz bands. He taught younger Chicago musicians (including Milt Hinton) his "slap" style of string bass playing. He made many fine recordings in Chicago in the late 1920s. Johnson continued to play with various jazz bands and orchestras into the early 1950s, sometimes working under other names. He was also involved in the import/export business along the USA-Mexico border. Johnson's brother Ollie "Dink" Johnson was also a noted musician and his sister Anita Gonzales was common-law wife or perhaps married to Ferdinand "Jelly Roll" Morton during his stays in California. Bill Johnson died in New Braunfels, Texas on December 3, 1972, at the age of 100.
A Streetcar Named Desire opened on Broadway on December 3, 1947.
Roy E. Glapion, Jr. was born on December 3, 1935 in New Orleans, La. He was educated in Catholic schools in New Orleans and obtained his Bachelor of Science degree from Xavier University in 1958. He received a Master's degree in education from Southern University in 1977. He served for 24 years in the Orleans Parish Public School System as a teacher and coach, the majority of his time spent at Carter G. Woodson and Joseph S. Clark schools. He then served for 12 years as Coordinator of Athletics for Orleans Parish Schools and later became the system's Athletic Director. Glapion joined the Zulu Social Aid and Pleasure Club in 1972 and soon became the club's finance chairman. By 1976, he was elected club president, a position he would hold until 1988. Under his leadership, the Zulu Organization obtained a permanent address at 732 North Broad St. and expanded their community service, fund raising, and social outings. In 1994, he was elected to the New Orleans City Council as Representative for District "D". While on the city council, he continued to be active on community issues and championed the causes of small and minority businesses. He served on several council committees including the budget, utilities, and telecommunications committees. At the beginning of 1998, he was diagnosed with colon cancer. While fighting the disease, he was elected King Zulu 2000, but lost his battle with cancer before he could reign. He died on December 28, 1999 and the Zulu organization honored him by allowing his reign to be posthumous, the King's float rolling empty in his memory on Mardi Gras 2000. (From the New Orleans Public Library)
Singer Constance Foore "Connee" Boswell, born in Kansas City, Missouri on December 3, 1907, together with her sisters Martha and Vet (Helvetia), formed the Boswell Sisters in 1929 -- the nationally popular close harmony 1930 singing group which was considered the model for the Andrews Sisters. They had previously played in the New Orleans Symphony Orchestra, but the recording successes of their trio took them on a tour of Europe in 1933 and again in 1935. Though confined to a wheelchair by polio, she went on to become a star in several Hollywood musicals and recorded duets with Bing Crosby on the Decca label. Her sisters retired from show business in 1936. Connee appeared on radio and television with entertainers such as Perry Como, Steve Allen, Arthur Godfrey, and Frank Sinatra. She died in New York City on October 10, 1976. (From http://lahistory.org/site19.php)
Born in New Orleans on December 3, 1891, Lawrence "Larry" William Gilbert broke into baseball as a left-handed pitcher, Gilbert first became famous as a member of the 1914 "Miracle" Boston Braves. His major league career lasted only two seasons (the Braves' breakthrough 1914 campaign and 1915). He is better known as a minor league manager in the Southern Association, where he led teams for 25 seasons, including the New Orleans Pelicans from 1923–31 and 1933–38 and the Nashville Vols from 1939-48. He took 1932 off from his dugout duties to serve as president of the Pelicans, then was a part-owner of the Vols from 1939 through 1955. His managing career was bracketed by pennants. His New Orleans club posted 89 wins and a .610 winning percentage in 1923, and his final club, in Nashville, won 95 games but lost the 1948 playoff championship. Gilbert won eight Southern Association championships during his quarter-century in the league, including six consecutive titles (1939–44) with the Vols. His clubs twice won 101 games (1926 with New Orleans and 1940 with Nashville). Gilbert's career record as a minor league skipper was 2,128 wins and 1,627 defeats (.567). He died in New Orleans on February 17, 1965 at age 73. He was the father of Charlie Gilbert, a National League outfielder from 1940–43 and in 1946-47, and Tookie Gilbert, a minor league slugger with the Vols who had two trials with the New York Giants in the early 1950s.
The Dominican Sisters opened St. John the Baptist School for Girls on December 3, 1860, with a recorded attendance of 200.
The Senate nemed Jefferson Davis chairman of the Committee on Military Affairs on December 3, 1849, during the first session of the 31st United States Congress.
On December 3, 1844, by city ordinance, the Council established a Lyceum and Library for the scholars of the municipality's public schools. That ordinance also provided that the Board of Directors of the schools would also serve as the Board of Directors of the Lyceum and Library.
Elias Toutant Beauregard, commandant of Spanish forts. Born, June 17, 1759, New Orleans; son of Marie Magdeleine Cartier and Jacques (Santiago) Beauregard. Married Marie Félicité Durel, daughter of Cecile LeBrun and Jean Baptiste Durel, in New Orleans, 1782. Children: Marie Madeleine Félicité, Marie Rose, Barthélémy, and Manuel. Career: was sent to the Upper Missouri on a trading expedition for his father's mercantile business, 1779; first served Spain as a member of the New Orleans Company of Carbineers in the Mobile campaign of 1780; was a captain in the Louisiana Infantry Regiment, March 1, 1781; appointed by Gov. Esteban Miró (q.v.) as first commandant at Los Nogales (now Vicksburg, Miss.), April 1791; cooperated with Spanish agents in seeking peace between Choctaw and Creek Indians; reported on all vessels descending the river and served as a courier protector by sending messages up and down the river; was judge of civil and criminal cases; laid the groundwork for the Nogales Conference and signed the Treaty of Nogales, October 28, 1793; replaced as commandant from June 23, 1794; was commandant of the post at San Fernando (now Memphis, Tenn.), May-September 1795; was in New Orleans during yellow-fever epidemic of 1796; returned to Los Nogales as commandant from June 23, 1796 to March 23, 1797; listed in 1798 as a captain, Seventh Company, Second Battalion of the Louisiana Infantry Regiment; lived in New Orleans for a time; removed to Baton Rouge and laid out that part of the city known as Beauregard Town. Thrown from a horse during a military review. Died as a result of the accident, December 3, 1809. J.B.C. Source: Jack D. L. Holmes, "Three Early Memphis Commandants: Beauregard, Deville DeGoutin, and Folch," West Tennessee Historical Society Papers, XVIII (1964). From http://lahistory.org/site19.php
On December 3, 1798, the Cabildo discussed a estimates for and the building of a fish market.
At a December 3, 1797 meeting of the Cabild, the Royal Ensign Almonaster refused the two thousand Pesos offered at the previous meeting, stating that the Cabildo owes the Royal Treasury eight thousand Pesos (for levees). He requested that three thousand Pesos be delivered to the Royal Treasury, and offered to advance from his own funds, the shortage of the amount owed to the Royal Treasury. The Commissioners agreed to this and thanked the Royal Ensign for his unselfishness.
The Beginning of Pat O'Brien's
December 3, 1933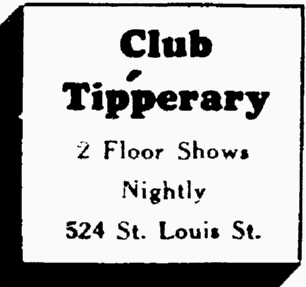 During prohibition, North Carolina native Charlie Cantrell was running rum in Plaquemine. He was also a master of the "Shake Up" which involved mixing grain alcohol with flavorings to create concoctions tasting like gin, whiskey, rum, and other liquors. "Sometimes it wasn't too good, but it could get you drunk", said Cantrell. Benson Harrison "Pat" O'Brien was a customer who bootlegged liquor back home to Birmingham. They became friends.
O'Brien, after several business endeavors, moved to New Orleans and ran a speakeasy. After prohibition, on December 3, 1933 he opened a package liquor store at Royal and St. Peter Street. In 1934 he opened Club Tipperary at 524 St. Louis. (The advertisement at the right ran in the Times-Picayune on March 18, 1934.) Cantrell financed it. Then, as equal partners, they moved to another location in the 600 block of St. Peter Street across from the original store. Cantrell later bought 10% of O'Brien's share, making him the controlling partner. In December, 1942 they moved to the current location of the world famous Pat O'Brien's bar at 718 St. Peter and called it Pat O'Brien's.
The building was historic long before Cantrell and O'Brien made it famous. Built in 1791, it housed the first Spanish theater in the United States. The famous Hurricane cocktail was first mixed there 146 years later. In 1937 a liquor salesman was hawking 60 bottles of rum at a bargain basement price and would even throw in 15 dozen glasses shaped like the globes of oil fueled hurricane lamps. The rum wasn't selling as Cantrell had hoped, so he decided to experiment. He mixed 4 ounces of it with red fruit juice and sugar, and instructed his waiters to tout these drinks. Customers loved them and their glasses. Cantrell, a savvy businessman began selling both.
That same year (1937), Mercedes Paulson and Sue Wheeler first performed together at the dueling pianos (thought to be the first in the country). "Sue" was actually Sara Belle Wheeler, a native of Vicksburg who had been educated in New Orleans. She passed away on Saturday, March 10, 1956 at the age of 38 after having played at Pat O's for 19 years. Mercedes LeCorgne Paulson, a native New Orleanian, died on Thursday, April 10, 1980 at the age of 74. Her booming baritone, which graced the main bar for 32 years, is still remembered by many. She retired from Pat O'Brien's in 1968.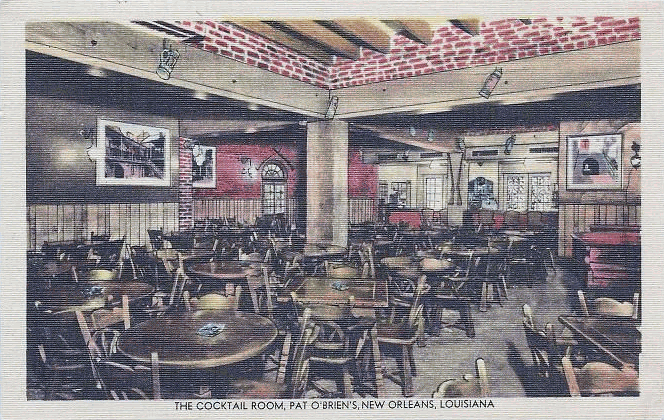 Charlie ran the business. Pat handled the customers. They were perfect partners in this endeavor. During World War II, Cantrell worked in a defense shipyard where he met George Oechsner, who would become the General Manager, taking Cantrell's place and becoming part owner in 1947. In 1979 Oechsner's son George "Sonny" Jr. took over the role. It was Sonny's idea to begin franchising and Pat O'Brien's bars sprouted up in Orlando, San Antonio, Memphis,
Cancun, and Destin. Sonny also added a restaurant upstairs, purchased a building on Bourbon Street for expansion, opened a location at the Jax Brewery, introduced an online catalog for selling branded items, and acquired a bottling plant.
The guys who ran the place for so many years are all gone now. Pat O'Brien died on November 10, 1983. Geroge D. Oechsner Jr. followed on December 11, 1990. Charlie Cantrell passed away on March 23, 1993. Sonny died on March 12, 2012. But the business the two bootleggers started and the local men continued remains, now an iconic New Orleans bar known around the world.
Upon Sonny's death, his daughter Shelly Oechsner Waguespack became Pat O'Brien's president and sole owner.

1947 postcard

Sisters of the Holy Family Open Their First School
on Chartres street -- December 3, 1867
A New Orleans lady, born in 1813 to a wealthy Frenchman and a quadroon free woman of color, who rejected the social norms of her times is now the first U.S. native-born African American religious leader whose cause for canonization was officially opened by the Catholic Church.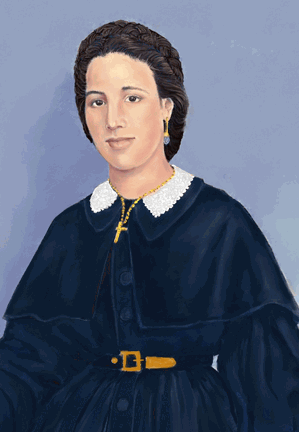 Henriette Delille's birth was the results of a placage, an extralegal "common law" system which became institutionalized in our city during the Colonial Era. The arrangements included contracts or negotiations between white men and free women of color which stipulated the financial and/or housing arrangements for woman, the settlement of property, and, many times, paternal recognition of any children the union produced. The woman's mother usually negotiated the terms of the agreements, including the financial payment to the parent. To our modern sensibilities, such arrangements seem arcahaic but they were acceptable in their day and provided mixed-race women with social prestige and financial security.
Dellille had been groomed for such an arrangement. Her mother taught her French literature, music, dancing, and nursing. Her mother kept an eye on Henriette when she attended many quadroon balls, which were the young women's introductions into the social world which would lead to their arranged "marriages". An independent woman and a feminist (before the word had been coined), Delille became a social worker, educator, and a nun. Ironically, the most popular location for hosting quadroon balls would later become the convent and school of the order of religious sisters founded by Henriette Delille.
During the 1820s, Delille and Juliette Gaudin, a young Cuban woman, began aiding slaves, orphan girls, the uneducated, the sick and the elderly people of color in New Orleans. In 1835, at the age of 22, she sold all of her property with the intention of founding a community of women to teach for free girls of color. Numerous recordings in archival records at the Saint Louis Cathedral show that, at the age of 23, Henriette had begun her apostolic ministry as baptismal sponsor and witness for slaves.
On
November 21, 1836
, a small unrecognized congregation or order of nuns, the Sisters of the Presentation of the Blessed Virgin Mary, was organized. The original members consisted of Henriette, Juliette Gaudin, six other young Créole women, and a young French woman. After several failed attempts, Delille and Juliette Gaudin received permission from the diocese to begin a new religious order. Their board was composed of a director, president, vice-president, secretary, treasurer and vice-treasurer. The sisters and laypersons of this society were called upon to teach religious principles and the most important points of Christian morality. In 1837, Father Etienne Rousselon secured formal recognition of the new congregation from the Holy See. Sanctioned by the church, their main purpose was to care for slaves, the sick, and the poor.
Six years later, at the urging of Jeanne Marie Aliquot (an early supporter of St. Augustine Church) and the counseling of Pere Etienne Rousselon (vica-general of the diocese), Delille and Gaudin knelt publicly at the altar of St. Augustine Church on November 21, 1842 and pledged to live in community to work for orphan girls, the uneducated, the poor, the sick and the elderly among the free people of color, thus founding the Congregation of the Sisters of the Holy Family -- the second-oldest African-American congregation of religious women.
In 1843, catechism classes were conducted for adults and children on St. Augustine's property at Bayou Road (now Governor Nicholls). Delille and Gaudin were later joined by Josephine Charles; the first three novices, Delille, Gaudin and Charles, are considered the founders of the congregation. Although the primary work of the sisters was in the area of education, during her tenure as head of the order, Delille made it possible for the order to build a home for the sick, aged, and poor Black residents of the city.
By 1847 the apostolate of the three sisters was supported by an association of men and women incorporated as the Association de la Sainte Famille. Their mission was for the relief of infirm and indigent persons. They eventually acquired a building that was known as Hospice de la Societe de la Sainte Famille. Through legal incorporation and fund-raising, they erected the building on two lots situated on St. Bernard between Plauche and Villere streets. The hospice was blessed on June 10, 1849.
When Henriette's mother died in 1848, she inherited $1,200 which she used, along with borrowed money, to arrange for the purchase of property on Bayou Road and declared this transaction to be solely for the purpose of establishing an institution for the religious education according to Catholic doctrine for persons of color. This became the orders first "House" (convent and school) of The Sisters of the Holy Family. But it wasn't until
October 15, 1852
, when Henriette, Juliette, and Josephine pronounced first vows of poverty, chastity, and obedience to God in St. Augustine Church before Père Rousselon, that they first wore the black habit of a religious order.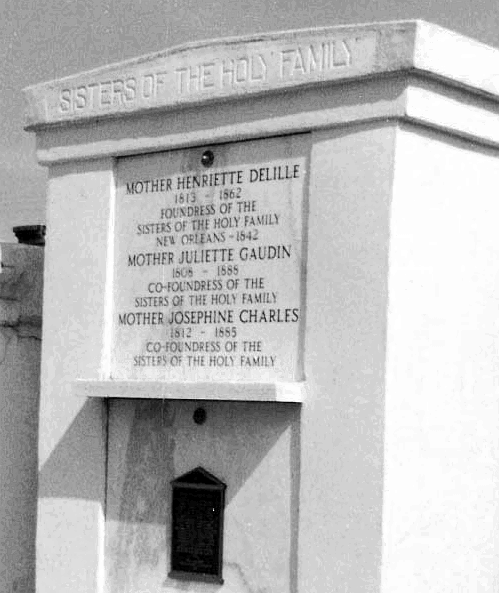 Henriette Delille passed away on
November 16, 1862
at the age of 50. It is thought that her death was a result of tuberculosis. Her funeral was held at St. Augustine church. She is buried in St. Louis Cemetery No. 2.
The order she founded continued her legacy by opening a convent school on Chartres street on
December 3, 1867
, five years after her death. In 1880 they moved the mother house at 717 Orleans Avenue, between Bourbon and Royal streets -- the site of the Orleans Theatre, the Quadroon balls, the First District Court, and finally the Bourbon Orleans Hotel (
Photo of the school.convent)
In 1883, the order opened a convent in Opelousas. In 1875 the opened a home for aged and infirm people of color on St. Bernard Avenue between Villere and Marais streets. An orphanage was opened on June 22, 1879 on Conti Street. In 1892, they opened school for boys and St. John Berchman's Orphan Asylum for girls.
At the time of her death, her order included twelve nuns. 1909, it had grown to 150 members, and operated parochial schools in New Orleans that served 1,300 students. By 1950, membership in the order peaked at 400. Her Sisters have served the poor by operating free schools for children, nursing homes, and retirement homes in Louisiana, Texas, California, Washington, D.C., Oklahoma, Alabama, Florida, Belize, Panama, and Nigeria.
In April 1988, Mother Rose de Lima Hazeur, Superior General of the Sisters of the Holy Family. requested Archbishop Philip M. Hannan to initiate the canonization of Henriette Delille. In 1989 the order formally opened its cause with the Vatican. On November 10, 2006, the decree of judicial validity was issued in the investigation into the life, virtues and reputation of sanctity of Mother Henriette Delille. She was declared venerable in 2010.
A prayer room in the rear of St. Louis Cathedral (where slaves were thought to have been baptized) was commissioned by its rector Reverend Monsignor Crosby W. Kern in her honor.

In 2011, the City of New Orleans renamed St. Claude Street in Treme in her honor. Henriette Delille Street now runs at what was the 1000 through 1800 blocks of St. Claude, from St. Philip Street, at the edge of Louis Armstrong Park, to Pauger Street, where St. Claude Street and McShane Place come together to form St. Claude Avenue.
The photo above was taken by Sister Doris Goudeaux in 2008 of the three founding members' tomb in St. Louis Cemetery No. 2. In summing up Henreitte Delille's life and mission, Sylvia Thibodeaux, a modern Sister of the Holy Family, told the Los Angeles Times, "She was the servant of slaves. You can't get more committed than that.