January 20


---

Photographer John Norris Teunisson is Born
January 20, 1869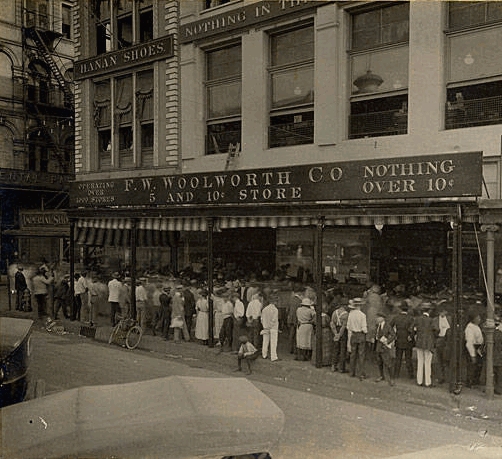 John Norris Teunisson, born in Pike County, Mississippi on January 20, 1869, moved to New Orleans 1892 and worked initially as an inspector for the Underwriters Inspection Bureau. The New Orleans city directories do not list him as a photographer until 1901, and the 1900 census gives his profession as "insurance inspector." In 1893, he married Mary Ellen Frost (his marriage announcement states that he was from Summit, Mississippi); the couple had four children, one of whom, Nellie May Teunisson, served for a time as her father's photographic assistant.
Once established, Teunisson had a long career as a photographer in New Orleans. His photographs were widely reproduced during his lifetime in tourist guides to New Orleans, in newspapers, and as postcards. In the 1950s, Teunisson moved to Washington, D.C., where he died on February 8, 1959, at the age of 90. He is buried in Metairie Cemetery.
The New Orleans Public Library's collection of Teunisson prints include views of the Atlanteans carnival ball of 1940, carnival decorations on downtown streets in 1906, the Fisk Free and Public Library, local hotels (including photographs of drawings of hotels), riverfront scenes, and other miscellaneous local sites. Additional collections of Teunisson photographs can be found at the Louisiana Digital Library.
Pictured here is Teunisson's 1922 photograph of the F. W. Woolworth's store on Canal at Bourbon streets.
Source: The New Orleans Public Library
---

You Can Support this Site by Clicking on & Shopping from this Amazon Link -- and it won't cost you a penny more: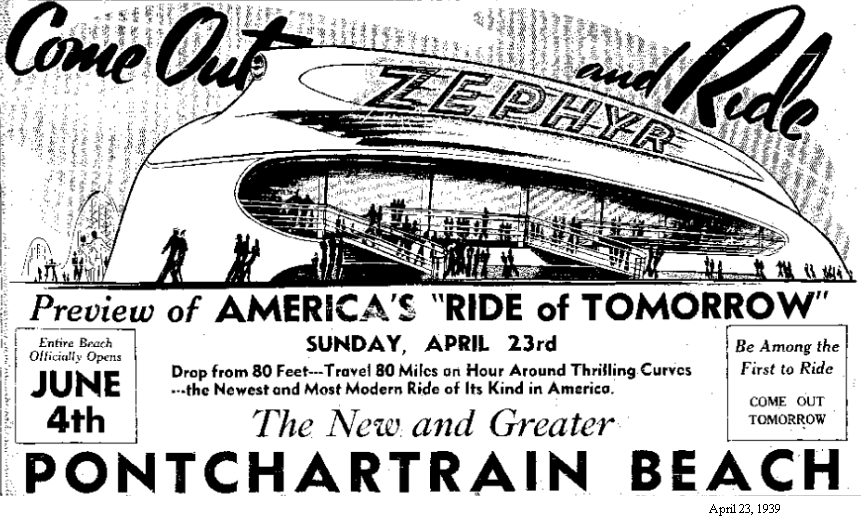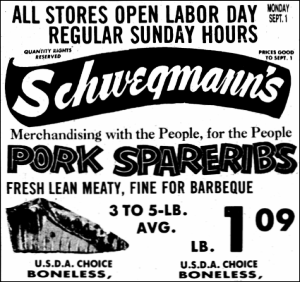 Bishop Charles Pasquale Greco, born on October 29, 1894 in Rodney, Mississippi, attended St. Joseph Seminary in Covington before studying at the American College at Louvain in Belgium and the University of Fribourg in Switzerland. He was ordained to the priesthood by Archbishop John Shaw on July 25, 1918. He served as vicar general of the Archdiocese of New Orleans and pastor of Our Lady of Lourdes Church. On January 15, 1946, Greco was appointed the sixth Bishop of Alexandria. He died on January 20, 1987.
Augustine Joseph Bruening, clergyman. Born in Germany, August 24, 1879. Immigrated as a youth to the U. S.; attended St. Joseph's College, Kirkwood, Mo., 1894-1900. Pursued philosophical and theological courses at Mt. St. Clement's, DeSoto, Mo., 1901-1905. After ordination assigned, January 7, 1917, St. Henry's, San Antonio, Tex. (1917-1918). Followed Archbishop John W. Shaw (q.v.) to New Orleans and served him in numerous capacities: secretary and vice chancellor from October 15 to December 31, 1918; chancellor from January 1, 1919, to December 31, 1923. He was also consultor, pro-synodal judge on the Metropolitan Tribunal, deputy for seminary in temporalities, building commission member. Best remembered for leadership in drive for funding the erection and endowment of Notre Dame Seminary, 1920-1921. Named pastor of Our Lady of Good Counsel Church, New Orleans, 1924. Named, 1938, domestic prelate. Died, January 20, 1944; interred St. Louis Cemetery III, New Orleans. H.C.B. Sources: Bruening Papers in Archdiocesan Archives; Registers of Our Lady of Good Counsel Church, New Orleans, and Chancery documents. From http://lahistory.org/site19.php

Photos of street paving, January 30, 1939.
Several photos of Jackson Barracks on January 20, 1937.
On January 20, 1880 several New Orleans streets were renamed: Levee Street's name was changed to Tchoupitoulas Street on. On the same day Greenwick Street was renamed Camp Street and Chatham Street became Chestnut Street. S. Front, Main Street, and Live Oak streets were renamed Constance Street. What was Cortland Street became Prytania. Laurel and Union streets were renamed Patton Street. Joseph to lower line of Upper City Park (formerly Howard St.) was renamed Perrier. Bond St. became Pitt St. Plaquemine St. was renamed Coliseum. Plauche St. became Marais St. Joseph St. to Lowerline St.(formerly Tchoupitoulas St. - Now Annunciation St.) was renamed Preston St. Cortland St. became Prytania.

On this day in 1797 the Cabildo decided to permit the bakers to have the flour which is in storage at 10 Pesos per barrel, as it was anticipated that the flour would soon be coming down the river from Ohio.
Pontchartrain Rail-Road is Chartered
January 20, 1830.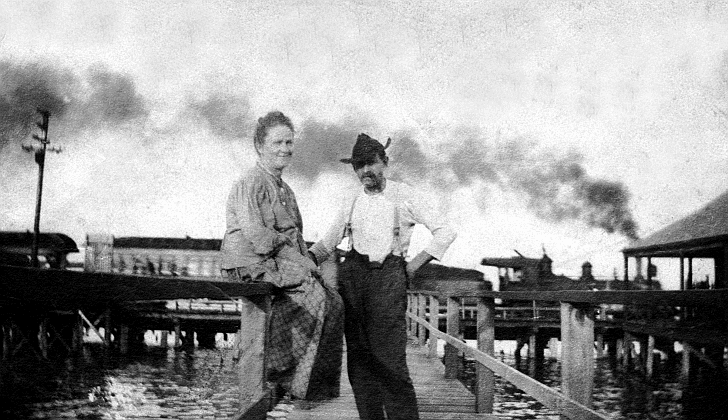 Theresa Gallagher and her second husband Conrad Freese pose on the front walk of a camp in Milneburg c. 1880 - 1890.
The Pontchartrain Railroad's "Smokey Mary" can be seen in the background. (Photo courtesy of Henry Harmison.)
The Pontchartrain Rail-Road was an early railway, chartered in 1830, which began transporting people and goods between the Mississippi River front and Lake Pontchartrain on April 23, 1831, and closed more than 100 years later. The 5-mile long line on Elysian Fields Avenue connected the Faubourg Marigny along the riverfront with the town of Milneburg on the Lakefront. When built, the majority of the route ran through farmland, woods, and swamp. Meetings discussing building a railway began in 1828. The Pontchartrain Rail-Road was chartered on January 20, 1830. The right-of-way was approved by the New Orleans City Council on March 15, and construction began immediately, with a pair of parallel railroad tracks. Through swampland, up to 4 feet of fill was needed to create a sufficient road bed. A 150 foot wide bed was constructed along the entire route, with the rail line laid with red cypress timbers and English rolled iron rails. Construction of the line was completed on April 14, 1831, and it officially opened on April 23rd, with horse drawn railway carriages. The first steam locomotive, "the Shields", was built by John Shields and arrived from Cincinnatti by steamer on June 15, 1832. This first locomotive proved unreliable; the company even tried using sails to help propell the train. A second locomotive "the Pontchartrain" built by Rothwell, Hicks, and Rothwell arrived in September, was tested on September 6. It proved better, allowing the line to advertise regular steam service of 7 round trips per day (9 on Sundays) starting on September 27, 1832. "The Shields" was cannibalized, the boiler used to run equipment at the railroad's machine shop. "The Pontchartrain" as well as succeeding locomotives became known as the famous and beloved "Smokey Mary". It was comprised of an "engine car" (with the power of 24 horses) and 12 passenger/cargo cars.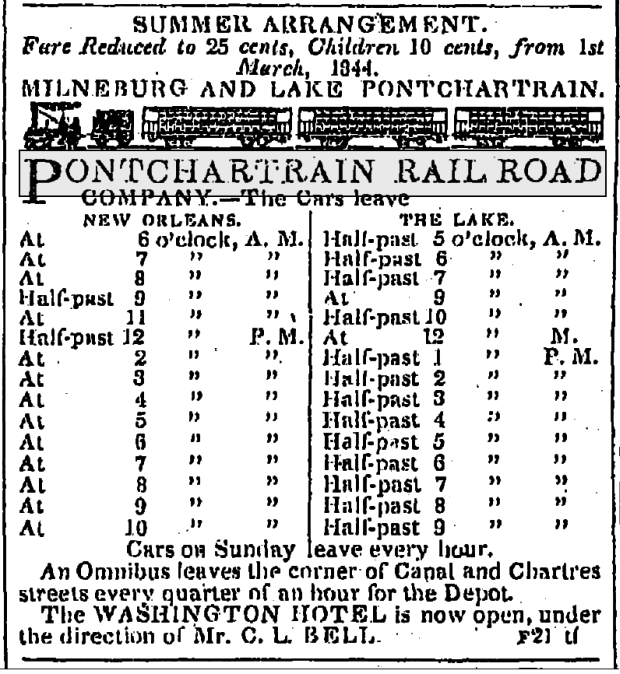 Saturday, August 17, 1844 Schedule
"When put to the test, Smoky Mary could, amidst great puffing and blowing and much expulsion of smoke and cinders, attain the remarkable speed of ten miles an hour. Passengers usually emerged with clothes blackened and eyes and throat stuffed with cinders" from [GumboYa-Ya]. The line was the first in the world to include a freight landing platform. Milneburg had no jail but the train had a prison car -- rowdies were loaded throughout the day and night into the car which was hooked to the train for its last run of the night to transport the captives to Parish Prison in the city. Passenger service on the Pontchartrain Railroad, one of the nation's oldest lines, ended after a century of service on March 15, 1932, when Smokey Mary made a final trip from Milneburg -- three coaches packed with riders led by John A. Galivan, engineer during a third ( 32 years) of the railroad's history.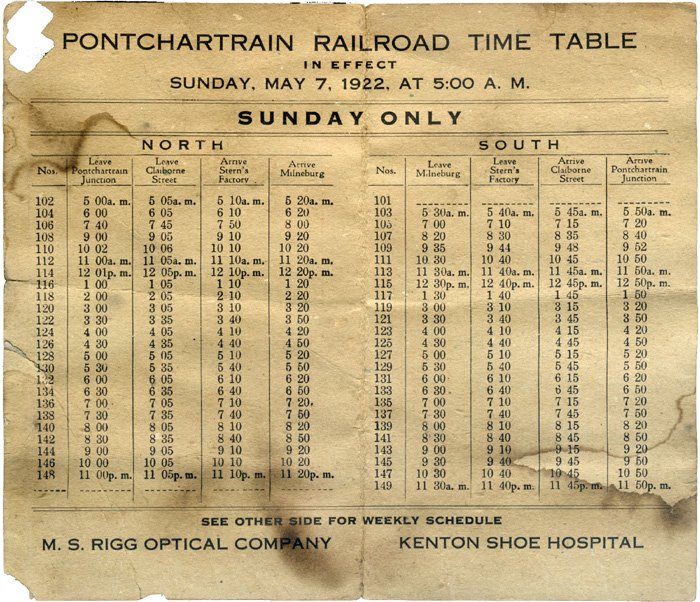 A 1922 Pontchartrain Railroad Schedule

You Can Support this Site by Clicking on & Shopping from the Amazon Ad/Link below -- and it won't cost you a penny more:


Abreviations used on this site: NOPL (New Orleans Public Library), LOC (Library of Congress), LDL (Lousiana Digital Library), HNOC (Historic New Orleans Collection), WIKI (Wikipedia).


Analytics