---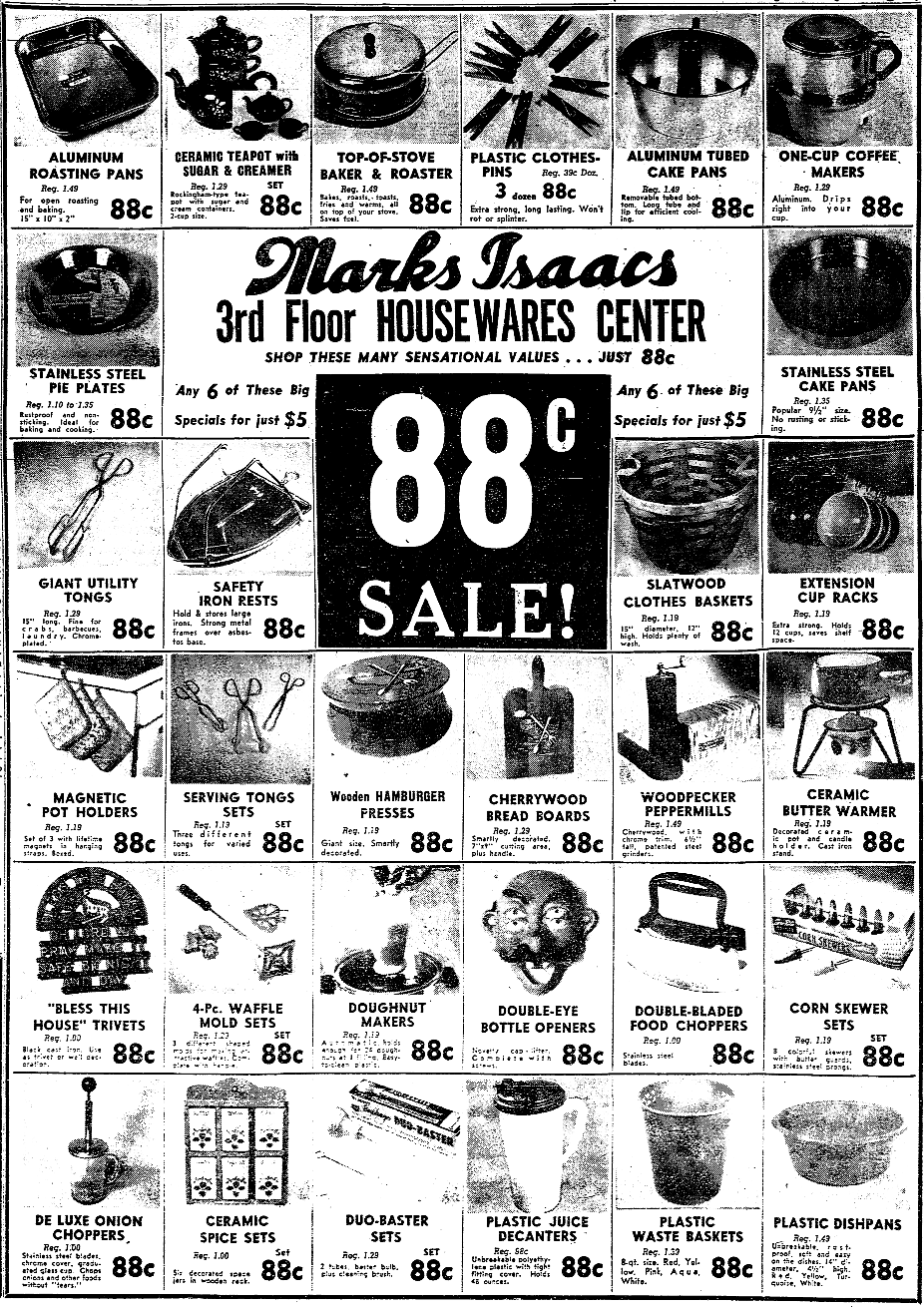 September 27, 1956 Times-Picayune advertisement for Marks Isaacs store at 715 Canal Street
On August 16, 1967, the contents of Marks Isaacs store on Canal Street were auctioned and Canal Street lost the first of several locally owned shopping emporiums.
In addition to pioneering the concept of the New Orleans department store and well-known as a beloved philanthropist, Marks Isaacs is remembered for splendid home he built at 5120 St. Charles Avenue in 1907, which was purchased after his death by aviation pioneer Harry P. Williams and his wife actress Marguerite Clark, and which is now the Milton Latter Memorial Library branch of the New Orleans Public Library. The Marks Isaacs--Williams Mansion/Latter Memorial Library was included on the register of National Historic Places on October 21, 1976. (
See also August 15
)
From Louisiana: Comprising Sketches of Parishes, Towns, Events, Institutions, and Persons, Arranged in Cyclopedic Form (volume 3), pp. 219-221. Edited by Alcée Fortier, Lit.D. Published in 1914, by Century Historical Association:

Isaacs, Marks, merchant prince of New Orleans, large real estate owner, philanthropist, and well-beloved citizen, was born at Edenkoben, Germany, in the year 1851, and died suddenly of heart disease, at his home on St. Charles avenue, New Orleans, La., at 8:45 o'clock p. m., Thursday, April 21, 1910. His death was a great shock to a large number of friends, and as these became aware of the sudden death of their beloved friend, they hastened to the palatial residence, where the grief-stricken family bemoaned the loss of a model husband and father, while the community at large prepared to mourn the final departure of a worthy citizen patriot, colossal character, and widely-known philanthropist, whose integrity was above reproach.

Mr. Isaacs, had been down town attending to business as usual during the day, and while his health had not for some time been of the best, because of his close application to business, he had not complained of feeling badly, and after dinner he and Mrs. Isaacs started out for a stroll along the avenue. While walking, he suddenly became ill, and they returned home. Soon after entering the doorway, he became unconscious, and within 15 minutes had passed quietly into the sleep which knows no waking. Mrs. Isaacs and their daughters were at his side, but their 2 sons could not be reached immediately and did not arrive until a few minutes after their father's death.

When a baby of 2 years, Marks Isaacs was brought to America by his parents. The family lived at New York until 1870, in which year the son went to New Orleans and there entered the service of his uncle, Simon Kaufman, who then conducted a dry goods store at the corner of Poydras and Baronne streets. From this establishment he later went to the firm of A. Shwartz & Son, on Canal street, and after some years there, launched out into business on his own account, opening a store on Dryades street, which became the foundation for his later business successes. This was in the year 1877, and after operating this store alone for a time, he took into partnership Charles A. Kaufman, and the firm name of Kaufman & Isaacs, which later became so well and favorably known, was then born. This establishment developed into one of the largest in the city, much to the surprise of those who predicted that a large store could not flourish elsewhere than on Canal street, in New Orleans.

In 1901, Mr. Isaacs withdrew from this firm and became associated with S. J. Shwartz & Co., the firm name being changed to the Shwartz-Isaacs Co., and they built up the Maison-Blanche into a gigantic establishment. In March, 1909, Mr. Isaacs withdrew from this firm, and then established the Marks Isaacs Co., on Canal street, which, though comparatively a new enterprise, having behind it the Isaacs reputation, and being backed by Mr. Isaacs' large means, has already established itself firmly among the largest, most progressive, and best-known commercial houses in the city of New Orleans.

Mr. Isaacs was not a club man. He was never so happy as when in the bosom of his family at his own hearthstone. On St. Charles avenue lie built one of the most palatial homes in the city, occupying an entire square, between Soniat and Dufossat streets. He was a member, respectively, of the Harmony club and the Young Men's Hebrew association, but rarely indulged in the diversions of those institutions. He also was a member of the Touro infirmary, of the Jewish Widows & Orphans' home, Touro synagogue, and the Knights of Honor.

Mr. Isaacs' charities were unbounded, but when he gave he did so unostentatiously, and none knew of it. His heart was attuned to the finest sense of human sympathies. Mr. Isaacs is survived by his wife, who was Miss Lilly Oppenheim; 2 sons, Bernard and Irwin, and 2 daughters, Flora, now Mrs. Edward Lazard, and Miss Louise Isaacs. Mrs. Simon Kaufman is a sister to Mr. Isaacs.

Rabbi I. L. Leucht, of Touro synagogue, of which Mr. Isaacs was a member, conducted the impressive funeral ceremonial over the remains of Mr. Isaacs at the family home, and in the course of a most beautiful eulogy upon the character of the deceased, paid his personality such tribute as few men can receive. From Rabbi Leucht 's remarks the following brief extract is made: "I knew Marks Isaacs 40 years ago, from the day upon which he first came to this city... He had that seldom-found and happy faculty of making and holding his friends. He was not that kind of friend who values friendship only for what it can return in material value, but the friend whose affection comes from the heart, and is unselfish and honorable." Dr. Leucht said that the name of Marks Isaacs always stood for probity and honesty. He referred to the manner in which Mr. Isaacs began his career, and how, by his manly courage, his honest and deliberateness of purpose, and his unswerving application to his duties and ideals in life, he had mounted the ladder of success until he stood among his trades-fellows as a prince of merchants, and among his neighbors and friends as a prince among men... Those he employed he loved, and that is why they were always staunch and loyal to him. Look outside, where there are hundreds of those who have worked for him, and witness their genuine grief at his departure from this world, and you may get a faint idea of that trait of his character which I am seeking to picture in words... His very code of existence was that upon which the principle of justice is founded. No one person can stand beside this bier and say 'Thou hast done me wrong.' In honor and modesty he wore the crown of citizenship, and the community suffers a great loss in his death. His dominant ambition in life was to see that those he loved and cherished were happy and content, and he did everything possible to mortal man to accomiplish that end." Dr. Leucht spoke of the honorable heritage that had fallen to the children of the deceased, and pointed them to the sacred trust of an honorable name now confided to their keeping.
---



---
The historic Saenger Theater reopened for the first time since Hurriane Katrina on September 27, 2013 with three performances by comedian Jerry Seinfeld; one on September 27 and two on September 28. The opening gala would be held October 3-6.
On September 27, 2008, Southern Star Amusement stated on their website that they would no longer be trying to revive Six Flags New Orleans.
Edwin P. Compass, III resigned as Chief of Police on September 27, 2005. Compass, who earlier said he was organizing a tribunal to handle the cases of 249 officers who left their posts without permission during Hurricane Katrina, did not give any reason for his resignation. Compass's resignation followed a few days after an emergency injunction was handed down, prohibiting him "from confiscating lawfully-possessed firearms from citizens". His actions subsequently led to the passage of the Disaster Recovery Personal Protection Act.
Dwayne "Lil Wayne" Michael Carter, Jr., born in New Orleans on September 27, 1982, at the age of nine, in 1991 joined Cash Money Records as the youngest member of the label, and half of the duo, The B.G.'z, with fellow New Orleans-based rapper B.G.
New Orleans born Bryant Gumbel became the principal anchor of Today on NBC News on September 27, 1982, with Jane Pauley as his co-anchor.
September 27, 1973 - Jefferson Parish Council Ordinance #11376 establishes the Lafreniere Park Advisory Board.
USCGC Munro (WHEC-724) a High Endurance Cutter of the United States Coast Guard, named for Signalman First Class Douglas A. Munro (1919–1942), the only Coast Guardsman to be awarded the Medal of Honor, was commissioned on September 27, 1971, at Avondale Shipyard.
The threat of the tropical storm Debbie on September 27, 1965 prompted the evacuation of oil platforms, as well as thousands of residents in low-lying areas of St. Bernard. Along the northern Gulf Coast, no gale force winds were reported inland, although oil rigs and ships off the southeast Louisiana coast reported such winds. Debbie produced above-normal tides that generally ranged upwards to 4 feet above normal; however, New Orleans reported a storm tide of 6 feet. The tides resulted in flooding along highways in southeastern Louisiana, closing several roads. The storm affected areas that were severely damaged by Hurricane Betsy earlier in September.
Loyola University's 16th president, Reverend Kevin William Wildes, S.J., Ph.D., born September 27, 1954. He was formally installed on July 1, 2004
Operatic tenor Anthony Laciura was born in New Orleans September 27, 1951. Noted for his abilities as a comprimario, he studied voice in New Orleans with Charles Paddock, also the teacher of Ticho Parly. As a boy soprano, Laciura made his operatic debut in a small role in Louise, in March 1965, at the New Orleans Opera Association, opposite the last performances in this opera of Dorothy Kirsten and Norman Treigle. As an adult, he would give many performances with that company, and would earn music degrees from Loyola University of the South and Tulane University.
SS Sea Marlin was launched at Ingalls Shipbuilding in Pascagoula Mississippi on Victory Fleet Day; September 27, 1943. Its sponsor was Mrs. D.G. Peattie, wife of Ingalls' Machinery Superintendent. Conversion from a Victory Ship to a 2,111 berth transport was completed in New Orleans on January 31, 1944. Upon delivery to the War Shipping Administration USAT Sea Marlin was leased to Grace Line. On February 9, 1944 Sea Marlin sailed from its home port of New Orleans on its maiden voyage, bound for Australia and New Guinea via the Panama Canal, under the command of Merchant Marine Captain George Ekstrom.
Henry Plauché Dart died in New Orleans on September 27, 1934. He was an attorney, historian, archivist, editor, and preservationist, born at Fort St. Philip, Plaquemines Parish on February 5, 1858; At 16, he drilled with New Orleans White League against Reconstruction government in the city. Legally emancipated at 18, Dart was admitted to the Louisiana bar at 21 years of age on February 11, 1879. He established his law office in New Orleans in 1880 and argued his first case before the Louisiana Supreme Court that same year. He admitted to practice before U. S. Supreme Court in 1893. In 1894 he participated in movement to preserve State Street from the Belt Railroad. Dart and his brother-in-law, Benjamin Wall Kernan, formed the firm Dart & Kernan in 1895, specializing in corporate law, in particular for banking, insurance, and transportation companies. Over a century of practice, the firm's titles represented various family partnerships; it was dissolved as Dart & Dart, 1981. Colleagues regarded Dart, senior member of the firm until his death, as foremost trial lawyer of Louisiana bar. In fifty-five years, he tried 300 cases before the Louisiana Supreme Court, plus appearances in federal and other state courts. He was a founder of Parkside Improvement Co., (real estate, 1891-1906); president of the Harvey Canal Land & Improvement Co.; president of the Joseph Rathborne Lumber Co.; founding president of the Louisiana Bar Association (1898-1901). His proposals on New Orleans Courthouse and professional standards for attorneys were adopted in Constitution of 1898. He served as chairman of the Louisiana Supreme Court committee on admission and disbarment of Louisiana attorneys (1898-1908).organized movement to robe Louisiana judges in1900; was a Louisiana delegate, Southern Conference, Quarantine and Immigration, Chattanooga, Tenn., 1905; supported establishment of U. S. Quarantine Service. Projector and member, New Orleans Court House Commission, 1906-1921, and president, 1916-1921. Delegate, New Orleans-Baton Rouge Good Roads Conference, 1909; National Good Roads Congress, 1912; and National Rivers and Harbor Congress, 1919. Chairman, Centenary Celebration Committee, Louisiana Supreme Court, 1913. Chairman, U. S. Legal Advisory Board for New Orleans (draft board), 1917. Lecturer, legal history, 1920-1922, Loyola University, New Orleans, which awarded him honorary LL. D., 1921. Appointed archivist for the Louisiana Historical Society, 1920, he supervised editing and publishing Louisiana colonial archives: French Superior Council, 1717-1769; Spanish judicial archives, 1769-1803. Supported, unsuccessfully, 1921, the establishment of a Louisiana State Department of Archives. Editor, Louisiana Historical Quarterly, 1922-1934. Member, board of curators, Louisiana State Museum, 1924-1934, and president, 1926-1934. Member, New Orleans Committee, U. S. Committee for George Washington Bicentennial, 1932. Charter member, American Law Institute. Member of federal advisory committee to preserve historic buildings in New Orleans, 1933. Author of Sources of the Civil Code of Louisiana (1911); History of the Supreme Court of Louisiana (1913); Legal Institutions of Louisiana (1919); Courts and Law in Colonial Louisiana (1921); Law Library of a Louisiana Lawyer in the 18th Century (1924); Colonial Legal Systems of Arkansas, Louisiana, and Texas (1926), and many historical articles, notes, memorials, and book reviews in Louisiana Historical Quarterly, and in legal periodicals. All four sons entered the family legal firm. Dart, a Democrat. He was a member of Rayne Memorial Methodist Church, Boston Club, and Metairie Golf Club. Source: http://lahistory.org/site.php?pageID=21
Born in New Orleans on September 27, 1926, Audrey ("Mickey") Patterson was the first African-American woman to win an Olympic medal
; she won a bronze medal in the 200-meter dash at the 1948 Olympic Games in London. She attended Danneel Elementary School and Gilbert Academy, where she developed a passion for running. She earned a scholarship to Tennessee State University in Nashville and graduated from Southern University in Baton Rouge, Louisiana. Patterson was named the Woman Athlete of the Year by the Amateur Athletic Union iPatterson died on August 23, 1996 in National City, California n 1949. She served as First Vice President of the Amateur Athletic Union, Director of the Pacific Southwest Association and the YMCA, Governor of the Western District of the National Association of Negro Business and Professional Women, and a member of the Urban League, NAACP and 1984 Olympic Spirit Team. She received the San Diego Woman of the Year and Press Club Headliner awards. In 1978, she was inducted into the Greater New Orleans Sports Hall of Fame. Soon after, she was inducted into the Louisiana Sports Hall of Fame at the Superdome. Patterson died on August 23, 1996 at the age of 69 in National City, California. (
See also August 23
)
On September 27 and 28, 1917 scheduled vessel trips were cancelled in New Orleans due to the Nueva Gerona hurricane.
The Mississippi hurricane, on the morning of September 27. 1906, produced a storm surge of about 6 feet in height on the Mississippi River. The highest sustained winds recorded in New Orleans were measured at 49 mph while the minimum pressure recorded was 987 mbar. Lake Pontchartrain overflowed, with its waters 5 feet above normal levels, Areas of New Orleans flooded. Telegraph wires were down in New Orleans after the hurricane, resulting in the loss of contact with the city. Chimneys were blown down in the city; and a resort along Lake Pontchartrain was underwater, and many houses were swept away near the hotel. Telephone service in New Orleans went down during the hurricane. Local crops and railroads suffered severe damage.
First Ride on the Smokey Mary
September 27, 1832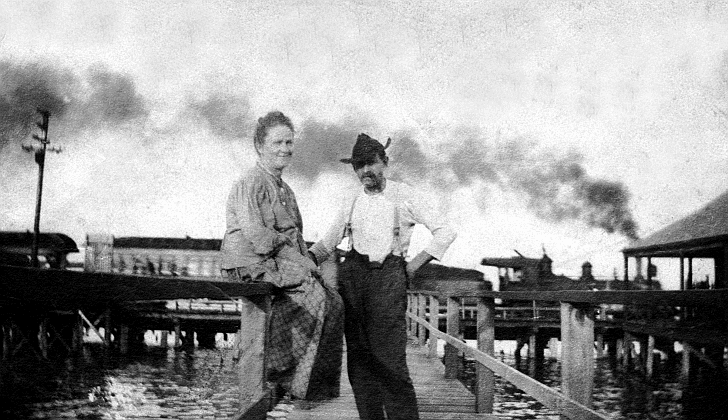 Theresa Gallagher and her second husband Conrad Freese pose on the front walk of a camp in Milneburg c. 1880 - 1890.
The Pontchartrain Railroad's "Smokey Mary" can be seen in the background. (Photo courtesy of Henry Harmison.)
The Pontchartrain Rail-Road was an early railway, chartered in 1830, which began transporting people and goods between the Mississippi River front and Lake Pontchartrain on April 23, 1831, and closed more than 100 years later. The 5-mile long line on Elysian Fields Avenue connected the Faubourg Marigny along the riverfront with the town of Milneburg on the Lakefront. When built, the majority of the route ran through farmland, woods, and swamp. Meetings discussing building a railway began in 1828. The Pontchartrain Rail-Road was chartered on January 20, 1830. The right-of-way was approved by the New Orleans City Council on March 15, and construction began immediately, with a pair of parallel railroad tracks. Through swampland, up to 4 feet of fill was needed to create a sufficient road bed. A 150 foot wide bed was constructed along the entire route, with the rail line laid with red cypress timbers and English rolled iron rails. Construction of the line was completed on April 14, 1831, and it officially opened on April 23rd, with horse drawn railway carriages. The first steam locomotive, "the Shields", was built by John Shields and arrived from Cincinnatti by steamer on June 15, 1832. This first locomotive proved unreliable; the company even tried using sails to help propell the train. A second locomotive "the Pontchartrain" built by Rothwell, Hicks, and Rothwell arrived in September, was tested on September 6. It proved better, allowing the line to advertise regular steam service of 7 round trips per day (9 on Sundays) starting on September 27, 1832. "The Shields" was cannibalized, the boiler used to run equipment at the railroad's machine shop. "The Pontchartrain" as well as succeeding locomotives became known as the famous and beloved "Smokey Mary". It was comprised of an "engine car" (with the power of 24 horses) and 12 passenger/cargo cars.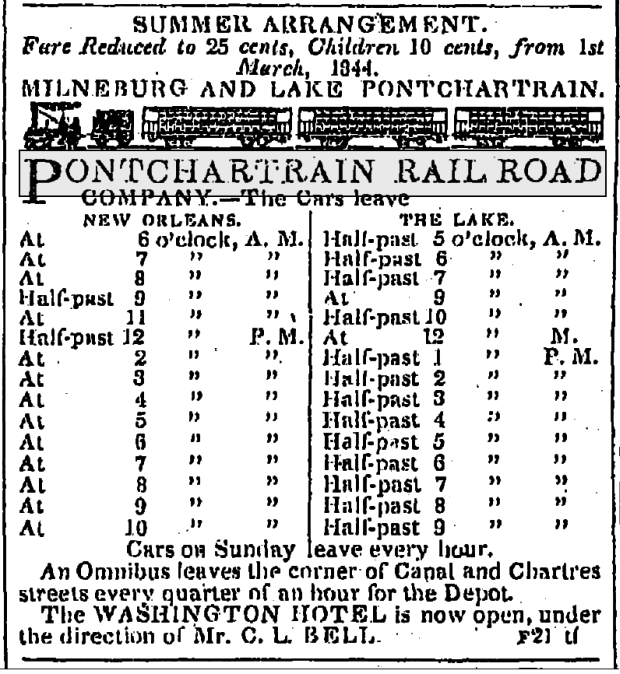 Saturday, August 17, 1844 Schedule
"When put to the test, Smoky Mary could, amidst great puffing and blowing and much expulsion of smoke and cinders, attain the remarkable speed of ten miles an hour. Passengers usually emerged with clothes blackened and eyes and throat stuffed with cinders" from [GumboYa-Ya]. The line was the first in the world to include a freight landing platform. Milneburg had no jail but the train had a prison car -- rowdies were loaded throughout the day and night into the car which was hooked to the train for its last run of the night to transport the captives to Parish Prison in the city. Passenger service on the Pontchartrain Railroad, one of the nation's oldest lines, ended after a century of servic on March 15, 1932, when Smokey Mary made a final trip from Milneburg -- three coaches packed with riders led by John A. Galivan, engineer during a third ( 32 years) of the railroad's history.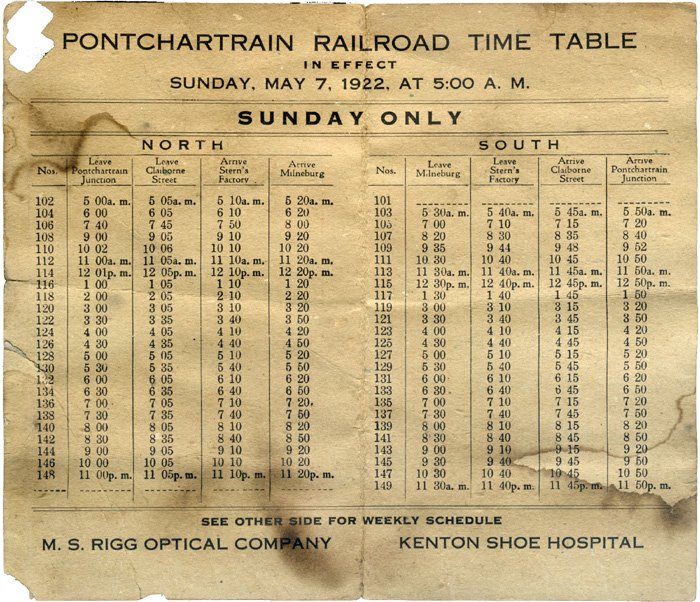 A 1922 Pontchartrain Railroad Schedule