---

Mayor Vic Schiro at the Krewe of Chocktaw Ball
January 18, 1964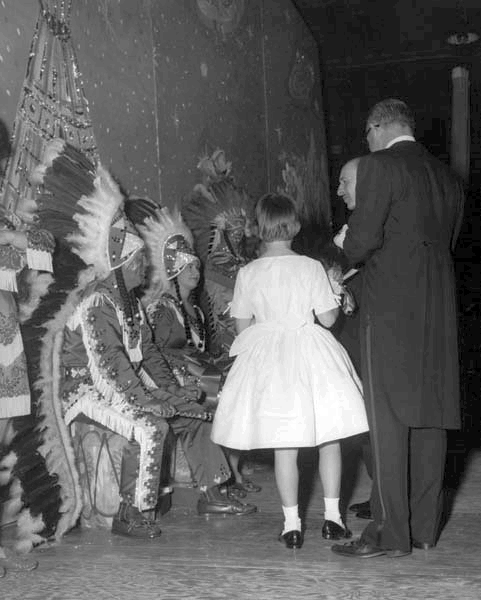 New Orleans Public Library Photo
"Favorite TV Programs" was the theme of the ball which was held at the Skelly Memorial Gym on Pacific Avenue in Algiers on January 18, 1964. Louis J Kennedy and Charlene Zibilich (pictured here) served as the Chief and Princess.
---

You Can Support this Site by Clicking on & Shopping from this Amazon Link -- and it won't cost you a penny more: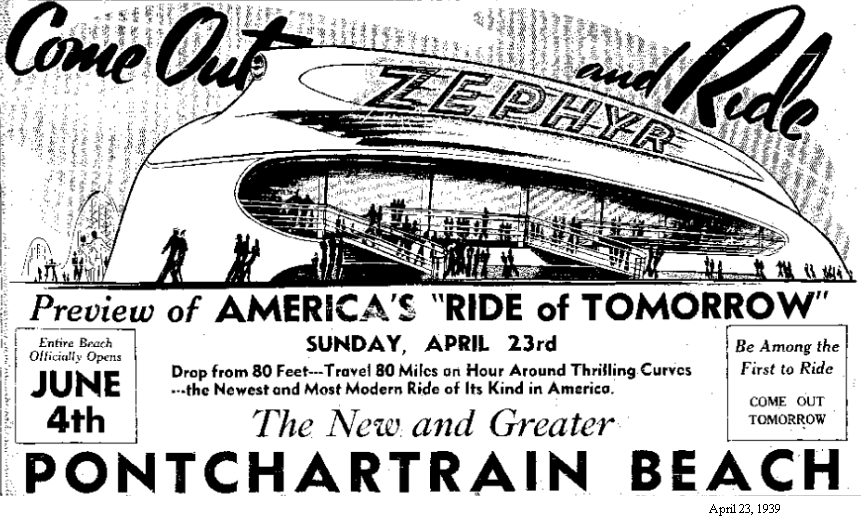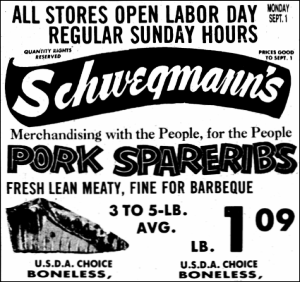 Clarence Ray Nagin, Jr. (born June 11, 1956), also known as C. Ray Nagin, is an American consultant, entrepreneur, author, and public speaker who from 2002 to 2010 was the 60th mayor of New Orleans, Louisiana. He became internationally known in 2005 in the aftermath of Hurricane Katrina, which devastated the New Orleans area. Nagin was first elected in March 2002 and received significant crossover vote from just about every segment of the population. He was re-elected in 2006 even though the election was held with at least two-thirds of New Orleans citizens still displaced after Katrina struck. He was term limited by law and left office on May 3, 2010. After leaving office, Nagin founded CRN Initiatives LLC, a firm that focuses on emergency preparedness, green energy product development, publishing and public speaking. He wrote and self-published his first book, Katrina Secrets: Storms after the Storms which gives a first-hand account of how New Orleans overcame the effects of Hurricane Katrina. On January 18, 2013, Nagin was indicted on 21 corruption charges, including wire fraud, bribery, and money laundering related to his alleged dealings with two troubled city vendors following Hurricane Katrina disaster. On February 20, 2013, Nagin pleaded not guilty in federal court to all charges. (Wiki)
Beaver Productions presented Fleetwood Mac at A Warehouse in Friday, January 18, 1974.
When Alexander Allison retired from the Sewerage and Water Board in 1959, his co-workers gave him a camera as a retirement present. They were no doubt well aware of his photographic avocation since he had been taking pictures during his entire fifty-nine year tenure with the agency. Allison was born in New Orleans on November 8, 1874 and graduated from T. W. Dyer's English and Classical School for Boys on Prytania Street. After high school in Memphis, Tennessee, he attended an engineering preparatory program at the Williston Academy in Easthampton, Massachusetts (just down the road from Northampton, where his uncle, George Washington Cable, had just relocated). In 1896 he graduated from Tulane University with a degree in civil engineering. Allison started working at the newly-established Sewerage and Water Board in 1900. As one of the Board's earliest and longest-serving employees, he played a key role in the development of the city's water, sewerage, and drainage systems. When Allison was not busy at work, he enjoyed life with his family at home in Uptown New Orleans, at his parents' home in Bay Saint Louis, Mississippi, and on vacation trips all across the country. And, of course, he took photographs of everything all along the way. In 1953, while still working for the Sewerage and Water Board, Allison donated 323 4" x 5" prints of his work to New Orleans Public Library. Following his death on
January 18, 1964
, Mr. Allison's daughter, Elizabeth Law, gave additional prints and his entire collection of negatives to the Library's Louisiana Division. In 2009, Division staff, with volunteer assistance, completed a multi-year project to scan all of Allison's negatives. The entire collection can be viewed online at
neworleanspubliclibrary.org/photos/allison/allison.htm
. (From the New Orleans Public Library)
Born in Jefferson Parish on October 7, 1930, jazz trumpeter George Girard was known for his great technical ability, playing in a style that combined traditional New Orleans Dixieland jazz with the big-band-style trumpet, and a member of the Basin Street Six. In highschool he studied music under Johnny Wiggs and became a professional musician immediately after graduating in 1946. He played and toured with the bands of Johnny Archer and Phil Zito before cofounding the band The Basin Street Six, made up mostly of friends he had grown up with, including clarinetist Pete Fountain. The band got a regular gig at L'Enfant's Restaurant in New Orleans, as well as regular televisionbroadcasts over WWL. The band started receiving favorable national attention, but Girard was dissatisfied with it and broke up the band in 1954 to found his own band, George Girard & the New Orleans Five which included trombonist Bob Havens, drummer Paul Edwards, and bassist Bob Coquille. Girard landed a residency at the Famous Door in the French Quarter, recorded for several labels, and got a weekly broadcast on CBS. Girard had ambitions to make a national name for himself (and according to many fellow musicians the musical ability to do so), but became ill and had to give up playing in 1956. Girard died in New Orleans on January 18, 1957. (Wiki)
deLesseps Story "Chep" Morrison, Sr., (January 18, 1912—May 22, 1964) was the mayor of New Orleans from 1946-1961 who failed in three hard-fought bids for the then-pivotal LouisianaDemocraticgubernatorial nomination. He also served as an appointee of U.S. President John F. Kennedy as the United States ambassador to the Organization of American States between 1961 and 1963. New Orleans' peak population was reached during Morrison's mayoralty, when the 1960 census recorded 627,525 inhabitants, a 10 percent increase from the 1950 figures. Morrison was the son of Jacob Haight Morrison, III (1875–1929), a district attorney in Pointe Coupee Parish, and the former Anita Olivier, a New Orleans socialite. He was named after deLesseps Story, a respected New Orleans judge to whom he was related on his mother's side; the family was also related to Ferdinand de Lesseps and Alderman Sidney Story, namesake of Storyville. Morrison was born in New Roads, the seat of Pointe Coupee Parish. He died in an airplane crash in Ciudad Victoria, Mexico. A memorial to him was dedicated on January 18, 1971 at the Perdido Street side of a former reflecting pond at City Hall. It was designed by Lin Emory and built by the State of Louisiana at Kaiser Aluminum in Avondale by the Morrison Memorial Committee under Mayor Victor H. Schiro.

Pierce Butler, academic. Born, New Orleans, born
January 18, 1873
; son of James P. Butler and Mary Louise Harrison. Family removed to Natchez, Miss., the ancestral home. Education: private tutors; Tulane, A. B., 1892; The Sorbonne, Paris; Johns Hopkins University, Ph. D. Married, June 25, 1902, Cora Waldo. Children: Virginia Waldo, Pierce, and Mary Frances. Teaching career began as instructor in English, University of Texas, 1902. Moved, 1902, to Sophie Newcomb College and remained there until retirement, 1938. Dean of graduate faculty, 1913-1918; dean of Newcomb College, 1919-1938. Author of
The Unhurried Years
(1948),
Laurel Hill and Later
(an autobiography [1954]),
Women of Medieval France
(1907); comp.,
Materials for the Life of Shakespeare
(1930),
The Life of Judah P. Benjamin
(1906), and
Analytical Questions on Shakespearian Plays
(1936). Contributor to
The South in the Building of the Nation
and numerous articles to scholarly journals. Member: American Historical Association, Modern Language Association, Louisiana Historical Society, Phi Beta Kappa (served as president of Louisiana Alpha chapter). Died, Oak Ridge, Tenn., January 16, 1955; interrred Metairie Cemetery, New Orleans. G.R.C. Sources: Who Was Who in America, III, 1951-1960; New Orleans Times-Picayune, January 17, 1955. From http://lahistory.org/site19.php
The Siege of Fort St. Philip lasted from January 9 to January 18, 1815 just after the British defeat at the Battle of New Orleans. It was an American victory which, like the Battle of New Orleans, had been fought after peace had been proclaimed but news of this failed to reach the fighters.
New Orleans Public Library Opens
January 18, 1897

The New Orleans Public Library first opened its doors to the public on January 18, 1897. The system began in 1896 as the Fisk Free and Public Library in a building on Lafayette Square. Abijah Fisk was a merchant who, over fifty years earlier, had left his house—at the corner of Iberville and Bourbon Streets—to the city for use as a library. Subsequent donations had resulted in libraries and collections not completely free and open to the citizenry. An 1896 city ordinance proposed by Mayor John Fitzpatrick combined the Fisk collection with a newer municipal library. It eventually became known as the New Orleans Public Library.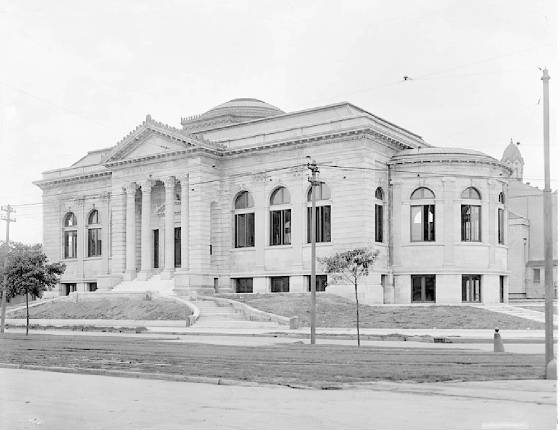 A turn of the 20th century donation of $50,000 from businessman Simon Hernsheim allowed the library to begin building a significant collection. In 1902 the city received $250,000 from Andrew Carnegie to build a new main library and three branches. By 1908, the new main library was open at Lee Circle (pictured), and branches were open on Royal Street at Frenchmen Street the Faubourg Marigny neighborhood, on Pelican Avenue in Algiers, and on Napoleon Avenue near Magazine Street Uptown.
By 2005, NOPL had a dozen branches in addition to a newer (1960) main library on Loyola Avenue. The branches included Algiers and Napoleon, mentioned above, although renamed.
From the 4 libraries in 1908, the New Orleans Public Library system continued to expand. In 2005, the system included three regional, three major and six neighborhood branches; as of 11 June 2008 the system had ten branches, including temporary branches. From 1908 to 1959, the main branch was on Lee Circle; it was demolished after the opening of the current main branch. The Marigny Branch on Frenchmen & Royal at Washington Square, one of the original Carnegie Branch libraries, was severely damaged in Hurricane Betsy in 1965 and demolished. From 1915 to 1965 there was a Central City branch at Dryades & Philip Street, originally the main "Colored" library during the era of racial segregation. A former Mid-City branch was on Canal Street at Gayoso. Following is a list of all branches:
Cita Dennis Hubbell Branch, 725 Pelican Avenue, Algiers Point. Opened in 1907, one of the Carnegie libraries. Closed in 1966 after the opening of the Algiers Regional Branch; reopened as Algiers Point Branch in 1975; renamed Hubbell in 2002.
Napoleon Branch, 913 Napoleon Avenue, Uptown New Orleans. A Carnegie librarie. Opened in 1908.
Nix Branch, 1401 S. Carrollton Avenue, Carrollton neighborhood. Opened in 1930.
Rosa Keller Branch, 4300 S. Broad Street, Broadmoor neighborhood. Opened in 1993 in a 1918 residence. Major flooding in Hurricane Katrina; wood floors buckled; mold. For 5 years the branch was housed temporarily in a modular building. The historic Keller home was restored now operates as a community center. The 1990s addition was torn down and was replaced by a LEED certified addition to house the library and computer center.[6] The renovation and expansion is being funded, in part, by a $2 million grant secured by the Broadmoor Improvement Association. The new library and community center, including a cafe, opened in summer 2012.

Alvar Branch, 913 Alvar Street, Bywater neighborhood. A Works Progress Administration-built edifice, it opened in 1940.
Norman Mayer (Gentilly) Branch, 2098 Foy Street, Gentilly neighborhood. Opened in 1949. Major flooding in Hurricane Katrina; building was demolished. During construction of a new branch library at the same location a temporary branch library was housed in a nearby strip mall at 2077 Caton Street. New library building opened in spring 2012.

Nora Navra Branch, 1902 St. Bernard Avenue. Opened in 1954. Major flooding in Hurricane Katrina; very little salvageable; closed indefinitely. As of June 2012, the only branch with neither reopened nor with temporary nor permanent replacement.
Robert E. Smith Regional Branch, 6301 Canal Boulevard, Lakeview neighborhood. The original branch at this location opened in 1956; in 1979 it was replaced by a larger building. Interior of first floor completely destroyed by Katrina flooding. After being served by a bookmobile parked in front of building for a few years, a temporary branch in trailer 2 blocks down Harrison Avenue opened, and the building was demolished in 2009. The new library opened in spring 2012.

Mid-City Branch. On 11 June 2007, a branch library opened at 330 N. Carrollton Avenue in a recovering shopping center storefront. It was the first of several temporary branches funded by the Gates Foundation. As of 2012, the Mid-City branch has been moved the American Can Factory Building on Orleans Avenue

Main Library, 219 Loyola Avenue, New Orleans Central Business District. Opened in 1960.

Algiers Regional Branch, 3014 Holiday Drive, Algiers. Opened in 1966.
East New Orleans Regional Branch, 5641 Read Boulevard, Eastern New Orleans. Opened in 1968.
Martin Luther King Branch, 1611 Caffin Avenue in the Lower 9th Ward. Opened in 1995. Considered completely destroyed by Hurricane Katrina. The building, housing both the library and a school, was gutted and rebuilt. The library reopened on 5 October 2007. Site of a temporary branch funded by the Bill & Melinda Gates Foundation's Gulf Coast Libraries Project
Mid-City Branch. On 11 June 2007, a branch library opened at 330 N. Carrollton Avenue in a recovering shopping center storefront. It was the first of several temporary branches funded by the Gates Foundation. As of 2012, the Mid-City branch has been moved the American Can Factory Building on Orleans Avenue.
(From http://en.wikipedia.org/wiki/New_Orleans_Public_Library).