December 7



---
Falstaff Brewery Closes
Weather Ball Goes Dark
December 7, 1978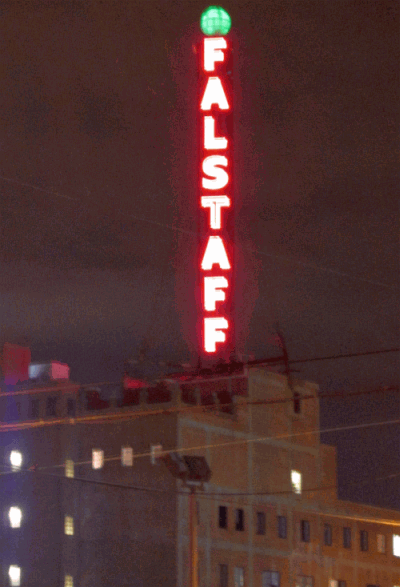 According to Buddy Stall, on August 1, 1952, at exactly 8 p.m., a New Orleans landmark was lit for the first time -- the Falstaff Weather Ball. The Falstaff Brewing Company, located at 2601 Gravier St., installed a 126-foot tower with an electrical sign on top of its new brewery. The man given the honor of throw-ing the switch was U.S. Weather Bureau meteorologist, the renowned and highly beloved Dr. Isaac Monroe Cline. Joining Dr. Cline for this auspicious occasion was New Orleans Mayor deLesseps "Chep" Morrison. Falstaff's advertising to the metropolitan New Orleans area informed the locals that the tower would forecast the next day's weather. The changing colors of the massive ball on top of the sign were: GREEN – fair weather. RED – cloudy. RED FLASHING – rain. WHITE – showers. RED AND WHITE FLASHING – approaching storms. Temperature changes that were predicted were indicated by the lights on the vertical Falstaff sign: Letters on the sign, spelling FALSTAFF from top to bottom, flashed on and off when temperatures remained constant. Letters would light from bottom to top when temperatures were expected to rise. When letters lit top to bottom the temperature was dropping. The sign went dark on December 7, 1978. On that day the facility was closed, at first temporarily. It was dark for many years until it was renovated and re-lit when the old brewery was converted into condominiums. From Buddy Stall at http://clarionherald.org/20010301/stall.htm
---

If you have enjoyed these daily updates, please consider these books by Catherine Campanella for your holiday gift giving:
---
Nearly three years after New Orleans police broke into Our Lady of Good Counsel Church to handcuff and evict parishioners trying to save it from closure, the 117-year-old church reopened on December 7, 2011. The arcdiocese of New Orleans announced that the Center of Jesus the Lord, a community of charismatic Catholics, would move there from its home on North Rampart Street.
On December 7, 2008 OffBeat magazine celebrated its 20th anniversary with a party at the Hard Rock Café.
The Krewe of Opheous announced on December 7, 2011 that Bret Michaels and Cyndi Lauper would be riding in the parade.
Former President Bill Clinton spoke at the University of New Orleans campus on December 7, 2005.
Ellis Louis Marsalis, Jr., born in New Orleans on November 14, 1934, is the son of Florence Robertson and Ellis Marsalis, Sr. (who was a businessman, hotel owner, and social activist) and the father of musicians Wynton, Branford, Delfeayo and Jason. Active since the late 1940s, Marsalis came to greater attention in the 1980s and '90s as the patriarch of a musical family, with sons Branford Marsalis and Wynton Marsalis rising to international acclaim. He played with fellow modernists including Cannonball Adderley, Nat Adderley, and Al Hirt, becoming one of the most respected pianists in jazz. He has recorded almost twenty of his own albums. As a leading educator at the New Orleans Center for Creative Arts, the University of New Orleans, and Xavier University of Louisiana, Ellis has influenced the careers of countless musicians, including Terence Blanchard, Harry Connick Jr., Nicholas Payton; as well as his four musician sons. In May, 2007, Marsalis received an honorary doctorate from Tulane University for his contributions to jazz and musical education. On December 7, 2008, Ellis Marsalis was inducted into The Louisiana Music Hall of Fame. The Ellis Marsalis Center for Music at Musicians' Village in New Orleans is named in honor of Ellis Marsalis. In 2010, The Marsalis Family released a live album titled Music Redeems which was recorded at The John F. Kennedy Center for the Performing Arts in Washington, DC as part of the Duke Ellington Jazz Festival. All proceeds from the sale of the album go directly to the Ellis Marsalis Center for Music. Marsalis and his sons are group recipients of the 2011 NEA Jazz Masters Award.
Mayor Martin Behrman was innaugurated for his second term in office on December 7, 1908.
CSS PAMLICO, a side-wheel steamer purchased in New Orleans on July 10, 1861, was placed in commission of the Confederate navy on September 2 with Leutenant W. G. Dozier, CSN in command. She operated in the vicinity of New Orleans, clashing ineffectually with vessels of the Federal blockading squadron on
December 4 and 7, 1861
, and on March 25 and April 4, 1862. PAMLICO was burned by her officers on Lake Pontchartrain, when New Orleans fell to the Union.
Reportedly 4,000 people attended the races on December 7, 1895 when the American Brewing Company handicap was held.
Amusements for the evening on December 7, 1891 included "William Tell" at the Opera House, "Camille" at the Varieties Theatre, "Macbeth" at the Varieties Theatre, and "The World of Passion" at the St. Charles Theatre.
Happy Birthday, Louis Prima
Born on December 7, 1910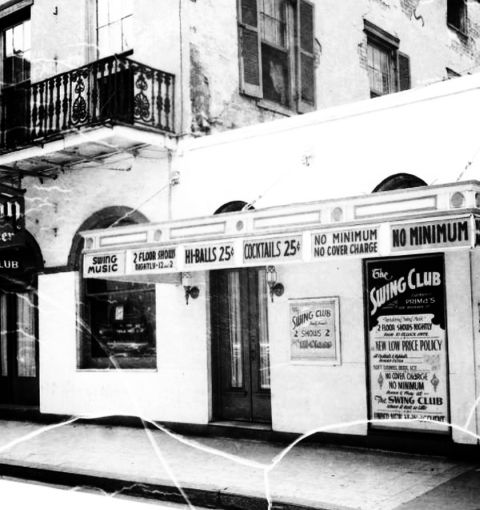 During the late 1800s until the early 1920s this property along the with the adjoining 227 Bourbon Street was used by the Chas W. Stumpf Piano Co. LTD. Charles Stumpf was a cornet player and band leader in New Orleans. The musical legacy continured into the 1930s when Leon Prima (1907--1985) operated the Shim Sham Club here. A September, 1935 advertisement for the Shim Sham Club announced "Opening Tonight -- Louis Prima and his New Orleans Five Orchestra Direct from the Famous Door in New York at Prima's Shim-Sham Club for Five Days Only featuring the Kind of Music that made him the Toast of Broadway -- Shim-Sham Review...Dimples Dalton, Princess of Blues...Shim-Shamettes, Beauty Chorus...Barron and Lynne". Louis Prima was Leon's older brother. By the late 1930s the building became the Swing Club -- a detail of the larger sign out front includes "Formerly Prima's...Tantalizing Swing Music...New Low Price Policy...No Cover Charge...No Miniumum...Under New Management" these 1938 photographs. The smaller sign included "Proudly Presents 2 Shows Featuring Hi-Class Entertainment"(shared caption). During the 1990s Ian Hardcastle, sole owner and shareholder of Bourbon Street Gospel and Blues, inc. and 227 Bourbon Street, Inc., owned the property from 227 through 235 Bourbon Street and sublet it for use as a jazz club. By the turn of the century, Bourbon Street Entertainmen operated Utopia music club at this location where lighted trees and fountatins grace the large courtyard. The company also owned the Jazz Parlor (125 Bourbon Street), the Ragin' Rooster (228 Bourbon Street), and partially owned Howl at the Moon (135 Bourbon). The building at 229 Bourbon Street later housed the Boogie Woogie, Club Utopia and Rhythms music clubs. As of this writing It is now Jazz Gumbo gift shop.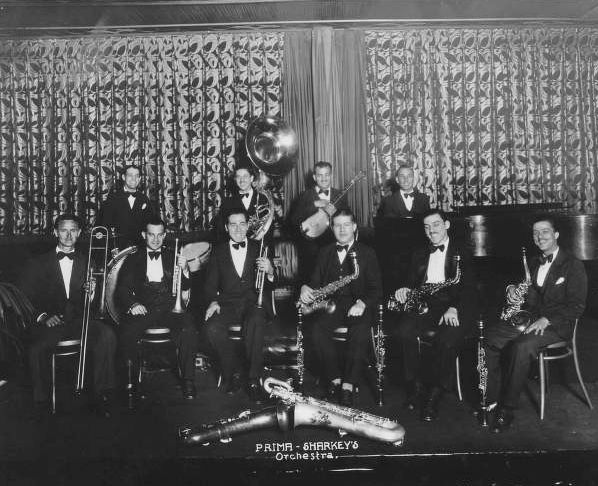 Leon Prima was a trained pianist who became a trumpet player and band leader. As a young man Leon played with early jazz greats Leon Roppolo, Ray Bauduc, Jack Teagarden in New Orleans as well as with Peck Kelley's Bad Boys in Texas. He led the Melody Masters in New Orleans during the late 1920s. From 1940--1946, Leon played with Louis' big band in New York. After returning to New Orleans, Leon headed his own combo until retiring from music in 1955. He also operated the 500 Club (441 Bourbon Street) whose house band was led by Sam Butera until 1954 when Butera joined Louis' band in Las Vegas. Pictured is the Prima-Skarkey Orchestra in 1930 at the at the Little Club in New Orleans -- Front row: Charlie Hartmann (trombone), Sharkey Bonano (trumpet), Leon Prima (trumpet), Irving "Fazzola" Prestnoptik (clarinet and sax), Dave Winstein (sax and clarinet), Nina Picone (sax); back row: Augie Schellang (drums), Louie Mass.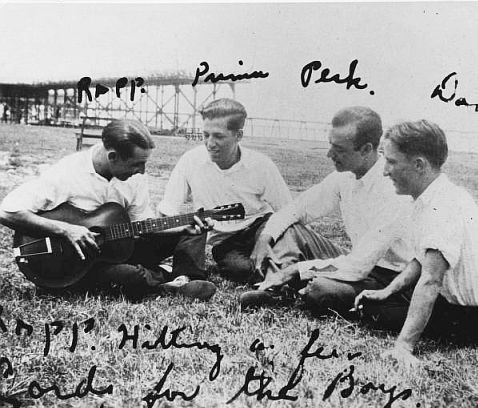 Louis Leo Prima (1910--1978) Born in the French Quarter of Sicilian immigrants Angelina and Anthony Prima, Louis played at the Shim Sham Club four decades later. A violinist (until 15) turned trumpeter (when he picked up older brother Leon's horn) as a young man played with Irving Fazola, with his brother Leon's band, and in the house band at the Saenger Theater in New Orleans (1931). In this 1924 photograph (above we see (left to right) Leon Roppolo (playing the quitar), Louis Prima, Peck Kelly, Don (unknown). The Inscription reads: "Ropp hitting a few cords for the boys." The image was likely shot at the New Orleans lakefront. From the photo collection of Dr. Edmond Souchon. During 1930s Prima worked with Red Nichols, before forming a seven-piece jazz band called "Louis Prima's New Orleans Gang" which he formed in New York City in 1934 where he played with fellow New Orleans musicians Eddie Miller (tenor sax and clarinet) and George Brunies (trombone). Prima composed "Sing Sing Sing" (now in the Grammy Hall of Fame) in 1936 before it became one of Benny Goodman's most popular swing era tune. Twenty years later Prima recorded "Jump, Jive and Wail" (1956).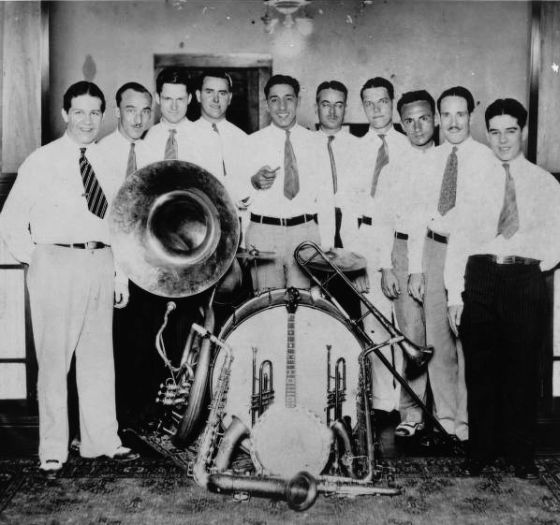 Pictured is Louis Prima's band in 1927 which included (left to right) Irving Fazola (clarinet/sax), John Miller (piano), Bob Jeffers (bass), George Hartman (trumpet), Louis Prima (trumpet), Cliff LeBlanc (trombone), Leonart Albersted (banjo), Jacob Sciambra (clarient/sax), Burt Andrus (clarinet/sax), John Vivano (drums).
During the 1950s Louis performed with New Orleans saxophonist Sam Butera and the Witnesses (beginning in 1954) and a 16 year old Keely Smith (later his fourth wife). Hits included "Just a Gigolo - I Ain't Got Nobody (1956)," "Buona Sera," (1956) "Black Magic (1958)," "Zooma, Zooma," "When You're Smilin'," In 1967 his was the voice of King Louis the oragnutan in Walt Disney's animated film The Jungle Book. During the early '70s he and Butera returned to New Orleans to play in the French Quarter. Louis never fully recovered from a 1975 surgery for a brain tumor. He died in New Orleans August 24, 1978 and is buried in Metairie Cemetery in a tomb with a statue of Gabriel the trumpeter-angel which is inscribed "When the end comes, I know, they'll all say 'just a gigolo' as life goes on without me..." Photos from the Louisiana Digital Library.