---

Lenfant's in Old Metairie
October 17, 1930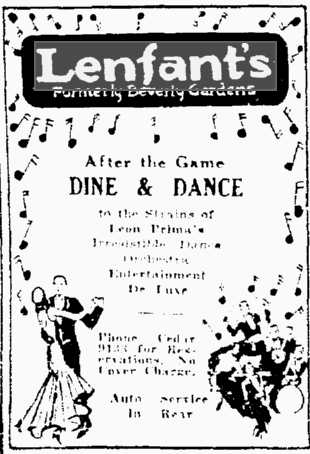 John L. Lenfant was an entrepreneur who started out as a barber in the Faubourg Marigney who had a grocery and bar on Elysian Fields at Villere Street. He was a sparring partner of boxer Jake Kilrain. Then he had a drugstore and a nightclub at St. Claude and Elysian Fields which featured an open-air dance garden. He owned the Elysian Fields Theater back in vaudeville days. He owned Eclipse Bottling Works, makers of Whistle soda and Glean cola -- both jumbo-sized drinks. He brewed beer for Joe Brown's nightclub, during prohibition, on the 2nd of a building at Canal and Carondelet. He bought and sold real estate. He even owned hearses which he'd rent to funeral homes.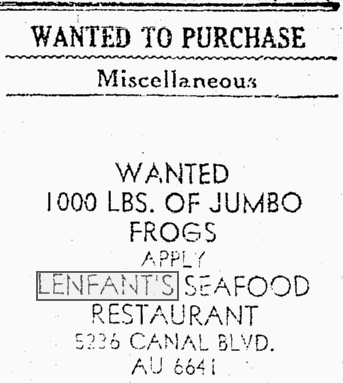 Then he got into the restaurant business. He opened several popular Rosedale Inn sit-down and drive-in restaurants around town. Some locations including one at 1915 Canal Street, one at 5236 Canal Boulevard, one at 5205 Canal Boulevard, and another at South Claiborne and Jackson Avenue. During the 1930s he owned Lenfant's on Metairie Road at the former location of his Beverly Gardens gambling house. Leon Prima and his Orchestra were playing there on
October 17, 1930
as can be seen in the advertisement on the right (Louis played there, too) and auto service via car-hops was available in the rear. When John Lenfant retired he left the businesses to his sons.
Lenfant's Sea Food Restaurant at 5236 Canal Boulevard opened in 1941. Diners could eat inside the Streamline Moderne dining rooms or drive up to the huge shell parking lot where car-hops filled the bill. An interesting item from those years is an August 22, 1942 want-ad (left) for 1000 pounds of jumbo frog legs. Many New Orleanians celebrated weddings and bridal and baby showers at Lenfant's. Many clubs regularly met there. The adjoining Boulevard Room was well known locally. The building was demolished during the early 1990s and was replaced with Greenwood Funeral Home (which John Lenfant might have rented hearses to if her were still alive).
---



---
The MV George Prince ferry disaster occurred on the Mississippi River in St. Charles Parish, on the morning of October 20, 1976. The ferry George Prince was struck by the Norwegian tanker SS Frosta, which was traveling upriver. The collision occurred at mile post 120.8 above Head of Passes, less than three-quarters of a mile from the construction site of the bridge which would replace the ferry seven years later. The ferry was crossing from Destrehan to Luling. Ninety-six passengers and crew were aboard the ferry when it was struck, and seventy-eight perished. This accident is the deadliest ferry disaster in United States history, and remains the largest loss of life on board a maritime vessel in U.S. waters since the USS Thresher disaster in 1963. St. Charles Parish Councilman Paul J. Hogan, an architect, created the design for a monument and local suppliers, vendors, companies, and individuals donated equipment, labor, and materials to build it. The memorial was unveiled in a solemn ceremony at the East Bank Bridge Park in Destrehan on October 17, 2009, with over 300 people in attendance. A bell rang as each name was called; a white balloon rose in memory of each of the deceased, and a blue balloon rose in memory of each of the survivors. By the end, 95 balloons were drifting slowly over the Mississippi River near the spot where the accident occurred.
Confederate general Robert E. Lee's United States Citizenship was posthumously restored in 1975. Jefferson Davis had been specifically excluded from earlier resolutions restoring rights to other Confederate officials, and a move arose to restore Davis' citizenship as well. This was accomplished with the passing of Senate Joint Resolution 16 on October 17, 1978. In signing the law, President Jimmy Carter referred to this as the last act of reconciliation in the Civil War.
The Rock of New Orleans Goes on the Air
October 17, 1967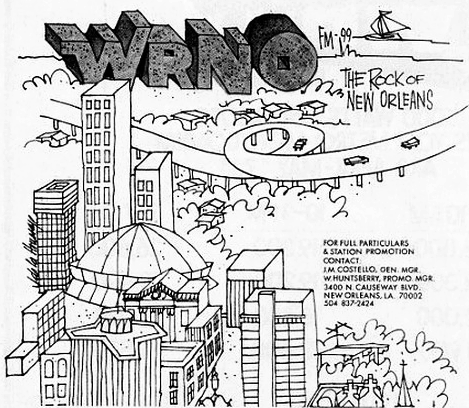 WRNO radio first hit the airwaves on the air October 17, 1967. Although its previous slogan was "We're the Rock of New Orleans," the station's call letters stand for "Westbank Radio New Orleans." The station operated a popular business selling rock t-shirts, records and other music related items called the WRNO "Rock Shop" on the ground level of the studio. Since its inception in 1967, WRNO endured many incarnations with different rock music formats, finally adopting the Classic rock format in 1997. On the right is a 1974 print advertisement.
WRNO was also home to a popular shortwave radio service in the 1980s and 1990s called WRNO Worldwide, now owned by a Christian broadcaster. On November 13, 2006, at 4:00 AM, after signing off with The Doors' "The End," WRNO flipped to an interactive Talk radio format as "The New 99.5FM.com." As explained in the official mission statement posted at its website, "The station is committed to providing listeners with everything they need to know on the radio at 99.5 FM and on demand at thenew995fm.com." On the same day Sister station KHEV would pick up "the Rock of New Orleans" slogan and use it as their new slogan for their flip from gospel to Active Rock.
On April 1, 2008, the station switched to "Rush Radio," all day repeats of The Rush Limbaugh Show and a tape loop of Rush's theme song, the instrumental from My City Was Gone by The Pretenders, during times when the show was not playing. The stunt was to celebrate the acquisition of the show from longtime affiliate WWL. The station resumed its regular schedule on April 7.
The Limbaugh program had previously aired on WRNO Worldwide, which Limbaugh called "The EIB World Service" on the air (in joking reference to the BBC World Service). The stations are no longer co-owned.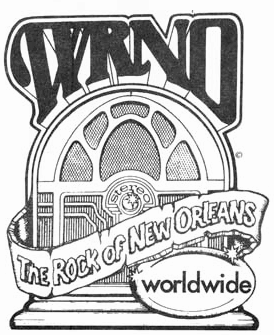 Notable programming includes Jim Bohannon's America in the Morning, Denny Schaffer on The Denny Schaffer Show, Glenn Beck Program, The Rush Limbaugh Show, The Sean Hannity Show, John Osterlind, Mark Levin, and George Noory. Osterlind was known as "Ozone" during stints at WAAF Worcester MA and WRKO Boston MA.
Notable station alumni include Bill Burkett, E.Alvin Davis, Joe Clark, Bobby Reno (now on WTIX FM owned by Michael Costello, Joe's brother), Captain Humble, Doug Christian, and Russ Boney.
WRNO alumni also include former PD Michael Costello "Michael In The Morning"/"M&M" (brother of late WRNO founder/owner Joseph Mark Costello III); Jim White; DJ-turned-actor John Larroquette ; Soxless Scott Seagraves; Jeff "JD The DJ" Douglas, famous for his "Rock 'n' Roll Flight To Midnight"; Tom Owens; Jimbo Roberts :Johnny Tyler; "Weerd" Wayne Watkins; Mary London; Lyn Taylor (Now a Program Manager at CBS Radio Detroit); and writer-producer Vance DeGeneres. (Douglas and Costello are currently jocks at WTIX-FM, which Costello is owner.) Steve Suter (Now on Magic 101.9) did the Morning show with sidekick Kevin Carlile. They became the "Morning Dudes" are were hired away to Baton Rouge after 2 years.' (From http://en.wikipedia.org/wiki/WRNO-FM)
---
Interstate 12, serving as a bypass of New Orleans around the north side of Lake Pontchartrain, was not added until October 17, 1957. At the time, I-10 and Interstate 59 split in eastern New Orleans, with I-59 following present I-10 and I-10 following the U.S. 90 corridor into Mississippi, and so I-12 only ran to I-59 north of Slidell. By the mid-1960s, the routes had been realigned to their current configuration, with I-12 and I-59 both ending at I-10 near Slidell
Photo - The Rex-Comus parade passing the reviewing stand in front of Jackson Square, October 17, 1953. According to the official program of the sesquicentennial celebration this was "the first occasion in history in which the Krewes of Rex and Comus have paraded other than on Mardi Gras Day." Shown here is the final float in the parade, titled "Transfer of the Louisiana Territory, December 20, 1803." Photograph by Bessie Walker Callaway.
Pope Pius XI broadcast the benediction of the 8th Ecumenical/Eucharistic Congress via radio to the packed City Park Stadium which was filled to capacity. The St. Petersburg Times reported on October 18, 1938, "There were 28 casualties – ranging from dogbite and fainting to a broken leg...during the mass, the most solemn and elaborate religious ceremony ever seen in this city...Over 65, 000 people were in attendance October 17th to 20th." (LDL, p75 #105 cp)
Born in New Orleans on December 25, 1878, Louis Cottrell was an influential American jazz drummer. "Old Man" Cottrell was the father of Louis Cottrell, Jr. and great-grandfather of New Orleans jazz drummer Louis Cottrell. He played with John Robichaux's orchestra in 1909 and with the Olympia Orchestra in New Orleans from 1900 to 1915. From 1916 to 1918 he played in Chicago with Manuel Perez, then played with A.J. Piron up until the time of his death. "Old Man" Cottrell has been credited as the innovator of the press roll in jazz drumming, and was a significant influence on most New Orleans drummers, having taught Baby Dodds, Paul Barbarin, Louis Barbarin, Freddie Kohlman, Cie Frazier and Alfred Williams. He died in New Orleans on October 17, 1927.
Desire Streetcar Begins its Run
October 17, 1920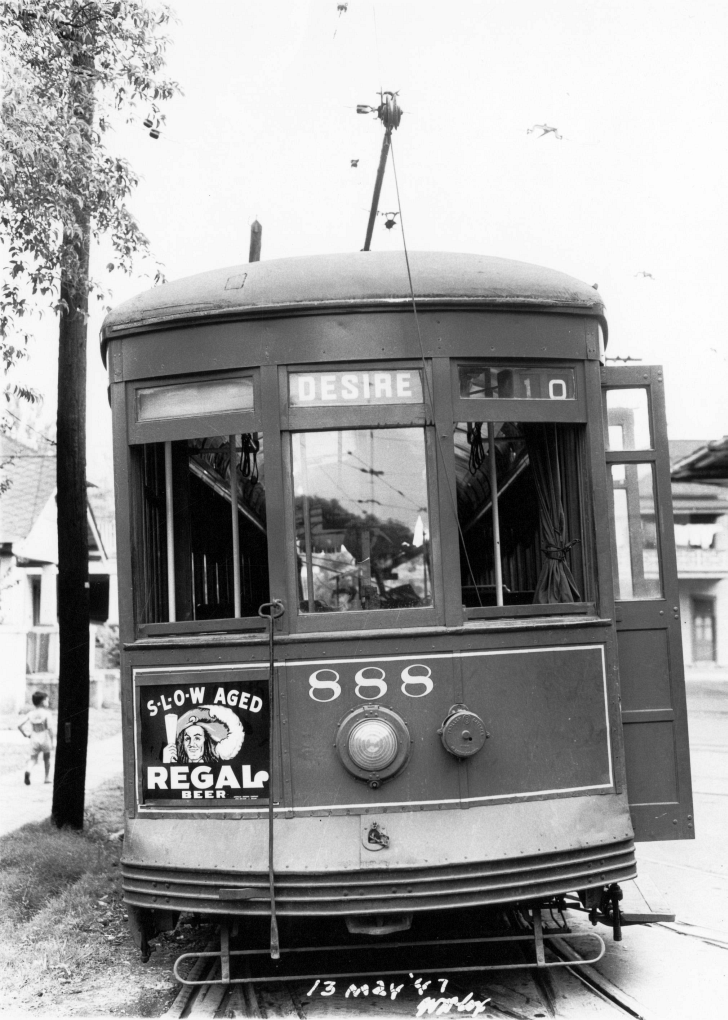 This streetcar named Desire lost an argument with a large truck. Car 888 is seen here on May 13, 1947 on Jeannette St. adjacent to Carrollton Station, where it has apparently been towed. Yes, this end of the car looks fine, but look closely through the center window. The other end of the car is simply gone! Rather than being repaired, the car was scrapped, the first Perley Thomas car to leave the roster. — Charles Franck photo, collection of Earl Hampton (Source: http://www.cs.illinois.edu/~friedman/album/Album.htm#Group12)

The famous Streetcar Named Desire, i.e., the Desire Line [which began operating on October 17, 1920], was a one-way loop which ran from Canal Street down Bourbon through the Vieux Carré, down Dauphine to Desire Street, then out its namesake street to Tonti, down to France Street, and back in to Royal, finally returning through the Vieux Carré to Canal. In the process, it passed Elysian Fields Blvd., the site of most of the action in the famous Tennessee Williams play and movie. Incidentally, Tennessee Williams got the travel directions backwards, presumably a bit of artistic license. Blanche enters New Orleans at the railroad station at the foot of Canal Street, and tells a helpful stranger that she has been told to take a Desire streetcar and transfer to one marked Cemeteries. In the movie, a Desire streetcar promptly comes around the loop at the foot of Canal Street, and she boards. In real life, Desire cars never ran to this loop. The correct travel directions would have been to take a Cemeteries car and transfer to one named Desire! But dramatically, it sounds better the way Williams wrote it. (From http://www.cs.illinois.edu/~friedman/album/Album.htm#Group12
This line ran through the French Quarter down to its namesake street in the Bywater district until May 29, 1948. The line was converted to buses on May 30, 1948. Various proposals to revive a streetcar line with this name have been discussed in recent years, but the New Orleans Regional Transit Authority has no current plans to rebuild. For many years, a 1906 Brill-built semi-convertible streetcar was displayed in the French Market with a Desire route sign, although there is no evidence that cars of this type ever served the Desire Line. At first it was under cover; later out in the open, it deteriorated from the weather, and in the 1990s it was turned over to New Orleans RTA. It is currently housed at Carrollton Station in the car shops.

---
Jazz trumeter Leeds "Lee" Collins was born in New Orleans on October 17, 1901. He played in brass bands as a teenager, including The Young Eagles, The Columbia Band, and the Tuxedo Brass Band. In the 1910s he played in New Orleans alongside Louis Armstrong, Papa Celestin, and Zutty Singleton. He moved to Chicago in 1924, where he replaced Louis Armstrong in King Oliver's band. He also played with Jelly Roll Morton but the two had disagreements and fell out when Collins claimed that Morton stole the song Fish Tail Blues from him. He returned to New Orleans. There he played on the recordings of the Jones-Collins Astoria Hot Eight in 1929 before playing in New York City with Luis Russell in 1930 and then heading back to Chicago. There he played with Dave Peyton (1930), the Chicago Ramblers (1932), Johnny Dodds and Baby Dodds, Zutty Singleton, Mezz Mezzrow, Lovie Austin, and Jimmy Bertrand (1945). Collins played in Chicago through the 1930s and 1940s as an accompanist to many blues singers and in nightclubs. After 1945 he led his own band at the Victory Club on Clark Street in Chicago, and gigged with Chippie Hill (1946), Kid Ory (1948), and Art Hodes (1950-51). He played in Europe with Mezz Mezzrow in 1951 and 1954 and in California with Joe Sullivan in 1953. In the mid-1950s he retired due to illness. Collins wrote an autobiography, Oh, Didn't He Ramble, with the aid of his wife Mary and two editors which was published in 1974. Collins died in Chicago on July 3, 1960 at the age of 58.
William George Helis, Sr., born on October 17, 1886, was an impoverished Greek emigrant to the United States who made a fortune in the oil business and became a major owner/breeder of thoroughbred racehorses and a racetrack owner. In his obituary, the Pittsburg Press called William Helis "one of the amazing figures of the American oilfields." A resident with legal domicile in New Orleans, he died in Johns Hopkins Hospital in Baltimore on July 25, 1950. His remains were brought home to New Orleans where he was interred in the Metairie Cemetery. His mausoleum was built by American architect and sculptor, Albert Weiblen. In 1991, William Helis was posthumously inducted into the Fair Grounds Racing Hall of Fame).
Born in New Orleans on November 19, 1848, Warren Easton was Louisiana's first superintendent of education from 1884 to 1888. On October 11, 1888 he was elected the first superintendent of New Orleans Public Schools which, at that time had 414 teachers and 24,800 students in 51 schools. In 1910, when he died in office, the teacher count had risen to 1,122 teachers of 38,098 students in day classes at 87 schools and 105 teachers of 4,035 students at nine night schools. During his twenty-two-year tenure in New Orleans, Easton opened classes in calisthenics, drawing, short-hand, typing, and music. He submitted the first typewritten superintendent's report on January 11, 1889, inaugurated fire drills on October 15, 1894, and ordered compulsory smallpox vaccinations on September 25, 1906. His work supporting teacher included the setting of regular paydays, the endorsement of the Teachers' Pension League, the organization of the Louisiana Teachers Association and service as served as its president, and active participation in the National Education Association, the New Orleans Educational Association, and the Public School Alliance. He died in New Orleans on October 17, 1910 and is buried in Greenwood Cemetery. Warren Easton High School, opened in 1913, was named for him. (Source: http://lahistory.org/site.php?pageID=2)
Dutch-born Francis August Anthony Joseph Janssens, born on October 17, 1843, served as Bishop of Natchez (1881–1888) before being named the fourth Archbishop of New Orleans, Louisiana, on August 7, 1888 and installed on the following September 16. During his tenure (1888–1897) he convened the fifth Archdiocesan Synod in May 1889, founded more than twenty-five new parochial schools, dedicated a new preparatory seminary at Gessen in September 1891, and established the Catholic Institute for Deaf and Dumb at Chinchuba in 1890. Janssens significantly reduced the immense debt incurred by Archbishop Napoléon-Joseph Perché; continuing the work of his immediate predecessor Francis Xavier Leray, he reduced it from $324,759 to about $130,000. Janssens' tenure also spanned the period of hardening racial divisions between whites and blacks. He once said, "There is nothing in my administration of the Diocese that worries me more than our colored people; to see what is done by the Protestants to capture them and how often they succeed." Believing that a separate parish would keep blacks within the Catholic Church and facilitate black leadership just as it had for Irish and German immigrants, Janssens established St. Katharine's Church in 1895 as the first parish designated for black Catholics; attendance, however, was optional. It was, however, his expressed hope "that anyone might occupy any pew or any seat anywhere in the church." Janssens died aboard the steamer Creole, bound for New York City, aged 53 on June 9, 1897. He is buried at St. Louis Cathedral.