---

Plans Submitted for Eleanor McMain School
August 13, 1930

We've all passed the faded pastel pink and blue art deco building at 5712 South Claiborne Avenue and many of us have wondered why it is painted as it is. But when it first opened it was much more colorful.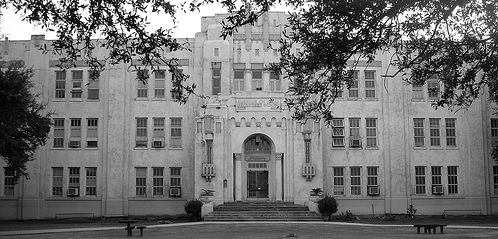 Eleanor McMain High for Girls first welcomed ----- on February 1, 1932. It was the only New Orleans public school named for a living person, but an exception had been made to honor Miss McMain who had done so much for so many through her work at Kingsley House in the Irish Channel. Under McMain's guidance and leadership, Kingsley House had grown from a modest parish outreach program at 929 Tchoupitoulas of the Trinity Episcopal Church parish to an internationally known settlement house. Elanor McMain must have been bowled over by what Times-Picayun writer Podine Schoenburger described as the "new high school which combines luxury with efficiency" in a symphony of riotous, splashing color".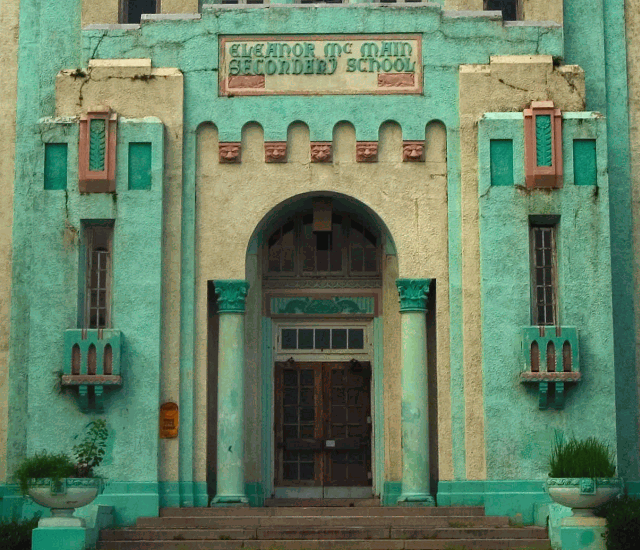 The photos here are new. The following descriptions are from Podine Schoenburger's January 10, 1932 article. The colors described by Shoenburg don't match the modern-day colors but give us aglimpse or what the building looked like so many years ago: The exterior of the stucco school building was painted green. Schoenburger described the "strange colorful entrance" with vivid blue urns, one at each side of the main door, in which century plants were growing. The carved tops of the white pillars flanking the doorway were painted green and cold. The doors were of leaded glass with a basket of brightly colored flowers topping them. Green grinning gargoyles topped them all, and above them the nameplate was blue with with gold letters spelling out the school's name amid a pair of gold lions.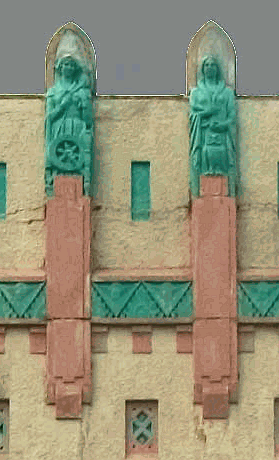 High above the entrance of the three-story building are two sculptures by Albert Ricker. The first depicted a young Acadian maiden in a blue dress, starched apron, and a spinning wheel at here feet to symbolize industry. The second figure is of an older woman, with an owl as symbol of wisdom.
As the girls stepped inside onto inlaid terrazo floors, two cream-colored curved staircases with carved balustrades and mahogany rails could take them up the the principals office, the main office, or the teachers room. The principals office opened to a brightly tiled, yellow-walled court yard with a blue, green, and yellow fountain, providing a "tropical atmosphere".
On the third floor was a study hall which could accommodate 300 students. It was finished in green and buff with full-length leaded glass doorways which led to an overhanging balcony.
The classrooms were finished in green, blue, and pink in a "modern style in perfect keeping with the personalities of the lithe creatures who will people it". Each room had a telephone. Some large rooms could be divided by accordion doors which, when closed, provided a series of blackboards.
The building was equipped with radio and loudspeakers. Oscillating heaters were employed on the ground floor; ventilation and heat throughout the facility were "modern to the nth degree" and there were "many and generous windows".
Natural lighting in the art room was provided by a central skylight. There were hand dryers on each side of white wash basins. "Ducky little kitchens", each different, were designed so that "one can learn to cook for a $15 a week clerk husband, a husband of moderate means, or a wealthy banker spouse". The first was small with a tiny stove and diminutive sink -- "Girls will learn to manage a small apartment, so that if they plan to live on love they will know how to feed hubby dear in cramped quarters, and on a slim income". The second kitchen was larger, "to train for moderate housekeeping". The third had an "electric stove and other luxuries that migh be found in a wealthy home".
The auditorium"resembles a large theater" with a saucer-shaped balcony, special switchboard for stage lighting, a projection booth "for showing both silent and talking pictures", and an asbestos curtain side-draped with gold and blue velvet. It could accommodate 3000 people.
According to the school board architect Edward C. Meric, who worked with chief architect E.A. Christy, the "Vivid coloring is built after the fashion of such school buildings in the East and Middle West". Schoenburger noted the "gay colors and scientific educational aids" at McMain. There were, in fact, four science labs, 40 classrooms, a 5000 book library, and a modern cafeteria in the building which measured 180 x 390 feet and was built at a cost of $550,000. This "colorful structure embodying many new ideas in education was opened under the direction of Miss Alice A Leckert, principal.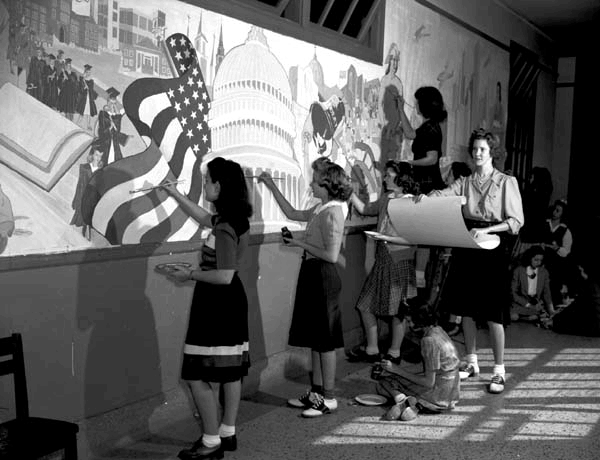 E.A. Christy submitted building plans for school on August 13, 1930. McMain was scheduled to open on the same day that the new boys school, Alcee Fortier was to open, in February 1931.. The building permit for McMain was approved by city engineers on October 29, 1930. J. A. Petty was the builder of the school located on South Claiborne between Joseph and Nashville streets. Construction work started in November. On December 10, 1930, Miss Leckert, principal of McDonough No. 14, was named as McMain's first principal.
Fortier opened as planned on February 2, 1931 but McMain did not. As Fortier welcomed as many as 1500 boys, McMain's first floor had yet to be completed. According to Christy, difficulties were encountered in the foundation and excavation because "the site was once a swamp". The builder expected to sink 45 foot pilings but instead was forced to use 70 foot piles. To further the delay, many tree stumps had to be removed from the boggy location. Girls who were scheduled to attend McMain, whose student boundaries were South Carrollton, St. Charles Avenue, Howard Avenue, and Loyola University, enrolled instead at Sophie B. Wright. The opening of McMain was rescheduled for the fall of 1931.
Plaster-work for McMain was executed by Sam C. Ball and Company, whose work could also be seen in five public markets and the old U.S. Mint. In July, $13, 730.36 was approved for purchasing furniture and equipment. On September 6, 1931 registration was open for McMain students but their school was still not ready. Nicholas Bauer, Orleans Parish Superintendent of Education announced that it would open on September 31. But on September 12, officials announced that the school would not be opened until February of 1932.
In January,, Fortier boys held their graduation exercises in McMain's auditorium but liens against the McMain contractor threatened to delay the girls school's February opening. After legal wrangling, McMain finally opened its doors to the public on Sunday, January 31, 1932 from 4 to 7 p.m. when a reception was hosted by the teachers. The 917 students' first day was Monday, February 1, when the girls gathered in the auditorium for speeches by local dignitaries followed by a flag raising ceremony with music provided by the Warren Easton band.
This New Orleans Public Library photo shows McMain students on November 17, 1941 painting a mural in the corridor of their school. They are Christeen Young, Gayle Hughes, Mary McGowan, Lois Townley (on ladder), Sybil Jung (seated), and Jane Menz.
Today Eleanor McMain Secondary School is open to boys and girls in the 7th through 12th grades. Still under the direction of the Orleans Public Schools, it has 769 students whose graduation rate is 95%.
---



---
On August 13, 2008, the indictments in the Danziger Bridge shootings were dismissed by District Judge Raymond Bigelow due to prosecutorial misconduct. Bigelow found that the prosecutors had wrongly instructed the grand jury, improperly used grand jury testimony against three of the defendants, and divulged grand jury testimony to a witness in the case. (Wiki)
Oliver M. Thomas, Jr. (born February 10, 1957), is a Democratic politician from New Orleans. He served on the New Orleans City Council from 1994 to 2007. On
August 13, 2007
, Thomas resigned his council seat after pleading guilty to bribery charges. In late 2001 and early 2002, Thomas took $15,000 in kickbacks from Stan "Pampy" Barre, a local businessman and associate of then-mayor Marc Morial. Barre owned a company which operated a number of French Quarter parking lots under contract with the city, and paid Thomas in order to ensure that the Morial-era contracts would be renewed under the incoming administration. Thomas agreed to Barre's terms, but also demanded and received one-third of the parking profits in kickbacks through one of his associates. On November 21, 2007, Thomas was sentenced to 37 months in federal prison for bribery. (Wiki)
USNS Courier (MARAD hull AK-5019), a cargo ship of the National Defense Reserve Fleet, was sold to Southern Scrap Metal Corporation of New Orleans and subsequently transferred to the Industrial Canal on August 13, 2008, a little more than two weeks before Hurricane Gustav reached Louisiana's southeastern coast. During the night of August 31, 2008 or early morning of September 1, 2008, as a weak category-3 hurricane Gustav approached the coast of Louisiana, at least two clusters of ships, including the Currier were dislodged from their moorings and broke free. As a consequence, all vessels are now to be removed from the Industrial Canal in advance of gale-force wind conditions. (Wiki)

Born in New Orleans, Louisiana on July 8, 1919, Charles Mader Gilbert was a Major League Baseball center fielder from 1940 to 1947, playing for Brooklyn, Chicago, and Philladelphia. He died at age 64 in New Orleans on August 13, 1983. He he was the son of outfielder Larry Gilbert who a member of the 1914 "Miracle" Boston Braves and manager of the New Orleans Pelicans from 1923–31 and 1933–38.
Following a highly successful small-group jazz concert at New York Town Hall on May 17, 1947, featuring Armstrong with trombonist/singer Jack Teagarden, Armstrong's manager Joe Glaser, on August 13, 1947, established a six-piece small group named Louis Armstrong and his All Stars featuring Armstrong with (initially) Teagarden, Earl Hines and other top swing and dixieland musicians, most of them ex-big band leaders. The new group was announced at the opening of Billy Berg's Supper Club. (Wiki)
CAPDEVIELLE, Paul, attorney, politician. Born, New Orleans, January 15, 1842; son of Virginia Bertrand and Augustin Capdevielle. Father was a New Orleans merchant who arrived from France in 1825; brother of Armand Capdevielle. Education: Jesuits' College, New Orleans, graduated 1861. During Civil War was a private in Boone's Louisiana Battery, 1862-1863, and a corporal in the Orleans Guard Artillery, 1863-1865. Worked as a clerk and attended law school at Tulane University from which he received a law degree in 1868. Member, state school board, 1877. Married Marie Emma Larue in 1878. Six children. Practiced law until 1892. President, Merchants' Insurance Company, 1892-1905; president pro-tem of levee board and drainage commission until 1899; mayor of New Orleans, 1900-1904; was for two decades president of the City Park Improvement Association; worked with French-American Charities and sailor's relief funds; received Cross of Legion of Honor from France and Cross of the Commander of the Order of St. Olaf from Sweden, both in 1902; appointed state auditor in 1904 and reelected in 1908 and 1912. Roman Catholic. Member, Knights of Columbus, Elks, Pickwick and Opera clubs. Died, August 13, 1922, at summer home in Bay St. Louis, Miss.; wife and one son preceded him in death; survived by three sons: Christian, Auguste, and Paul, Jr., and two daughters: Edith and Yvonne; interred St. Louis Cemetery II, New Orleans. Source: http://lahistory.org/site20.php
BARRETT, John Bruce, master machinist. Born, New Orleans, August 13, 1896; son of John Augustus Barrett (q.v.) and Imogene Isabella Cassidy. Education: New Orleans public schools. Employed by New Orleans Sewerage and Water Board, Algiers Iron Works, Algiers Dry Docks and Federal Barge Line. Member, Catholic church; Knights of Columbus, Crescent Chapter No. 3; held all the chairs in the Saints John Masonic Lodge No. 153 F. & A.M., Worshipful Master, 1947; Eastern Star St. John Chapter No. 35; St. John Chapter No. 98 R.A.M.; Democratic party. Married, December, 1921, Carmen Elizabeth Vanderlinden of New Orleans, daughter of Joseph Jules Vanderlinden and Anna Eliza Cayard. Children: Carmen Marguerite (b. 1923), Ralph Bruce (b. 1926). Died, August 24, 1958, New Orleans; interred Metairie Cemetery. C.M.B. Sources: J. B. Barrett family records; birth certificate, marriage certificate (Book No. 46, folio 9W), and death certificate (58 05971), New Orleans Vital Records; Trinity Lutheran Church, New Orleans, La.; Saints John Chapter Masonic Lodge, No. 153, F. & A.M.; obituary, New Orleans Times-Picayune and New Orleans States; Louisiana Census, 1900, 1910. From http://lahistory.org/site19.php
CLARK, Daniel (the younger), merchant, land speculator, politician. Born, Sligo, Ireland, about 1766. Education: Eton and other colleges in England. Parents immigrated to Germantown, Pa. Arrived in New Orleans in 1786; employed by uncle, also named Daniel Clark, as a clerk in mercantile firm; given a post in the office of Governor Miró (q.v.); became partner in uncle's firm which was shipping agent for Gen. James Wilkinson (q.v.) in 1787; began land speculation after New Orleans fire of 1788; acknowledged by Governor Gayoso (q.v.) as acting vice-counsel in New Orleans in 1798; retained that position until 1801; became an American citizen in 1798; inherited business firm and plantation near Natchez, Miss., when uncle died in 1799; appointed by President Jefferson as American counsel in New Orleans, 1801-1803. Secretly married Marie Julie (Zulime) Carrière in Philadelphia, Pa., in 1802 or 1803. Daughter, Myra, born in New Orleans December 27, 1806; never publicly acknowledged wife or child. Elected as the first delegate for the Territory of Orleans to the Ninth and Tenth congresses and served from December 1, 1806, to March 3, 1809; was unsuccessful candidate for reelection, 1808. Wounded Governor Claiborne (q.v.) in a duel on June 8, 1807. In 1807 denied involvement in the Aaron Burr (q.v.) conspiracy; published in 1809 Proofs of the Corruption of Gen. James Wilkinson, and of His Connexion [sic] with Aaron Burr. Retired from political life and devoted himself to business interests. Died, August 13, 1813; interred St. Louis Cemetery I. In a will dated 1811, named his mother as principal heir to property which, in part, consisted of about one-third of the city of New Orleans; lawsuit (based on an alleged 1813 will) by daughter, Myra Clark Gaines (q.v.), and later by her heirs, was argued in the American courts from 1834 to 1890. From http://lahistory.org/site20.php
On August 13, 1794, the members of the Cabildo were convoked in extraordinary session by the Governor Carondelet to discuss means for repairing the levee and meat market which were damaged by the river during a hurricane on the night of the 10th instant. They decided to hear an opinion of Don Gilberto Guillemard, Major of the Post, and Don Carlos Laveau Trudeau, Surveyor, which will be discussed at the next session of the Cabildo. At the next meeting, it was agreed that repairs to the market should be started at once, with Don Francisco de la Barre to supervise the work. The levee to be in charge of the Major, and the work submitted to bids. (NOPL)

Pelicans' "Cotton" Knaupp's Triple Play
August 8, 1916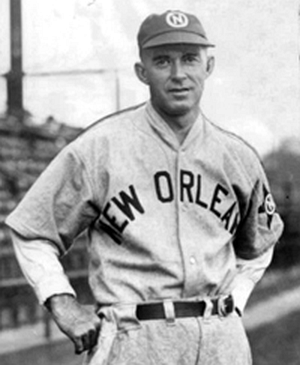 While playing second base for the New Orleans Pelicans on August 8, 1916, Henry Antone "Cotton" Knaupp became the only player in the history of the Southern Association to turn an unassisted triple play. With the bases loaded and Knaupp playing 2nd base in a game against the Chattanooga Lookouts, he caught a line drive hit by shortstop Joe Harris, tagged Jake Pilter who was running from first to second base, and stepped on 2nd base to put out Bob Messenger before he could return to second base.


Born in San Antonio on Aug. 13, 1889, Knaupp was a right-handed middle infielder with the New Orleans Pelicans from 1911 to 1923 after a stint in the Major Leagues with the Cleveland Naps (later the Cleveland Indians). He helped the Pelicans win three Southern Association Championships (1911, 1915, 1923). Knaupp holds records for most games played (1,476), most sacrifices (333) and most put-outs for second basemen (3,198) in Pelicans' history. "Cotton" Knaupp died in New Orleans on July 6, 1967 at the age of 77.