---

Dixie & the Bad Batch
Summer of '75
______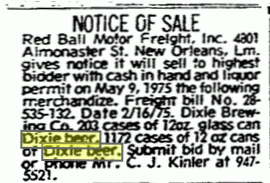 Loyal fans of locally produced Dixie Beer got a bad tasted in their mouths during the summer of '75. Fourth of July gatherings were nearly ruined by the "off" flavor of the beloved brew. The notorious "Bad Batch" prompted large numbers of long-time and exclusive Dixie Beer drinkers to forswear it forever. By August, Dixie Beer sales had plumetted. This advertisement announces an auction sale on
May 9, 1975
for a copious amount of Dixie beer -- 1375 cases, both bottled and canned. It may have had nothing to do with the "Bad Batch"...but then maybe it did.
Mother's Day Bus Crash
May 9, 1999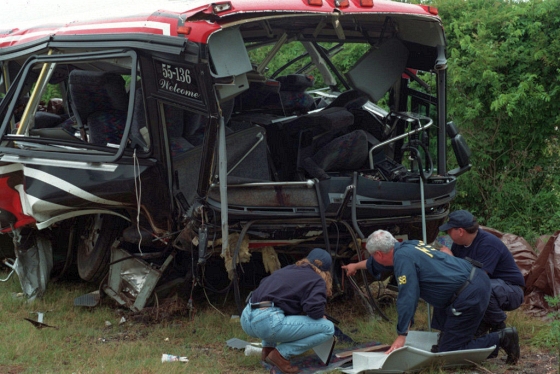 Photo by Andrew Boyd, The Times-Picayune

In the 1999 Mother's Day accident in New Orleans, a Custom Bus Charter veered off Interstate 610 and slammed into an embankment near City Park. The vehicle's driver, Frank Bedell, had been treated at least 20 times in the 21 months before the accident for various ailments, 10 of which involved hospitalization for "life-threatening" heart and kidney disease.
The last reported medical problem listed by the safety board occurred the night before the May 9 accident, when he was treated for "nausea and weakness," given fluids and sent home at 11 p.m. -- just 10 hours before taking the assignment to drive 43 passengers from LaPlace for a Mother's Day outing at Casino Magic in Bay St. Louis, Miss., according to the National Transportation Safety Board.
The board put most of the blame on driver error. Bedell died of a heart attack three months after the crash.
The safety board recommended a major overhaul of the medical certification process, saying the system in effect in 1999 allowed drivers with health problems like Bedell to "shop around" until they could find a doctor willing to certify that they were fit to be a commercial driver.
After the 1999 New Orleans bus crash, Congress passed legislation creating the Federal Motor Carrier Safety Administration. But the agency, under pressure from bus and trucking companies, delayed making many of the changes advocated by the National Transportation Safety Board.
---

You Can Support this Site by Clicking on & Shopping from this Amazon Link -- and it won't cost you a penny more: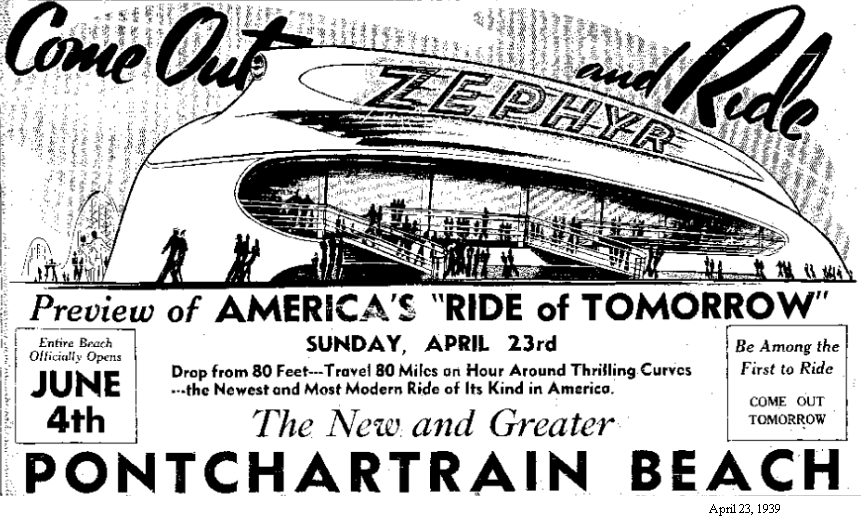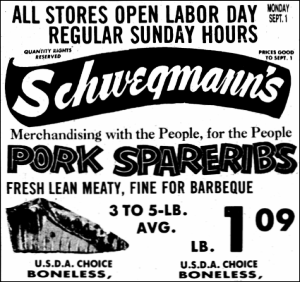 The Navarre neighborhood of the South Lakeview Historic District was added to the National Register of Historic Places on May 9, 2002. A portion of the Navarre neighborhood is also included within the boundaries of the City Park/N. O. Museum Cultural District, designated by Louisiana Lieutenant Governor Mitch Landrieu on November 1, 2008.
From This Day in History
:
Following the ascension of "I Wanna Hold Your Hand" to #1 in early February, the Beatles held the top spot on the Billboard Hot 100 for three and a half solid months—longer than any popular artist before or since. Over the course of those months, the Fab Four earned three consecutive #1 singles (a record); held all five spots in the top five in early April (a record); and had a total of 14 songs in the Billboard Hot 100 in mid-April (yet another record). But just when it seemed that no homegrown act would ever stand up to the British invaders, one of least likely American stars imaginable proved himself equal to the task. On May 9, 1964, the great Louis Armstrong, age 63, broke the Beatles' stranglehold on the U.S. pop charts with the #1 hit "Hello Dolly."
Algernon Sidney Badger (October 28, 1839 – May 9, 1905) was a colonel in the Union Army who became an important Republican carpetbagger government official in New Orleans, during and after Reconstruction. After the Civil War, Badger became a clerk in Fourth District Recorders Court in New Orleans. About 1868, he joined the New Orleans Metropolitan Police and was elevated to the superintendency in 1870. On September 14, 1874, Badger was seriously wounded at the Battle of Liberty Place, an insurrection by the Crescent City White League. Badger left the police force in 1875 to serve as state tax collector in New Orleans. In 1878, during the administration of Republican President Rutherford B. Hayes of Ohio, Badger was named postmaster at New Orleans. After a year, he took another patronage position, special deputy in the New Orleans Customs House, a position that he filled until 1885, when the Democratic administration of Grover Cleveland of New York replaced him. In 1889, with the return of a Republican administration under Benjamin Harrison of Indiana, Badger was named special deputy of the customs service, and then in 1890 the appraiser of merchandise at New Orleans, a post which again ended in 1893 with the return of Cleveland to the presidency. Badger returned to the appraiser position about 1900, with the Republican William McKinley administration, and held that final position until his death in 1905 at the age of sixty-five. Badger on more than one occasion led the New Orleans Mardi Gras procession of the Krewe of Rex in his capacity as police superintendent. In one appearance, some in the crowd lampooned him as a "sleuthing bloodhound with a large protruding nose." Badger was a member and officer of the Grand Army of the Republic veterans organization. He was a grand commander of Knights Templar and a member of the Masonic lodge. He was Episcopalian. Badger died in New Orleans and is interred there at Metairie Cemetery. (WIKI)
Of French descent, Paul Capdevielle (January 15, 1842August 14, 1922) was mayor of New Orleans from May 9, 1900 to December 5, 1904.he was educated at the Jesuit College of New Orleans, graduating in 1861. He served in the Confederate Army in the American Civil War, in the New Orleans Guard Regiment of Infantry, then in Boone's Louisiana Artillery. He was captured at Port Hudson, Louisiana in July, 1863. Paroled shortly afterward, and subsequently exchanged, he entered Legardeur's artillery battery, and continued in the Confederate service till the close of the war, when he surrendered at Greensboro, North Carolina, returning to New Orleans on foot. He read law at the Tulane University Law School, graduating in 1868, and served as an attorney until 1892. In 1892 he gave up the law to accept the presidency of the Merchants' Insurance Company, an important firm which was eventually liquidated. For thirteen years Capdevielle was its president. His political history began in 1877, when he was appointed to the State School Board by Governor Nicholls. While he was a member of this body the entire state school system was reorganized and put into effective operation. Subsequently he was appointed a member of the New Orleans Levee Board. In the election of 1900 he was the nominee of the Regular Democratic Organization; he won with 19,366 votes versus 13,099 for his predecessor Walter C. Flower. His tenure as mayor was marked by the installation of the modern sewage and drainage system and by the Robert Charles race riots. After his mayoral term, Capdevielle served as president of the New Orleans Public Library Board and as State Auditor of Public Accounts. He is buried in St. Louis Cemetery No. 2. (NOPL)
At the Wednesday May 9, 1832 session of the Conseil de Ville (City Council) it was resolved "that the Mayor is and remains authorized to use the stores necessary to complete the sidewalks "City Carre' Banquettes" already begun at the ???? intersections. The paving material left over and that which shall hereafter be had from this should be exclusively used to pave Royal Street. Approved May 15, 1832 by D. Prieur, Mayor". (NOPL)
Testimonial Roast for Henry Thomas, "Mr. Golf" in New Orleans
May 9, 1988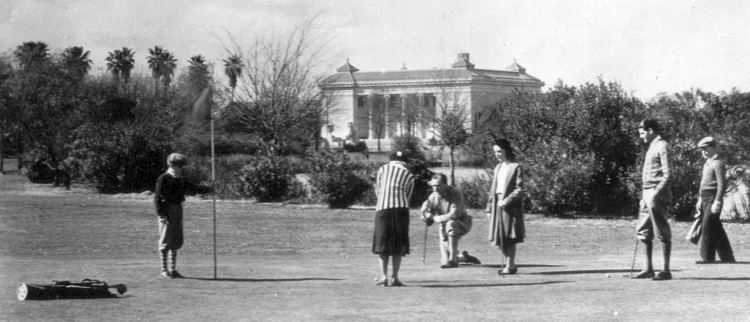 "In Lieu Of Flowers, Please Make Donations To Rebuild City Park Golf Course" requested the Times-Picayune obituary for Francis Henry Thomas who died on December 2, 2005 in Houston months after post-Katrina federal flood-wall breaks caused ruin to park's courses and displaced him, his wife Romy, and hundreds of thousands of other New Orleanians. Thomas had dedicated more than half of his 94 years to caring for and expanding City Park's golf offerings into one of the largest facilities in the country. He came to be known as "Mr. Golf" to local adherents of the sport.
Henry Thomas began working, in 1920, as a caddy at the park when he was 9 years old. He carried Babe Ruth's clubs when the Yankees trained in New Orleans. In 1929, Thomas became a pro at age 18 and in 1930 he became an assistant at City Park. He then moved to Colonial Country Club in Harahan until 1933 when he returned as head pro at City Park when golf facilities included a mere 9-hole course abutting the McFadden mansion (now Christian Brothers School) and property.
Thomas remembered the "Black Cat", a depression era speakeasy on the 13th hole near Bayou St. John, where golfers stopped for a home-brew -- many of them then failing to complete the remaining holes. During the 1930s he organized a Christmas Holiday Tournament which evolved into the New Orleans Open, which he was instrumental in organizing and served twice as its chairman. In 1933 he organized free weekly lessons for children age 5 through 14 which continued for decades and introduced generations of New Orleanians to the sport. The program grew to include as many as 200 teachers, many of whom he had taught. A good number of his students became golf professionals, including the man who would replace him when he retired.
During Thomas' tenure the following improvements were completed:
A new nine hole golf course completed in 1937, which added nine holes to the original course. It ran along Bayou St. John, surrounded the McFadden property, and continued north of Art Museum. The WPA caption for the 1930s photograph above reads "Golf the Year Round. This course, in beautiful City Park, is one of the six evergreen golf courses in New Orleans on which play is continuous the year round".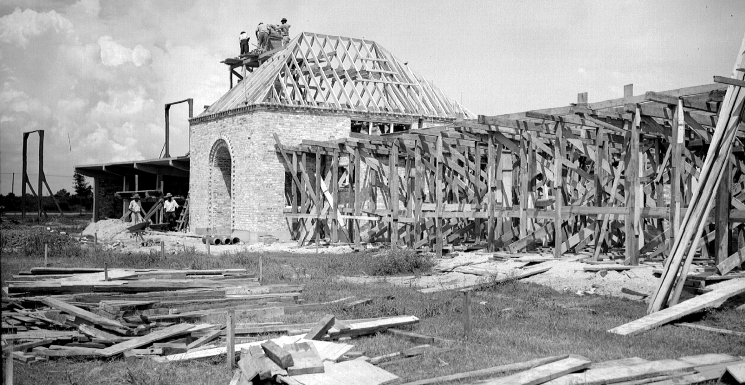 The driving range is under construction in this
1938 view (left). WPA notes for this photograph are, "It will have an administrative building which will contain lockers and dressing rooms; refreshment room; six stalls, each of which will be 18 feet wide. The field will be equipped with four batteries of flood lights".
The old St. John's golf clubhouse was remodelled at this time and was surrounded by additional structures which contained a lobby, lounge, display shop, men's and women's locker rooms (increased from 75 to 250 lockers), and a caddy house accommodating 300 caddies with a sound system connecting with the club house and a bulletin board maintained to display current news on golfing events throughout the country, and an outdoor recreational area – all at a cost of $85,000. For the 1938 New Orleans Open PGA Golf Tournament Mayor Robert S. Maestri donated $5000 in prize money – then $10,000 per year until 1941 when dentist Herbert H. Meyer donated $5,000. The 1938 event attracted 10,000 spectators. The Crescent City Open in 1938 was won by Lloyd Mangrum who bested Sam Snead and Lawson Little. The park hosted the Open until 1962.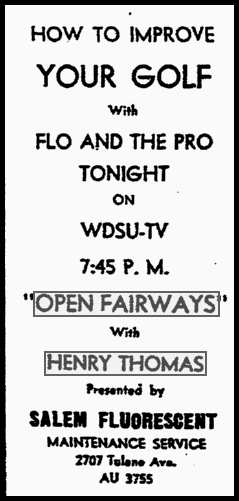 In 1940, Thomas inaugurated an annual tournament for juveniles. In 1942, he created a club for working women golfers, Beginning in the 1940s, he began visiting Carville Leprosarium twice each month to teach doctors and patients, and continued to do so until the 1980s.
In 1950, Thomas presented golf lessons on WDSU-TV on his show "Open Fairways". In 1951 the show was renewed with Mel Levitt as host and Thomas as instructor. In 1962, Levitt featured Thomas in a weekly "How to Play Golf" feature on his 10:15 sports segments during the nightly news. Beginning in 1962 Thomas oversaw the reconstruction of the golf courses and the addition of a third 18-hole course which opened 1964.
1969 brought the addition of the 18-hole North Course and another club house -- Mayor Victor Schiro was the first to tee off. That year the 15,000 square-foot "Henry Thomas' Golf Shop" in the park at 1040 Filmore Street took in $6,500 in gloves sales alone (5% of the total volume of the shop, at which Mrs. Romy Thomas, his wife, worked).
The Greater New Orleans Sports Hall of Fame inducted Henry Thomas in 1977. In 1984 Friends of City Park named a tournament for him. Golfers played 250,000 rounds of golf at City Park that year. In 1986 he asked that his contract be extended for another two years, which the City Park commissioners approved, but in 1988 they decided that it was time for him to retire.
As a founder of the Italian Open, he was honored in 1988 by the Italian Cultural Society as the recipient of their Podnuh Award. On May 9, 1988, a testimonial roast at the Hilton Riverside Hotel was attended by 600 people including emcee Jim Henderson, Archie Manning, Times-Picayune writers Angus Lind and Dave Lagarde, and the man who would replace hime, Frank Mackel.
Thomas' last day as head golf pro at City Park was June 30, 1988. He was 77 years old but was committed to helping Mackel learn the ropes Mackel said of the man who had been the leader of City Park golf for 55 years, "He's staying with me as long as he wants to stay. I can't fill his shoes". Frank Mackel took over July 1, 1988. Thomas moved on to Plantation Golf Course on the West Bank, which he greatly improved. He also returned to the park to teach at the driving range, which he visited monthly until Hurricane Katrina.
A past president of the International Golf Sponsors Association, Thomas began his career as keeper of a nine-hole course and left our urban park with an 81 hole (including a 9-hole junior course) facility and driving range. It was the largest municipal golf facility in the United States, spanning 850 acres, taking in $2 million net per year from the courses and $60,000 from the driving range.
Henry Thomas Drive, which meanders through the course between Roosevelt Mall and I-610, is named in his memory.
Lee Harvey Oswald Takes Job at the William B. Reily Coffee Company
May 9, 1963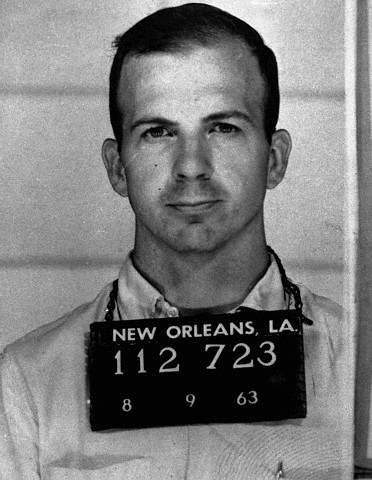 New Orleans Police Department photographic records. August 9, 1963
Lee Harvey Oswald was born in the French Hospital at 1821 Orleans Avenue in New Orleans on October 18, 1939 to Robert Edward Lee Oswald, Sr. and Marguerite Frances Claverie. Robert, Sr. died of a heart attack two months prior to Lee's birth. Oswald had two older siblings—brother Robert Edward Lee Oswald, Jr. and half-brother John Edward Pic. In 1944, Oswald's mother moved the family from New Orleans to Dallas. Oswald entered the 1st grade in 1945 and over the next half-dozen years attended several different schools in the Dallas and Fort Worth areas through the 6th grade. As a child, Oswald was described by several people who knew him as withdrawn and temperamental. In August 1952, when Oswald was 12, his mother took him to New York City where they lived for a short time with Oswald's half-brother, John Pic. Oswald and his mother were later asked to leave after an argument in which Oswald allegedly struck his mother and threatened Pic's wife with a pocket knife. Oswald attended the 7th grade in the Bronx, New York but was often truant, which led to a psychiatric assessment at a juvenile reformatory. The reformatory psychiatrist, Dr. Renatus Hartogs, described Oswald as immersed in a "vivid fantasy life, turning around the topics of omnipotence and power, through which [Oswald] tries to compensate for his present shortcomings and frustrations." Dr. Hartogs detected a "personality pattern disturbance with schizoid features and passive-aggressive tendencies" and recommended continued treatment.
In January 1954, Oswald's mother returned to New Orleans, taking Oswald with her. At the time, there was a question pending before a New York judge as to whether Oswald should be removed from the care of his mother to finish his schooling, although Oswald's behavior appeared to improve during his last months in New York. In New Orleans, Oswald attended Beauregard Jurnior High and Warren Easton High -- completing the 8th and 9th grades and entering the 10th grade in 1955 but quit school after one month. After leaving school, Oswald worked for several months as an office clerk and messenger in New Orleans. As a teenager, in 1955, Oswald attended Civil Air Patrol meetings in New Orleans. Oswald's fellow cadets recalled him attending C.A.P. meetings "three or four" times, or "10 or 12 times" over a one- or two-month period . Though the young Oswald had trouble spelling and writing coherently, he read voraciously. By age 15, he claimed to be a Marxist, writing in his diary, "I was looking for a key to my environment, and then I discovered socialist literature. I had to dig for my books in the back dusty shelves of libraries." At 16 he wrote to the Socialist Party of America for information on their Young People's Socialist League, saying he had been studying socialist principles for "well over fifteen months.' However, Edward Voebel, "whom the Warren Commission had established was Oswald's closest friend during his teenage years in New Orleans...said that reports that Oswald was already 'studying Communism' were a 'lot of baloney.' " Voebel said that "Oswald commonly read 'paperback trash.'"
In July 1956, Oswald's mother moved the family to Fort Worth, Texas and Oswald re-enrolled in the 10th grade for the September session. A few weeks later in October, Oswald quit school at age 17 to join the Marines he never received a high school diploma. By the age of 17, he had resided at 22 different locations and attended 12 different schools.
Oswald returned to New Orleans on April 24, 1963. What follows are some of his activities in the city based on W. Tracy Parnell's information: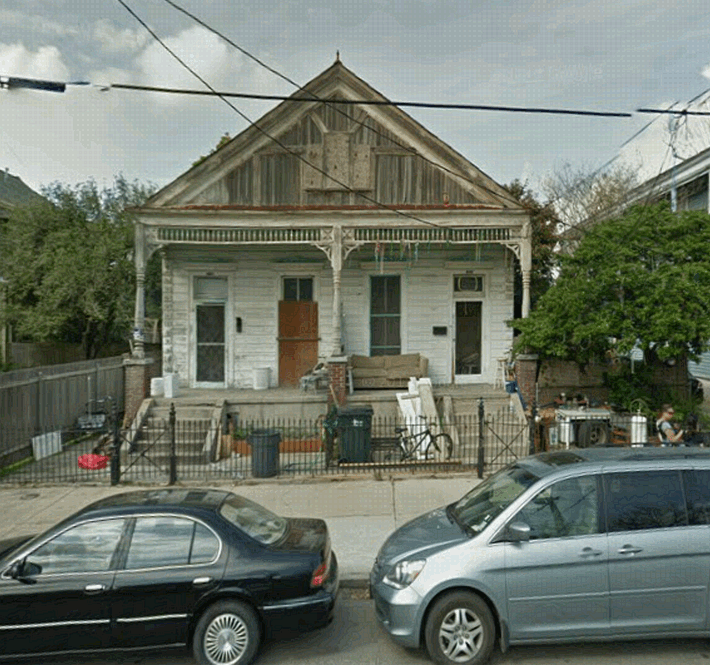 In 1963 Lee Harvey Oswald, his wife Marina, and their daughter June lived in the rear of the right half of this double at 4907 Magazine Street,
renting from landlords J. J. and Lena Garner. who lived in the same house at 4911 Magazine.
April 24, 1963: Ruth Paine, a friend of his wife Marina, drives Oswald to the Housotn bus station, where he boards a bus bound for New Orleans.
April 25, 1963: He moves in with his aunt Lillian Murret at 757 French Street in Lakeview. Murret was the sisiter of his mother, Marguerite Oswald.
April 26, 1963: He visits the employment office in New Orleans.
April 28, 1963: He makes an effort to contact relatives on his father's side.
April 29, 1963: Files an appeal concerning his unemployment benefits.
May 9, 1963: With the help of Myrtle Evans, a long-time friend of his mother, finds work at the William B. Reily Coffee Company whose owner, William Reily, was a backer of the Crusade to Free Cuba Committee, an anti-Castro organization. Oswald worked as a machinery greaser for $1.50 per hour. He also finds an apartment.
May 10, 1963: Starts work at the William B. Reily Coffee Company and moves into an apartment which was rented for $65 per month at 4907 Magazine St. (near Upperline) owned by Mrs. J. J. Garner of 4911 Magazine. "He wouldn't speak to anyone", she said and reported that neighbors told her that he usually stayed home "sitting on the porch reading all day long".

May 11, 1963: Ruth, Marina, and June (his child) arrive at the apartment.
May 26, 1963: Oswald writes to the New York City headquarters of the pro-Castro Fair Play for Cuba Committee, proposing to rent "...a small office at my own expense for the purpose of forming a FPCC branch here in New Orleans."
May 29, 1963: The FPCC responded to Oswald's letter advising against opening a New Orleans office "at least not ... at the very beginning." In a follow-up letter, Oswald replied, "Against your advice, I have decided to take an office from the very beginning." As the sole member of the New Orleans chapter of the Fair Play for Cuba Committee, Oswald ordered the following items from Jones Printing Company, 422 Girod Street (near the Reily building): 500 application forms, 300 membership cards, and 1,000 leaflets with the heading, "Hands Off Cuba." According to Lee Oswald's wife Marina, Lee told her to sign the name "A.J. Hidell" as chapter president on his membership card.
June 3, 1963: Rents a new PO box, using A.J. Hidell as one of the people who will receive mail there.
June 8, 1963: Marina is rejected for treatment at Charity Hospital, which infuriates Oswald.
June 16, 1963: Distributes FPCC literature at the Dumaine Street wharf.
June 24, 1963: Applies for a new passport.
July 6, 1963: Is invited by his cousin Eugene Murret to speak to a group of students at the Jesuit House of Studies in Mobile, Alabama, where Eugene is studying to be a priest.
July 11, 1963: Ruth invites Marina to live with her separately from Oswald.
July 19, 1963: He is fired from the Reily Coffee Company "...because his work was not satisfactory and because he spent too much time loitering in Adrian Alba's garage next door (at 618 Magazine Street), where he read rifle and hunting magazines." .
July 22, 1963: He files a claim for unemployment benefits.
July 25, 1963: His request for a review of his undesirable discharge from the military is denied.
July 27, 1963: Speaks to the Jesuit group for 30 minutes on the subject of "Contemporary Russia and the Practice of Communism".
August 5 and 6, 1963: According to 29 year-old anti-Castro militant Carlos Bringuier, Oswald visited him at Casa Boca (107 Decatur Street at Canal St. next to the Cusom House), a store he owned. Bringuier was the New Orleans delegate for the Student Revolutionary Directorate (DRE), an anti-Castro organization. Bringuier would later tell the Warren Commission that he believed Oswald's visits were an attempt by Oswald to infiltrate his group.
August 6, 1963: Leaves his Marine Corps manual at Bringuier's store.
August 9, 1963: Oswald distrubutes pro-Castro leaflets downtown. Bringuier confronted Oswald, claiming he was tipped off about Oswald's activity by a friend. A scuffle ensued and Oswald, Bringuier, and two of Bringuier's friends were arrested in the 700 block of Canal Street for disturbing the peace. He spend the night in jail.
August 10, 1963: A friend of the Murrets bails him out late in the afternoon. Before leaving the police station, Oswald asked to speak with an FBI agent. Agent John Quigley arrived and spent over an hour talking to Oswald.

August 12, 1963: Pleads guilty to the charge of disturbing the peace and is fined $10.
August 16, 1963: Oswald passes out Fair Play for Cuba leaflets with two hired helpers in front of the International Trade Mart. The incident was filmed by WDSU—the local TV station.
August 17, 1963: Radio commentator William Stuckey from radio station WDSU visits him and asks him to appear on the program Latin Listening Post. He arrived at the station at 5:00 PM and taped a 37-minute segment, which was cut to 4 and a half minutes and broadcast at 7:30 that evening. Stuckey also invites him to take part in a radio debate with Carlos Bringuier and Bringuier's associate Edward Butler, head of the right-wing Information Council of the Americas (INCA).
August 19, 1963: Accepts Stuckey's offer to debate Bringuier and Butler on live radio.
August 21, 1963: Debates Bringuier and Butler, on the program Conversation Carte Blanche, which runs from 6:05 to 6:30 PM.
September 17, 1963: Obtains a tourist card good for one visit to Mexico City from the Mexican consulate in New Orleans.
September 20, 1963: Ruth visits the Oswalds, and it is decided that Marina will return to Irving, Texas with Ruth for the birth of their second child.
September 23, 1963: Ruth and Marina leave for Irving.
September 25, 1963: Oswald collects his unemployment check of $33. Later that day he catches a bus bound for Houston. According to his landlord, Mrs. J. J. Garner, he owed about 15 days rent and according to his landlady "All he left was an empty carton of beer cans".
A 1988 Times-Picayune article looked back at Oswald's time in New Orleans during the summer of 1963: Kerry and Diane West who then occupied the Magazine Street home the Oswald's had rented were interviewed. Diane remembered Oswald from her childhood when she lived in the same neighborhood. She described him as a reclusive figure who wore a old felt hat and a faded trenchcoat who scolded his child in Russian. She remembered that he dug in neighbors' garbage cans for discarded newspapers and magazines. She said, "He never talked to anyone. He was sneaky". Another neighbor, Catherine Schmitt said, "Most of the time he walked backwards" and "Spent most of his time looking at the sky". She said Marina was seldom seen outside.
Adrian Alba, who owned a garage near the Reily building, had somewhat befriended Oswald who spent much time playing hookie from work at his business. Oswald enjoyed reading Alba's gun and hunting magazines and discussing guns with him. Oswald had even invited Alba several times to his home to see his "gun collection" but never set a time and date. While working at Reily, Oswald, like his co-workers, often had lunch at Martin's Restaurant at 701 Tchoupitoulas, which was near the buisness, but he sat alone in a booth near the back of the restaurant.
Marina said that she and Lee went to the French Quarter but didn't have enough money to eat in any of the restaurants. The Oswalds took their daughter to Audubon Park and the zoo.
Oswald's 1963 New Orleans activities were investigated by New Orleans District Attorney Jim Garrison, as part of his prosecution of Clay Shaw in 1967-1969. Garrison was particularly interested in an associate of Guy Banister (a private detective and former/if not then current FBI agent) and David Ferrie. In 1993, the PBS television program Frontline obtained a photograph taken in 1955 (eight years before the assassination) showing Oswald and Ferrie at a Civil Air Patrol cookout with other C.A.P. cadets. (Whether Oswald's and Ferrie's association in the Civil Air Patrol in 1955 is relevant to their later possible association in 1963 is a subject of debate.) (Source: http://en.wikipedia.org/wiki/Lee_Harvey_Oswald)