October 30
---


---
---

Bridge Worker Persishes
October 30, 2008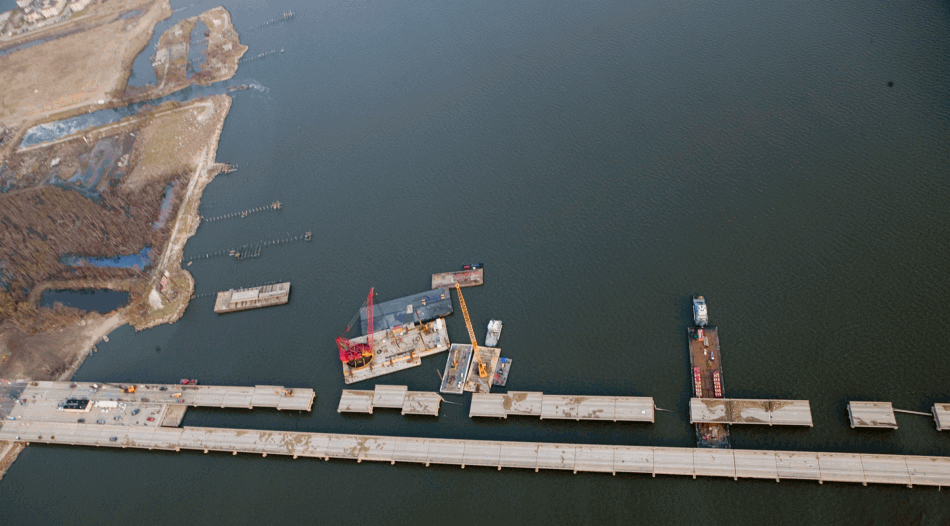 On October 30, 2008, as construction workers were preparing a form for a concrete pour for the post-Katrina I-10 Twin Span Bridge (which runs from from New Orleans to Slidell), a girder collapsed sending 10 workers plunging into Lake Pontchartrain approximately 30 feet below. One of the workers, Eric Troy Blackmon, who was tethered to the girder died in the accident.
This FEMA photo by Andrea Booh shows construction work on the Katrina damaged bridge in September, 2005.
---
---

---
On July 14, 2010, Air Canada announced the resumption of daily nonstop service between Toronto and New Orleans, utilizing Bombardier CRJ705 regional jet aircraft (which is a version of the Canadair CRJ-900) operated by Air Canada Express featuring two classes of service. Service on this route began on October 30, 2010. These Air Canada flights between MSY and Toronto are at present the sole remaining international passenger service operated on a scheduled basis from the airport.
On October 30, 2006, AFC Enterprises announced that Popeyes planned to introduce a trans fat-free biscuit as well as french fries containing one gram of trans fat by year-end.
October 30, 1999 -- Harrah's New Orleans casino opened at the former Rivergate location.
The Dr. Martin Luther King Jr. Branch of the New Orleans Public Library, opened to the public on October 30, 1995. Housed in The Martin Luther King School for Science and Technology, the branch was a new departure for NOPL, since it served both as a school library for MLK students and, after school hours, as a full service branch for the Lower Ninth Ward neighborhood. Interestingly, an arrangement of this sort was advocated as early as 1913, when City Librarian Henry M. Gill wrote, "If a room in each of the schools in districts far removed from our present branches would be assigned to the library and opened to the public after school hours, an enormous good could be done at a minimum of cost both to the schools and the library." Eighty-three years later, Mayor Marc Morial cut the ribbon at the dedication ceremony of the King Branch. (From the New Orleans Public Library)
On October 30, 1994, the train called the City of New Orleans departed Chicago with a Superliner II Sightseer Lounge and a coach section made up of only Superliner II coaches, officially ending the Heritage Fleet's tenure. With the delivery of the Superliner II cars also came new diners, providing the City of New Orleans with true dining service.
Musician Thomas Herman Ridgley (known as Tommy Ridgley) was born on October 30, 1925. He released his debut single "Shrewsbury Blues" in New Orleans in 1949 for Imperial Records. In the 1950s he formed his group the Untouchables, and recorded for labels such as Decca, Atlantic and Herald. His 1952 release "Tra-La-La" on Decca was later covered and made famous by Pat Boone. In the 1960s he signed with the local Ric Records, and released some singles which were to become local hits, but none of them broke through to create a stir nationally. These sides included "Double-Eyed Whammy" and "I've Heard That Story Before", a remake of the song first recorded for Herald. During the 1970s and 1980s, there were fewer recording opportunities for Ridgley, however, he continued to record for local labels, and continued to perform. He kept performing at the New Orleans Jazz & Heritage Festival every year from 1972 until his death. In the 1990s, he released three newly recorded albums. How Long? came out on the Sound of New Orleans label in 1990, and She Turns Me On followed two years later on Modern Blues Recordings. He was supported by musicians such as George Porter, Jr. and Raymond Weber on 1995 album Since The Blues Began from Black Top Records. It also featured guest guitarist Snooks Eaglin and turned out to be one of the most solid efforts in his career, but this became his last recorded album. He suffered from kidney failure in his last few years, and died from lung cancer on August 11, 1999. New Orleans singer, Sammy Ridgley is his younger brother.
On October 30, 1916, Tom Brown's Band and the Original Dixieland Jass [jazz] Band agreed to swap clarinetists, bringing Larry Shields into the Original Dixieland Jass Band.
The Christian Science Monitor reported about the "BIG AUTO RACE IN NEW ORLEANS" on October 30, 1909. The Los Angeles Times followed suit with an article titled "Large Number of Competitors Expected as Manager George Is Daily Issuing Entry Blanks" and "HALF OF NEW ORLEANS NOW DRINKING TAFT COCKTAILS.
President William Howard Taft arrived in New Orleans on October 30, 1909, aboard the flagship Oleander.
Taft (accompanied by 24 governors, 117 congressmen and senators, including Uncle Joe Cannon, Speaker of the House, and 3 diplomats) was in town to speak before the "Lakes-to-the-Gulf Waterways Convention" in favor of river improvements. President Taft and his flotilla were welcomed by "the shriek of sirens, the clanging of bells, and the cheers of 100,000 citizens" (according to the New York Times). He and his party were whisked away by carriages to the St. Charles Hotel (his home for the two day visit), where the President reviewed a parade held in his honor. After lunch with Archbishop James H. Blenk, the President was driven to the College of the Immaculate Conception on Baronne Street (then the name of Jesuit High School) where he addressed the young men, their teachers, alumni, and guests who had gathered in the courtyard below. From the balcony draped in stars and stripes, he spoke directly to the students and said, "My boys, I am glad to be with you. I congratulate you on being where you are." Then it was off to the Athenaeum to address the "Waterways Convention", with later glimpses of the LSU-Sewanee (University of the South) and Tulane-University of Mississippi football games. An evening dinner was held in the Chief Executive's honor at the Pickwick Club, followed by a gala grand opera presentation. A late supper at one of the city's French restaurants finished off the evening. Dinner and supper? The next day's activities (Sunday morning) included a service at the Unitarian Church, a long automobile tour (Taft was the first president to own a car at the White House) punctuated by a luncheon at the Jackson Barracks. Professor Alcée Fortiér was in charge of the committee for the "Ride Through Historic New Orleans" and tendered the address that Halloween day a century ago. President Taft also played some golf with Philip Werlein. After a sacred concert at Tulane University, the President retired to his train before its departure on Monday morning. (By NED HÉMARD, "New Orleans Nostalgia -- Taft Visits New Orleans" at http://www.neworleansbar.org/uploads/files/TaftVisitsNewOrleansArticle.11-4.pdf. The steamboat in the background
(of this photo)
is the
Oleander
, which carried President Howard Taft down the Mississippi to New Orleans. The President and his fleet (other boats carried 24 governors and about 200 congressmen and senators) left St. Louis on October 25, 1909 and were joined along the way by boats from various river states carrying delegates to the great Waterways Convention, sponsored by the Lakes-to-the-Gulf Deep Waterways Association in New Orleans from October 30 to November 2. Some 50,000 to 100,000 people were expected to attend. The steamboat carrying the Missouri delegation is shown in the foreground. The Christian Science Monitor reported about another event in town -- the "
BIG AUTO RACE IN NEW ORLEANS" on
October 30, 1909
. The Los Angeles Times followed suit with an article titled "Large Number of Competitors Expected as Manager George Is Daily Issuing Entry Blanks" and "HALF OF NEW ORLEANS NOW DRINKING TAFT COCKTAILS.
Mary Millicent Miller was the first American woman to acquire a steamboat master's license. She took the tests required for a master's license, and on February 16, 1884 when making the required oath, the Harper's Ferry newspaper of March 8, 1884 ran a picture of her. She became the captain of the Saline. Respected steamboat masters publicly proclaimed her great skill in the New Orleans newspapers, while her accomplishment allowed for other females to become steamboat pilots and masters. The rivers she sailed include the Mississippi River, Ohio River, Quachita River and Red River. She died on October 30, 1894.
World War I fighter pilot Alvin Andrew Callender was born, New Orleans on July 4, 1893. He attended Boys High School and Tulane University. Callender served in the Louisiana National Guard, the Washington Artillery, on the Mexican borde and joined the Royal Flying Corps in Canada in 1917 where rhe eceived a commission and became flight instructor. In Enland he received final training at the Central Flying School. He piloted combat planes for the Royal Air Force from May to October 1918. Promoted to rank of captain in September 1918, hecommanded 'C' flight in No. 32 Squadron of the Royal Air Force. Killed in action on October 30, 1918; New Orleans' first municipal airport was dedicated and named Alvin Callender Field in 1926. The name was retained when the field was taken over by the U. S. Naval Air Force in the 1950s. (From http://lahistory.org/site20.php)
Born in New Orleans on October 30, 1884 Fannie Heaslip Lea, daughter of James J. Lea and Margaret Heaslip attended public schools, graduated from H. Sophie Newcomb Memorial College with a B.A. in 1904, and did graduate work in English at Tulane. Until her marriage in 1911, she wrote feature articles for New Orleans daily newspapers and short stories for magazines such as Harper's, a short story, Little Anna and the Gentleman Adventurer, in the 1910 The Century Magazine and Woman's Home Companion. After moving to Honolulu with here husband Hamilton Pope Agee, her first novel Quicksands, was published.S he divorced in 1926 and moved to New York, publishing 19 novels and more than 100 stories, poems, and essays in various newspapers and journals, until her death on January 13 1955. Lea wrote several plays. Her first, Round-About, was produced in 1929 by the New York Theatre Assembly. Her papers are housed in the University of Oregon Library in Eugene, Oregon.