---

Jeff Theatre Opens
September 29, 1940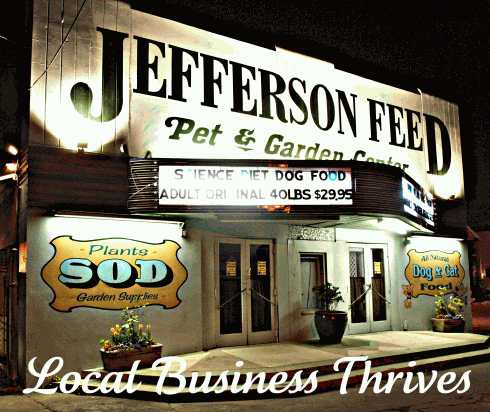 The Jeff Theatre opened at 4421 Jefferson Highway at 2:00 P.M. on Sunday, September 29, 1940. Advertised as "The Showplace of Comfort and Refinement", it featured Bing Crosby and Gloria Jean in "If I Had it My Way". In 1951 the theater was, according to advertisements, "completely remodeled and redecorated" -- admission: 39 cents for adults, 14 cents for children. By 1953 the building was used by Delta Drug Company Wholesalers. In 1959 it became Jefferson Feed and Garden Supply, which it remains today.
---



---
The New Orleans Lakefront Airport (originally named for Levee Board President Abe Shushan) was rededicated on September 29, 2013 after extensive renovations which returned it to its original Art Deco splendor.
Chef Austin Leslie passed away on September 29, 2005.
Drummer, vocalist, and bandleader Freddie Kohlman died in New Orleans on September 29, 1990 at the age of 75. He performed with A.J. Piron, Joe Robichaux, Papa Celestin, and Sam Morgan.
Willie Nelson's City of New Orleans was the number-one country album on Billboard on September 29, 1984.
On September 29, 1977 the Saenger Theatre was designated a historic landmark by the New Orleans Landmark Commission.
Businessman, civic leader, and patron of the arts, Peter Roussel Norman died in New Orleans on September 29, 1975. Born in Morgan City on August 6, 1903 and educated at LSU and Cornell University, he moved to New Orleans in 1960 and became a civic leader. He was a trustee of the New Orleans Museum of Art and patron of New Orleans Philharmonic Symphony Orchestra, New Orleans Repertory Theatre and Public Television WYES. Mr. Normans was President of Norman-Breaux Lumber Co. (1932-1950s), President of Atchafalaya Ship Channel Association; advisory member, Morgan City Public Library; active in Rotary, Scouting, Chamber of Commerce and Temple Shaare Zedek. An organizer of Morgan City Golf Club and the St. Mary Country Club; reigned as king of Morgan City Mardi Gras; director and senior vice president, First National Bank in St. Mary Parish. With his family he donated land and gifts for schools, hospital, municipal auditorium, library, and parks in Morgan City. He interred at Hebrew Rest Mausoleum. (From http://lahistory.org/site.php?pageID=31)
Antoine's Roy Alciatore Dies
September 29, 1972

Restaurateur Roy Louis Alciatore, born in New Orleans on December 19, 1902, was the son of Jules Louis Alciatore and Marie Althea Roy, and a grandson of Antoine Alciatore, who founded Antoine's Restaurant in 1840 (he formerly operated Pension Alciatore in the French Quarter). Roy attended Tulane University and married Mary Pearl Duggan. They had one daughter, Yvonne Elaine.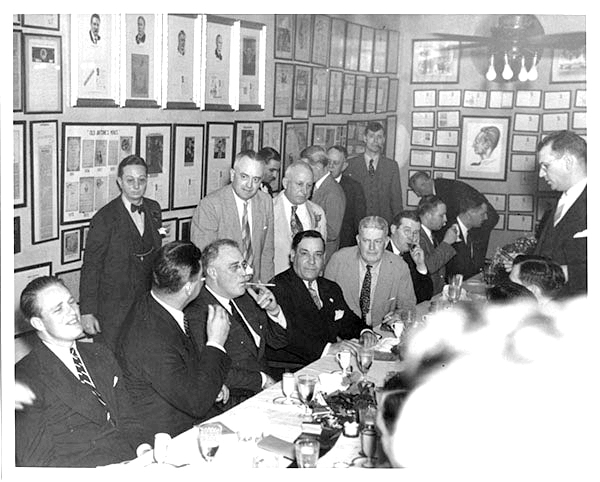 Pictured: Franklin Delano Roosevelt enjoys a post-luncheon smoke at Antoine's using his well-known cigarette holder. The man in the bow tie behind the President is Roy Alciatore, the proprietor of Antoine's. Photograph by Earl S. Martin. [E. S. Martin Photograph Collection] President Franklin Delano Roosevelt visited the Crescent City on April 29, 1937. He came to dedicate the Roosevelt Mall in City Park near the city's new municipal stadium, then under construction . The mall and the stadium, along with other improvements to the Park, were projects of the Works Progress Administration (WPA), one of the keystones of FDR's New Deal. The President arrived in New Orleans by train following a journey from Washington through Atlanta and on to the Alabama and Mississippi Gulf Coast. Also pictured are Governor Richard Leche (on Roosevelt's right) and Mayor Robert S. Maistri (left of the presidient). At this luncheon, Maistri allegedly asked "How ya like dem erstuhs, Mister President?" Photo from the New Orleans Public Library.
Roy Alicaotore began an apprenticeship under his father at the restaurant in 1920 and continued there until 1923 when he studied in French restaurants until 1930, the year he became proprietor and manager of Antoine's Restaurant -- positions he held for for forty-two years. He was also an avid ham radio operator, owned one of the most powerful stations in the New Orleans area, and was a member of the International Mission Radio Association.
In service to the community, he was a member of the board of commissioners of the New Orleans Public Belt Railroad, the board of directors of the New Orleans Convention and Visitors Bureau, board of curators of the Louisiana State Museum (1937-1941), New Orleans and the River Region Chamber of Commerce, Louisiana Restaurant Association president (1937), and the Young Men's Business Club;
He was a member of the Southern Yacht Club, New Orleans Athletic Club, Bienville Club, Mardi Gras carnival organizations, and was active in Manresa House of Retreats and the Holy Name Society.
He was founder of the New Orleans chapter of Confrérie du Tastevin (October 23, 1940), decorated Grand Officer de la Confrérie du Tastevin (Nuits-Saint-Georges, France), recipient of the Cheva-lier du Mérite Touristique, France, recipient of Chevalier du Mérite Commercial, France, and Mr. Gourmet of 1966 for the Society of Bacchus, and a member of the Wine and Food Society of London, Les Amis D'Escoffier Société, New Orleans Sous Commanderie de Bordeaux, Gourmet Society of New York, and La Société des Escargots Orléanais.
Roy Alciatore died in New Orleans on September 29, 1972 and was interred in Metairie Cemetery. (Source: http://lahistory.org/site18.php)
---
This photo
taken by the U.S. Army Corps of Engineers on
September 29, 1947
after a hurricane resulted in a breach in the 17th Street Canal levee. The caption reads, "Jefferson Parish Flood…The other principal gap in the 17th Street Canal levee. About one mile south of Bucktown (East End)". Several other breaks occurred; 30 square miles of Jefferson Parish and 9 square miles in New Orleans flooded. (Photo courtesy of the New Orleans Public Library.) From
Metairie, Images of America
.
8,000 Visitors Per Day
Metairie Kennel Club opens -- September 29, 1925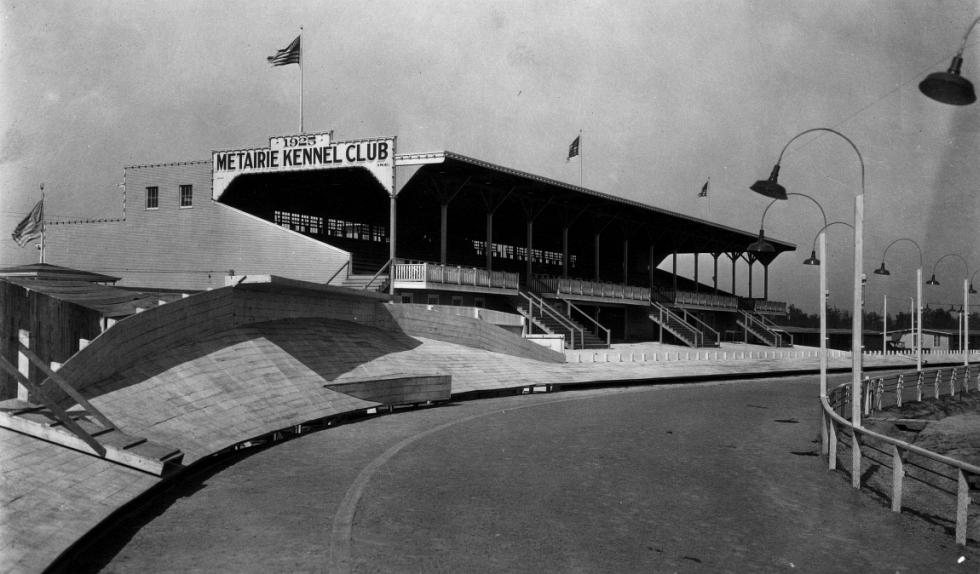 The Metairie Kennel Club opened on September 29, 1925 on the lake-side of Metairie Ridge Road (now Metairie Road) between Rosa and Oaklawn Avenues on the property of Mr. John Betz near the railroad tracks approximately 1 1/2 miles from the Halfway House/New Basin Canal (now City Park Avenue at the Pontchartrain Expressway). The huge facility could accommodate 400 dogs. The Times-Picayune reported that during the days leading to its formal opening more than 8000 men, women, and children visited each day to take a look at the new track and facilities which included electrical lighting installed by local electrician Charles Argo and the mechanical pace-setting rabbit "of the newest pattern". Mr. Argo predicted that "when the lights first go on local people in the vicinity would imagine there was some conflagration".
Anthony "Pop" Rouprich served as the club's first president. Theodore Walgrem was the secretary/treasurer. The first season called for seven events nightly with nine dogs per race and a Saturday matinee. Local businesses contributing trophy cups included the Monteleone Hotel and Loubat's Glassware Company (Walter Loubat was a founding member of the club). Grounds-keeper C.G. Fitzgerald boasted that the Metairie Kennel Club was "the finest in the country".
The following year a neighboring greyhound track, DeLimon Park, opened on Metairie Road between Rosa and Focis Street on Louis DeLimon's farm property. 1928 brought tougher anti-dog racing legislation which resulted in the closing of both tracks. In 1932 Smith's Golf Driving Range opened and advertised "golf practice at its best" at the former Metairie Kennel Club where nighttime lighting allowed for long opening hours for owners Harry Turple and William Roux who were contemplating also building a nine hole golf course on the property (which they they did). DeLimon Park was also used for car racing and occasional illegal greyhound competitions. In 1941 part of the DeLimon property was subdivided for housing. After World War II DeLimon Park was converted into the Do Drive-In which closed in 1981. It would become the Old Metairie Village and the DeLimon Place condominium complex. (Photo Courtesy of the Louisiana Digital Library.)
Excerpt from Metairie (Images of America).
---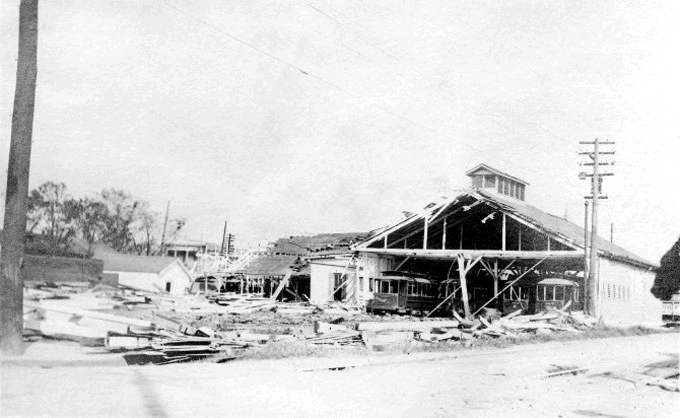 The Great Storm of 1915 reached New Orleans after tracking through the Caribbean and Gulf of Mexico on a parabolic course as a strong Category 3 hurricane on September 29, 1915. The pressure fell to 28.01" on a ship in the New Orleans harbor and the city was damaged by winds as high as 98 m.p.h. and over 8" of rain. Storm surges up of 13 feet swept through West End at Lake Pontchartrain. The New Canal lighthouse was heavily damaged as winds of 130 mph raged, and the pressure fell to 28.11", which at the time set a record for the lowest pressure measured on land in the United States.
Nearly every building in New Orleans received damage. The bell tower of First Presbyterian Church on Lafayette Square collapsed at 5:02 p.m. Heavy damage was sustained at the Poland Station streetcar barn at the Uptown river corner of Poland at St. Claude Avenues (pictured above). The Orleans Levee District's 10-foot high levee protecting the city began to be questioned as not being high enough after the passage of this storm.
Over 50% of U.S. Highway 90 along the Mississippi coast was destroyed. Storm surges up to 12 feet ran ashore the northern coast of Grand Isle. Ninety-nine out of 100 buildings were destroyed in the town of Leeville. In Burrwood, winds reached 140 m.ph. for five minutes and were sustained at or above 107 mph for two straight hours .
Thirteen million dollars ($239 million in 2005 USD) of damages in Louisana, $5 million in New Orleans alone, were caused and 275 people died. Many of those who perished refused to leave low lying areas in advance of the storm, despite ample warning. This was the sixth and final storm of the year. Generations in south east Louisiana would refer to it as the Great Storm of 1915. (NOAA)
More information.
View Times-Picayune reports
---
Tenor saxophonist with the New Orleans Rhythm Kings Lester Bouchon was also born on September 29, 1906. He recorded with Santo Pecora, Johnny Wiggs and Sharkey Bonano.