---

January 21, 1912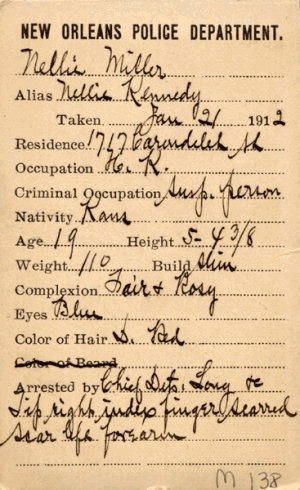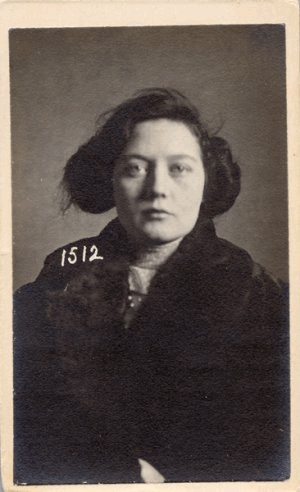 The January 20, 1912 edition of the Daily Democrat reported that 19 year-old Nellie Kennedy "burst into tears" when arrested by the Chief of Detectives, Officer Long, along with four con men and thieves as well as Mrs. Jessie Knott, the wife of one of them. Police had visited the home of Kennedy (also known as Nellie Miller) and her husband who lived in the same house at 1717 Carondelet Street as Mr. and Mrs. Knott. The police had been to the home the day before and found a packed trunk but no occupants.
Nellie Miller "unhesitatingly and in a straight-forward manner related her story to police officers" who "were inclined to believe her" reported the newspaper. Her story was that she had married Miller under false pretenses but that he later admitted to her that he was a thief. According to the young lady, they had been introduced to one another by a physician, had become engaged in Kansas City where her father had a jewelry store on Main Street (and that the police could contact him to corroborate her story). She said that three weeks prior, the couple had left Kansas City to be married in Dallas. They then, according to her story, went to Memphis where they met Mr. and Mrs. Knott. Meanwhile, her husband had told her that he had sold a business in St. Louis and planned to go back there to open a new business. She said they had arrived in New Orleans a few days before Christmas. She was detained in female department of Parish Prison "and will probably be released" reported the Democrat.

The following day, January 21, 1912, the Democrat reported, with a headline reading "Long's Haul May Prove Big Prize -- Expected to Prove Expert Crooks from Kansas City", that the four men arrested were named Knotts (also known as Knox), Fritz ("the thief and most likely a "lemon' game man), Harris ("a pickpocket"), and Byrus ("all around character and some-time tout").
It had become apparent that the red-haired, blue-eyed, rosy-cheeked, soft-spoken "Miss Kennedy" had duped the police by acting "sweet and innocent". Her "husband" was Wayne Harris (aka Wayne Miller). Police became informed that she had robbed the Oak Street home of Judge Guthrie in Kansas City in May -- stealing $1,800 in jewelry, a revolver, and a men's suit. She had been employed as a servant in the judge's home.
In March, Mr. Knotts/Knox along with John Hepburn (aka Fritz) and John Bradcraft had swindled $2,000 in a pool game in San Francisco.
About two weeks prior to the New Orleans arrests, Mrs. Knotts had knocked on the door of Mrs. Anthony Graffagnini's home at Canal and Clark street and asked Mrs. Graffagnini if she could be allowed to make sketches of the interior rooms, as she planned to build a home just like it. She was admitted. After watching the Graffagnini's comings and goings, Mrs. Knotts and Nellie snuck into the house while Mrs. Graffganini was distracted while hosting a ladies card game. They came away with jewelry and other valuable items. Mrs. Graffagnini was able to identify Knotts as the woman who she had graciously invited into her home. The two women were arrested at the corner of Common and Barrone streets while carrying a suitcase filled with jewelry, glassware, and other stolen goods.
Photos from the New Orleans Public Library.

---

You Can Support this Site by Clicking on & Shopping from this Amazon Link -- and it won't cost you a penny more: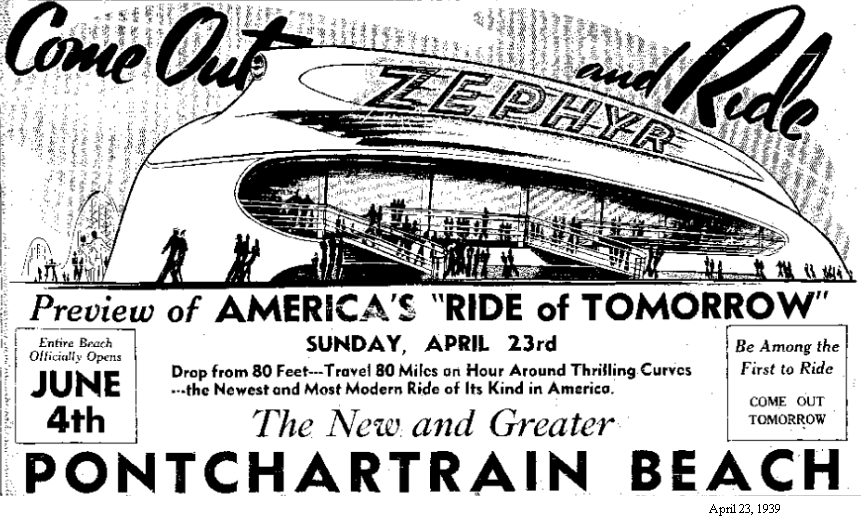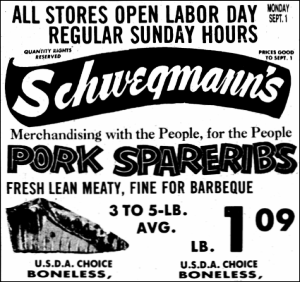 On January 21, 2011, Southern Star Amusements announced its third redevelopment plan for the former Jazzland/Six Flags New Orleans amusement park. Despite various announced plans to redevelop the site, as of 2014, it is still an abandoned site owned by the City of New Orleans.
The Bombay Company was founded in 1978 by Brad Harper in New Orleans as a mail-order company. Harper later opened two retail stores in New Orleans. In 1980, Harper sold the U.S. operating rights and established overseas supply channels to the Fort Worth, Texas-based holding company Tandy Brands, Inc. As of January 21, 2008, all U.S. retail stores were liquidated and closed.
William Aicklen Nungesser, known as Billy Nungesser (September 30, 1929—January 21, 2006), was a leader of the Republican Party in the formerly traditionally Democratic state of Louisiana during much of the latter 20th century. Born in the Carrollton section of New Orleans, he lived mostly in Algiers until he and his wife, the former Ruth Amelia Marks moved to Belle Chasse in Plaquemines Parish in the late 1990s to be nearer their two grandchildren. Nungesser was appointed to the Louisiana Gaming Control Board by Democratic Governor Edwin Washington Edwards, a position that he held from 1992 to 1994. During his tenure, Nungesser was critical of the Harrah Jazz Company's plan to open a casino in New Orleans. Governor Murphy J. "Mike" Foster, Jr appointed Nungesser to the New Orleans Levee Board (he served as chairman from February to June 1996). On January 30, 2010, Nungesser was posthumously inducted into the Louisiana Political Museum and Hall of Fame in Winnfield. He was the father of William Harold "Billy" Nungesser, the President of Plaquemines Parish.
The Royal Rumble, a professional wrestlingpay-per-view event, produced every January by professional wrestling promotionWorld Wrestling Entertainment, Inc. (WWE), was held in the New Orleans Arena on January 21, 2001 and won by Stone Cold Steve Austin.

On January 21, 1993, Christopher Vincent base-jumped twice (jumped with a parachute) from the top of the East Bank tower of the Mississippi Aerial River Transit (MART) -- the gondola lift transport system spanning the Mississippi River which was constructed for the 1984 Louisiana World Exposition. Vincent completed the stunt for the first time at approximately 10:30 a.m. and again later that afternoon at approximately 2:30 p.m. Each time he was successful in landing on the levee.
William Thomas Dupree, best known as Champion Jack Dupree was a New Orleans blues and boogie woogie pianist and barrelhouse "professor". His father was from the Belgian Congo and his mother was part African American and Cherokee. He was orphaned at the age of two, and sent to the New Orleans Home for Colored Waifs (also the alma mater of Louis Armstrong). He taught himself piano there and later apprenticed with Tuts Washington and Willie Hall, whom he called his 'father' and from whom he learned "Junker's Blues", which was adapted by Fats Domino into his first hit, "The Fat Man". He was also "spy boy" for the Yellow Pochahantas tribe of Mardi Gras Indians and soon began playing in barrelhouses and other drinking establishments. His birth date is disputed, given as July 4, July 10, and July 23, in the years 1908, 1909, or 1910. He died on January 21, 1992.
In the race for State Representative for the 81st Representative District, David Duke received 33% of the vote against John Treen's 19% on January 21, 1989. Duke would go on the win the run-off election on February 18, 1989.
A loss of electric power in City of New Orleans occurred on January 21, 1985.
Snooks Eaglin, born Fird Eaglin, Jr. (January 21, 1936– February 18, 2009), was a New Orleans-based guitarist and singer. He was also referred to as Blind Snooks Eaglin in his early years. His vocal style is reminiscent of Ray Charles; in the 1950s, when he was in his late teens, he would sometimes bill himself as "Little Ray Charles". Generally regarded as a legend of New Orleans music, he played a wide range of music within the same concert, album, or even song: blues, rock and roll, jazz, country, and Latin. In his early years, he also played some straight-ahead acoustic blues. His ability to play a wide range of songs and make them his own earned him the nickname "the human jukebox." Eaglin claimed in interviews that his musical repertoire included some 2,500 songs.
In 1924, Congress incorporated the Inland Waterways Corporation, generally regarded as beginning of modern water carrier operations, and in 1925 it authorized construction of the Louisiana and Texas Intracoastal Waterway, as well as surveys east of New Orleans to Apalachicola Bay; this was the first legislation to treat the ICW as a continuous whole. The River and Harbor Act of January 21, 1927, passed by Congress, authorized the portion of the Atlantic Intracoastal Waterway, using the route planned out by the Jacksonville District of the Corps of Engineers. In 1936 the continuous 9 ft × 100 ft (2.7 m × 30 m) channel was completed between the Apalachicola River and New Orleans. During World War II, the need for efficient transportation of bulk materials within the continental United States was well demonstrated after German submarines sank numerous merchant ships off the East Coast. By 1942, the 9 ft × 100 ft ICW channel was completed between New Orleans and Corpus Christi. The ICW includes our Industrial Canal.
The Ordinance of Secession of southern states from the United States was signed on January 21, 1861 by 293 delegates and enacted on January 22, 1861.
Pierre Soulé (August 31, 1801 – March 26, 1870) was a politician, diplomat, and New Orleans lawyer during the mid-19th century. He is best known for his role in writing the Ostend Manifesto, which was written in 1854 as part of an attempt to annex Cuba to the United States. On January 21, 1847, Soulé sat briefly in the United States Senate as a Democrat. He returned to the Senate from 1849 to 1853. He then resigned to take an appointment as U.S. Minister to Spain, a post he held until 1855. Soulé opposed Southern secession before the American Civil War, but supported Louisiana, after the war began. On May 18, 1861, Soulé was captured by Federal troops, charged with "plotting treason against the United States government," and imprisoned in Fort Warren, Massachusetts but escaped back into Confederate territory. After the war ended in 1865, he went into exile in Havana. He eventually returned, and he died in New Orleans.
On
January 21, 1815
Andrew Jackson issued a statement praising his troops for their valor during the Battle of New Orleans, especially the cannoneers and "Captains Dominique [You] and [Renato] Beluche, lately commanding privateers of Barataria, with part of their former crews and many brave citizens of New Orleans, were stationed at Nos. 3 and 4."
Jackson named Jean and Pierre Lafitte for having "exhibited the same courage and fidelity".
He formally requested clemency for the Lafittes and the men who had served under them. The government granted them all a full pardon on February 6.
The City of Carrollton occupied the site of the plantation which had been acquired by Barthelemy Macarty from Louis Cesaire LeBreton on January 21, 1781. The property measured 32 arpents fronting on the Mississippi River