---

Storyland Dedication
December 30, 1956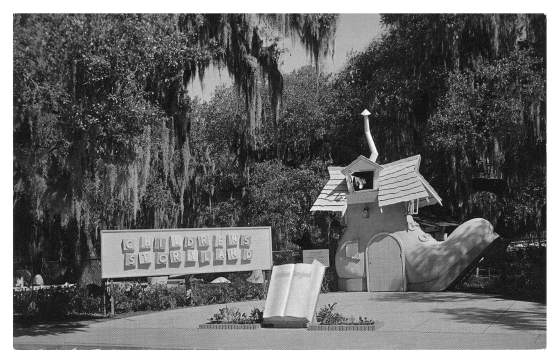 During the 1950s Storyland in City Park was filled with Nursery Rhyme figures created by a young man who would become the most noted Mardi Gras float builder in the city; it was funded by an older man who owned and operated the most popular amusement park in the south.
Brothers John and Harry Batt Jr. had operated non-lucrative childrens rides in City Park since the late 1940s before Harry Sr envisioned Storyland. Agreeing to deed it to the city if he was allowed to choose its location in the park, Storyland was dedicated on December 30, 1956 to the memory of his parents. Behind it he placed six kiddie rides – gross ride revenue soared as Storyland drew huge crowds.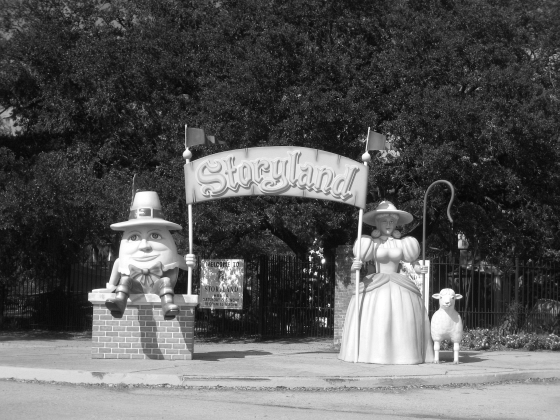 Storyland was populated by nursery rhyme characters, some hanging in the ancient oaks and all designed by Blain Kern. This enchanting world of plaster and cement figures included Captain Hook and his ship, the Old Woman and her shoe, Pinocchio and the whale (with a gaping jaw to be walked into), Jack & Jill on their hill, Cinderella in her Pumpkin Coach (children could join her), King Cole in his Castle, Red Riding Hood and the wolf, Hansel and Gretel, the Little Prince, Little Miss Muffet, Alice in Wonderland. the Three Pigs, Snow White, Hey Diddle Diddle, and Humpty Dumpty (whose "wall" was Storyland's maintenance shop). Built adjacent to the Flying Horses at a cost of $25,000, Storyland attracted ½ million visitors in 1958 when Park Amusement Company was managed by Frank Davis. It is seen here in 1960 (right) and 2007 (left photo by Infrogmation).
Storyland was restored by Friends of City Park in 1986. 2006 brought the post-Katrina reopening of the the park's driving range Storyland, and Carousel Gardens Amusement Park (which only ran during Celebration in the Oaks that year).
Text and photos from New Orleans City Park (Images of America) by Catherine Campanella.
---

You Can Support this Site by Clicking on & Shopping from this Amazon Link: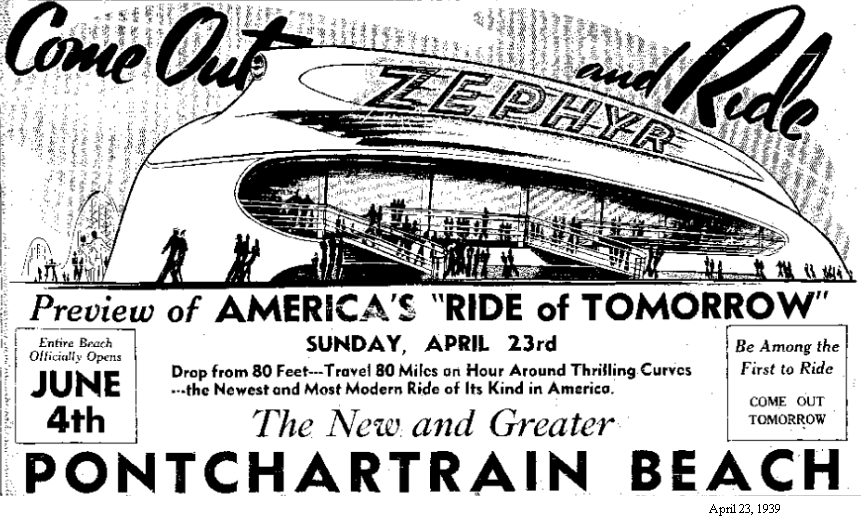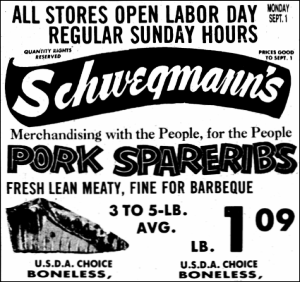 And You won't pay a penny more!
---
ZZ Top and Jay Boy Adams performed at A Warehouse on December 30, 1979.

On December 30, 1978 the Marshall Tucker Band, Firefall, and Jay Boy Adams performed at A Warehouse.
On December 30, 1977 Jerry Jeff Walker, Sea Level, and the Copas Bros. performed at A Warehouse.
On December 30, 1963, the United States Justice Department ruled that states were to have possession of tidelands formed after they had been admitted to the Union. In Louisiana, some of the affected land had produced oil and gas wells.
On December 30, 1903 the American Political Science Association was founded in New Orleans.
Julie Rose Calve, soprano, prima donna at the Théâtre d'Orléans. Born, Rennes, France, May, 1815; daughter of J. H. Calvé. Training received in France; engaged by John Davis (q.v.) as prima donna for the Théâtre d'Orléans, New Orleans, season 1837-1838; debut November 21, 1837, as Rosine in Le Barbier de Seville (Rossini). Created leading soprano roles in the United States premieres of Le Postillion de Longjumeau (Adam); Le Domino Noir and Zanetta (Auber); Les Huguenots (Meyerbeer); and Anna Bolena, Don Pasquale, Lucia di Lammermoor and Les Martyrs (Donizetti), among others, during following nine seasons. Retired from stage after 1845-1846 season. Married, May 29, 1858, impresario Charles Boudousquié (q.v.) of New Orleans. Died, New Orleans, December 30, 1898. From http://lahistory.org/site20.php
On December 30, 1803 the United States took possession of the Louisiana area from France at New Orleans with a simple ceremony, the simultaneous lowering and raising of the national flags.
Luis Francisco Héctor de Carondelet, XV baron de, governor of Louisiana and West Florida. Born, Cambrai, France, July 29, 1747; son of Jean Louis Carondelet and Marie Angélique Bernard de Rasoir. Entered Spanish military service in 1762; served in Caribbean theater during American Revolution; participated in Spanish siege of Pensacola, 1781. Became governor of San Salvador, Audiencia de Guatemala, March, 1789; appointed governor of Louisiana and West Florida, March 13, 1791; assumed duties in New Orleans, December 30, 1791. Carondelet governed Louisiana during the most turbulent years of the Spanish era. Included among many problems he faced were intrigues among the Southern Indians launched by William Augustus Bowles; expansionist pressures from sundry quarters in the United States; invasion threats to Louisiana and West Florida fomented by the French minister to the United States, Edmond Gênet; internal dissension inspired by the French Revolution; slave revolts; and threatened seaborne attacks from the French (1793-1794) and British (1796-1797). Carondelet worked diligently—if unrealistically—at forging a grand alliance of the Southern Indians as the primary defense of Louisiana and West Florida against U. S. encroachment, only to see his efforts dashed by Spanish acquiescence in U. S. territorial demands and navigation rights to the Mississippi in the Treaty of San Lorenzo, 1795. Urged without success making New Orleans a free port as a means of stimulating economic growth and was responsible for numerous public improvements in New Orleans. Withal, was esteemed by some contemporaries as an energetic and honest administrator. In 1796, reassigned to Viceroyalty of New Granada, eventually became president of the Audiencia of Quito. Left New Orleans in 1797. Married, October, 1777, in Barcelona, María de la Concepción Castaños y Aragorri, a native of La Coruña, daughter of Juan Felipe de Castaños, intendant of Portugalete, and María de Aragorri. Children: Luis Angel (b. 1787), María Felipa Cayetana (b. 1788). Died, Quito, December 10, 1807. Source: http://lahistory.org/site20.php
CALVE, Julie Rose, soprano, prima donna at the Théâtre d'Orléans. Born, Rennes, France, May, 1815; daughter of J. H. Calvé. Training received in France; engaged by John Davis (q.v.) as prima donna for the Théâtre d'Orléans, New Orleans, season 1837-1838; debut November 21, 1837, as Rosine in Le Barbier de Seville (Rossini). Created leading soprano roles in the United States premieres of Le Postillion de Longjumeau (Adam); Le Domino Noir and Zanetta (Auber); Les Huguenots (Meyerbeer); and Anna Bolena, Don Pasquale, Lucia di Lammermoor and Les Martyrs (Donizetti), among others, during following nine seasons. Retired from stage after 1845-1846 season. Married, May 29, 1858, impresario Charles Boudousquié (q.v.) of New Orleans. Died, New Orleans, December 30, 1898. From http://lahistory.org/site20.php