---

The Free Market
July 29, 1861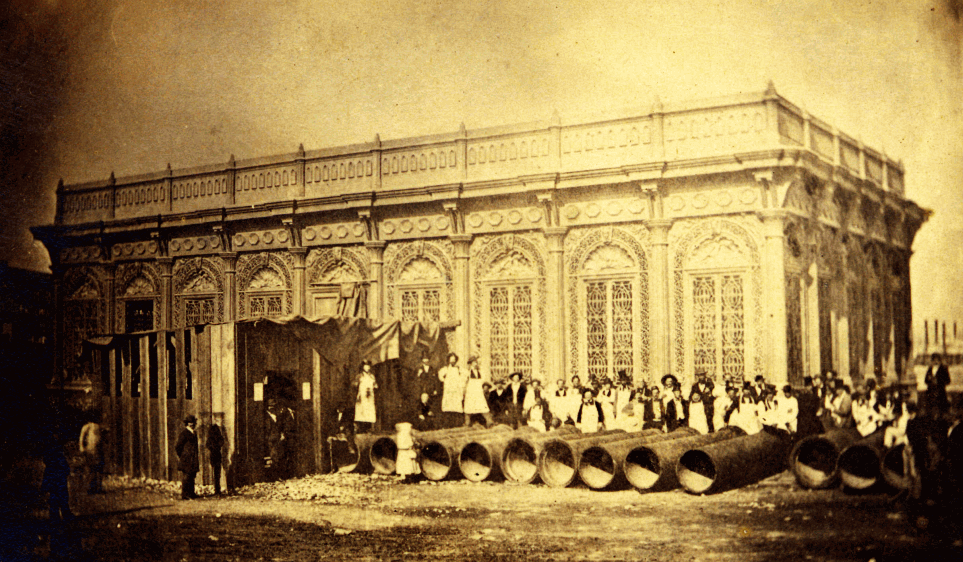 Built of cast iron, this structure was built in 1859 on the neutral ground at the foot of Canal Street to serve as a water works but it was never used for that purpose. When Canal Street streetcar tracks were laid in 1861, this building stood between the two opposing tracks.


Immediately before the Civil War, economic conditions in New Orleans were at an all-time peak but war-time destruction and mandates soon led to severe poverty as wel as food shortages. As a result, on July 29, 1861, prominent citizens met at the the Merchants Exchange to raise $1.800 for relief of wounded confederate soldiers. From this meeting was born the Free Market of New Orleans, "established for the benefit of the families of our absent volunteers". The following day, July 30, 1861, the City Council gave the building to the people of New Orleans to be used as a depot for food supplies. Thomas Murray managed the market which freely gave food, donated by plantations, businesses, and citizens, to people in dire need. The market first opened on August 16 when 723 families were helped.


New Orleans citizens "shopped" the market for cornmeal, rice, sugar, molasses, mackerel, codfish, cabbages, leeks, turnips, peas, beef, bacon, beets, and sauerkraut. Opened for two days each week, the market peaked with 1,974 families aided during its last opening on August 29, 1862 afer Union Commodore Farragut reached the city and shut down the market/storehouse. In 1874, the building was returned to city ownership and was soon after demolished.
More about the New Orleans Free Market
.
---



---
Josephine Louise Newcomb, born in Baltimore on October 31, 1816 to Mary Sophia Waters and Alexander Le Monnier, received her education in Baltimore and in her father's native France. After her mother died, Le Monnier went to live in New Orleans, where her older sister Eleanor Anne and brother-in-law William Henderson had settled. There, Le Monnier met Warren Newcomb, and the couple married in Christ Church Cathedral on December 15, 1845. The couple moved to Louisville, KY, and had a son, Warren, Jr., who died shortly after his birth in 1853. They later moved to New York, where Josephine gave birth to their second child, Harriott Sophie Newcomb, on July 29, 1855. Harriott Sophie died in 1870 at the age of 15. Through Josephine's philanthropy, H. Sophie Newcomb Memorial College at Tulane University was established as a memorial to her daughter. Following an initial donation of $100,000, Josephine made gifts totaling $3 million. She died on April 7, 1901. In December 2005 the Tulane University board of directors announced that the university would be reorganized on July 1, 2006, to accommodate needed changes due to losses following Hurricane Katrina. The board also approved the recommendation of a special Tulane Renewal task force to name a revised, co-educational, single undergraduate college Newcomb-Tulane College. Related reading: Newcomb College, 1886-2006: Higher Education for Women in New Orleans
Telephone Area code 504 covers the greater New Orleans, Louisiana, area. Besides New Orleans itself (Orleans Parish), it includes all of St. Bernard and Plaquemines parishes and most of Jefferson Parish. 504 was one of the original area codes created in 1947, and originally covered all of Louisiana. In 1957, most of the state west of the Mississippi River was split off as area code 318. In 1998, the western portion of the old 504 territory, including Baton Rouge, became area code 225. In 2001, much of southeastern Louisiana was split off as area code 985, to both the west and the north of 504. Several of New Orleans' downriver suburbs switched to 985 in 2001 as well. However, after Hurricane Katrina in late August 2005, much of this area switched back to 504. These communities are now being served with dialtone from telephone switching facilities in New Orleans following near-total destruction of local switching facilities due to flooding from Katrina. Permissive use of 504 alongside 985 to reach these downriver communities began on July 29, 2007. Mandatory use of 504 to again reach these communities began on May 1, 2008. These communities are on both sides of the Mississippi River in lower Plaquemines Parish, including Pointe à la Hache on the east bank, with Port Sulphur, Buras, and Boothville on the west bank. (Wiki)
BOWERS, Charles Houma Dixon, physician, civic leader. Born, Houma, La., June 6, 1892; son of Rev. Frank B. Bowers and Margaret Jackson Bowers; one of nine children. Education: New Orleans University (now Dillard University), B.A., 1915; M. A., 1923; Meharry Medical School, M. D., 1919. Married Cassie Collins, 1920. Children: Mrs. Dee Ione Bowers Willoughby of Boston, Mass., Dr. Charles H. D. Bowers, Jr., of New Orleans. Positions: staff of Flint-Goodridge Hospital, 1919; chief of medical staff at Flint-Goodridge Hospital, 1938-1969; director of state and city venereal disease program; university staff physician, Dillard University, 1935-1969; admitting officer and director of Out-Patient-Clinics, Flint-Goodridge Hospital; president, Original Illinois Club, 1956-1958; volunteer service to the Louisiana Interscholastic Athletics Association, 1939-1969. Awards and memberships: Rosenwald Fellow at the Third Medical Division of New York University Bellevue Hospital; Meharry Medical College President's Award for 50 years' service; Sunbeam Bakery Award; Louisiana Coca-Cola Company's Community Service Award for service to local young people; Distinguished Alumni Award, Dillard University, 1964; Blue Devil Sports Award, Dillard University; Churchman Award from First United Methodist Church; Omega Psi Phi Award, 1958, 1967; Orleans Parish Medical Society Award; Rosenwald Dubloon Award for Outstanding Historical Doctors; secretary, board of trustees of New Orleans University; first president, Dillard University Alumni Association, 1936; New Orleans University Alumni Association, 1935; New Orleans University Alumni Association, 1919-1930, secretary; New Orleans Medical Association; Louisiana State Medical Association; the Eagle Life Insurance Co., officer, 1930; Bunch Social Club, Alpha Alpha Boule Sigma Pi Phi Fraternity; Chi Delta Mu; Omega Psi fraternity; Original Illinois Club. Religion: Methodist. Member of First Street United Methodist Church of New Orleans, 1919-1969. Died, July 29, 1969. C.T. Sources: New Orleans University, Seventy Years of Service, New Orleans University (1935); "Dr. Bowers Gets Alumni Award," Dillard Bulletin, XXX (December, 1964); Funeral Program Obituary, July 31, 1969; Dr. and Mrs. Charles H. D. Bowers, Jr., of New Orleans, La. From http://lahistory.org/site19.php
Thomas Henry Casanova, III, known as Tommy Casanova, was born in New Orleans on July 29, 1950. Now an ophthalmologist in Crowley, Louisiana, he played football for the LSU Tigers and the Cincinnati Bengals. He is also a Republican former member of the Louisiana State Senate, having served from 1996 to 2000. (Wiki)
The Carondelet streetcar began its run on July 29, 1866. This uptown line ran on its namesake street from Canal Street to Napoleon Ave. At its most extensive, it also ran on Freret Street from Napoleon to Broadway, on trackage that eventually became part of the Freret line, and it crossed Canal Street into the French Quarter, pioneering the route of the later Desire line. It ceased on September 7, 1924. (Wiki)
Andre Cailloux (1825 – May 27, 1863) was one of the first black officers in the Union Army to be killed in combat during the American Civil War. He died heroically during the unsuccessful first attack on the Confederate fortifications during the Siege of Port Hudson, Louisiana. Accounts of his heroism were widely reported in the press, and became a rallying cry for the recruitment of African Americans into the Union Army. Born a mixed-race slave in Louisiana in 1825, Cailloux lived his entire life in and around New Orleans. As a young man, Cailloux had been apprenticed in the cigar-making trade. He was owned by members of the Duvernay family until 1846, when his petition for manumission, which was supported by his master, was granted by an all-white police jury in the city of New Orleans. Upon gaining his freedom, Cailloux earned his living as a cigar maker. Prior to the beginning of the Civil War, he established his own cigar-making business. Though his financial circumstances were modest, Cailloux became recognized as a leader within the free Afro-French Creole community of New Orleans. The story of Cailloux's heroism preceded the return of the captain's body to New Orleans. When his funeral was held there on July 29, 1863, Cailloux was honored by a long procession and thousands of attendees. He was buried in Saint Louis Cemetery. His heroism achieved mythic proportions during the Civil War and was frequently recounted. He was often referred to as example by leading proponents of African-American soldiers serving in the Union Army. (Wiki)
Luis Francisco Héctor de Carondelet, XV baron de, governor of Louisiana and West Florida. Born, Cambrai, France, July 29, 1747; son of Jean Louis Carondelet and Marie Angélique Bernard de Rasoir. Entered Spanish military service in 1762; served in Caribbean theater during American Revolution; participated in Spanish siege of Pensacola, 1781. Became governor of San Salvador, Audiencia de Guatemala, March, 1789; appointed governor of Louisiana and West Florida, March 13, 1791; assumed duties in New Orleans, December 30, 1791. Carondelet governed Louisiana during the most turbulent years of the Spanish era. Included among many problems he faced were intrigues among the Southern Indians launched by William Augustus Bowles; expansionist pressures from sundry quarters in the United States; invasion threats to Louisiana and West Florida fomented by the French minister to the United States, Edmond Gênet; internal dissension inspired by the French Revolution; slave revolts; and threatened seaborne attacks from the French (1793-1794) and British (1796-1797). Carondelet worked diligently—if unrealistically—at forging a grand alliance of the Southern Indians as the primary defense of Louisiana and West Florida against U. S. encroachment, only to see his efforts dashed by Spanish acquiescence in U. S. territorial demands and navigation rights to the Mississippi in the Treaty of San Lorenzo, 1795. Urged without success making New Orleans a free port as a means of stimulating economic growth and was responsible for numerous public improvements in New Orleans. Withal, was esteemed by some contemporaries as an energetic and honest administrator. In 1796, reassigned to Viceroyalty of New Granada, eventually became president of the Audiencia of Quito. Left New Orleans in 1797. Married, October, 1777, in Barcelona, María de la Concepción Castaños y Aragorri, a native of La Coruña, daughter of Juan Felipe de Castaños, intendant of Portugalete, and María de Aragorri. Children: Luis Angel (b. 1787), María Felipa Cayetana (b. 1788). Died, Quito, December 10, 1807. Source: http://lahistory.org/site20.php
WYES Educational Television Station
Thanks Mainly to Marion Abramson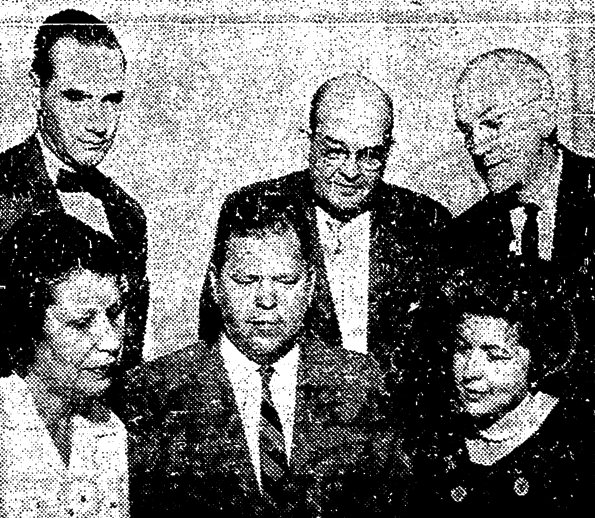 Born in New York City on August 29, 1905, Marion Pfeifer Abramson was raised in New Orleans, attended Isidore Newman School and graduated from Sophie Newcomb College in 1925. She was editor of the Newcomb/Tulane Hulaballoo student newspaper and Ghost-wrote newspaper columns for football end Jerry Dalrymple ("My End of It" -- which several times appeared in the Saturday Evening Post) and Tulane back Don Zimmerman ("Back Talk").
She married Louis Abramson Jr. in June 1925. They had one child, Lucie Lee, who grew up to follow in her mother's footsteps regarding service to the community. After World War II Marion became a member of the national board of the American Association of University Women and later served as president of the New Orleans chapter. She served on the Orleans Parish Democratic Executive Committee in 1946, as a member of the Independent Women's Organization, and was elected in 1959 to serve as Orleans Parish Democratic Executive Committeewoman for Ward 14.
During the 1950s she began planning for an educational television station for New Orleans. Her project was brought to fruition on October 23, 1957, when National Educational Television (NET) station WYES opened with Marion as Chairperson of board of directors of the Greater New Orleans Educational Television Association. WYES-TV signed on the air on April 1, 1957 as the twelfth educational television station in the nation. In 1970, the station swapped frequency allocations with another local station, thus becoming Channel 12.
On September 21, 1965 August Perez and Associates submitted plans for the design of Marion Abramson High School at 5500 Reed Road in New Orleans East. Several weeks later, after a life of community service, Marion Abramson died on November 30, 1965, knowing that her name would live on in association with education.
The grainy newspaper photograph to the right is from the Friday, July 29, 1960 edition of the Times-Picayune. It pictures the members of the Board of Trustees of the Greater New Orleans Educational Television Foundation. It was captioned: Members of the board are (from left, seated) Mrs. Abramson, James W. Ganus, Mrs. Walter Carroll Jr. (standing) Dr. Mayo L. Emory, T. Sterling Dunn, and Francis C. Doyle. The related article described a meeting of the group at the International House where Nash C. Roberts presided as President of the Board of Trustees. The foundation was planning a two-hour (6-8 p.m.), 1500 women-strong, door-to-door fund-raiser and membership drive ($5 membership) to hopefully raise $25,000.
Sources: http://lahistory.org/site18.php. The Times-Picayune, and WYES-TV.
Related reading: