---

Al Copeland Dies
March 23, 2008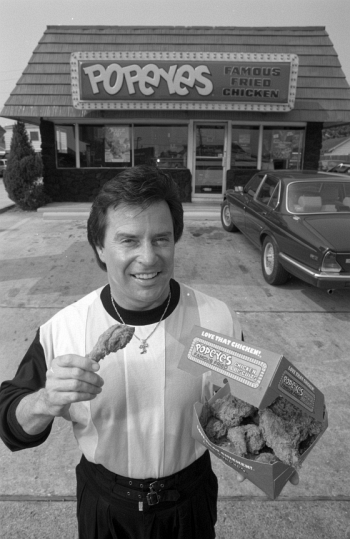 As a boy Al Copeland and his family had lived for a time in the St. Thomas public housing project. He dropped out of high school at 16 and after drifting through low-paying jobs he worked at a doughnut shops of which his brother, Gil, had an ownership interest. Al bought his own shop in 1962 at age18. In 1971 he opened Chicken on the Run, serving mild-flavored fried chicken and loosing money. Copeland changed the name and the recipe – serving spicy chicken at Popeyes Mighty Good Fried Chicken (he named it for Gene Hackman's French Connection character Popeye Doyle). Renaming it again to Popeyes Famous Fried Chicken he began franchising the restaurants and by 1976 eight-hundred Popeyes locations were operating in the U.S. and abroad. Some 500 outlets were added over the next 10 years, followed by 200 more.
By 1989 (when this photograph was taken) Popeyes was the third-largest chicken chain in the United States. During that same year, June 28 was declared "Al Copeland Day" in both the city of New Orleans and the state of Louisiana. The International Franchise Association named him the 1989 Entrepreneur of the Year. Other awards followed: the Louisiana Restaurant Association honored Al Copeland with their first Service to Humanity Award, he was entered into their Hall of Fame in recognition of his many contributions to the community, and he received the organization's Lifetime Achievement Award.
As Copeland's wealth and fame increased so did his flamboyant lifestyle. He became an award winning power boat racer and displayed his boats in a windowed showroom for all of Metairie to see as they drove past it along the Interstate. In 1997, during a feud with then vampire-themed writer Anne Rice over his renovation of a St. Charles Avenue car dealership into a Copeland's restaurant, he threw garlic from his converted boat/float during Mardi Gras parades. A 2001 brawl at a local steakhouse with Robert Guidry (who he had bid unsuccessfully against for a gambling license in 1993) landed Copeland and his wife in the hospital and Guidry and his cohorts in jail. His extravagant weddings and controversial divorce were well publicized and topics of conversations all over the area.
His life was exceedingly successful and colorful but not long. Al Copeland died at the age of 64, after a battle with Merkel Cell Carcinoma, on Easter Sunday March 23, 2008 near Munich, Germany where he had gone to receive treatment for the rare but fatal condition. (Times-Picayune photo)
Excerpt from Legendary Locals of Metairie by Catherine Campanella

---

You Can Support this Site by Clicking on & Shopping from this Amazon Link -- and it won't cost you a penny more: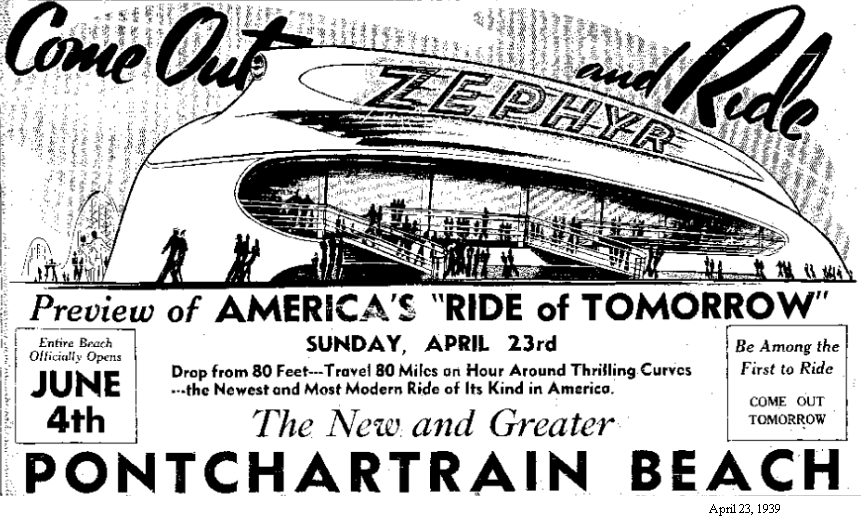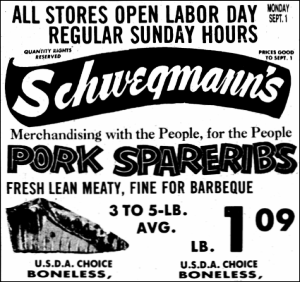 Sites for the Saints post-Katrina 2006 preseason games were announced on March 23. They were Shreveport for an August 21 game against the Dallas Cowboys, and Jackson, Mississippi, for an August 26 game against the Indianapolis Colts.
On March 23, 1978, musician Harold Cooper died. During the 1950s, her played clarinet with George Girard, Al Hirt and the Dukes of Dixieland.
Born in New Orleans on August 20, 1922, Charles Schwartz, Jr. received a B.A. from Tulane in 1943 and served in the Army as a Second Lieutenant from 1943 to 1945. He was then an Army reservist from 1946 to 1965, attaining the rank of Major. He received a J.D. from Tulane Law School in 1947, and was then in private practice in New Orleans until 1976. He was a district counsel for the Gulf Coast District of the U.S. Maritime Administration from 1953 to 1962. On March 23, 1976, Schwartz was nominated by President Gerald Ford to a seat on the United States District Court for the Eastern District of Louisiana vacated by Herbert W. Christenberry. Schwartz was confirmed by the United States Senate on May 6, 1976, and received his commission on May 7, 1976. He assumed senior status on February 28, 1991. He also taught as an adjunct professor of law at Tulane University beginning in 1977. He died in his home town on November 3, 2012.
On November 30, 1803, Spanish representatives officially transferred the Louisiana Territory to a French representative. Twenty 20 days later, France transferred the same land to the United States as the " Louisiana Purchase." In April 1803, Napoleon sold Louisiana (which then included portions of more than a dozen present-day states) to the U.S. in the Louisiana Purchase. A French prefect, Pierre Clément de Laussat, who had arrived in New Orleans on March 23, 1803, formally took control of Louisiana for France on November 30, 1803, only to hand it over to the U.S. on December 20, 1803. In the meantime he created New Orleans' first city council.
Fannie C. Williams, an educator, was born in Biloxi, Mississippi on March 23, 1882. In 1904, she graduated from Straight College, a school that later merged with New Orleans University. In 1920, she received two degrees from Michigan State College, a Bachelor of Arts and a Bachelor of Pedagogy. When she returned to New Orleans in 1921, Williams taught at Valena C. Jones Normal School, a school established to train African American teachers and then certify them to work in the school system. She would later serve as principal of the school. She was instrumental in having a nursery and a kindergarten class established for African Americans in the public school system and established an annual child health day when medical professionals visited schools and performed their service free of charge. Her influence extended beyond the Orleans Parish School system. She participated in three White House Conferences during the administrations of U. S. Presidents Herbert Hoover, Franklin Roosevelt, and Harry Truman. Williams served as president of the National Association of Teachers in Colored Schools and on the board of directors of Dillard University and Flint-Goodridge Hospital. In 1977, she was the recipient of awards from the American Teachers Association and the National Teacher's Association. She died on June 12, 1980 at the age of 98. (NOPL)
Pat O'Brien's Charlie Cantrell Passes Away
March 23, 1993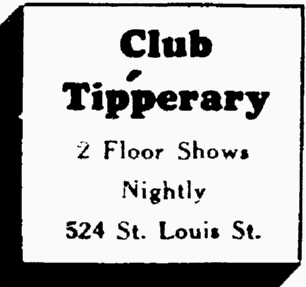 During prohibition, North Carolina native Charlie Cantrell was running rum in Plaquemine. He was also a master of the "Shake Up" which involved mixing grain alcohol with flavorings to create concoctions tasting like gin, whiskey, rum, and other liquors. "Sometimes it wasn't too good, but it could get you drunk", said Cantrell. Benson Harrison "Pat" O'Brien was a customer who bootlegged liquor back home to Birmingham. They became friends.
O'Brien, after several business endeavors, moved to New Orleans and ran a speakeasy. After prohibition, on December 3, 1933 he opened a package liquor store at Royal and St. Peter Street. In 1934 he opened Club Tipperary at 524 St. Louis. (The advertisement at the right ran in the Times-Picayune on March 18, 1934.) Cantrell financed it. Then, as equal partners, they moved to another location in the 600 block of St. Peter Street across from the original store. Cantrell later bought 10% of O'Brien's share, making him the controlling partner. In December, 1942 they moved to the current location of the world famous Pat O'Brien's bar at 718 St. Peter and called it Pat O'Brien's.
The building was historic long before Cantrell and O'Brien made it famous. Built in 1791, it housed the first Spanish theater in the United States. The famous Hurricane cocktail was first mixed there 146 years later. In 1937 a liquor salesman was hawking 60 bottles of rum at a bargain basement price and would even throw in 15 dozen glasses shaped like the globes of oil fueled hurricane lamps. The rum wasn't selling as Cantrell had hoped, so he decided to experiment. He mixed 4 ounces of it with red fruit juice and sugar, and instructed his waiters to tout these drinks. Customers loved them and their glasses. Cantrell, a savvy businessman began selling both.
That same year (1937), Mercedes Paulson and Sue Wheeler first performed together at the dueling pianos (thought to be the first in the country). "Sue" was actually Sara Belle Wheeler, a native of Vicksburg who had been educated in New Orleans. She passed away on Saturday, March 10, 1956 at the age of 38 after having played at Pat O's for 19 years. Mercedes LeCorgne Paulson, a native New Orleanian, died on Thursday, April 10, 1980 at the age of 74. Her booming baritone, which graced main bar for 32 years, is still remembered by many. She retired from Pat O'Brien's in 1968.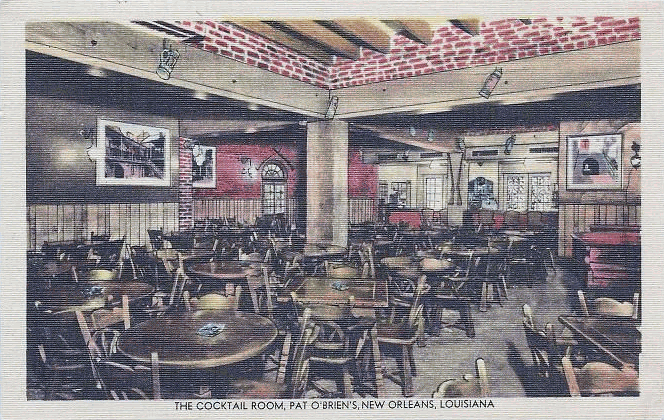 Charlie ran the business. Pat handled the customers. They were perfect partners for the business. During World War II, Cantrell worked in a defense shipyard where he met George Oechsner, who would become the bars General Manager, taking Cantrell's place and becoming part owner in 1947. In 1979 Oechsner's son George "Sonny" Jr. took over the role. It was Sonny's idea to begin franchising and Pat O'Brien's bars sprouted up in Orlando, San Antonio, Memphis,
Cancun, and Destin. Sonny also added a restaurant upstairs, purchased a building on Bourbon Street for expansion, opened a location at the Jaz Brewery, introduced an online catalog for selling branded items, and acquired a bottling plant.
The guys who ran the place for so many years are all gone now. Pat O'Brien died on November 10, 1983. Geroge D. Oechsner Jr. followed on December 11, 1990. Charlie Cantrell passed away on March 23, 1993. Sonny died on March 12, 2012. But the business the two bootleggers started and the local men continued remains, now an iconic New Orleans bar known around the world.
Upon Sonny's death, his daughter Shelly Oechsner Waguespack became Pat O'Brien's president and sole owner.

1947 postcard